Conversations at Scarfes Bar: Wendy Yu
With a contacts book to die for, this 27 year-old entrepreneur is on a mission to broker an East-West cultural dialogue, and she's very well placed to achieve it says Charlotte Metcalf
This post may contain affiliate links. Learn more
For the seventh interview in our new series, Charlotte Metcalf meets fashionista and founder of Yu Capital, Wendy Yu…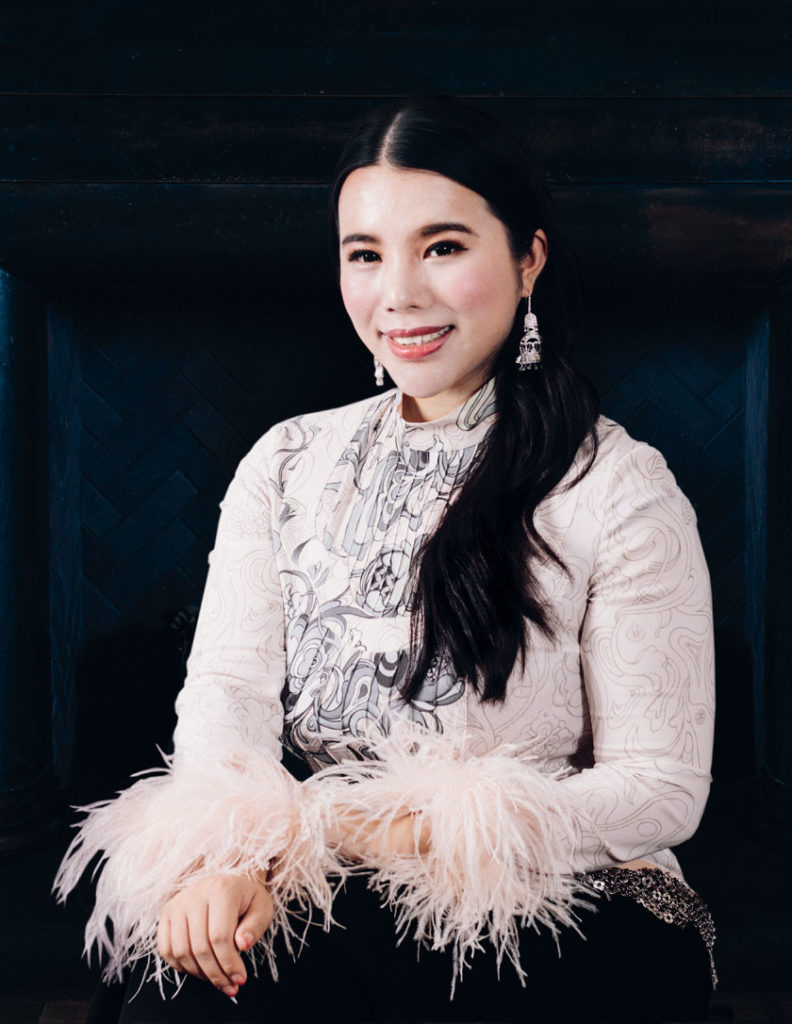 Last month the entrepreneur, Wendy Yu, hosted a private dinner at Kensington Palace to celebrate Chinese New Year. Guests included Alice Temperley, Erdem, Eva Herzigova, Erin O'Connor, Suzy Menkes, Alexa Chung and Samantha Cameron. Angelica Cheung and Chief Executive of the British Fashion Council, Caroline Rush, were guests of honour. It's neither her platinum connections nor her immense wealth that make Wendy remarkable, but her youth. At 27, she has a monumentally ambitious vision – to use fashion and art as a bridge between China and the West. Her company, Yu Holdings, has already invested in China's equivalents of Airbnb and Uber and begun backing designers like Mary Katrantzou here.
Elegance
I am expecting an entitled, hard-nosed dynamo to walk into Scarfes Bar and so am delightfully surprised when Wendy arrives exuding warmth, smiles and breathless apologies for being late.
For her portrait she has chosen to wear a silk Prada top over an Armani skirt and gold feathered Prada sandals. She looks voluptuous and flamboyant, utterly at odds with the pared down, discreet elegance of the stick-thin women whose style she admires most – Jackie Onassis, Grace Kelly and Audrey Hepburn. I point out that her style idols are long dead and ask whose style she admires today. She likes Anna Wintour, Victoria Beckham and respects Rihanna's style, though says it's not 'relevant' to her. It's as if Wendy's thinking of some grown-ups to emulate whereas her boundless enthusiasm for all sorts of beautiful clothes defies categorisation.
Wendy's family became rich manufacturing wooden doors and Wendy is an only child of adoring parents. 'My parents were very democratic compared with a lot of Chinese parents,' she says. 'Chinese parents are not that expressive but I know mine love me deeply and have high expectations. My father's my mentor and has given me valuable advice: be a loving person, contribute to society, always better yourself and never give up.'
A Lot to Contribute to Society
Wendy developed her passion for fashion from an early age. 'At around five I started making clothes for my Barbie dolls,' she says. 'At 13 I was a geeky tomboy but collected every fashion magazine I could lay my hands on – Vogue, Cosmo, Marie-Claire, Elle – they were my escape from studying and maths. I loved books on the history of fashion, fascinated by the stories behind design. I was like a sponge.'
At 15 Wendy went to boarding school in Somerset and then studied at the London College of Fashion. 'Usually Chinese people stick together but I'm not shy, I'm open-minded and curious and make friends naturally – everyone likes Chinese food after all!' she laughs. 'I love being here. In China it's more about maths and business whereas here I'm freer to explore my interests and passions.
'When I was 22 my grandma told me to get married and have kids. But I have so much more to contribute to society than just being a traditional woman. At the beginning people doubted my seriousness and commitment – did I even know how to do maths? But I was very determined and never focused on negative comments. In China people still consider fashion as frivolous and not something to invest but it's very empowering and a way of telling the world who you are. Art, fashion and technology are shaping the future and that's why I'm investing in them. My family began respecting me. Now they're really proud of me.'
Making a Difference…
We chat briefly about meditation, a practice she credits with changing her life: 'It's so holistic and calming. What people think of you is a reflection of what you think of yourself so you have to focus on the seeds you want to plant.'
She knows her timing is good and that she's well placed to be brokering a cultural dialogue. 'I've had a Western and Eastern education so I can see both sides and Chinese consumer spending power is up,' she says. 'Chinese millennials are much more open-minded than they were. They're no longer just into huge labels like Valentino, Dior and Chanel. Almost every Chinese person has a mobile and with online outlets like Net-a-Porter and Farfetch they've become more adventurous about luxury e-commerce. My mission is to build Yu Holdings' investment portfolio and connect business with creative talent on a global scale.'
It's when I ask her about her long-term plans that the idealistic girl emerges from behind the thrusting young businesswoman she's presenting to the world. In 20 years she'd like to have opened a fashion museum in China, built her family business into a global brand and be using Yu Holdings to support philanthropic causes globally. 'I'd like to be travelling the world, not just to glamorous places but to where I can really make a difference, like Iran or Nepal. I want to be giving my wealth away because it's not worth keeping. I want to be leading a peaceful, fulfilling life with a little place in the countryside with my soul mate,' she says. Has she found her soul mate? 'It's taken me 27 years but I think so,' she giggles.
So far Wendy's wealth represents the magic wand of a fairy tale princess and has protected her from the harsh life lessons that lead to cynicism and ruthlessness. Yet it's precisely her greenness and romantic conviction she can change the world for the better that gives her charm and her mission its extraordinary energy and power.
Quick-Fire Round:
Pub Lunch or Michelin Star?
I'm not really a pub person and I love a really good Chinese restaurant like the Bright Courtyard on Baker Street
Gorgeous Heels or Wellies?
I prefer chilled out flats – Charlotte Olympia, Rogier Vivier and Manolo Blahnik are my favourites.
Gardening or Art Gallery?
In London I'd go to an art gallery but in Shanghai I love gardening and I have a lot of plants in my penthouse. I find gardening very holisitic.
Glass of Wine or Green Tea?
Green tea.
Penthouse or Country Cottage?
I love both but when I'm older I'd definitely choose a cottage as I'm a country girl at heart.
Dog or Cat?
I think you should treat pets like your children and as I travel so much I can't have them but if I did, I'd really love to have a pig.
READ MORE: Conversations at Scarfes Bar: Victoria Broakes | Conversations at Scarfes Bar: Sebastian Coe | Conversations at Scarfes Bar: Ed Vaizey
---