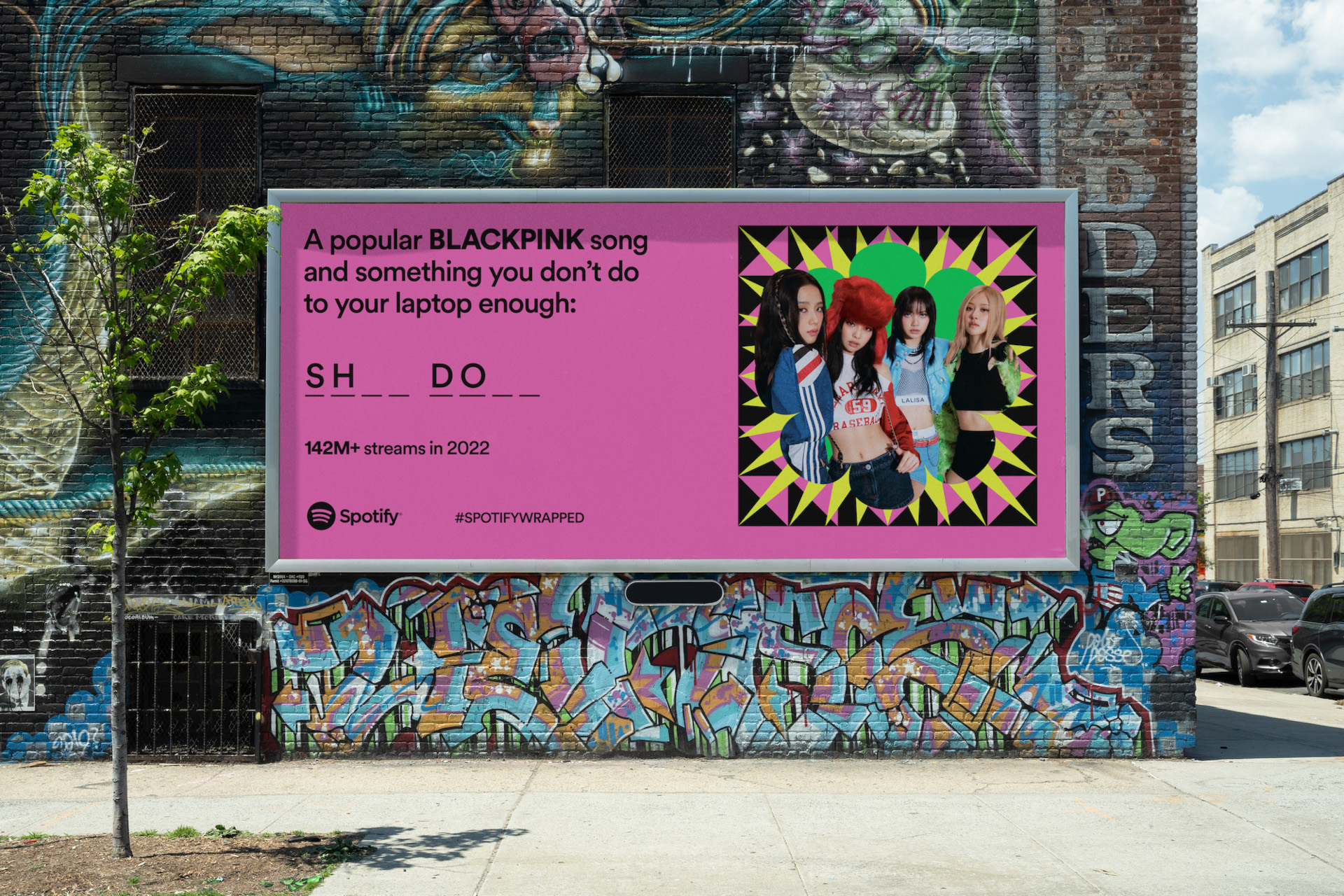 C&TH's Spotify Wrapped 2022: The Music We've Been Listening To (On Repeat)
---
Spotify Wrapped is back for another year! Whether you've been blasting Taylor Swift at full volume, dancing along to K-pop megahits by BTS or vibing to a bit of Bad Bunny, now's the time to show off your music taste to the world. Find out what music the Country & Town House team have been listening to this year, courtesy of Spotify Wrapped 2022.
What is Spotify Wrapped?
Simply put, Spotify Wrapped is a summary of our listening milestones from the last year. Personalised to each Spotify account, it collects your listening data to show you who your most listened to artists, albums and podcasts were. The Wrapped campaign has been going strong since 2016, and is released annually at the start of December.
Since this is a feature that can be shared across social media, you'll often see people posting their Spotify Wrapped each year (much to the annoyance of Apple Music users) as they show off their top artists – unless they have results they'd rather not share…
Who were the most streamed artists of 2022?
Spotify used by 456 million people around the world, meaning there's A LOT of streaming going on. In 2022, our most-streamed artists globally were Bad Bunny, Taylor Swift, Drake, The Weeknd and BTS.
The biggest songs of the year come from Harry Styles (As It Was), Glass Animals (Heat Waves), The Kid LAROI (STAY, with Justin Bieber)  and Bad Bunny (Me Porto Bonito feat. Chencho Corleone and Tití Me Preguntó). You can listen to them all below:
C&TH's Spotify Wrapped 2022
Rebecca Cox, Online Content Director
Comments: 'I have listened 17,862 minutes of music in 2022, 17K of which were the soundtrack to me throwing a football at my son's bunk bed goal for him to save. May 2023 bring new hobbies. These songs are all on Jack's playlist, as I've been listening to Fip all year.'
Rebecca's Top Songs
Heat Waves by Glass Animals
Just The Two Of Us by Will Smith
Power Over Me by Dermot Kennedy
Friday I'm In Love by The Cure
Dance Monkey by Tones and I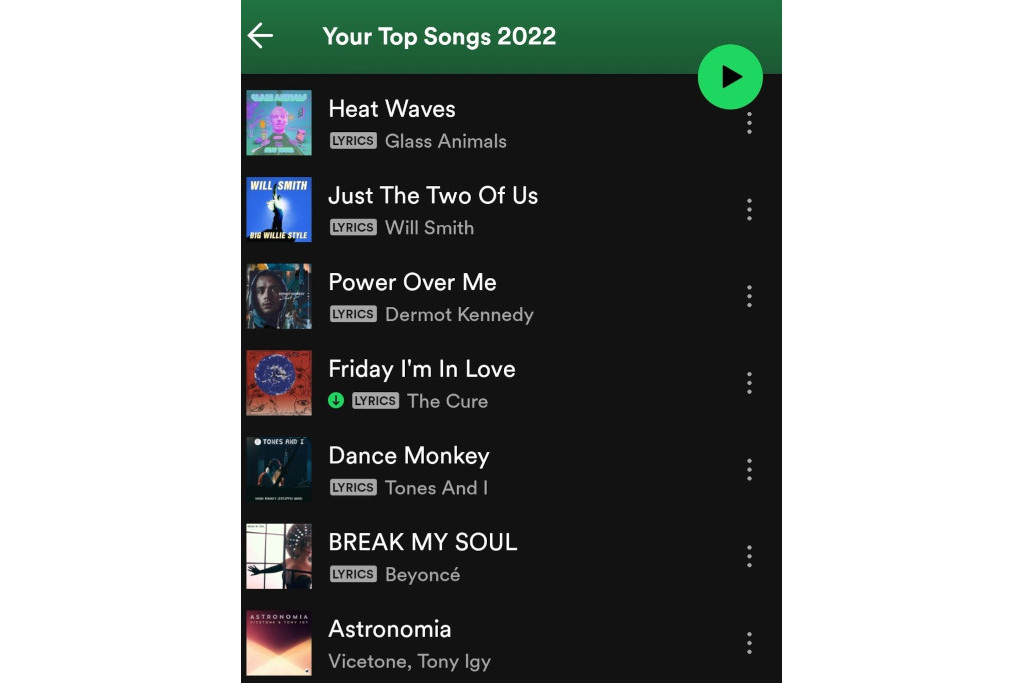 Zoey Phoon, Social Media Executive
Comments: 'Embarrassingly basic, but aren't we all?'
Zoey's Top Songs
Dumb Love by Mimi Webb
Good Without by Mimi Webb
House on Fire by Mimi Webb
Snow on the Beach (feat. Lana Del Ray) by Taylor Swift
Lavender Haze by Taylor Swift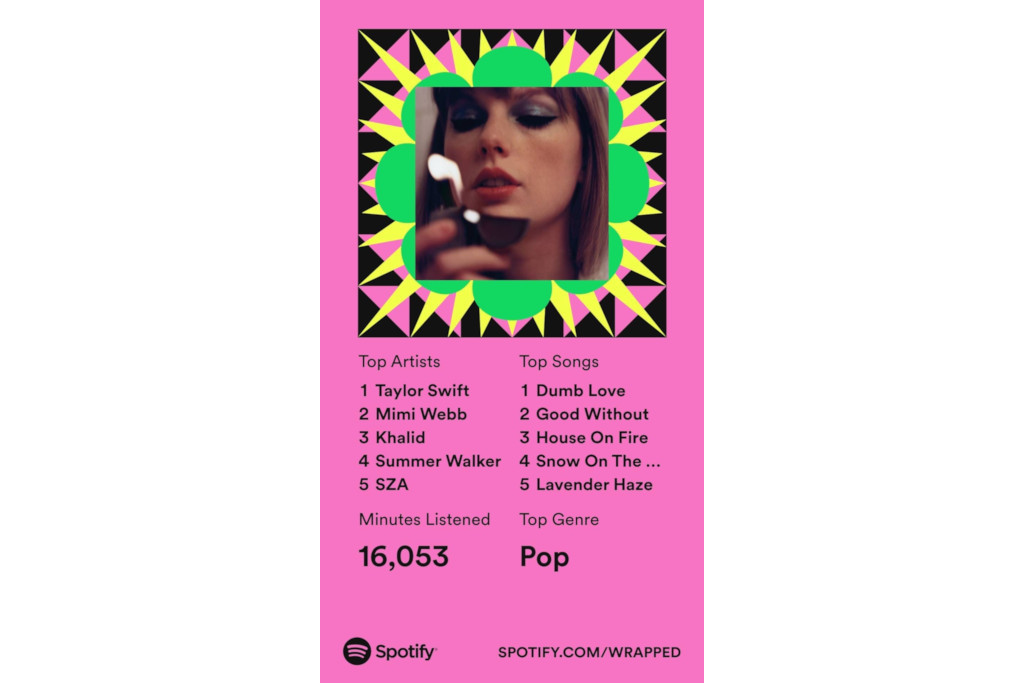 Olivia Emily, Online Writer
Comments: 'Oh, Lorde! With almost 80,000 minutes clocked in, it's clear I am slightly scared of silence. Instead, I fill the void with the same songs I have been listening to since 2017.'
Olivia's Top Songs
Mood Ring by Lorde
Helen of Troy by Lorde
4ever by Willow
Lipstick On The Glass by Wolf Alice
The Solitude by Bedouine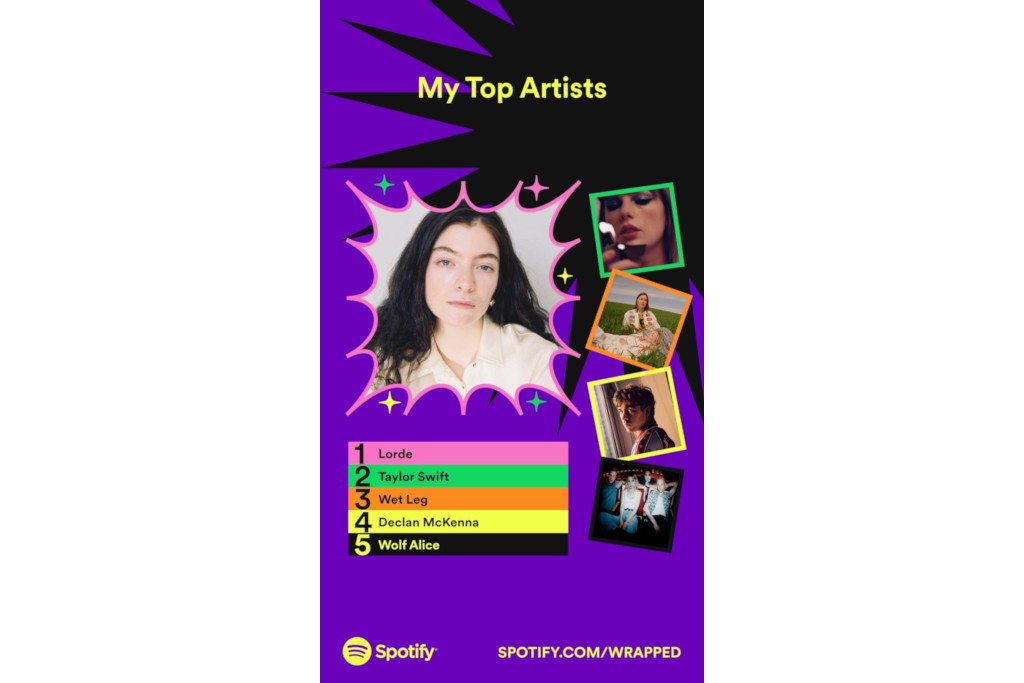 Tessa Dunthorne, Features Assistant & Sub Editor
Comments: 'These are all from my "feral girl summer" playlist. Enough said.'
Tessa's Top Songs
Want Me by Baby Queen
Bad Boy by Yung Bae, bbno$ and Billy Machiafava
Jessie's Girl by Rick Springfield
Pierre by Ryn Weaver
Number One Fan by MUNA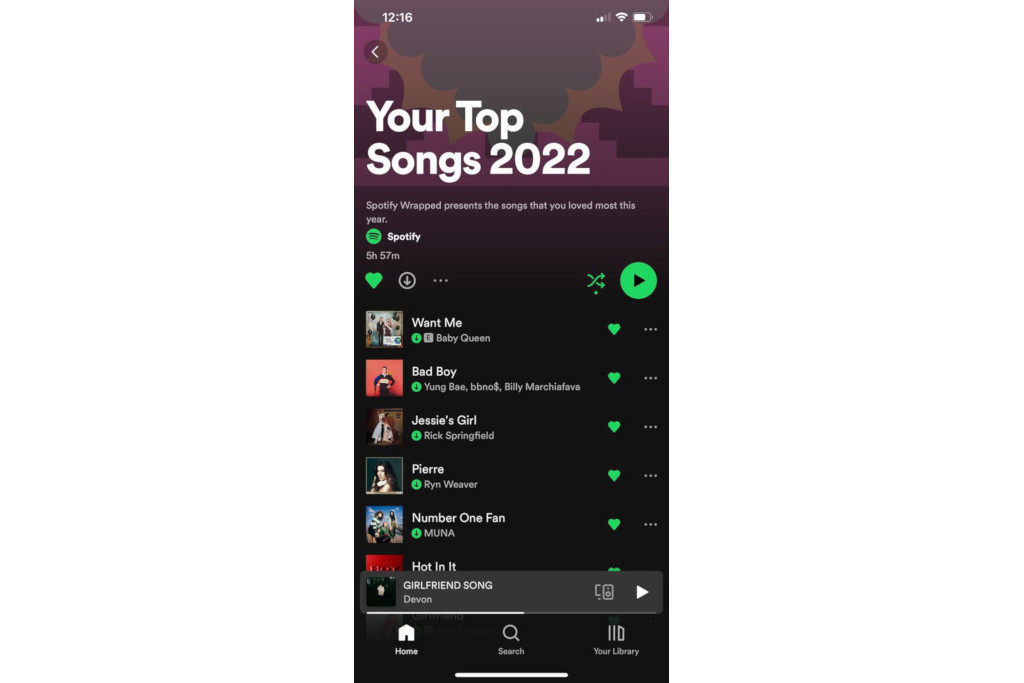 Sabrina Raven, Account Manager
Comments: 'Leading the post-punk revival with Fontaines D.C.! I happened to show up at pub a few weeks ago where they were playing a surprise set – what a way to end the year!'
Sabrina's Top Songs
The Adults Are Talking by The Strokes
Skinty Fia by Fontaines D.C.
Roman Holiday by Fontaines D.C.
I Love You by Fontaines D.C.
Daisy by Wet Leg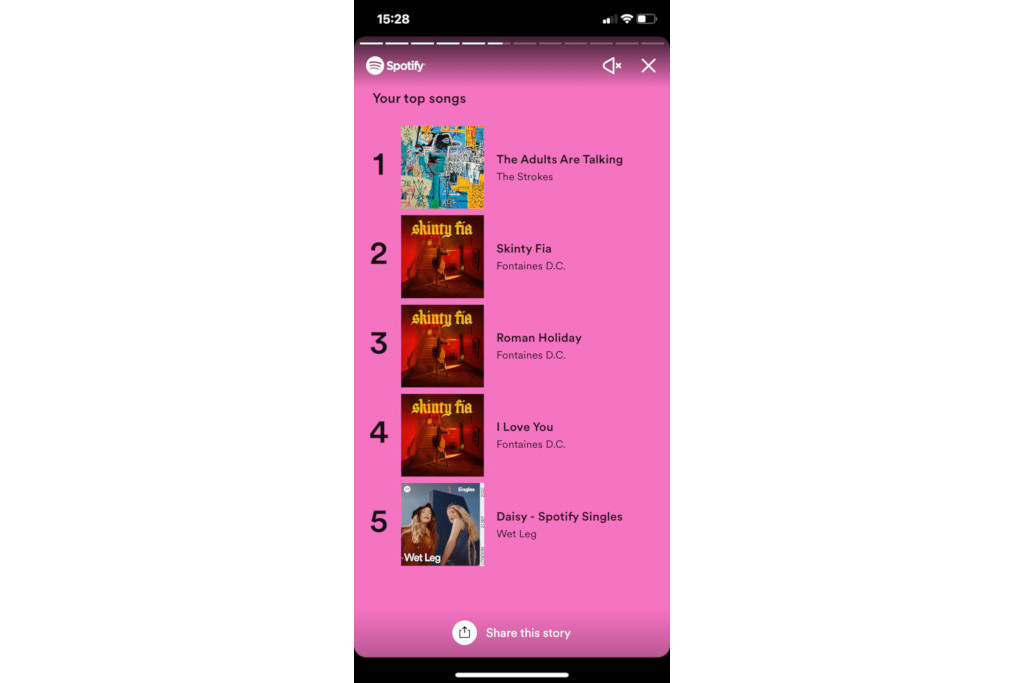 Charlie Colville, Online Writer
Comments: 'This is very revealing, isn't it? I never quite grew out of my K-pop phase (nor would I want to), but this really just confirms how much of an unapologetic boyband stan I am. I'm also pretty sure my top song is the same as last year's.'
Charlie's Top Songs
Blue Hour by TOMORROW X TOGETHER
Polaroid Love by ENHYPEN
Fancy by TWICE
Kiss Me More (feat. SZA) by Doja Cat
0X1=LOVESONG (I Know I Love You) feat. Seori by TOMORROW X TOGETHER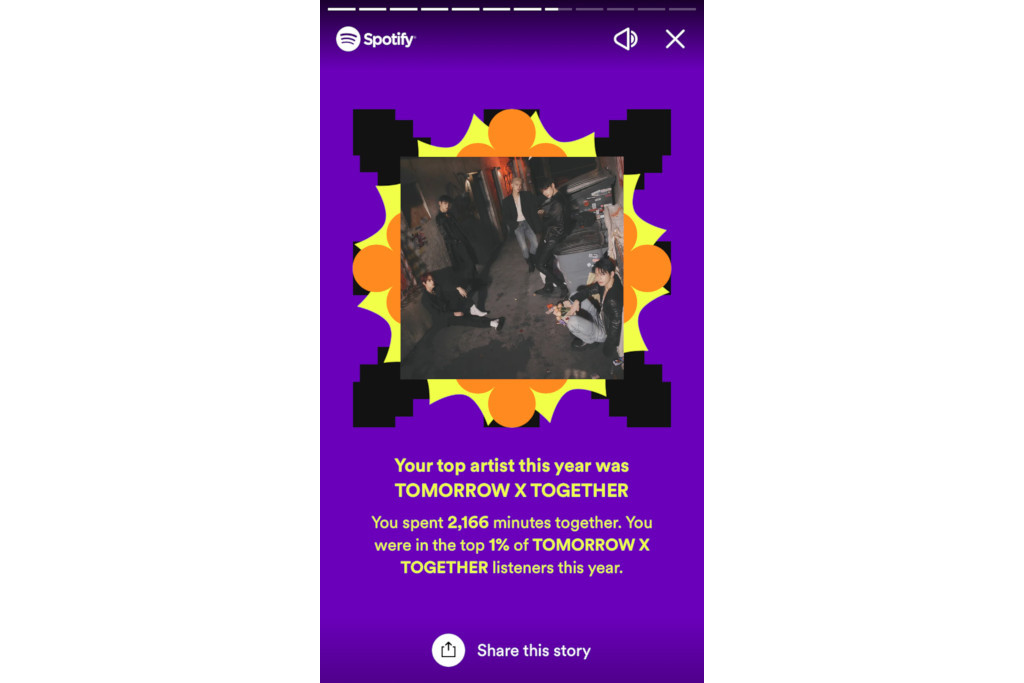 DISCOVER
Find out more about Spotify Wrapped 2022 on spotify.com
Featured image: Spotify