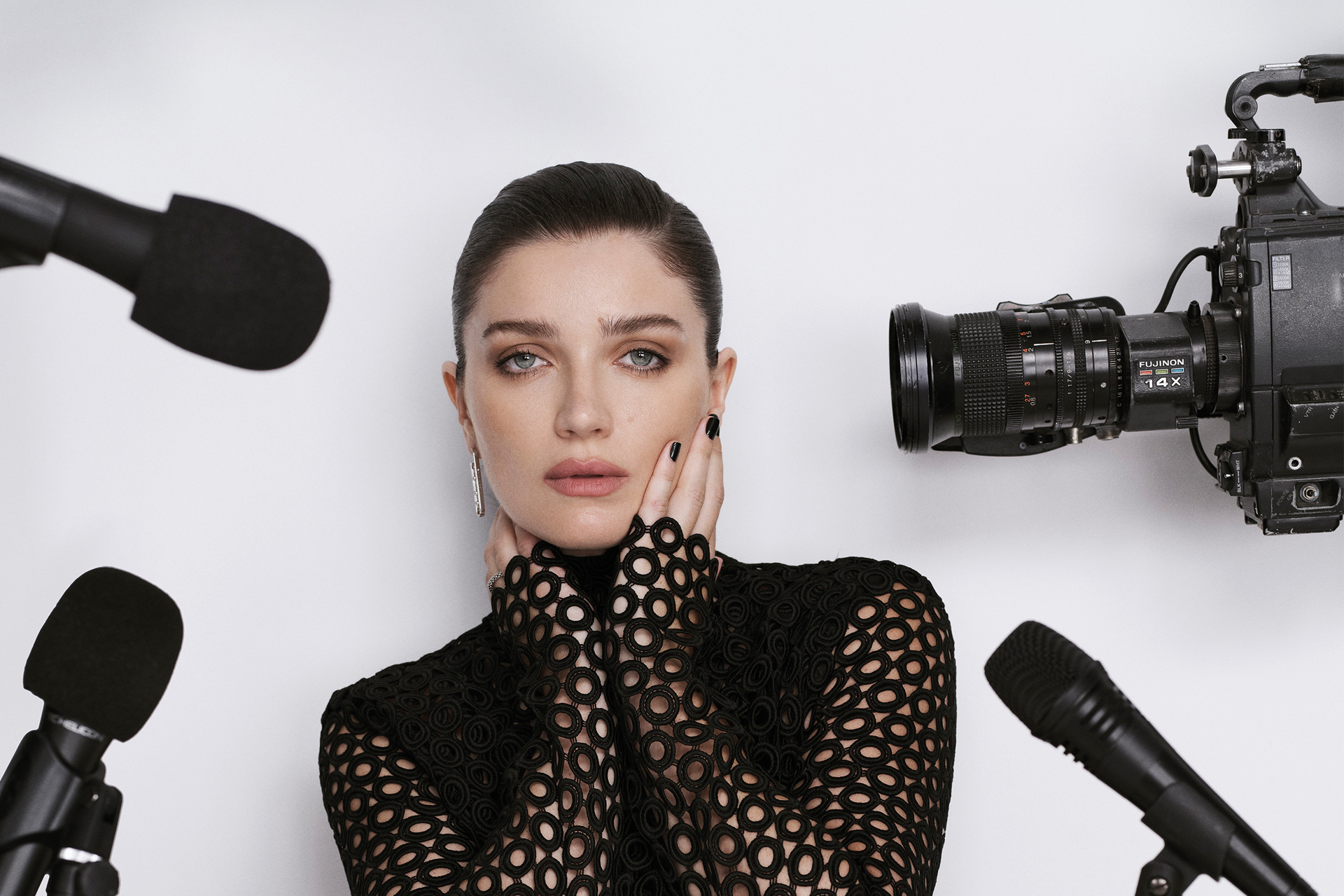 Why It's Eve Hewson's Time to Shine
Watch this name
Eve Hewson is the star of new film Flora and Son, as well as one of the leads in Bad Sisters. She catches up with Amy Wakeham to talk life on the road, Whatsapping Sharon Horgan, and finally learning to sing.
Eve Hewson Takes the Spotlight
All cheekbones, cat eyes and raven hair, Eve Hewson is a force to be reckoned with as she takes our fashion shoot by storm, fixing the camera with her singularly intense gaze, and blasting music from her playlist over the speakers. 
She brings this same take-no-prisoners energy to her work as an actor, gaining accolades for her starring roles in Bad Sisters, The Luminaries and now Flora and Son, an Irish indie film that prompted a furious bidding war at Sundance Film Festival (Apple TV ended up buying the rights for around $20 million).
In person, Eve is funny, bold and candid, speaking with an openness that belies the fact she grew up somewhat in the glare of the public eye as the daughter of Bono and his wife, activist Ali Hewson.
She's in London to start work on season two of Bad Sisters, the critically acclaimed TV show written by Sharon Horgan, who stars in it as one of the titular sisters alongside Eve, Anne-Marie Duff, Eva Birthistle, and Sarah Greene.
'I totally believe in Sharon and trust that she would come up with something genius,' Eve says of the new season. 'But when I sat down to read [the scripts], I got a little bit scared. I read the first episode, and I was like, "Fuck, this is brilliant". And then the second episode, holy shit, it just all ramps up. It's very, very good.'
Is this – the tricky second album – shaping up to be even better than the first season, then? 'Sharon said, "I can't wait to write for you, now that I know you." Now when I read back the lines I'm laughing, as I know it's been specifically written for me: extra cheeky and extra wild.'
After filming season one, the five 'sisters' are all good friends – 'We have a very lively WhatsApp group,' confirms Eve. She adores Sharon, and describes her as 'truly amazing'. 'I heard someone say that you're the average of the people that you hang out with,' laughs Eve. 'I hope to hang out with Sharon a lot, so I can become the average of her.'
Aside from London, she divides her time between her home in Dublin, New York and – occasionally – LA. Is it difficult being on the road all the time?
'Yes, it's really hard,' she says. 'I haven't had an apartment in four years now. All my stuff has been in storage in New York since the beginning of the pandemic, and I've just been moving around in suitcases. You get tired and frustrated by it. And you just want your own bed and your own mattress and your own address, and simple things like your own coffee mug. But also there's no point in me putting down roots anywhere, because I've been lucky over the last few years that I've been working a lot. I'm just gonna keep going until they stop hiring me and then I'll figure out where to live.'
Employment status aside, she sees herself settling in New York, and then maybe Ireland. 'Later in my life, if I wanted a family I would go to Dublin. But I think, as a working actor, New York is where I feel most alive. There's theatre, there's film, there's TV. There's so much going on there that on my days off I feel like I'm still absorbing a lot.'
Flora and Son, a feel-good musical comedy-drama, is Eve's biggest role to date. 'I just howled laughing,' Eve says of when she first picked up the script, written and directed by John Carney, who also created Once, Begin Again, and Sing Street.
The film is set in Dublin, and is about a single mother, Flora, and her teenage son, Max. Encouraged by the Garda to find her son a hobby to keep him out of trouble, Flora rescues a guitar from a skip. But when Max isn't interested, she ends up taking it up herself, signing up for video music lessons with a Los Angeles-based guitar teacher (played by Joseph Gordon-Levitt).
Flora is an unforgettable character: mouthy, opinionated and hotheaded, she's a troubled soul who struggles to connect with her son. 'That character was just in me,' says Eve. 'Some characters you have to try to find, and some just jump out of you. Flora was definitely brewing in me for many, many years.'
In the film, Flora sings and plays the guitar. Unsurprisingly, given who her parents are, Eve's childhood was 'really musical': she played piano and drums, and had her own band. But the biggest challenge for her was actually the singing. 'I hated singing – it was one of my biggest fears. So that was an emotional hurdle for me. But I just felt like the character was so good, and the opportunity was too good for me to pass up just because I was being a scaredy-cat about this one thing. So I decided to put my big girl pants on and just do it anyway.'
She continues: 'I always say that God blessed me with no voice for a reason. Had I been given the gift of amazing vocals, I would have been, like, gyrating naked on stage at Glastonbury, aged 14, just losing my mind. It's probably a good thing I didn't have those chops, because I would have been wild. So I chose acting instead, which actually makes me discipline myself.'
Despite this, Eve sounds fantastic on the film's soundtrack – and she even ended up co-writing several of the songs that appear on the score, alongside Gordon-Levitt, Carney and Gary Clark.
'My dad offered to give me singing lessons, but I was too terrified,' she remembers. 'He was like, "you know, I can help you if you want". I was like, "No, I'm good. Thanks."'
She finds it funny that this film, in which she sings and plays guitar, is her biggest yet. 'One of my hobbies as a child was songwriting and music,' she says. 'And I completely gave it all up for acting, because I became obsessed with it when I was 14. I just left my music stuff behind. And it's just really funny how this movie brought me back to my childhood, in a full circle way. And it happens to be one of the biggest moments in my career so far.'
So after Flora and Son launches, and Bad Sisters season two wraps next year, what's next for this rising star? As well as acting, she's interested in the directing/writing/producing side of things, too.
'I think the more I work, and the more experience I get watching directors that I really love, especially the female directors who I've gotten to work with – I've grown really close with some of them – I just absolutely feel like that's meant to be my next step. I would also love to maybe one day start a production company.'
Whatever she does – whether in front of or behind the camera – with that energy, that spark and thirst for grabbing life by the balls, you know that Eve isn't going anywhere – in fact she's only just begun.
Flora and Son is out on Apple TV on 29 September. Interview and shoot took place before the SAG-AFTRA strike.
Creative Team
Prop stylist: Michelle Lester; Make-up: Lisa Houghton @Walter Schupfer Management  Hair: Dayaruci @ The Wall Group using R+Co; Manicurist: Charly Avenell  using Chanel Le Vernis in 161  and Chanel La Crème Main; Video: Tracer Ital @ Adrenalin Photographic; Fashion Assistant: April McCarthy