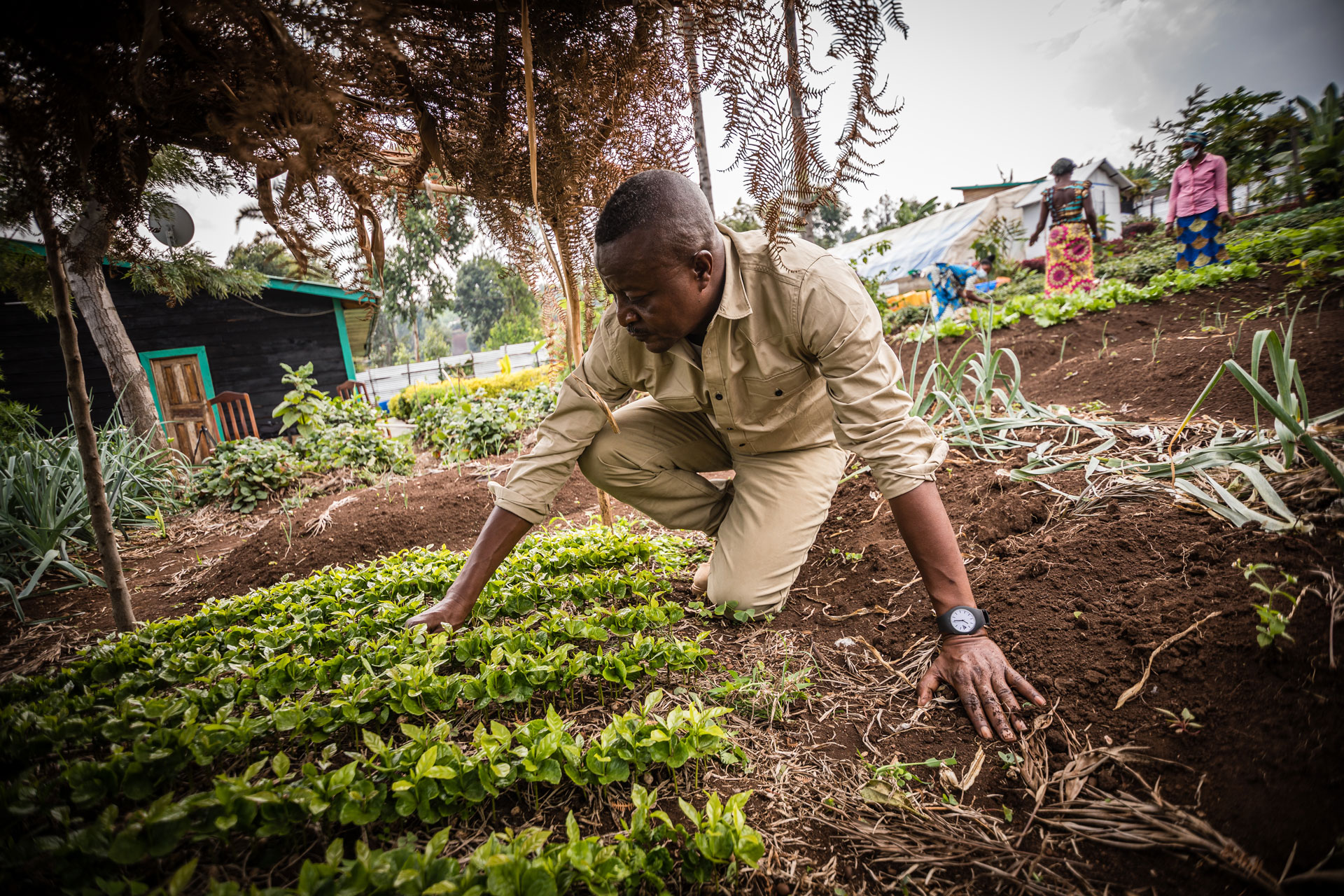 Green Heroes: John Kahekwa, Founder of The Pole Pole Foundation
'Without a thriving natural world, we cannot have a happy human world.'
John Kahekwa is an inspirational conservationist from the Democratic Republic of Congo (DRC). Founding the Pole Pole Foundation in 1992 he has spent over 29 years protecting gorillas and has planted over four million trees in the eastern DRC. Now a finalist for Prince William's inaugural Earthshot Prize, and invited to attend COP26 in Glasgow this November, John Kahekwa, hopes this reflects a sea change in our efforts to fight against climate change. 
When was your green lightbulb moment?
The first time I saw the gorillas, and their babies injured and dying in snares, I asked poachers why they did this. I was young at the time, and they said: 'We have nothing to eat, we are empty. We can't give up, because empty stomachs have no ears', meaning that desperate people are often led to do desperate things. They said they would give up if other activities could fill their stomachs, so that's what we've been trying to do ever since with The Pole Pole Foundation.
What green practices are you most proud of?
In the 1970s, The Kahuzi National park was an island plunged into an ocean of poverty. The human pressure from the villages surrounding the park meant that it risked deforestation and the lives of the gorillas. So from 1992, we initiated tree planting, and since then we have planted over four million trees.
These trees form a 'buffer zone' between the protected park and the communities, which provide them sustainable resources that they can sell, which means they can feed, clothe their children, and let them go to school. The buffer zone also protects the huge carbon sink that is the pristine rainforest habitat of the Eastern Lowland Grauer's gorillas that we work to protect.
We also growing mushrooms and spirulina, which is very efficient in combatting malnutrition. We now feed 150 children a day, which is really positive and they learn better at school.
What makes you feel positive about a sustainable future?
A positive sustainable future for me is to see everybody involved. If we include women, men, the government, together we can do something not short, but long term. That's where the Pole Pole Foundation gets its name: 'pole pole' in Swahili means 'slowly slowly'. Change takes time. But if we go all together as one, we can combat climate change.
And what are the facts that make you fearful?
That 90% of the world's most precious habitats are looked after by indigenous people who receive very little help.
Who is your own green hero?
I'm inspired by the ground and by the forests I work in every day. That's our reality. Our goal is to observe it and protect it from all threats.
Should we be green-shaming the brands/companies who are doing nothing to change their ways?
For us it's more about positive engagement and getting people on our side. The whole message is more about: what's the vision, instead of what's the nightmare. Yes, there's bad stuff, but we need that vision of what we want to achieve, and for anyone who wants to do that, we'll work together and make things happen.
We've been really lucky to have small businesses support us. There's Forever Cornwall, who are a cottage retreat company, they do offsetting through tree planting. Wild Frontiers set up tourist visits where they will take visitors to see us and they have all the insurances to take people here, who will also offset the journey.
What are the biggest challenges in running a conservation?
Providing locals with an income; you cannot make people here work for free forever. The locals harvest the trees they plant every eight years, but they need other means of income too as they wait for the trees to reach maturity.
Three things we should all, as individuals, be doing to help in the climate change fight?
Individuals can help us with our three goals: help find employment for people who may otherwise fall into contributing to deforestation; for women to be involved in every development and for zero young baby gorillas to be in snares.
Where can we read more about your sustainable practices? (link to your sustainability statement)
See our website, polepolefoundation.org, and our social media, Facebook and YouTube. You can also make a donation here.
John Kahekwa and The Pole Pole Foundation will feature in the first episode of Earthshot Prize: Repairing Our Planet, BBC documentary series, on Sunday 3rd October, BBC One, 6:05pm. 
Featured image: The Earthshot Prize
MORE GREEN HEROES
Rob Thompson, Owner of Odyssey Innovation / Sara Thomson, Owner of Leith Collective