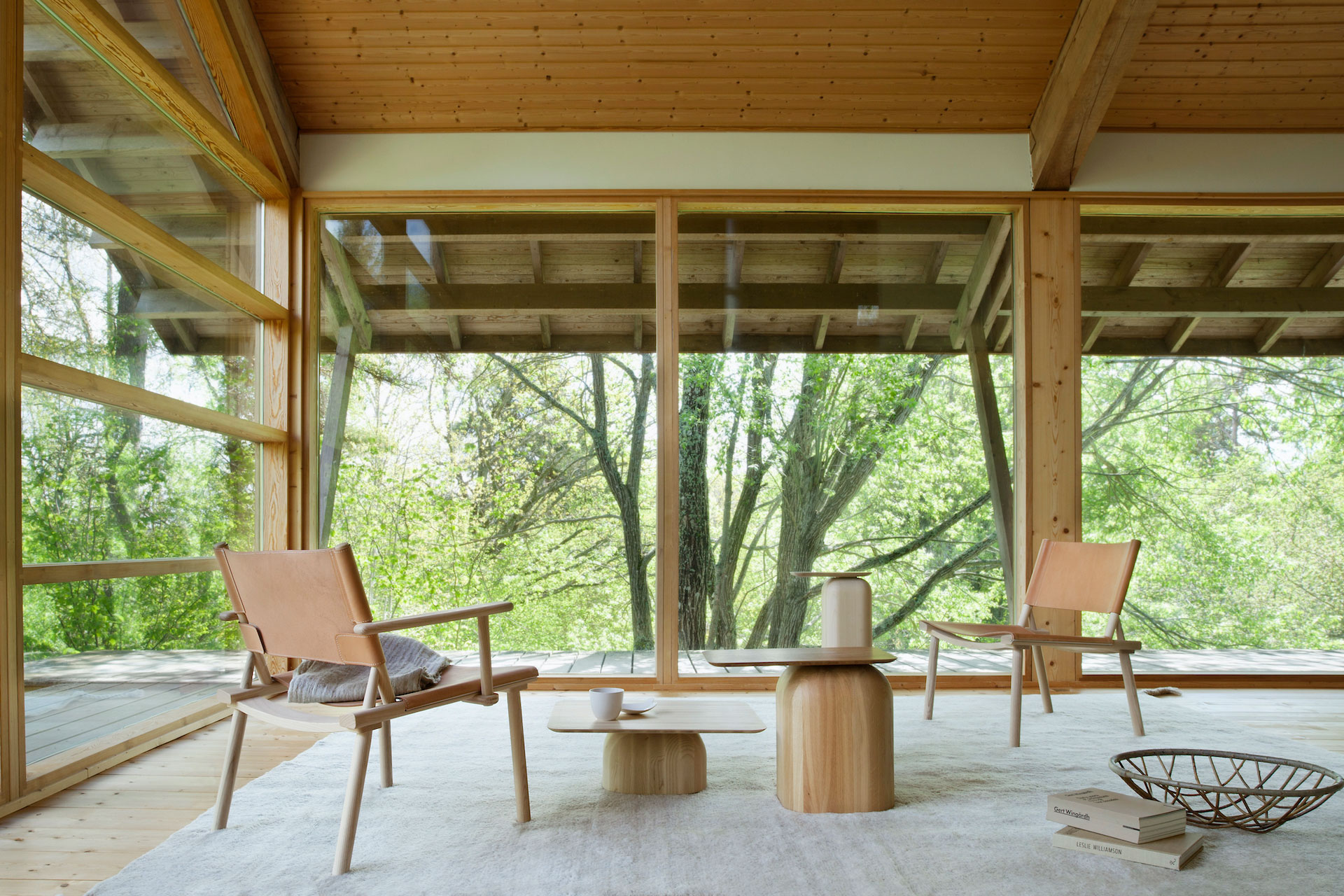 Investigating the Green Design Movement
The big thinkers reimagining our material worlds
As humanity faces impending environmental disaster, we need to radically change the way we live. The green design movement has some ideas of where we can begin.
Annabel's Rainforest Façade Raises Awareness About Deforestation
The Future Starts Here
The latest report from the UN is terrifying – a 'code red for humanity', according to Secretary General António Guterres. 'It is unequivocal that human influence has warmed the atmosphere, oceans and land,' the new report says, warning of increasingly extreme heatwaves, droughts and flooding, and the key temperature limit being broken in just over a decade.
In the face of impending environmental disaster, we're slowly (perhaps too slowly) rethinking how we live, and the products that shape our lives. Leading the charge is an ambitious new green movement in the design industry, made up of product designers and architects keen to reimagine our material worlds.
'Ultimately, we designed ourselves into the environmental catastrophe we find ourselves in and we must hope we can design our way out,' says Deborah Spencer, the brains behind new eco-design festival Planted, which comes to Kings Cross this September, showcasing leading sustainable design brands that place the environment at their core, alongside nature-based installations, plant-based products and a forward-thinking programme of talks.
'Designers are creative thinkers who challenge norms and lazy stereotypes and never have we needed radical thought more than we need it right now,' continues Deborah.
At the grassroots of the green design movement are companies creating products that are, quite simply, better – for us, for the environment, for the people making them. For many designers, this means abandoning the consumerist mindset, and instead embracing craftsmanship and environmentally friendly materials, to make products that will last for decades or even centuries.
'Same-day delivery and the one-click purchase culture fuels desire and ease for quick purchases. This is a global environmental threat, and we are all responsible,' says Mark Tremlett, co-founder of Naturalmat, which has been making mattresses from raw materials that are natural, sustainable and, wherever possible, certified organic, since 2000.
'Whether it's for mattresses, socks, or headphones, good design combined with exceptional materials and craftsmanship can push back against this,' he explains. 'If we can train ourselves out of this habit by buying for quality and longevity this problem can be mitigated. What is hopeful is the spotlight on green design and growing support for the values that underpin what ethical design companies produce.'
And it's not just how we make new things, it's how we dispose of them once we're through with using them. 'I think that the starting point of today's good design is not only measuring the impact of the resources it will take to create but knowing how the project will end its life with either the least damage to our environment or a scheduled upcycle into something else,' Mark continues.
For Naturalmat, this means a circular business model that ensures nothing ends up in landfill, and that all its mattresses are either reused or recycled at the end of their lives.Another new way of thinking is considering not just how much a product negatively impacts the environment, but how it can positively impact it, too.
One example of this is the ground-breaking Airo car created by Heatherwick Studios. Designed for IM Motors, which will put it into production in 2023, the car is fully electric and autonomous, and equipped with a state-of-the-art HEPA filtering system that actively cleans the air as it passes through the under-carriage, leaving the environment around it cleaner.
Inside, the front seats can swivel backwards, with a four-leaf table for dining and social activities, while a foldaway screen creates a gaming or movie pod, and the seats fully recline to form a spacious double bed. Key to this innovation was Heatherwick Studio's experience, not as car makers, but as product designers and architects.
'We tried to take a really big world view of this project, and not just see it as a transportation project,' explains partner and group leader Stuart Wood. 'Could we go further than just not polluting? Could we actually make our cars an active agent for positive change? And that felt to us like quite a powerful gesture for the buyer, but also for the manufacturer to say we're going beyond just being a high-performing vehicle, we're actually contributing to the health and wellbeing of a city.'
This holistic view of the future of urban life is shared by Oliver Heath, sustainable design consultant and another co-founder of Planted. He points out that the building and construction industries are responsible for 39 per cent of global carbon emissions, according to the World Green Building Council. 'We don't have an endless supply of materials,' he continues, 'and we need to make sure that we make better use of what we have, and how we use it.'
Instead, Oliver advocates for a design approach called biomimicry, wherein we learn from strategies found in nature to solve human design challenges, and in turn help to restore the environment. He uses a tree as an ideal example of a circular economy – it takes energy from the sun, and water and nutrients from the ground, while simultaneously storing carbon, and providing nutrients when its leaves fall.
'We really need to be shifting from a carbon-intensive approach, using materials like concrete and steel, to lower-carbon solutions such as timber and mycelium, and bio-based materials that lock carbon in,' he advises.
But living greener also means rethinking our cities, and how we live in them. Oliver is keen on integrating nature into urban spaces – but it's not just about investing some pot plants or greening a few roundabouts. 'It shouldn't just be that cities are man-made objects and nature exists beyond that – it's about welcoming nature in all sorts of different ways,' he says. 'That means how we think about parks, water run-off, how we consider wind and air pollution, and many benefits that nature can bring to balance out moisture, humidity, to prevent the "urban heat island" effect, to prevent flooding in cities by increasing run-off with trees and vegetation, increasing biodiversity and pollinators. There are so many benefits that nature can bring to our experience as occupants of cities, and likewise in our support of nature.'
Effective design choices can also have a positive impact on humans' overall health. 'Nature can support our physical and mental wellbeing, help us to reduce stress, recuperate from physical and mental fatigue, and enhance our sense of community to make our society more resilient,' explains Oliver.
Plus, the benefits come full circle. 'If we make people feel they're connected to nature, that it's central to their health and wellbeing, then maybe we can get them to be more caring and responsible for the wider global environment.'
From how we live to what we buy, there's a lot that needs rethinking. The green design movement is a start, but it's up to us, the consumers, to really demand radical change. Because it's not just about being neutral and minimising our footprints any more; it's about actively enacting positive change, to leave the planet in a better shape than we found it.
'It has to be about more than sustainability,' argues Tom Kay, founder of pioneering, planet-friendly, B Corp-certified, outdoor brand Finisterre. 'It has to be about being regenerative, restorative, and not just maintaining the status quo, but making the world a better place.'
Planted is at Kings Cross from 23-26 September, planted-cities.co.uk
These Sustainable Materials are a Fashion Gamechanger / Design