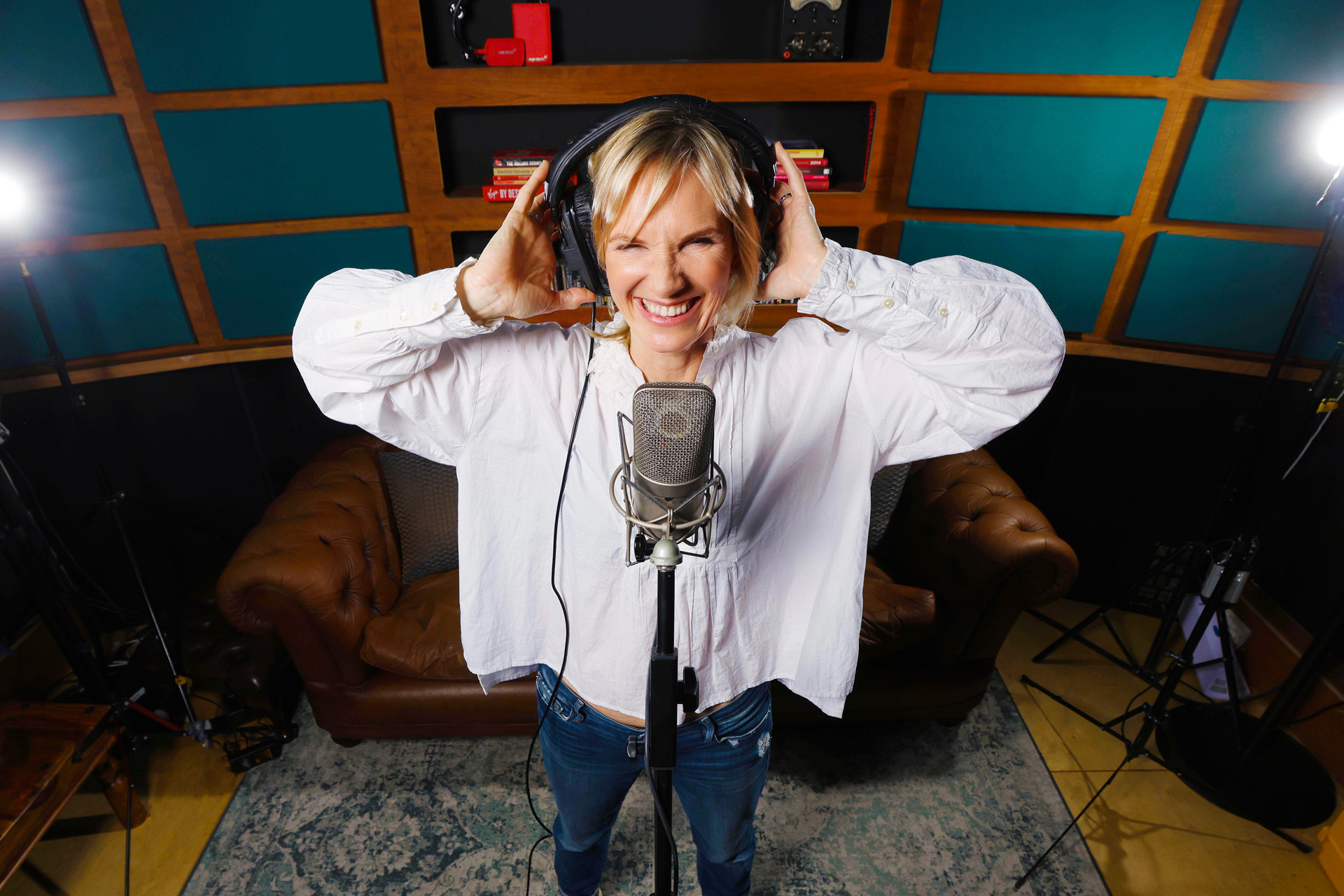 'There's so much chatter in our heads all the time': Slowing Down With Jo Whiley – Interview
Jo Whiley has teamed up with Virgin Atlantic on a new series of soothing podcasts
How do you wind down? For Jo Whiley, it's all about slowing down, tuning in, and enjoying life's small pleasures. She has recently teamed up with Virgin Atlantic on a series of soothing 'Sandscapes' podcasts (available to listen to now on Spotify), very literally slowing down from her usual whizzing commentary on the latest (and greatest) in music. Olivia Emily sat down with Jo to chat all things 'Sandscapes', ASMR, travel plans and appreciating the small stuff.
Read the C&TH Guide To Responsible Tourism
Jo Whiley On Slowing Down & Tuning In – Interview
Hi Jo, it's really great to be chatting with you today! Can you tell me a little bit about your partnership with Virgin Atlantic and Sandscapes?
Yeah, Virgin Atlantic asked me to get involved with this project, and I was extremely happy to lend my voice to the Sandscapes because it's been quite a grey and grim January, and this is the time that people can be really struggling and dreaming of booking their next holiday. Working out where you want to go gives you something to look forward to, so the idea that I'm narrating these amazing Sandscapes – these beautiful images of lovely destinations – was just wonderful. When I was doing the voiceover, it was like, 'Oh, I'm there. I'm with those turtles. I'm on that beach. I'm looking at the coral reef'… It was just such a gorgeous thing to be doing.
As you say, the project is supposed to inspire Brits to book their next tropical escape. Where's your dream tropical escape? And did it change with the process of recording?
Turks and Caicos: I hadn't ever really thought about – or didn't know very much about – them before. So now that will definitely be high on my bucket list. I love water, and my whole family does, too – we just love beach holidays where we can play in the sea and swim and explore. So yeah, Turks and Caicos will definitely be at the top of the list.
What if someone was asking you where they should go on holiday next – where is the best place you have visited that would be your go to recommendation?
There's an island called Koh Chang in Thailand, and that's somewhere that we've been to as a family. The beaches there are beautiful and the people are so friendly. We've had a lot of fun there.
Sounds lovely! The recordings are really similar to ASMR. How did that feel to record in comparison to the rest of your career where it's very… not soothing?
[laughing] I know! It was really good because, you know, when I do my radio show or anything I do, it's all quite fast and very energetic. So I really had to dial it down, and then dial it down again, and then really dial it down. We did lots and lots of takes, and closing my eyes when I was reading – because, in the end, I was memorising all the words – I always ended up going to some sort of meditative state myself. I felt really relaxed at the end of it. I've always enjoyed reading children's bedtime stories and watching the kids drift off as you slow the pace down. I think that's what I did when I was recording these Sandscapes.
Was it quite hard to get into that zone at first?
Yeah, initially. The producers were like, 'oh, yeah, that's really great! Now slower.' I thought, 'I really– I really can't talk any slower!'. And then I was taking myself back to the various apps and things I've listened to in the past, and I was channelling everything that I'd listened to. The words that we were using were so beautiful and poetic, and the idea that I was on a beach or I was feeling the sand between my toes and the water was lapping over my feet – that helped a lot. But it was definitely a massive gear change from talking about Glastonbury before introducing the latest Stones record.
You mentioned going back to what you'd listened to before. Do you often listen to meditation or ASMR style podcasts?
I do sometimes. Obviously, I come from a radio background, so I listen to a lot of late night radio, but I have subscribed to a few of the different apps out there. Mainly, I've got reminders on my phone, so when I'm on the train home after doing my show, I get reminders at 10 o'clock every night, asking things like, 'what are you grateful for?' and 'how's your day been?'. That's a really good tool to reach for. But I think mediation apps are important, because there's so much chatter in our heads all the time, and there's so much going on in the world at the moment that people are bombarded by anxieties and thoughts and lists and stuff that they should be doing. So to take time out and to unwind with some kind of meditation source is a really powerful way to help people relax.
It's very important to look after our mental health. There's so many people who are struggling at the moment, and I think that's why I wanted to be involved with the Sandscapes, because it gives people something to look forward to. I think it's very important to calm the noise and the panic in people's heads sometimes. Listening to something like this will soothe, and give you a respite from the craziness of the world. And the craziness of your head!
[laughing] Yeah! Speaking of listening to things, do you have a favourite podcast or radio show at the moment?
Angela Griffin has just started doing a show on Radio 2 on Sunday evenings, and it's very much in line with this. It's all about calming down and getting you ready for the week ahead. I think that's a really good show. And Nicky Campbell's 'Different' podcast – I think that's great. He's an amazing broadcaster, and the podcast is just very open on conversations about a whole range of things.
I'll have to tune in! What are your top tips for finding balance between your personal and your work lives?
I do a lot of physical activities. It's really important to me to keep fit and to take time out to swim. Swimming is the place where I meditate, probably. So, as I'm swimming along, I've got all these mind bubbles popping into my head – things that I should do. But by the time I've finished swimming, it's all calmed down. Then my family is enormously important to me, so trying to have some quality time – and some fun time – with the kids is really important, whether it's watching TV or taking the dogs for a walk. My family is the most important thing.
Do you get to spend a lot of time at home with your family?
I do at the weekends. I don't see them in the evenings, which is hard sometimes. I don't get to put my daughter to bed, and she's quite sad about that sometimes, which makes me sad. But I make up for it with holidays – genuinely, holidays are so important to us. We're going to be going skiing in a few weeks time, and it's something we do every single year, just something that we hold on to and we look forward to. I know that we're going to laugh a lot and we're going to do loads of exercise and have a lot of fun. I'm trying to plot my summer holiday as well. I'm panicking that the kids might turn around and say they don't want to come on holiday with us, but I'm hoping that this year they still will want to!
Where are you thinking of going? What's top of the list?
Well, Turks and Caicos, I have to be honest with you! The beautiful beaches and the sea and everything there – that would be a very, very lovely trip. We went to America last year and did a big family road trip. It was amazing. So we've got to find something that matches up to that!
Do you live in the town or the country and which do you prefer?
I live in the countryside. We used to live in London for a long time, but the more children we had, the more space I needed. I really really love the countryside. I've got a lovely garden, too – that's another place where I calm down and is an important part of my work-life balance. The countryside is my favourite place to be. I love going to London and I love working. I wouldn't want to be here all the time in the countryside, but it's just so great to escape to it. Your shoulders relax when you get home, and you can look out and there's vast skies above you. Just that feeling of space: it just helps you calm down. 
Yeah, it's another world. What qualities do you think have made you successful in your career?
My work ethic. I really like working hard and being professional – making things as good as they can possibly be. And getting on with people, but getting on with people quietly. So if I get a job, I like to go in there and just quietly prove myself. And yeah, in my job, it's a love of music first and foremost. Just the fact that I really love discovering new music and playing quality stuff to people. That's obviously why I'm still doing the job I'm doing.
Were you always driven by music? Is that always what you wanted to do? 
Yeah! I didn't have a clue what I wanted to do. I've never had any kind of career path. When I was at school, I had no idea what I was going to do. I went to university – had no idea what I was going to do. Finished university – had no idea what I was going to do. I went to lots of bands all the time, and I had a really amazing lecturer who said to me, 'there must be something that you like!'. And I said, 'Well, yeah, I like music. And I like the radio'. And he said, 'Well, there's a radio station in Brighton. Why don't you go and see if there's a job there?'. So I went in, and I helped out on a radio show. It was all about alternative music and new music. I went there for a couple of weeks, and then I was like, 'Yeah, this is what I want to do.'
That's so fun. How do you think we can all live a little bit better? 
Slow down, probably. I think a lot of us just rush around, trying to do a million things at once. So I think it's so important to just stop and take stock of what you're doing on a daily basis. Instead of doing a million things at once, it's much better to do 10 things with real quality – that you really enjoy and you relish. So when you meet up with friends, really enjoying every second of every conversation that you have, and not just saying, 'okay, tick the box, I've done that, I've just had lunch with my friends, now I'm going to go for a swim'. Instead, give yourself time to be with your friends, and then go for a swim and appreciate what the water is like and how you feel when you get in the water. It's just about stopping yourself from being on automatic pilot. 
That's easier said than done, oh my god! I'm terrible at it. I always do everything at 100 million miles an hour, but I'm trying desperately to make myself take time out to enjoy walking the dogs, enjoy seeing my friends, enjoy seeing my family.
Yeah, it's so important to make the most of the little things. Do you have anything fun in the pipeline professionally or personally, if you're allowed to say?
This year, I'm going to be DJing, doing my 90s anthems shows. I've got quite a lot of festivals that I'll be doing with that. The gigs have taken off, and they're so much fun. I get really great feedback from people who haven't seen their friends, haven't been out for a good night out for a really long time, and then they just go crazy to lots of amazing 90s anthems. So that, and my radio show.
Love it. OK, quick fire time…
I'm tuning into… Bad Sisters. I've got one more episode to go. And I can't recommend it highly enough.
What I'm reading… Maureen Fry and the Angel of the North by Rachel Joyce
The last thing I watched was… Top Gun: Maverick
What I'm most looking forward to seeing… The new series of Ted Lasso when that comes out!
Favourite film of all time… Moulin Rouge
Band/singer I always have on repeat… Bands would be The Killers, singer would be David Gray
My ultimate cultural recommendation… The Royal Academy Summer Exhibition: that is one of the highlights of the year. Or the Chelsea Flower Show.
Cultural guilty pleasure… The Great Pottery Throwdown
What's next for me is… The Blenheim Triathlon!
Listen to Virgin Atlantic and Jo Whiley's Sandscapes on Spotify. spotify.com