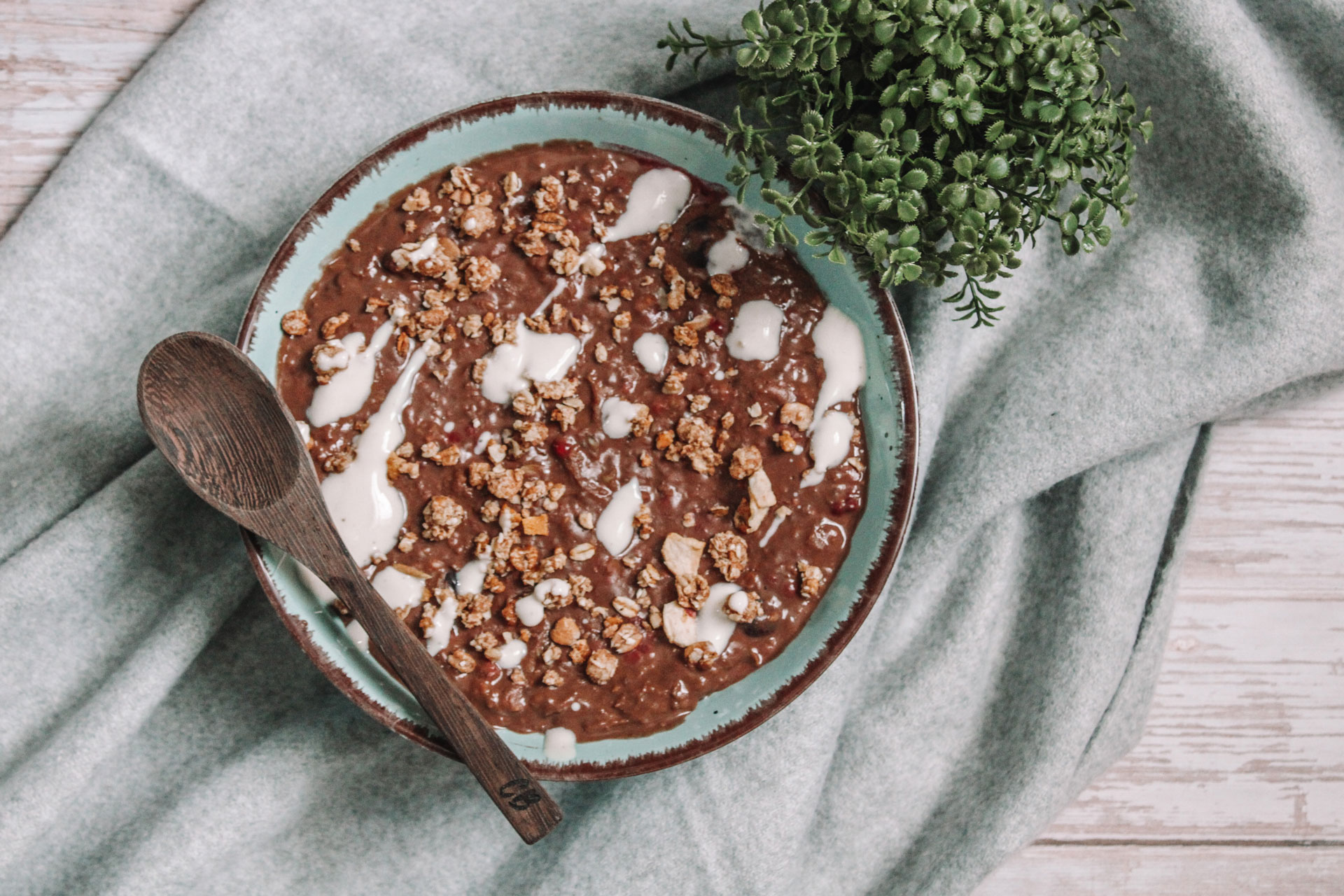 Ingredient of the Week: Oats
Some fun facts about the humble oat, plus a chocolate and peanut butter bar recipe
Each week plant-based cook Bettina Campolucci Bordi, founder of Bettina's Kitchen, gives us the lowdown on a particular fruit, vegetable or ingredient, offering cooking tips and a recipe. This week it's oats, which soar in popularity during the colder months as we opt for porridge breakfasts. But there are other ways to incorporate oats into your cooking, says Bettina. Here she shares some ideas for sweet and savoury oat-based recipes, and gives us a bit of background on the grain.
Ingredient of the Week: Oats
It's that time of year where oats feature highly in my daily life. The perfect way to start a cold winter's day is with a hearty bowl of porridge, and while porridge can have a base of other ingredients, oats are usually my staple. These are topped with all sorts of deliciousness to make this humble breakfast more interesting and tasty. 
Uses & Different Varieties
Oats are steamed, flattened, and sliced in different ways, producing the several types available. These include old fashioned (regular), quick and instant (their names, as you can tell, designate how fast they'll cook up into oatmeal.) Oats are considered a whole grain because after processing, their bran and germ remain intact. 
In stores, you can buy steel cut (aka Irish oatmeal, which are chewier and heartier), Scottish (these are stone-ground oats and creamy), rolled (AKA regular or old-fashioned), and, as mentioned earlier, quick or instant, which are made by rolling oat flakes even thinner than the old-fashioned variety. I personally love using steel cut oats for a bit of bite and for those mornings where I have a little bit more time and patience. I highly recommend using both flakes and steel cut for the perfect porridge texture. 
Health Benefits
We've been told for years that oats are good for you and studies have been done now to show that they are great for gut health, they have all kinds of nutritional benefits, they may keep your cholesterol in check and they keep you full for longer.
As well as being a hugely popular food, you may be surprised to know that oats are used in a big way in the beauty industry, featuring in many cosmetic brands.
While we tend to see porridge as a dish that can be sweetened with honey or maple syrup or fruits, if you are more into savoury breakfasts over sweet, I urge you to try my savoury oats recipe, which is made using sesame oil, tamari or soy sauce and lightly sauteed Asian veggies on top. It may be time to change it up!
Fun Facts About Oats
Oats can be traced in human diets back thousands of years – it is believed that oatmeal was invented in the British Isles. How cool is that?

They are planted during the summer and early autumn and remain dormant during the winter. Throughout the winter, the plants germinate to store energy, and the oats begin to grow during the spring. This grain is a cool-season crop that needs a cold winter to grow. They are mainly cultivated in Romania, Russia, Canada, Europe, and the United States. In the US they are typically grown in the Midwest and other northern regions. There are two kinds of oats, husked and naked.

These grains are most commonly rolled into oatmeal, used as flour, as livestock feed, and are now being used as a dairy alternative in milk, yogurt, and ice cream. Oats are also used in many sweet treats and this one is particularly good.
Recipe: Peanut Butter and Chocolate Bars
Makes 1 tray
Ingredients: 
120g plant butter

50g caster sugar  

1 jar Manilife peanut butter (295g)

200g oats (small)

1 handful toasted salted peanuts

300g chocolate
Method:
Add the plant butter and sugar together in a pan and simmer over a medium heat until the sugar has dissolved into the melted butter, this will take around 5 minutes.

Add ½ jar of Manilife peanut butter and mix well. 

Add the oats to a mixing bowl, then pour in the peanut butter mixture from the pan and combine everything together.

Line a square tray (approx 20x20cm) with greaseproof paper, then press the oats mixture into the bottom of the tray, pressing down firmly to make it as compact as possible.

Then add the remaining half of the jar of peanut butter and spread evenly across the top.  Sprinkle with the toasted salted peanuts.

Melt the chocolate over a bain marie and pour this over the top of the peanuts and spread this evenly using the back of a spoon. 

Place in the fridge until it sets, cut into bars, and enjoy!