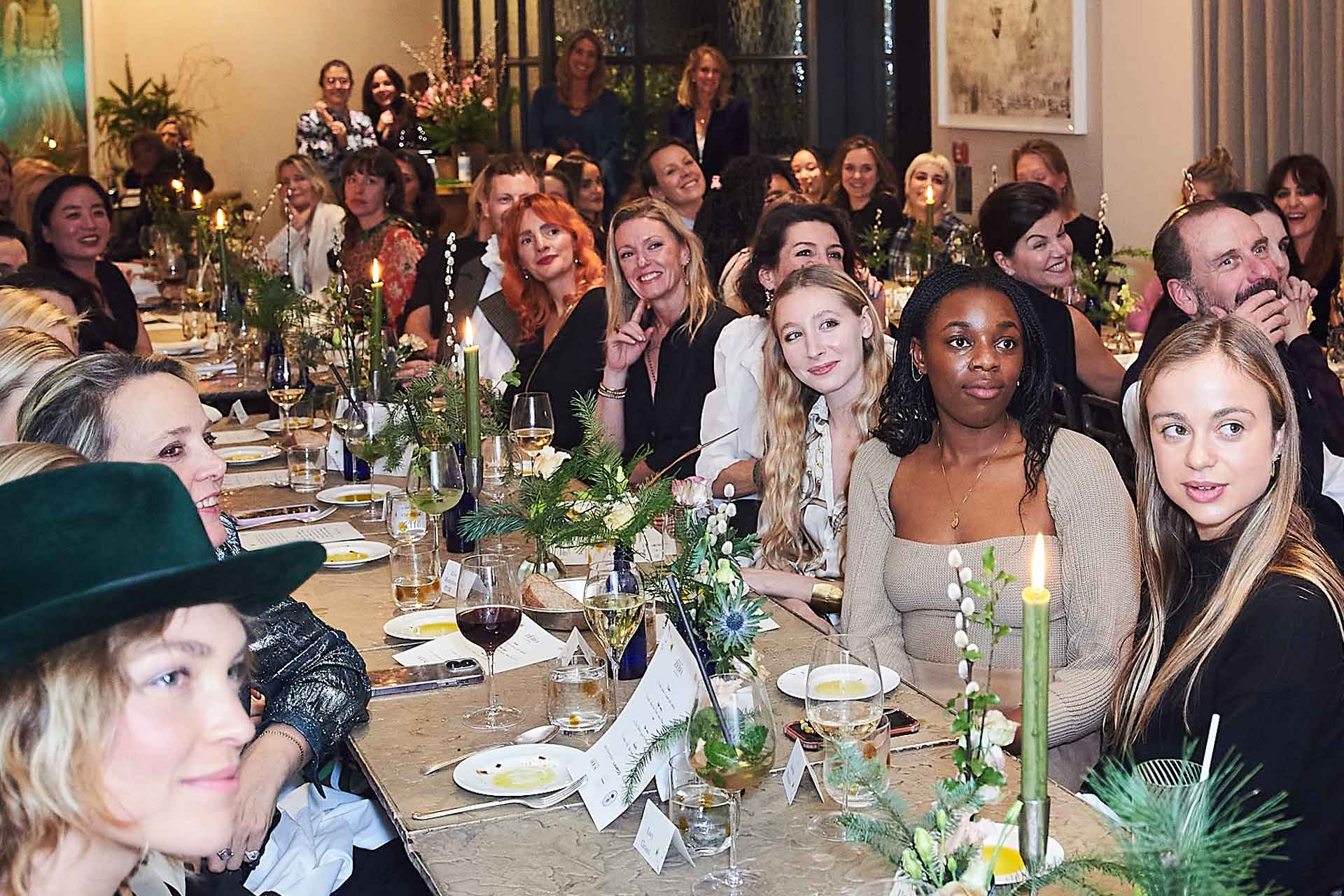 A Sparkling Evening Of Hope: Journey To Zero 2022
Country & Town House hosted a live sustainability and luxury event in association with Skydiamond
In association with Skydiamond, Country & Town House hosted a sparkling evening on Tuesday 28 November at The Petersham, dedicated to how luxury and sustainability can coexist. With special guests including Arizona Muse, George Lamb, Anya Hindmarch and Anabel Kindersley, it was an enlightening evening of shared ideas and hope for a brighter future for our planet. 
Describing the event, Arizona said: 'Community, beauty and sustainability! C&T got it all right last night and their beautiful event that I loved so much!'
Journey To Zero
When we published Great British Brands ZERO in time for COP26 last November, it was a clarion call to our British brands to either push further and harder along the road to Net Zero – or to take their first tentative steps into the path of sustainability and regeneration. We spoke to the leaders of 26 of our most famous British brands, from Burberry and Bentley to Anya Hindmarch and Harrods to tell us their stories about how they are tackling plastic waste, climate change, biodiversity degradation and, ultimately, the changing of customers' habits.
Last night, we brought this work to life, in partnership with Luxury Event Planners Baillie Newman, with a wonderful dinner in celebration of sustainability at The Petersham in Covent Garden.
From Anabel Kindersley of Neal's Yard Remedies campaign against pesticide to Arizona Muse's DIRT charity championing the importance of protecting our earth, and Skydiamond's miraculous work turning carbon in the atmosphere into actual diamonds. There was inspiration everywhere and thought-leaders sharing their learnings along with small everyday ways we can all make a difference.
'Every time you spend money you're either supporting a business that's doing great things for the world, that's researched into their supply chain that pays people fairly and is conscious about the decisions they make, or you're supporting a business that has not done this work, and is operating out of an old paradigm of exploitation, both human and environmental.' – Arizona Muse, founder of DIRT charity
Guests included Lady Amelia Windsor, Domi Palmer, Mary Fellowes, Thomasina Miers, Izzy Manuel and Bay Garnett to name but a few. We also loved connecting with some of our loyal readers at the event. Here's how the evening played out…
Guests enjoyed a mouthwatering, four-course vegan feast, following a champagne reception where luxury brands will showcase their latest sustainable innovations, including sponsor Skydiamond who is disrupting the jewellery industry by mining diamonds from the sky – literally.
Keynote talks over dinner included a chat between Anya Hindmarch and model and sustainability activist Arizona Muse, and a lively panel discussion between the team at Ecotricity, Anabel Kindersley of Neal's Yard Remedies and George Lamb from Wildfarmed, hosted by Country & Town House Editors.
Fashion partner Lampoo, the latest circular fashion brand from Italy to hit Chelsea's Kings Road, showcased how to recycle your designer wardrobe and effortlessly create a more sustainable collection, while wellness partner Neal's Yard Remedies, who are championing Save the Bees with Bella Freud, offered hand and arm massages to guests.
Goodie bags contained a host of ethical treats to try out at home from all brand partners including Skydiamond, Neal's Yard Remedies, Lampoo, bareMinerals, The Body Shop, Pixi and more.
Brand Partners
Skydiamond
Skydiamond is a Gloucestershire based brand, working to change the way we go about diamonds – and in fact all the luxuries we enjoy. As founder, Ecotricity's Dale Vince OBE says, 'Living sustainably isn't about giving up the good things. It's a different way to live – a better one.'  
Their cloud-sourced diamonds created entirely from the sky, use 100% green energy and actually puts back air cleaner than they take. Not to mention, they're entirely ethical, free from social harm and so offer the ultimate in guilt-free  glam! They call it 'bling without the sting'. skydiamond.com 
Neal's Yard Remedies
Anabel Kindersley is co-owner of Neal's Yard Remedies, the iconic British brand pioneering ethical and sustainable natural health and beauty for over 40 years. A passionate herbal advocate and organic enthusiast, Anabel is a member of the Sustainable Beauty Coalition's Advisory Committee and has been a voice for positive change in the industry, from facilitating discussions around the importance of healthy biodiversity to driving Neal's Yard Remedies' long-standing Save the Bees campaign. This year, Anabel is spearheading #StandByBees, an initiative that has so far brought together 80 businesses and organisations in support of her parliamentary petition to cut the use of toxic pesticides and promote nature-friendly farming in the UK. nealsyardremedies.com
Lampoo
Lampoo is a luxury consignment service that empowers its customers to shop more responsibly, by providing an easy and convenient way to sell and buy pre-loved designer fashion. 
Their dedicated team of inhouse experts take every aspect of selling off your hands; collecting the items from your home for free, photography, listing, secure storage and delivering to the buyer once sold. For buyers, shipping and returns are free, and their meticulous authentication process offers complete peace of mind that customers are buying the real thing, in great condition. 
Pre-loved boutiques in London and Milan are an extension of the online platform, providing a luxurious space for customers to browse their gorgeous array of top designer products, or sell using their own pieces using their express drop off or in-store appointment services. lampoo.com
LK Bennett
LK Borrowed is LK Bennett's monthly-subscription rental service which allows customers to rent some of the most popular pieces from the RTW collections. For £79 per month customers can rent two pieces at a time with up to eight swaps throughout this period. This allows customers to have an endless stream of beautiful quality products to wear, while limiting the environmental impact of fashion, through a rotating wardrobe. Plus, customers have the option to buy their rented items at up to 50 percent of the retail price. lkborrowed.com
Polestar
Polestar is a Swedish premium electric vehicle manufacturer. Founded in 2017, Polestar is headquartered in Gothenburg with vehicles on the road in 27 markets globally. Polestar has produced two electric performance cars. Polestar 1 – a low-volume hybrid performance GT – and Polestar 2 – the brand's first fully electric, high-volume car. From 2022, Polestar plans to unveil one new electric vehicle annually up to 2026. The recently revealed Polestar 3 is the company's first electric performance SUV. Polestar 4 is to follow in 2023 – a smaller electric performance SUV coupe.
As Polestar seeks to reduce its climate impact with every new model, it aims to produce a truly climate-neutral car by 2030 in an undertaking it calls 'Polestar Project Zero'. polestar.com