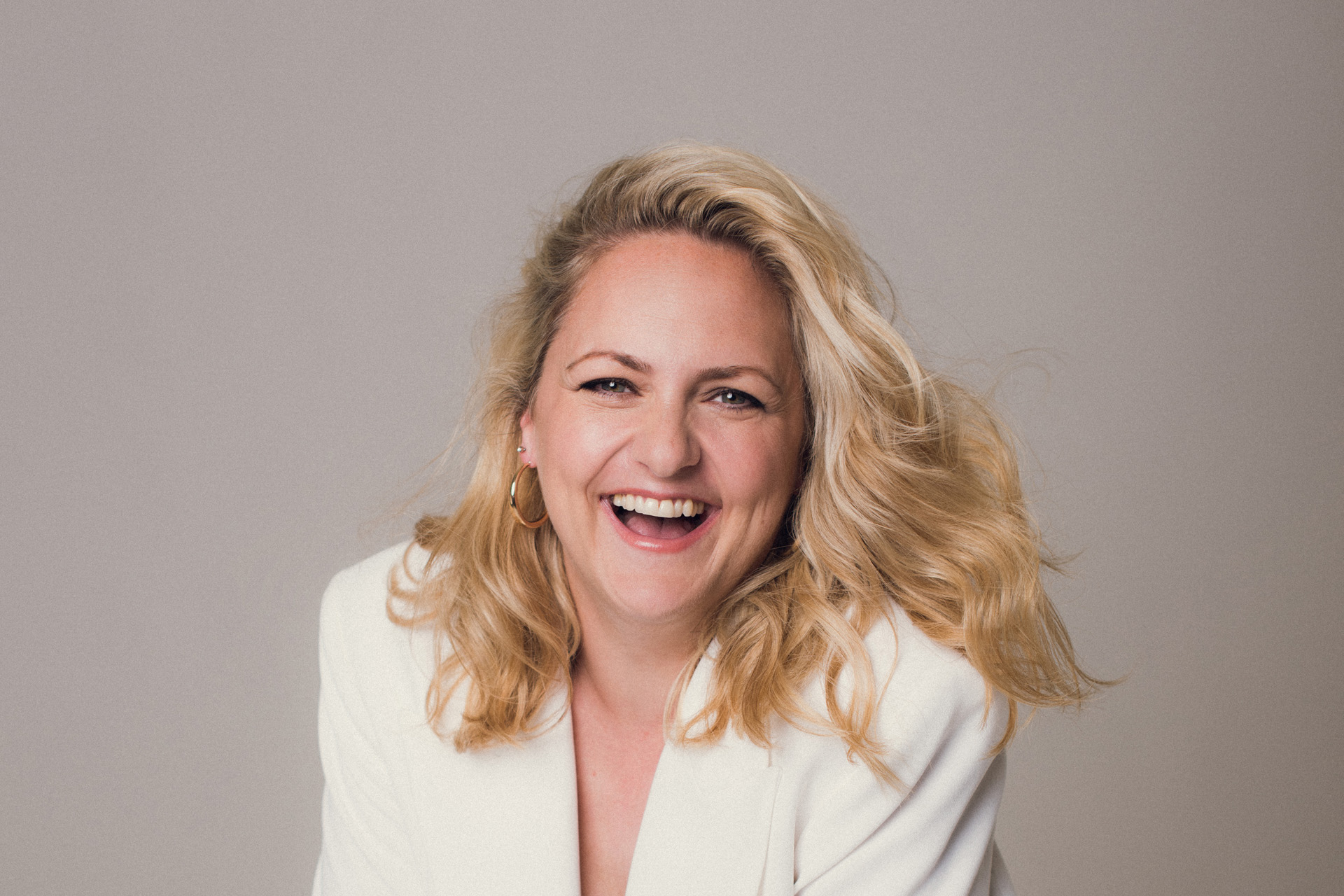 Laura Checkley On Screw Series 2: 'It Will Really Keep You Guessing' – Interview
Laura plays Jackie in the Channel 4 prison drama
Have you been watching Screw? Channel 4's high stakes comedy drama follows two prison officers – played by Nina Sosanya and Jamie-Lee O'Donnell – and their colleagues, and takes a look at their experiences and the prison system itself. Back for series two, you might know Laura Checkley as another prison guard named Jackie. We sat down with Laura to talk all about the series, plus King Gary and being a city girl.
Interview: Laura Checkley On Screw Series 2
Hi Laura, how's life going at the moment? 
Not going to lie, life is pretty sweet at the moment. I got married, and I'm only just back from a dreamy honeymoon. I've had a really good year work wise, too, so mustn't complain. I'm obviously touching wood as we speak!
You're currently starring as Jackie in Screw – can you give us an elevator pitch for the show? 
Screw is an exciting, edge of your seat, character driven prison drama that centres around the lives and relationships of the prison officers. It's an honest and uncensored look at the prison system and those serving it. It's the sort of show you'll want to binge in one sitting.
What can we expect from the second series? 
The tone has somewhat shifted this series. It really hits the ground running and the danger is palpable. It will really keep you guessing. Just when you think you know what's going to happen, the rug is pulled from under you and it goes in a completely different direction. It's really hooky and you'll want to know what's going to happen next. It's a gripping season and really touching in places too. It'll get you in the feels.
You play Jackie – how would you describe her?
Jackie is such a colourful character. She's like the matriarch of the team: a no nonsense, straight talking, proper working class woman with a big heart. She is popular amongst her staff and the prisoners because she's fair. She's like everyone's mum really, but equally you wouldn't want to get on the wrong side of her. She's got a wicked sense of humour, too, which instantly drew me to her.
What is it like playing her? 
Oh, I love playing Jackie so much. I get to do it all with her, especially in this series. As always, she has some great one-liners, but she goes on a real journey, dealing with some pretty difficult themes and through these tough storylines we get to see a vulnerability to her that we didn't the first time around. I was able to discover much more of her; she's a brilliant woman – the kind I'd like to hang out with down the pub. That's probably because she reminds me of my nan.
How did you get into character and prepare for the role? 
I usually base my characters on someone I know or have met along the way. I always work through the script, looking for clues about the character and their life, and then fill in any missing blanks. I'll ask myself questions about their past: who they are, what they want, etc. Then, of course, with a part like this comes the research of prisons and those serving in it. I met with a couple of female prison officers, and their knowledge and advice was invaluable. Once all that is done, I start making choices. For me, it's all about collaboration and what my other cast members bring to the table – what the writer and director think and what we all find in the moment. It's layered you know and every actors process is different.
Any funny stories from rehearsals or filming?
We have a lot of naturally funny people in our cast, and at times it's an intense set to be on dealing with heavy storylines, so naturally we can get silly. This one day, we had this Post It note doing the rounds with a… Let's just say with a silly drawing on it. It was getting passed about and put on everyone's back, and you basically had to notice it before cameras started rolling. Most people spotted it in time, but poor Jamie Lee O'Donnell did not and it was a beautiful thing to watch unfold. Full disclosure, it wasn't me that started it and we take our jobs very seriously… When we have to!
What is the cast dynamic? Who was your fave person to work with? 
The cast dynamic is brilliant. We're all so different, but it works. We honestly get on so well. We all have a similar sense of humour (mostly silly) and work ethic, so the balance is just right. And I couldn't possibly pick a favourite person to work with! Not because I'm being nice, but because I'll never hear the end of it.
Are you still in touch with any of your co-stars?
Yeah, all of them. I hang out with Nina and Steve more, but that's because we're all in London. We're all close, just not geographically.
You're a familiar face across British TV, perhaps best known for King Gary. What has been your favourite project to date?
Well, King Gary will always be incredibly special to me. It was the stuff of dreams when I landed the role of Terri King. Right from a kid, I was obsessed with comedy and I poured so much heart and money in to 'cracking' the comedy world. My goal was to be a lead in a prime time sitcom, and I got to do it. As cheesy as it sounds, King Gary changed my life and I'll always be grateful for it. Also, Terri King is a total legend and my favourite character I've played to date.
Any roles in the pipeline that you're excited about? (If you're allowed to tell us!) 
I've just finished a long and intense period of back to back work, so I'm just taking a little bit of time out at the moment and seeing what comes next. That's actors code for 'I'm out of work, babes!'.
Who has been your favourite actor to work with in the past? 
Oh, there are too many to name but I have to say I absolutely lost my sh*t when I first met Sophie Thompson whilst filming Detectorists. She is, in my opinion, one of the best character actors this country has to offer. Getting to work with her was just magical. Of course, we're now the best of friends… Well, in my head anyway.
Which co-star did you learn the most from? 
I think you learn something on every job – every actor brings something new. But for comedy, I'd have to say Tom Davis. His sense of freedom and fun with improvisation is something to behold; he's a master at what he does and I learnt a lot with him. I'm a better comedian for it.
What's your dream role?
More a dream job really, but to write and star in my own comedy has always been the ultimate dream… It's coming, watch this space!
What's a genre you'd like to try for the first time or do more of? 
I'd love to be in an action comedy movie like HEAT. I did an action comedy years back with Tom Davis called Action Team and I loved doing the stunts and rolling around like a fool. Although, if I have to go on some fitness regime, then it's a no from me.
Do you get to spend much time at home? 
Being away a lot comes with the territory and, even after all these years, I'm still rubbish at it. If I had it my way, I'd get up at 3am and travel to set if it meant I could stay at home. When we film in Glasgow for Screw, anyone will tell you, I am the first one out of there and on the train back to London. I love being in my own house.
Do you live in the town or the country? Which do you prefer? 
I live in the town. I'm a Londoner and a city girl at heart. I do love visiting the countryside, but I think I'd get itchy feet if I lived there.
What's your interior design style? 
To be honest, whatever my wife Clare wants. She's got great taste, and she's really got me into antique furniture. She picks the décor and I clean. I'm a great cleaner, to be fair!
How do you find balance in your personal and work lives? 
It's tough sometimes, because you can be away on holiday or have a big family thing planned, and an audition or job will come through and we're sort of expected to just drop everything and go. Once upon a time, I used to, but now, as I've got a bit older, I'm being stricter with my time. And that's all well and good when you have the money to be able to say no, but most of my career, as a working class girl, I've had to just pull out of important life stuff because I cannot afford to turn down the work/opportunity.
What did you want to be when you were growing up?
A comedian or a footballer. But mostly I wanted to be Julie Walters… Who played for England in her spare time.
If you could give advice to your 15-year-old self, what would it be? 
You are brilliant just the way you are. So get that hair cut you really want, wear that shirt you like that's meant for 'boys', and go fancy that girl. It's all OK and no one will love you any less for it. In fact, they'll probably love you more. One day, you'll find your crowd and they'll be just like you. So don't water yourself down. Live loud and proud, girl. Oh, and don't give up football, either – you're brilliant at it.
How can we all live a little bit better? 
Simple: get a dog. They'll change your life.
Anything fun in the pipeline – professionally or personally?
I'm writing and developing a few projects at the moment, and I also have a load of friends' weddings coming up, so it's going to be a fun and creative few months.
Quick Fire
I'm currently watching… Welcome to Wrexham 
What I'm reading… The Thursday Murder Club by Richard Osman
The last thing I watched (and loved) was… A League Of Their Own
What I'm most looking forward to seeing… Not TV, but Chelsea Women FC play live in front of my eyes every week – I just bought a WSL season ticket and I'm super excited to support the women's game.
Favourite film of all time… Overboard 
Favourite song of all time… 'A Case of You' by Joni Mitchell or Peter Andre's 'Mysterious Girl' (don't come for me)
Band/singer I always have on repeat… Brandi Carlile
My ultimate cultural recommendation… Ru Paul's Drag Race. It's fun and medicine for the soul, plus you'll learn lots about queer culture and I think we could all do with a bit more of that in our lives.
Cultural guilty pleasure… The Traitors… Obsessed!
What's next for me is… Yoga. I've got a class in twenty mins. Bye!
Catch up with Screw at channel4.com