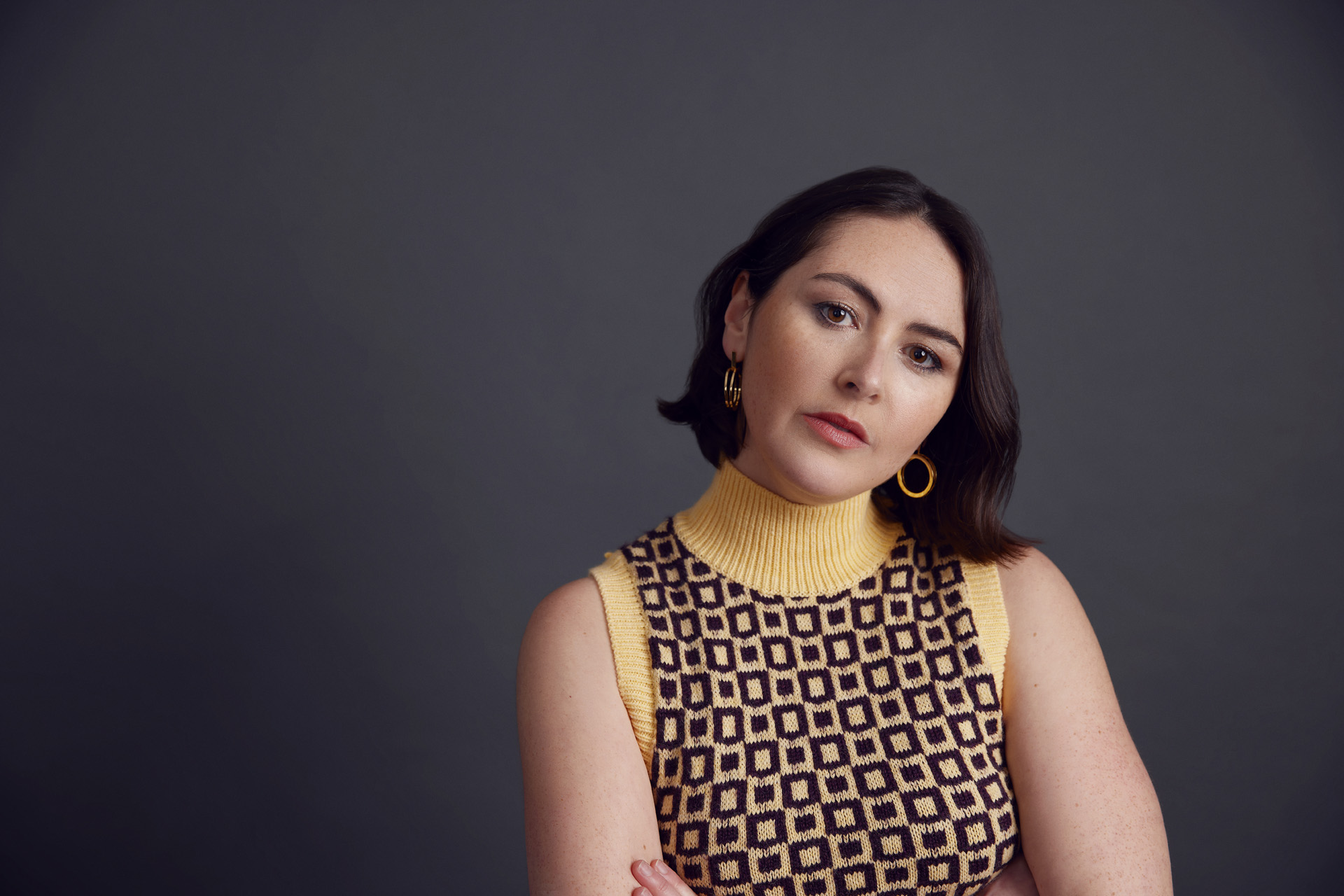 Interview: Emma Sidi On Starstruck Series 3
Catch up on BBC iPlayer
The hilarious Emma Sidi is back on our screens in the third series of Rose Matafeo's award-winning comedy Starstruck. If you're unfamiliar with the show, it follows Jessie, a young New Zealander living in London who finds herself unexpectedly in a relationship with an A List movie star. Emma stars as Kate, Jessie's flat mate, who she describes as 'the most annoying, neurotic housemate you've ever met'. You might also recognise Emma as Emily Maitlis in Channel 4's recent series Prince Andrew The Musical, or from Jamie Demetriou's Netflix special. We sat down with Emma to chat all things Starstruck.
Interview: Emma Sidi On Series Three Of Starstruck
Hi Emma, how's life going at the moment?
Life is very good; the weather in the UK this summer has been pretty dreadful, but am getting through it by enjoying many of my best friends' weddings and hoping that the sun will finally shine in the autumn, somehow.
You're about to return as Kate in the new series of BBC Three's Starstruck – can you give us an elevator pitch for the show?
Starstruck is about a regular young woman in London who finds herself in a relationship with an A-list movie star. It's both glittery and naturalistic, and is more about the awkwardness of complicated relationships than it is about Hollywood and press junkets.
What can we expect from the new series?
This series is arguably the juiciest; love triangles, break-ups, betrayal, a wedding, a baby – it's all to play for!
How would you describe Kate?
Kate is a mix of the most loyal friend in the world with the most annoying, neurotic housemate you've ever met. She feels things very deeply, but is also pragmatic and strict – aspects that Jessie needs in the rollercoaster that is dating movie star Tom Kapoor.
What is it like playing her?
Kate is like me if I was whittled down to my essence. She's like the craziest 10 percent of my own personality, so playing her is a total joy. Rose Matafeo is my best friend in real life as well as on screen, so it's a strange and genuinely funny experience to have a part written for you that reveals all your weirdness and annoying habits in the context of a TV comedy.
How do you get into character?
Like I said, it really doesn't take much – I chuck on one of Kate's comfortable jumpers and then just imagine chastising Rose for something (we also used to be flat mates), and that usually does the trick.
Any funny stories from rehearsals or filming?
There's a fun van scene that I filmed with Rose and Lorne MacFadyen, who plays Liam in this series, which required very fast driving – it turns out you just chuck the van on a tow truck and get dragged around the city that way. It was like being on a very realistic theme park ride – I loved it.
What is the cast dynamic? Who was your favourite person to work with?
I'm not just saying this: we the cast love doing this show. Filming the first two series during intense Covid restrictions made us really bond, mainly because no one had met anyone new or socialised whatsoever in the six months prior, so that dynamic and closeness is still there in series three.
Are you still in touch with any of your co-stars?
The Starstruck cast WhatsApp group is one of my favourites; we all went for a pizza the other day. I can't tell you the pizza place, I'm afraid: it's too good and we want first dibs when we book it.
Any roles in the pipeline that you're excited about? (If you're allowed to tell us!)
I'll be appearing in the final series of Ghosts, out this autumn. It's a show I'm a huge fan of, so it meant that the ridiculously tight corset was worth it.
Who has been your favourite actor to work with in the past?
Of course, impossible to say, but it's always nice to work with Al Roberts. He's really funny and a great character comic. I'm excited to see what he does next.
Which co-star did you learn the most from?
I was lucky enough to work with Steve Coogan on his live show of Alan Partridge last year, and to see his approach and discipline when it comes to writing and performing on stage was fascinating.
What's your dream role?
I've always loved the look of the Sun Maid on the Sun-Maid Raisins packet. Maybe she could get the Barbie treatment and have a huge hit movie and I could play her. I'll give Gerwig a ring, see if she's up for it.
What's a genre you'd like to try or do more of?
The joy of doing comedy is that you end up laughing a lot, so I'd be happy to carry on with that.
Do you get to spend much time at home?
Yes, but as I live in London, I also spend a lot of time out and about. I definitely enjoy a real mix of home comforts and being out-on-the-town, with it being so easy to get around on the tube. It's what makes London my favourite city in the world.
Do you prefer the town or the country?
I prefer the town as a place to live, but there's nothing better than a weekend break to somewhere in the countryside, or at least away from the city. Sometimes you need to walk somewhere where you can take your shoes off and not worry you are going to step in old chewing gum – or far worse.
What's your interior design style?
I once described my interior design style as a fusion of Princess Margaret in Mustique with Old McDonald's farm. Patterns and mixed textures with a bit of a rustic feel, a bit of kitsch. My husband is fine with it, and that's what counts.
View this post on Instagram
What's your relationship with social media like?
It's a needs-musts thing for me, but I do love the Insta handle @loveofhuns. That's the sort of page that makes social media worth it.
How do you find balance in your personal and work lives?
I never work on weekends, unless I really really have to, and particularly as a writer I think that helps. Writing never stops if you don't take a break, so it's important to ring-fence your time.
What did you want to be when you were growing up?
A doctor until I realised I was very squeamish and really clumsy. It would have been a disaster for the NHS to have me involved.
If you could give advice to your 15-year-old self, what would it be?
It's not that you're not weird; it's that you are weird and thank God for that.
How can we all live a little bit better?
Worry less, go to the gym, keep your bedroom tidy, light candles (safely), enjoy good wine, phone your friends, resist the urge to hold grudges. I most struggle with the tidy bedroom and I'm sure if I cracked that I would be sorted.
Quick Fire
I'm currently watching… The English – amazing Western on BBC iPlayer starring Emily Blunt.
What I'm reading… Vanity Fair – it's massive but instantly fantastic.
The last thing I watched (and loved) was… The Thick of It – I've seen episodes on their own before, but never have watched it all through chronologically. It is so funny and so damning.
What I'm most looking forward to seeing… The new series of The White Lotus.
Favourite film of all time… Moonstruck
Favourite song of all time… Dela by Johnny Clegg
Band/singer I always have on repeat… Van Morrison or The 1975
My ultimate cultural recommendation… I can never believe that the British Library exists as a free resource to everyone. It's unbeatable as a place to read and study.
Cultural guilty pleasure… Vanderpump Rules. I will be taking no further questions at this time.
What's next for me is…Waiting for the next series of Made In Chelsea. There, I said it. I watch both Vanderpump and MIC – it's not a good situation.
Catch up with Starstruck on BBC iPlayer.