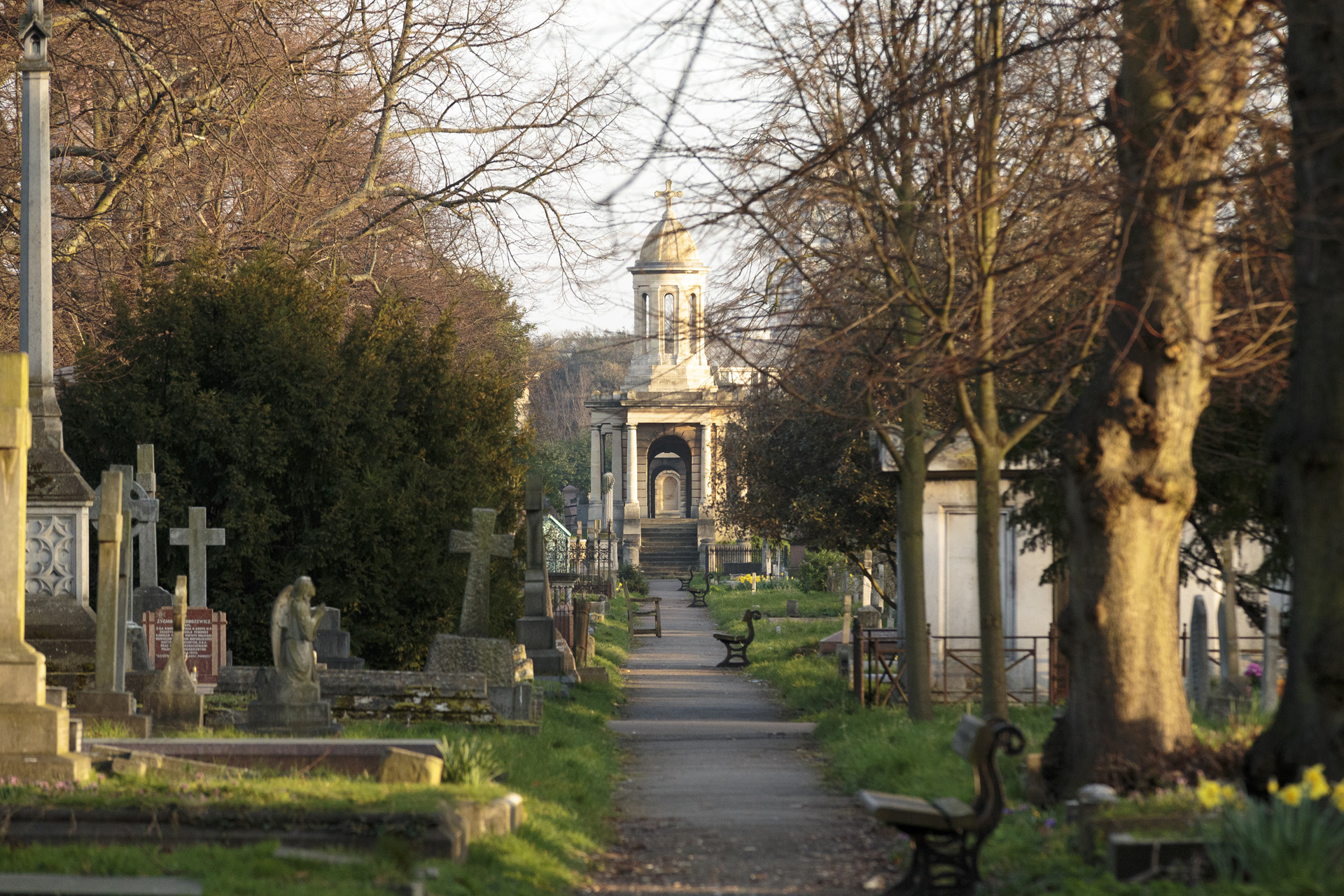 Halloween 2023: London's Best Cemeteries For A Spooky Stroll
Seeking a spooky atmosphere? These cemeteries have it in spades
OK, OK, it sounds a bit morbid, but cemeteries can be beautifully atmospheric places, combining a post-apocalyptic, overgrown vibe with decaying gothic architecture of years past. A trip to Highgate Cemetery is sure to convince you of the appeal, but here are eight more London cemeteries worth a visit, whether for a spooky Halloween stroll or to soak up some history.
London's Best Cemeteries
Highgate Cemetery
Perhaps London's most famous cemetery, Highgate Cemetery opened in 1839, designed by Stephen Geary and part of the plan to provide London with seven large, modern cemeteries surrounding the central city, now known as the 'Magnificent Seven'. Today, Highgate Cemetery is a nature reserve and Grade I listed garden, with approximately 170,000 people buried in around 53,000 graves. Split into East and West, keen-eyed visitors will spot the graves of Christina Rosetti, Douglas Adams and George Eliot – but it's hard to miss the shrine to Karl Marx in the East Cemetery. Meanwhile, find the epitome of Victorian gothic in the West, with a labyrinth of Egyptian sepulchres, mausoleums and a wealth of tombs and buildings scattered across undulating ground.
Swain's Ln, London N6 6PJ; highgatecemetery.org
Brompton Cemetery
The only London cemetery owned by the Crown (managed by The Royal Parks since 1839), you'll find Brompton Cemetery in West Brompton in the Royal Borough of Kensington and Chelsea. It's one of the Magnificent Seven cemeteries, consecrated in 1840 and opening to the public in 1841. With a picturesque, neo-classical design, a grand entrance arch and colonnades, it's one of the earliest examples of a garden cemetery in the UK. Designed to resemble an outdoor cathedral with avenues of trees and well-maintained lawns, Brompton Cemetery spans 16 hectares, arranging graves in a grid pattern, with winding paths sprouting from a central avenue. With over 200,000 people buried here, it is the final resting place of a number of notable people, including Emmeline Pankhurst, Beatrix Potter, Sir Richard Francis Burton and Frederick Leyland. Meanwhile, Brompton Cemetery is also home to the Chelsea Pensioners Monument, a 'Garden of Remembrance' for the deposit of cremated remains, and a nature and wildlife refuge and garden, with picnicking to soak up the atmosphere very common.
Fulham Rd, London SW10 9UG; royalparks.org.uk
Kensal Green Cemetery
On the other side of the Borough of Kensington and Chelsea, Kensal Green Cemetery (aka ' the General Cemetery of All Souls, Kensal Green') dates back to the slightly earlier year of 1833, claiming the title of first ever commercial cemetery in London. It was inspired by the Père Lachaise Cemetery in Paris, and spans a whopping 29 hectares of grounds, with two conservation areas, home to at least 33 species of bird and wildlife. Underlied by clay, many monuments have adopted a tilt over time as the ground settles, creating an unsettling, intriguing panorama. Over 250,000 people are buried here across 65,000 graves, with notable interments including Charles Babbage, Wilkie Collins, William Makepeace Thackeray, Lady Byron and plenty of royals. The land is also home to an array of listed buildings and impressive bits of architecture including the Anglican Chapel, the Dissenters' Chapel, the Colonnade Entrance and grand gatehouse, plus plenty of mausoleums and monuments. It also featured significantly in Netflix's Lockwood & Co. earlier this year, a show about teenage ghost hunters. Apt.
Harrow Rd, London W10 4RA; kensalgreencemetery.com
Bunhill Fields
Let's throw it back to pre-Victorian cemeteries: Bunhill Fields, thought to derive from 'Bone Hill', was originally used for burying bones from St Paul's Cathedral's charnel house. Today a public garden stretching 1.6 hectares and owned by the City of London, it operated as a cemetery between 1665 and 1854, and has a distinctively ancient feel. John Bunyan, William Blake and Sir Isaac Watts are all buried here, and it sits right in the heart of the city, providing a peaceful respite from its immediate urban surroundings.
38 City Rd, London EC1Y 2BG; cityoflondon.gov.uk
Abney Park Cemetery
Over in North East London, Abney Park Cemetery is known for its woodland setting, and was the first London cemetery invited to join the Association of Significant Cemeteries in Europe (take that, Highgate). Today, it's a Grade II listed park and working cemetery, originally opened in 1840 after being designed by Lady Mary Abney, Dr Isaac Watts and the neighbouring Hartopp family. Entering a more extreme state of disrepair in the 20th century than other entries on this list, Abney Park has evolved into a unique space defined by serenity and tranquillity, with overgrown woodland and meadows swallowing the urban graves and paths. Notable interments include Isaac Watts, William Booth, Anna Laetitia Barbauld and John A. Roebuck, who are buried alongside over 200,000 other people.
215 Stoke Newington High St, London N16 0LH; abneypark.org
Nunhead Cemetery
Another Magnificent Seven, Nunhead Cemetery (aka All Saints' Cemetery) sits in Southwark, with its first grave dug in 1840. It stretches over 21 hectares, with more than 270,000 people buried here, including notable Victorian engineer Sir Charles Fox. It's best known for its particularly Victorian slant, with a distinctive neo-gothic chapel and entrance gatehouse, the former home to intricate stained glass windows.
Linden Grove, London SE15 3LP; fonc.org.uk
West Norwood Cemetery
Established in 1837 as a non-denominational cemetery (meaning people of different religious backgrounds could be buried there), West Norwood Cemetery (aka South Metropolitan Cemetery) was designed by the man behind the Royal Exchange and the Royal Opera House: William Tite. It was the first cemetery ever designed in the gothic style, and houses over 200,000 people, including Sir Henry Tate, founder of the Tate Gallery, and Sir Hiram Maxim who invented the Maxim gun. Like many other cemeteries on this list, West Norwood is one of the Magnificent Seven, with a grand gatehouse adorned by a tall spire.
Norwood Rd, Norwood, London SE27 9JU; lambeth.gov.uk
Tower Hamlets Cemetery
Closing to new burials in 1966, Tower Hamlets Cemetery is more functional as a park these days, and is a designated nature reserve to reinforce this. It first opened in 1841 and joins the other Magnificent Seven cemeteries on this list, with over 247,000 people buried here in its 77 years open. Bound by historic walls, the cemetery's 12 hectares provide a tranquil escape from the city, while the grand entrance gatehouse and chapel add to the historical charm. Particularly active in the local community, this cemetery hosts various educational programmes and community events, including guided nature walks, wildlife surveys and conservation activities to underscore the importance of biodiversity and green space in urban areas.
Southern Grove, London E3 4PX; fothcp.org
Islington & St Pancras Cemetery
There are some seriously spooky vibes at Islington & St Pancras Cemetery which sits near Finchley in Barnet – not at the central London train station – though it is owned by Camden and Islington (confusing). It may not make the 'Magnificent' cut, but St Pancras Cemetery, first opening in 1854, has witnessed over a million interments and cremations, with Sir John Soane and Mary Shelley both buried here.
278 High Rd, London N2 9AG; iccslondon.co.uk