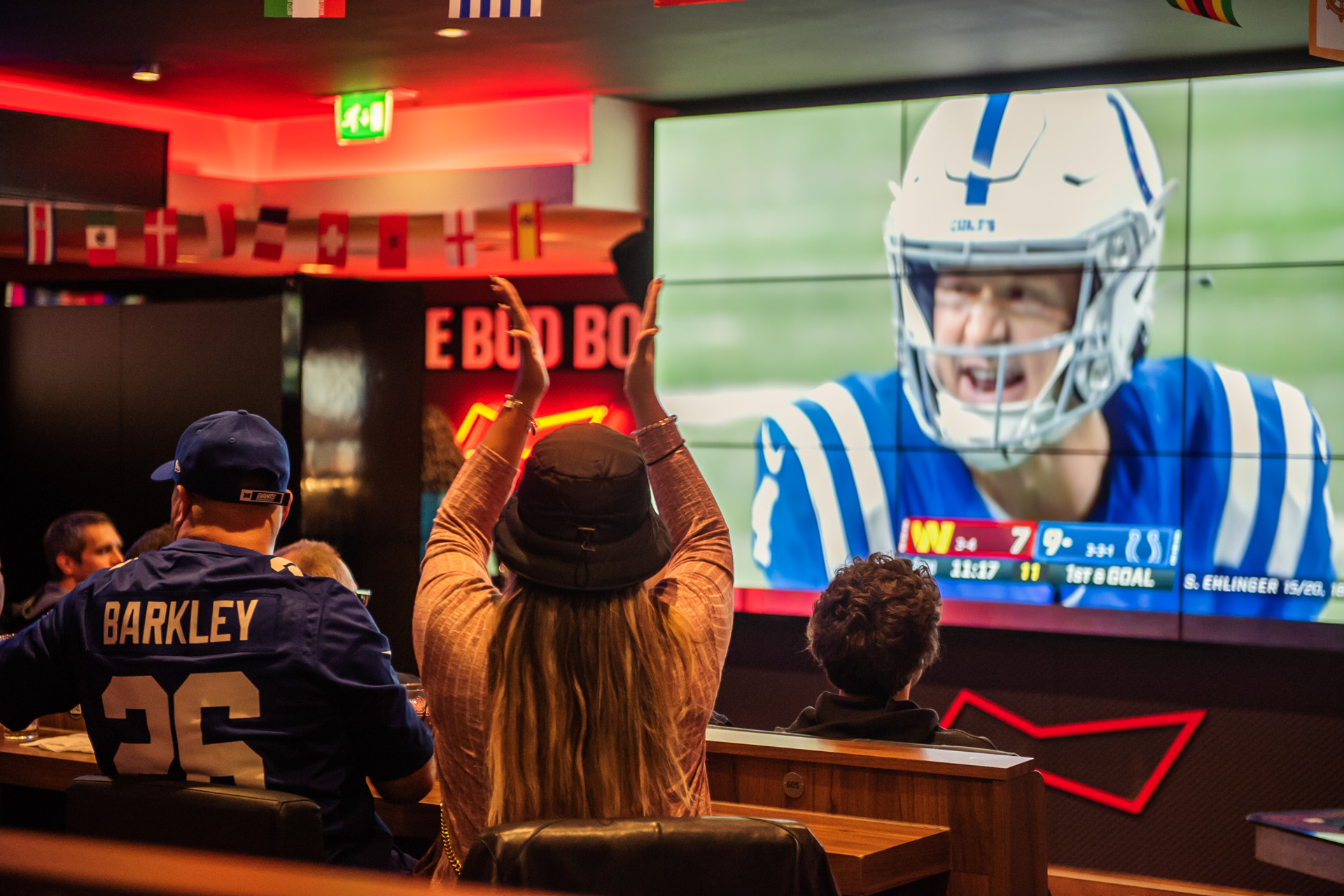 Rugby World Cup 2023: London's Best Sport Bars & Pubs
Catch the game in one of these venues
Football fanatic? Cricket connoisseur? NFL aficionado? London sports fans are blessed with a whole host of world-class venues and fixtures, alongside buzzy sport bars and pubs to boot. Wondering where to watch the Rugby World Cup? Here are our favourite sport bars in London.
London's Best Sport Bars & Pubs
The Kings Sports Bar
Over in Leicester Square, The Kings Sports Bar is a modern, 24/7 bar broadcasting global sport on big screens, from Premier League football to cricket, e-sports to NFL. Sponsored by Budweiser, expect sport in every direction accompanied by an American Sports Bar-inspired menu, and plenty of crisp Budweiser.
Find It: 5–6 Leicester Square, London WC2H 7NA. thecasinolsq.com 
View this post on Instagram
Beechwood Sports & Kitchen
Rugby, football, NFL, tennis, basketball, boxing, golf, F1: if you follow it, Shoreditch's Beechwood Sports & Kitchen more than likely screens it. So grab your mates, a refreshingly cold beer, order some tasty grub (it's wings and nachos galore here), and settle down in front of the high-tech TVs. Book ahead to snag one of the outdoor spots.
Find It: Worship Street, London EC2A 2FA. beechwoodsportspub.com 
View this post on Instagram
Speedboat Bar
Inspired by Bangkok's bustling Chinatown, Speedboat Bar is a late-night cocktail and food destination, with pool tables and large TV screening live sports year round, too.
Find It: 30 Rupert St, London W1D 6DL. speedboatbar.co.uk 
View this post on Instagram
Bar Kick
Back to Shoreditch for the aptly-named Bar Kick sport bar, where a whopping 12 4k screens are placed across two floors – screening up to three matches at once – so you won't miss a single minute of your game. Meanwhile, fuel up on mouth watering burgers, chicken wings and loaded fries, or play your own game of foosball.
Find It: 127 Shoreditch High Street, London E1 6JE. See exactly what's on at barkicklondon.com 
View this post on Instagram
Brigadiers
A hub for sport and food enthusiasts alike, Brigadiers is an Indian restaurant in the City with a sport bar alter ego. Head to the Pool Room to play on an 8ft Texan Pool Table and enjoy private TV screens and five self-serve taps from Drink Command, revolutionising self serve. Or just settle down in the Blighters Bar and tuck into a delicious BBQ Indian feast.
Find It: 1-5 Bloomberg Arcade, London EC4N 8AR. brigadierslondon.com
View this post on Instagram
Big Penny Social
The vast Big Penny Social in Walthamstow marks almost every occasion you could imagine with special events ranging from family-friendly fun to film screenings to boozy quiz nights. They also screen live sport fixtures including English Premier League, UEFA Champions League, UEFA Europa League, Six Nations, World Cup and more.
Find It: 1 Priestley Way, London E17 6AL. See the full line-up at bigpennysocial.co.uk 
View this post on Instagram
Greenwood
Possibly the classiest sport bar in London, Greenwood screens all types of major competitive sporting events via two mega screens and a projector. We recommend upstairs where the true sports fans congregate; they also do bottomless brunch on the weekends for the perfect accompaniment to jeers and cheers.
Find It: 170 Victoria Street, London SW1E 5LB. greenwoodlondon.com
Bounce
Get some of that pent-up energy out by playing sports while you watch! London's top ping-pong bar – with Wonderball, Beer Pong and Shuffleboard also available – is the top spot for sport lovers; the vast venues are also home to huge screens and incredible audio, screening all the big Premier League and European football games, with plenty of pizza and drinks to keep you fueled up meantime.
Find It: Venues in Old Street and Farringdon. See exactly what will be screened at bouncepingpong.com 
View this post on Instagram
The Charlotte
Play a round of pool pre- or post-match at The Charlotte, where nine giant indoor and outdoor HD screens are ready and raring to show your favourite sports. There are private areas for groups, a comprehensive menu of fresh snacks, and free-flowing beer, wines, cocktails and spirits.
Find It: 204 Union Street, London SE1 0LX. See exactly what they'll be screening at thecharlottese1.com 
View this post on Instagram