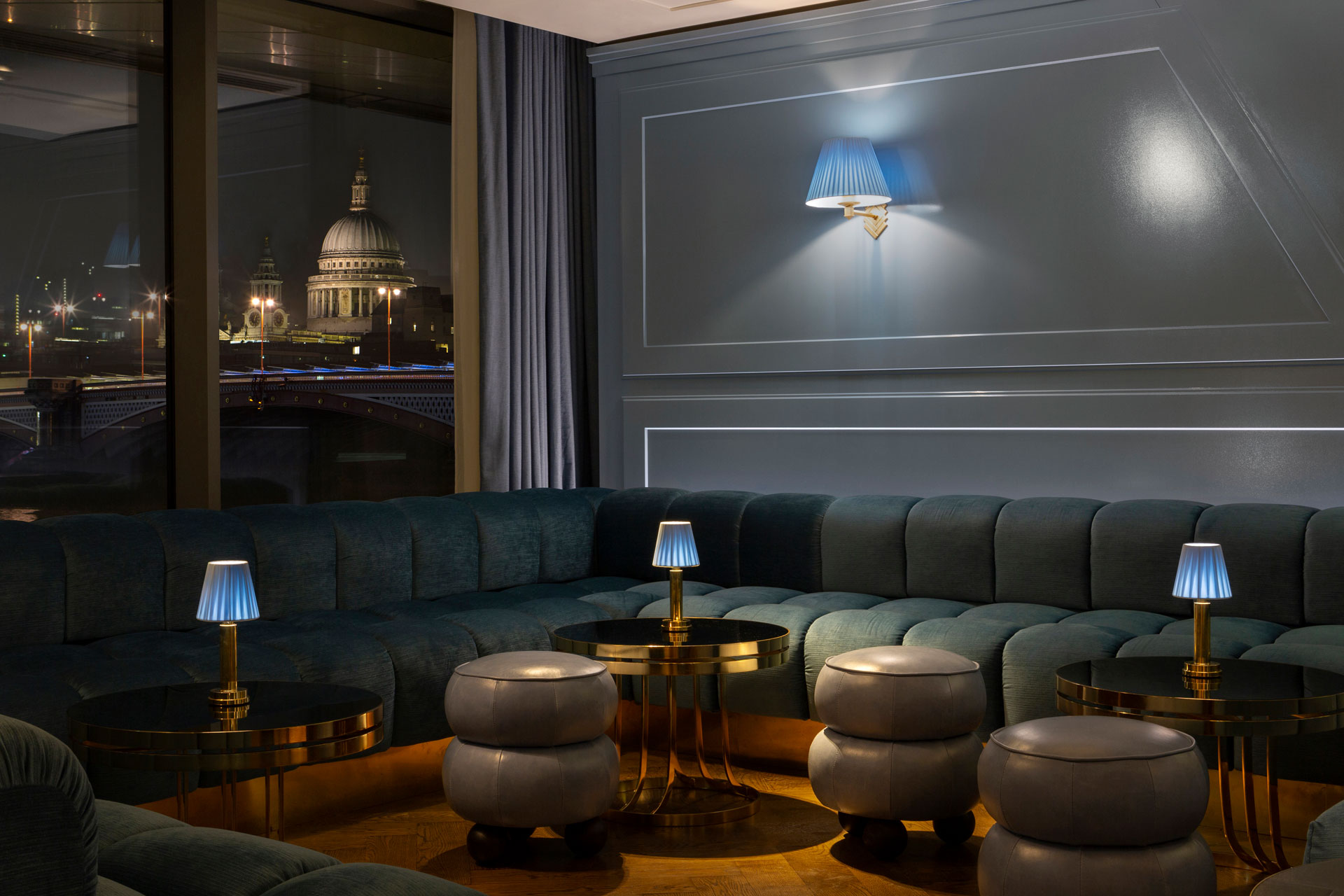 Best Bars in Central London
---
From trendy wine bars to glamorous hotel hangouts, here's where to drink in the centre of the capital
London has one of the best bar scenes in the world. From glitzy rooftop hangouts to underground speakeasies, cool cocktail bars to hotel lounges, the capital is home to an endless array of great drinking spots for all occasions. You'll find them in all corners of the city, but a good chunk of the best ones are dotted around the central London area, in buzzing boroughs like Soho, Covent Garden and London Bridge. We've rounded up the best below.
Best Bars in Central London
Swift Soho
There has been lots of hype around Swift Soho recently, particularly since it was named London's best bar in the 2022 Top 50 Cocktail Bars list. Positioned near the Leicester Square end of Old Compton Street, it's a dimly lit spot with warm glowing cylinder lamps hanging on the walls, leather booths and dark wood panelling. Expect perfectly crafted cocktails made with interesting flavours, such as the Pearl, a refreshing blend of Portobello Road gin, yuzu, almond and prosecco; and the Gazelle, a punchy mix of Montelobos espadin mezcal, manzanilla, velvet falernum and lemon. Teetotal drinkers won't feel left out either thanks to an impressive list of non-alcoholic cocktails, such as the Tempest, made with Darjeeling kombucha, lemon, elderflower and celery. Alongside this, there are over 300 different types of whisky, plus a few select wines and beers.
12 Old Compton St, London W1D 4TQ, barswift.com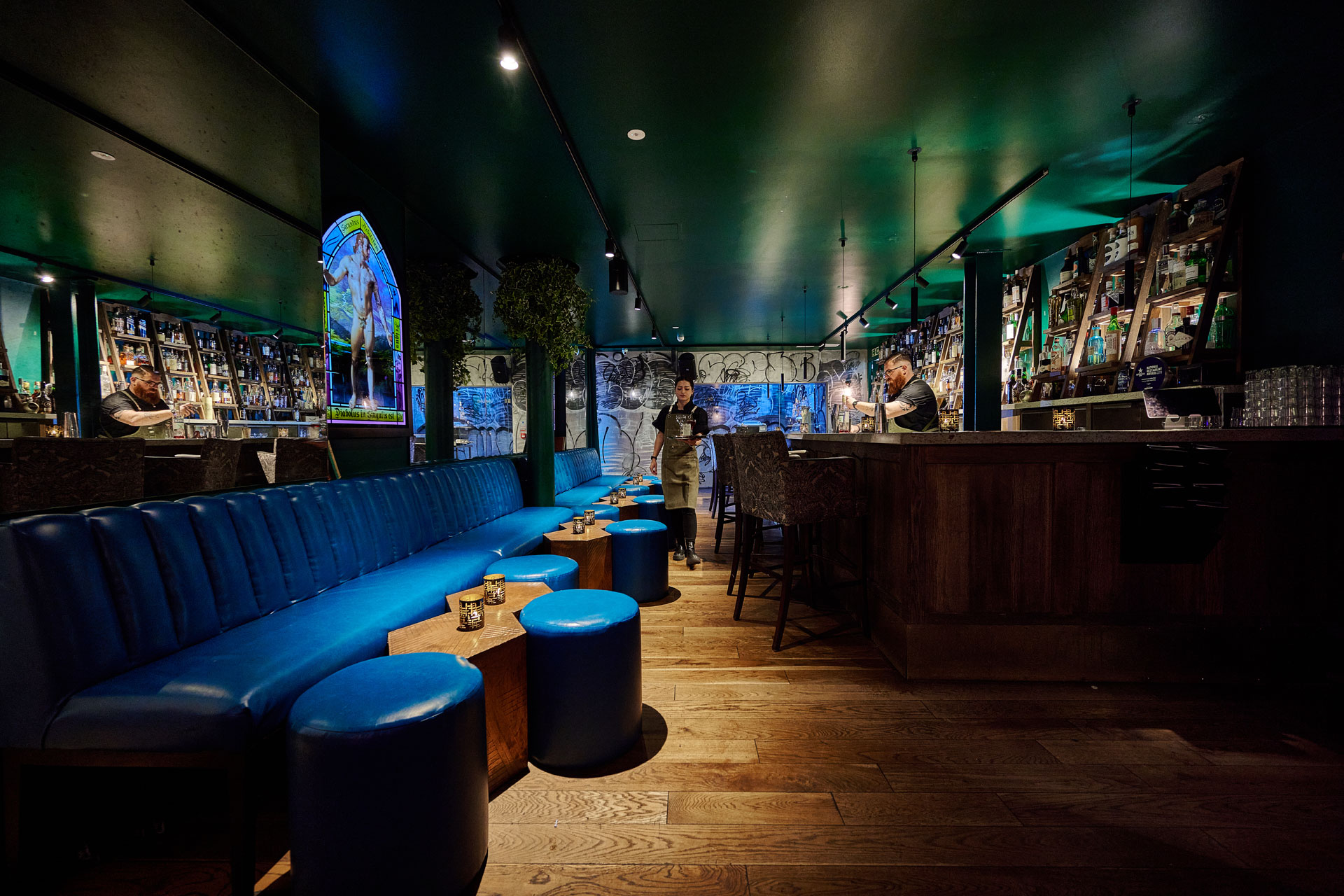 Eve Bar, Covent Garden
Hidden away just off Covent Garden, entering this bar is like crossing into a naughty Garden of Eden: from the rising smell of incense as you descend the stairs to the light-up stained-glass windows (designed by Zombiedan) depicting the OG biblical couple. The cocktails in Eve Bar are by no means sinful, but you may be tempted by one after another. The bar's new menu features an excellent array of choice (perused by alcohol base, be it grain or agave), and expert mixologists can prepare twists on the classics that will only whet your appetite. The Three Cherries Manhattan deserves special mention – this cocktail uses the cherry in, surprise-surprise, three ways: firstly the stone in the base whiskey, secondly its juices for flavouring, and finally as a garnish. Pair with delicious tasting snacks (prepared by chef Adam Handling, previously of the Fairmont). 
34 Southampton St, London WC2E 7HF, evebar.co.uk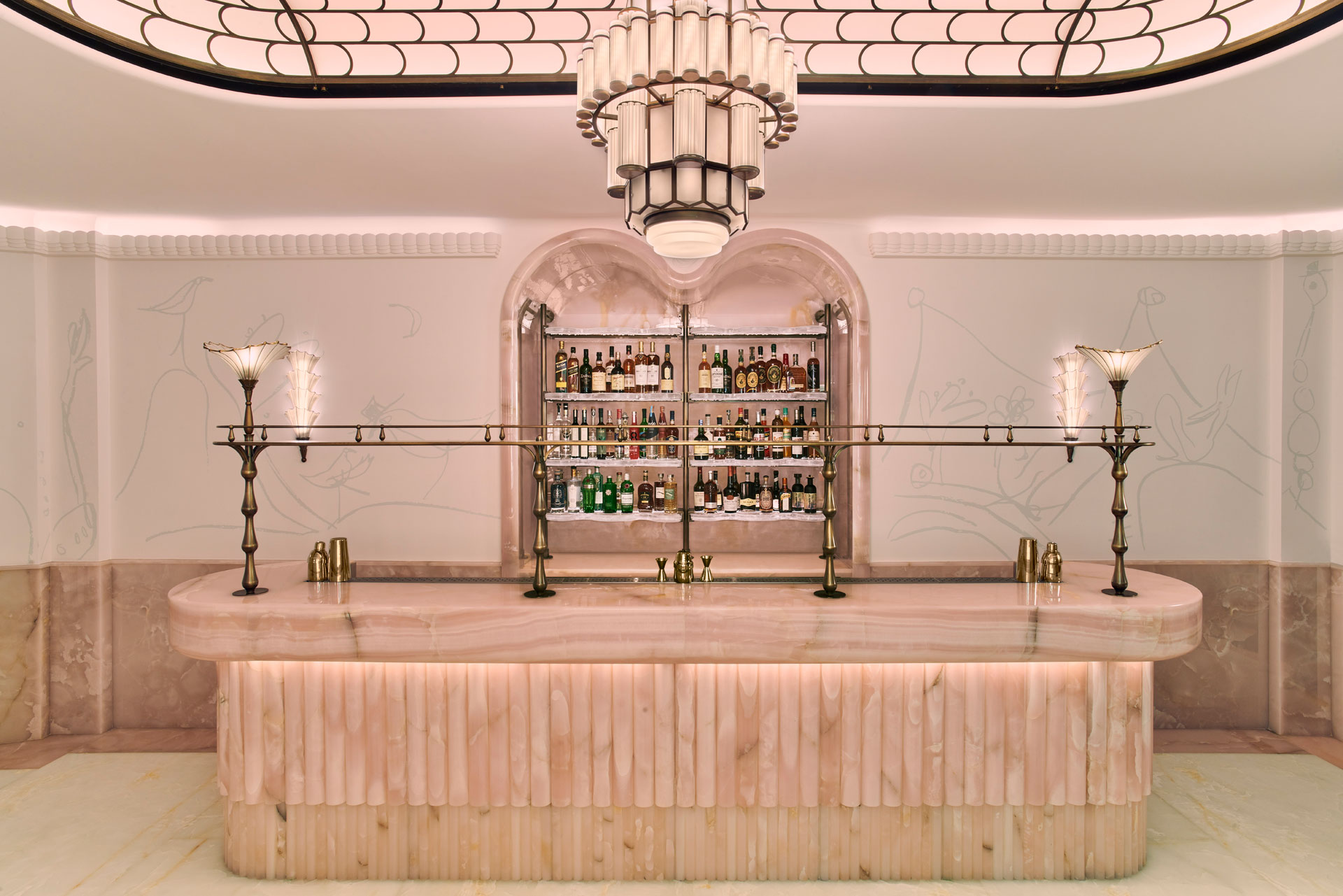 The Painter's Room, Mayfair
Claridge's most recent bar opening, The Painter's Room, is an Art Deco dream. Created by interior designer Bryan O'Sullivan, the space is influenced by 1930s photos from the hotel archives, bedecked with pale pink onyx and featuring an eye-catching skylight in peach-and-cream-coloured glass. Guests can enjoy a drinks menu inspired by the culture and art of Europe, divided into four chapters: Light, Interpretations, Complex and Clean. As well as innovative cocktails, a selection of small plates also feature on the menu (including crispy scampi and beetroot tartar), presented by waiters wearing traditional painters' jackets in a shade of blue inspired by American photographer Bill Cunningham.
Brook Street, London W1K 4HR, claridges.co.uk
The Last Talisman, Bermondsey
Located on Southwark's bustling Bermondsey Street, The Last Talisman serves up eclectic cocktails and British-Asian cuisine. Founded by restaurateur Eric Yu, mixologist Dré Masso and culinary expert Tim Ross-Watson, the exciting drink-and-dine destination boasts exotic, Art Deco interiors featuring an array of compelling artworks (rotated every 90 days). Also situated within the drinking house is Mala Madre, a separate tropical-themed cocktail bar (with room for up to 70 guests) inspired by Masso's time spent in Bali and his Colombian roots. Private party, anyone? Expect live DJ sets every week, plus an inviting brunch menu every weekend (11am–4pm) – bottomless cocktails also available. It's all happening at The Last Talisman. 
171-173 Bermondsey St, London SE1 3UW, thelasttalisman.com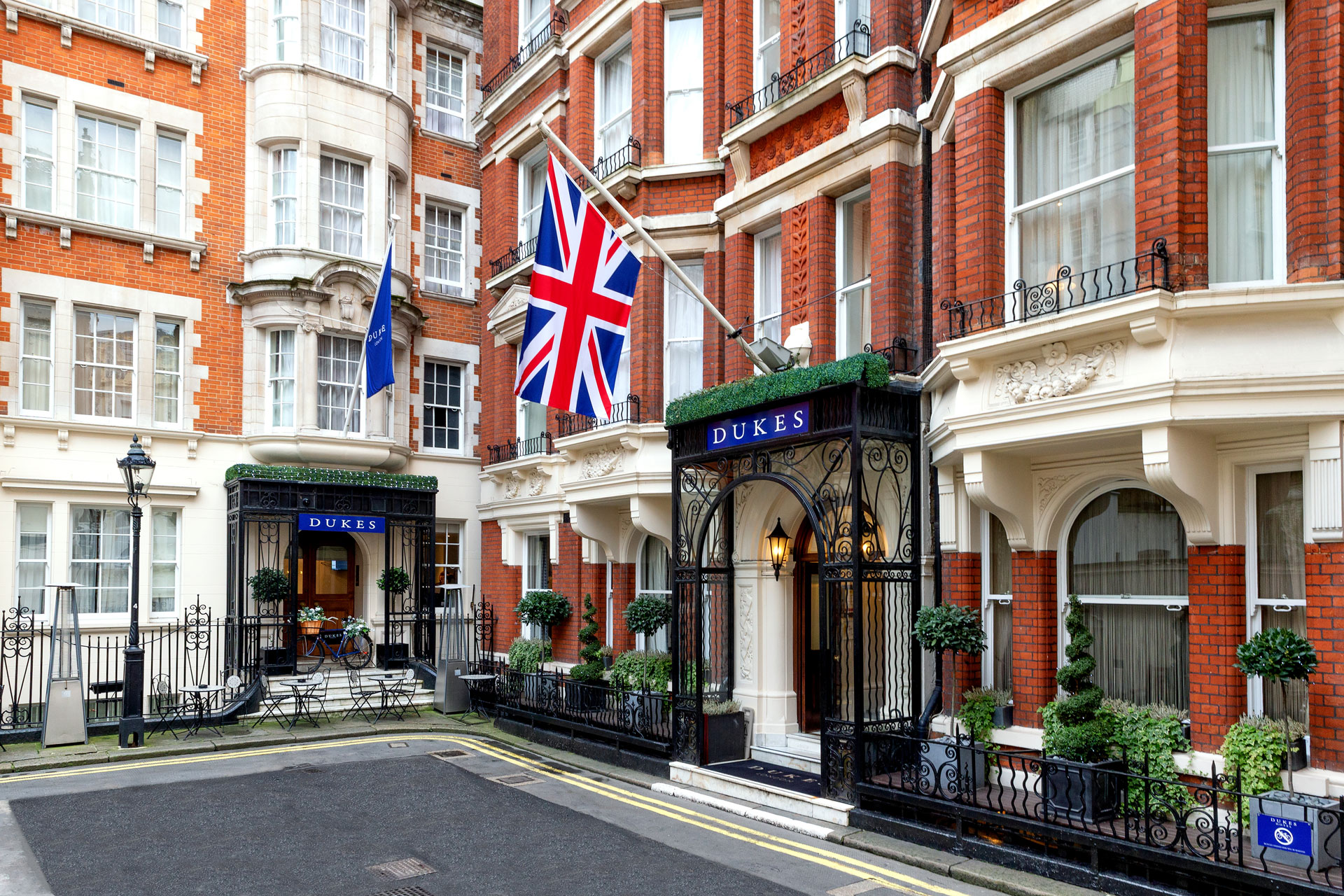 Dukes Bar, Mayfair
Undoubtedly one of the best bars in central London is Dukes Bar at The Dukes Hotel. Infinitely elegant and hidden away in St James', it's renowned for serving the finest martinis in town – even the world, some would argue. Such an accolade is merited by Alessandro Palazzi, the Dukes Bar manager who uses a combination of the best ingredients from around the world to perfect his cocktails, even importing Amalfi lemons from his native Italy to add an irresistible spritz of bitter zest to the renowned Vesper Martini. As Sir Ian Fleming's favourite watering hole, and where he apparently coined the phrase 'shaken, not stirred', there is still a big dose of old-school James Bond glamour about the place – from the antique silver drinks trolley where each cocktail is prepared, to the cognac and cigar garden where guests can retire afterwards.
35 St. James's Place, London SW1A 1NY, dukeshotel.com
Lady Of The Grapes, Covent Garden
This cosy little wine bar in Covent Garden serves organic vino alongside French-inspired small plates. There's a list of around 25 wines available by glass and carafe, and around 300 by bottle, with friendly staff on hand to help with recommendations. Pair with cheese fondue, charcuterie and olives, and pretend you're in Paris. A lovely spot for dates.
​16 Maiden Ln, London WC2E 7NJ, ladyofthegrapes.com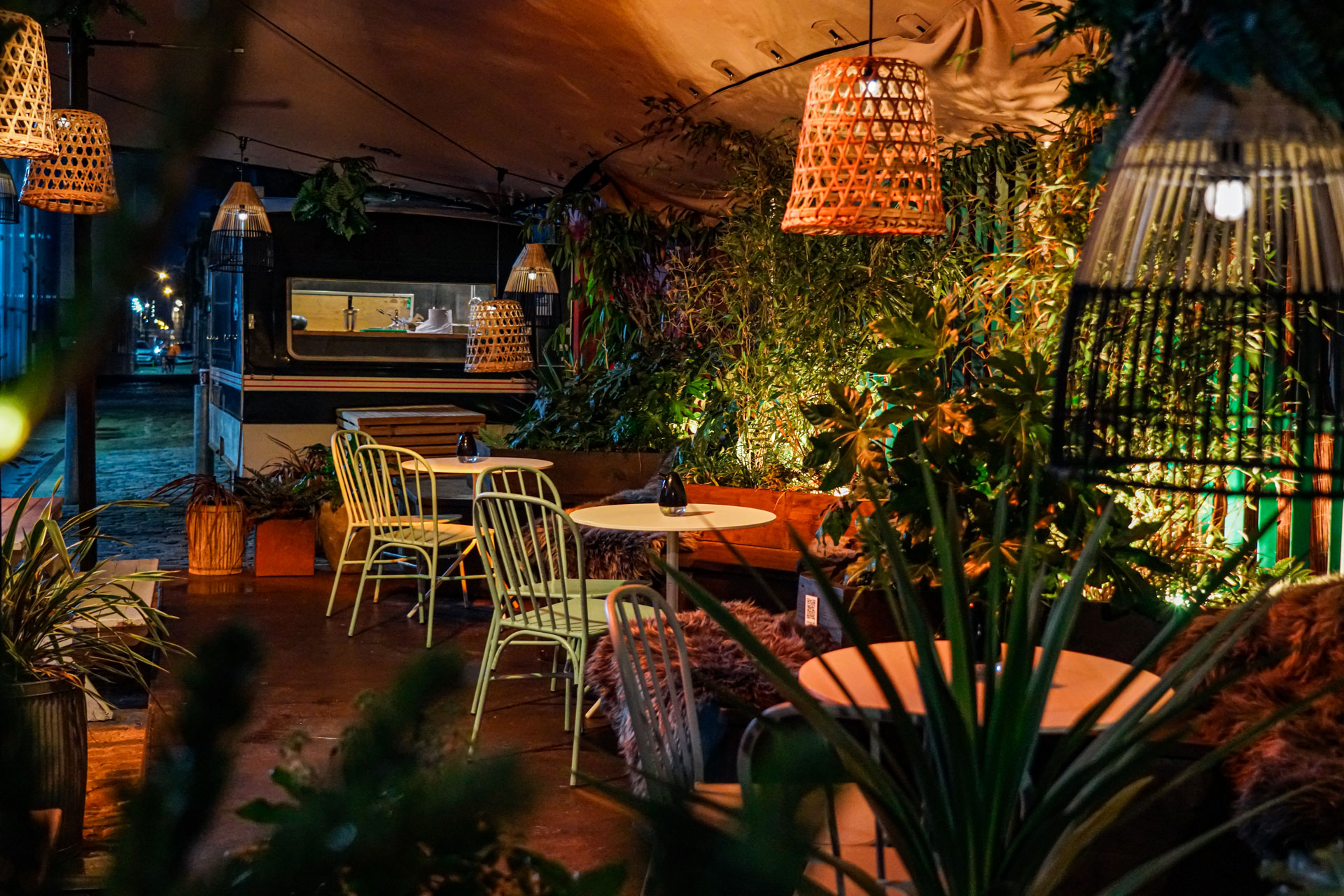 Nine Lives, Bermondsey
Nestled in a Victorian basement in Bermondsey, Nine Lives is a neighbourhood bar with a difference. Its name refers to an ethos of salvation: 'unveiled treasures, nothing wasted, everything lovingly sourced and selected with intention'. This means a zero-waste approach to cocktail making, with ingredients chosen for their eco-friendly qualities and herbs grown in an urban garden. The menu features a whole section dedicated to 'Loops', referring to drinks featuring reused ingredients. Signature tipples include the Moby Dick, coconut oil-washed grain whisky with a salted caramel syrup, and the Ômu Kooler, campari with watermelon and cucumber. Alongside this, guests can enjoy seasonal and sustainably sourced seafood tacos from the on-site food truck.
8 Holyrood St, London SE1 2EL, ninelivesbar.com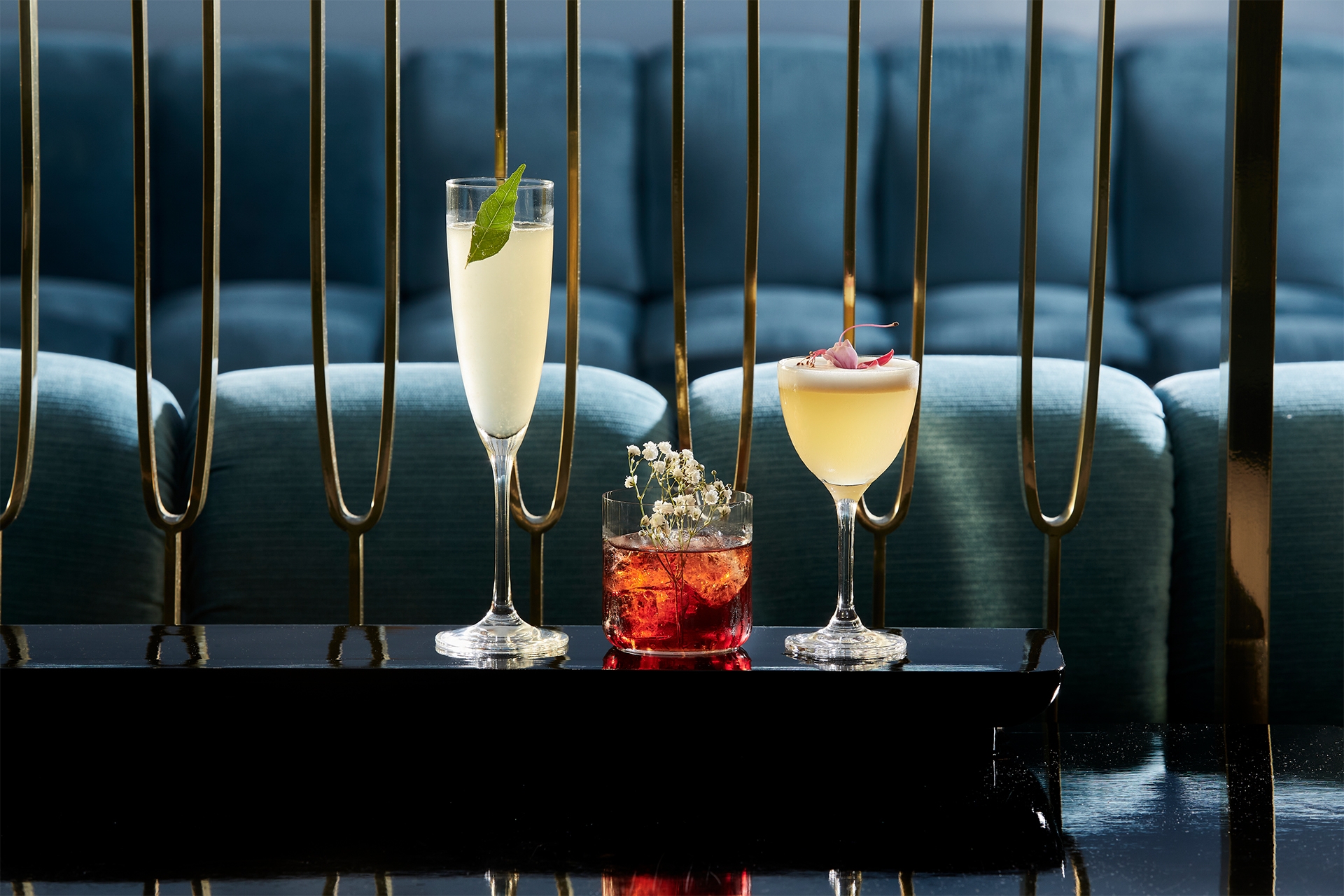 Lyaness, Southbank
Slink into Lyaness bar, which sits plum on the ground floor of the iconic Sea Containers hotel, and you'll feel immediately transported into a luxury yacht. Or a retro-futurist port of a ship. Or simply a very chic bar straight off the set of Mad Men. There's a sense of something quite magical in this space, and the electric blue walls promise to hold stories. And any good bar should be telling stories, shouldn't it? Indeed, Lyaness is absolutely the kind of bar you go to for a story. From the get-go, you'll be spun tales. Ryan Chetiyawardana, the bartender behind Lyanesses international rep, has curated the 'Ancestral Cookbook', which aims to explore the foods and flavours that have shaped humanity's cultural outlook across time. In practice, this celebrates five main ingredients which form the base of each drink. In all, there are 15 drinks on the menu, and they cater across a spectrum – sweet for the sugar-obsessed among us, and bitter for the grown-up drinkers who love a strong flavour. By Tessa Dunthorne
20 Upper Ground, London SE1 9PD, lyaness.com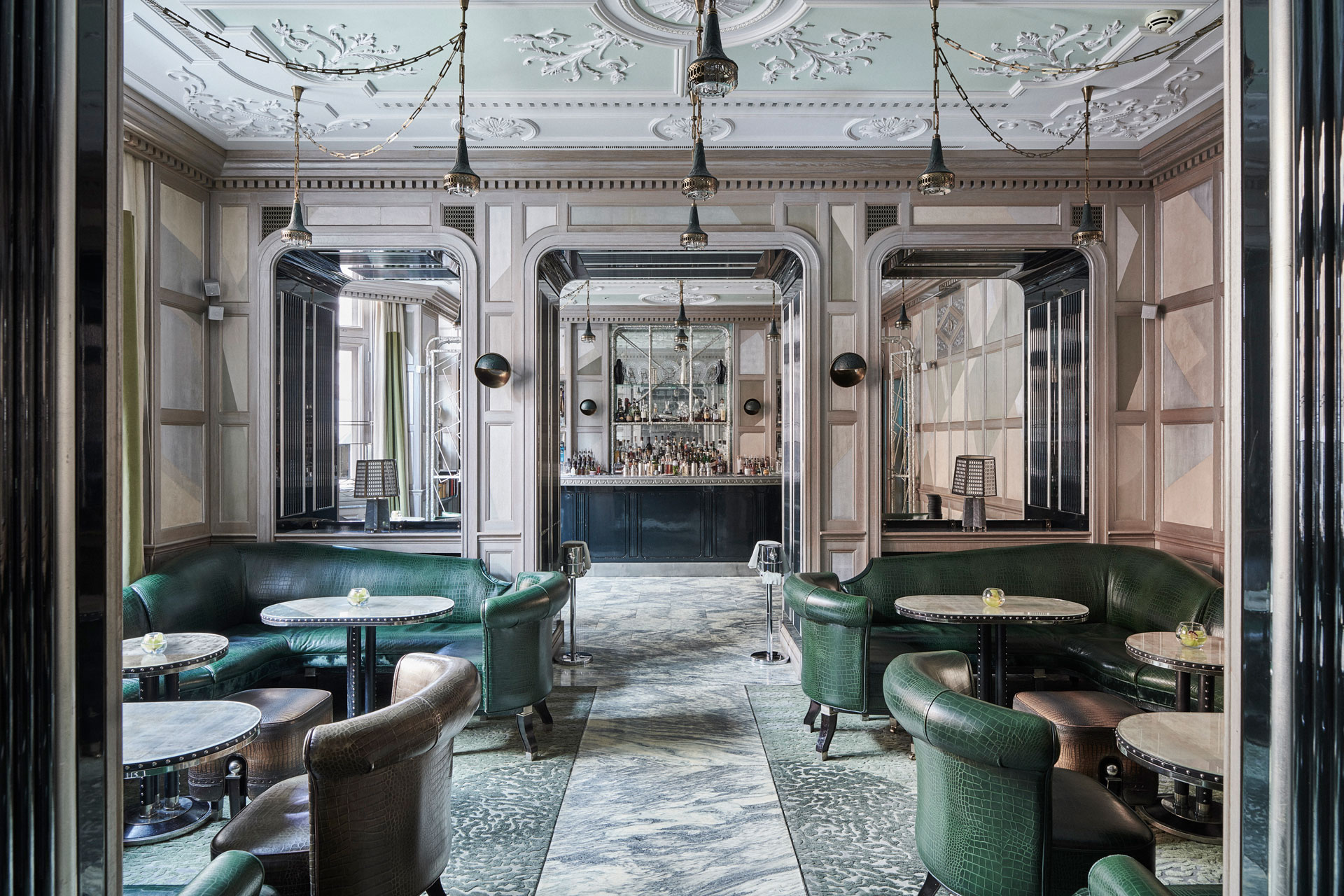 The Connaught Bar
The glamorous bar within Mayfair hotel The Connaught is renowned for its faultless service and ceremoniously served martinis (quietly stirred, never shaken), prepared from a travelling trolley. If that's not your bag, though, the new Impressions menu features interesting cocktails like the 'Avant-Garde', a tribute to the experimental spirit of the bar mixed with Konik's Tail, raspberry vinegar, barberries and mulberries. The surroundings are equally chic, with textured walls in platinum silver leaf, a cool grey bar and David Collins-designed cubist decor. No surprise it has hosted an endless stream of A-listers and royals since its inception in 2008.
Connaught, Carlos Pl, London W1K 2AL, the-connaught.co.uk
Soma, Soho
Opened on Soho's Denman Street in 2021, Soma comes from the duo behind Indian-inspired restaurant group Kricket, Will Bowlby and Rik Campbell. The central London bar was named after the Hindu Moon God, serving up Indian-inspired drinks made with a 'less is more' ethos, featuring seasonal ingredients, high-quality spirits and spices. Classics include the Galangal, a twist on a Mule cocktail made with Haku vodka, honey butter and saffron; and the Leaf, a twist on the Gimlet featuring gin, curry leaf and pink peppercorn.
14 Denman St, London W1D 7HJ, somasoho.com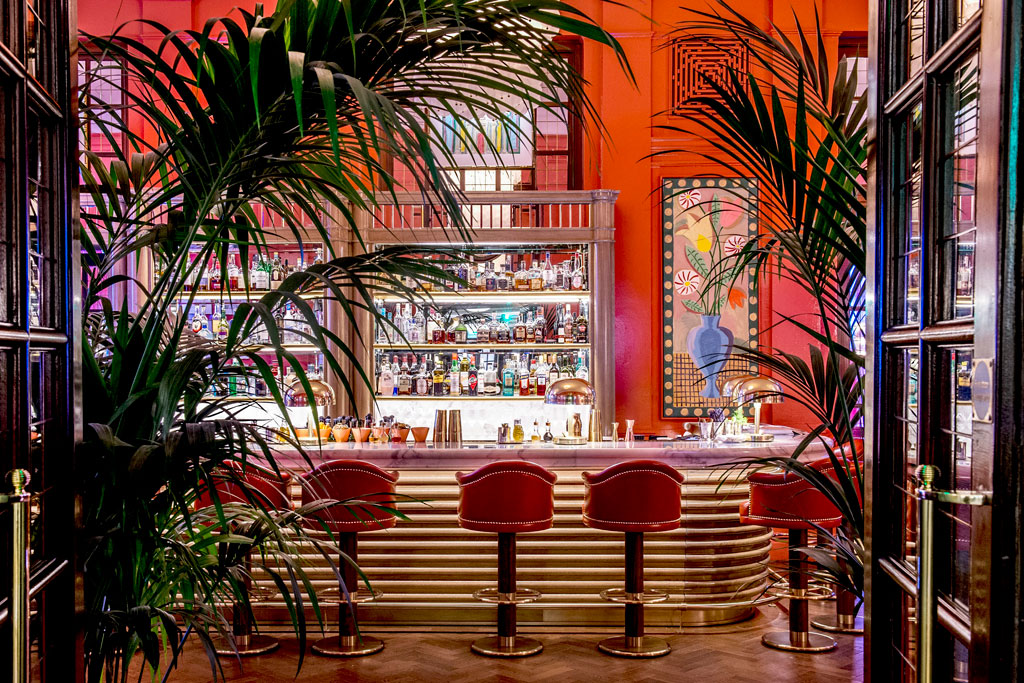 The Coral Room at The Bloomsbury, Soho
Perched on the outskirts of Soho sits one of central London's most stylish bars: The Coral Room, part of The Bloomsbury hotel. Designed in collaboration with maverick Martin Brudnizki, the Jazz Age-inspired hangout has coral-coloured walls, bespoke Murano glass chandeliers and a striking marble bar. Expect slick service and a stellar drinks menu of classic cocktails done well, plus a great selection of English sparkling wines.
16-22 Great Russell St, London WC1B 3NN, thecoralroom.co.uk
The American Bar at The Savoy
Once bagging the title of 'Best Bar in the World', the Savoy's American Bar has long been a go-to for London's most refined drinkers. The 1930s-inspired bar combines flawless service with an energetic atmosphere and whispers of a bygone era. Take a perch at the bar to watch some of the world's top bartenders expertly craft cocktails from the superlative menu unless, of course, you prefer something rather more bespoke, in which case they are always delighted to create something that perfectly matches your tastes.
The Savoy, Strand, London WC2R 0EU, fairmont.com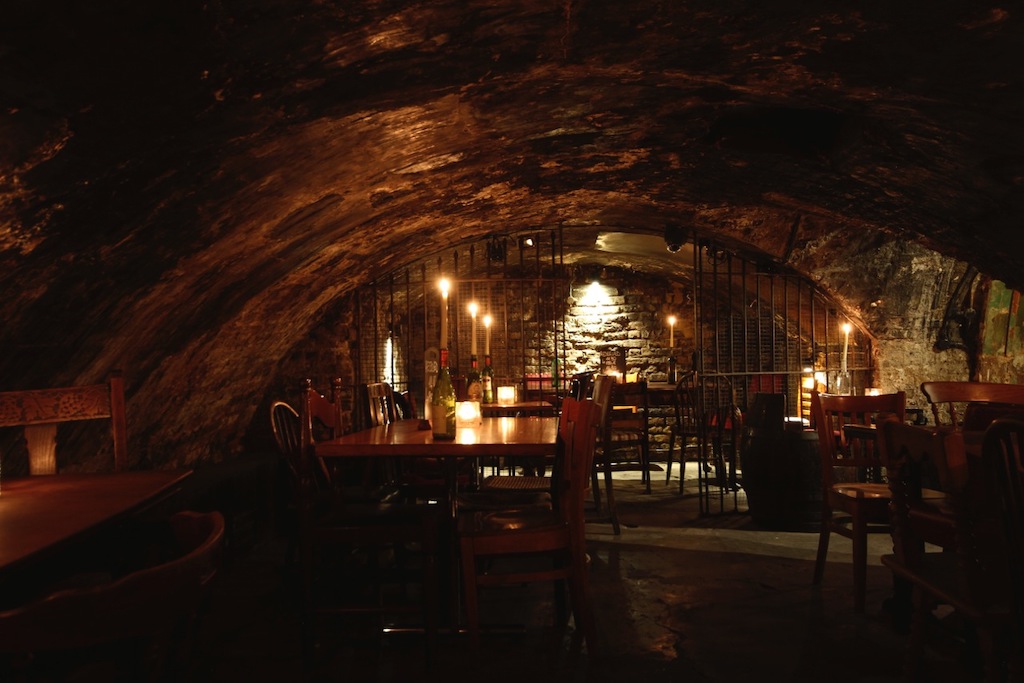 Gordon's Wine Bar, Embankment
Established in 1890, Gordon's is the oldest wine bar in London and its original décor makes it a most unique (and romantic) watering hole. There's nothing quite like sipping on excellent wine in the spot which once housed Rudyard Kipling, and was where he and Chesterton wrote some of their best works. New additions include vegan and low sulphur wines – and the cheese is a must!
47 Villiers St, London WC2N 6NE, gordonswinebar.com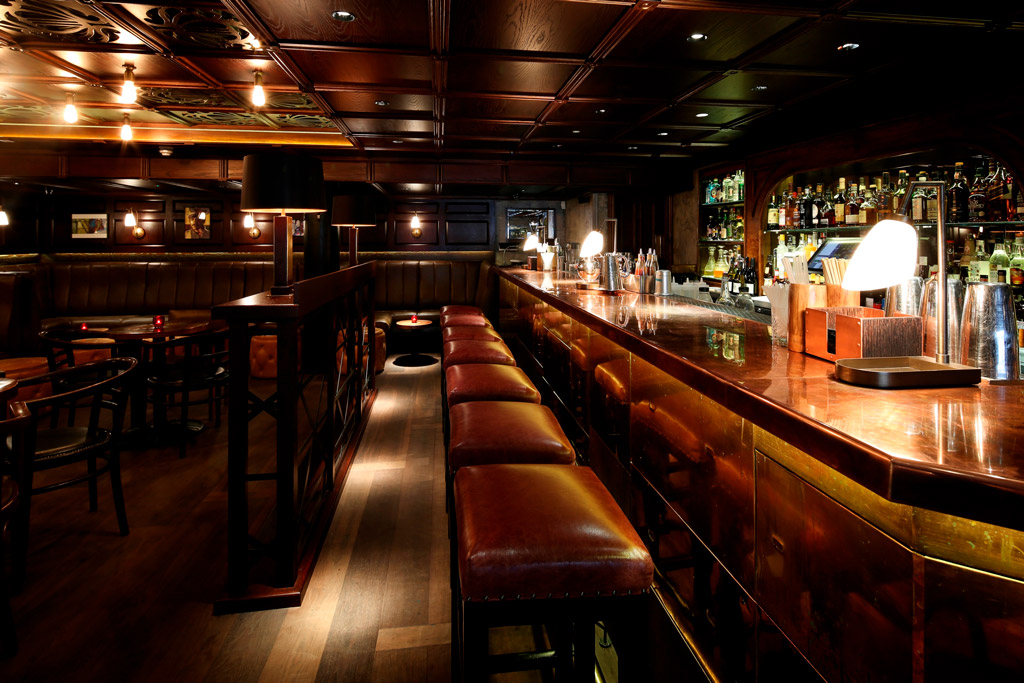 The Blind Pig, Soho
A combination of cool speakeasy vibes and fun cocktails makes The Blind Pig, hidden in the upstairs of Jason Atherton's Social Eating House, a sure-fire hit. The pun-filled drinks menu may sound gimmicky, but rest assured it's not: drinks here are excellent, playful and inventive, with a vast menu which looks like a notebook, complete with tales of the stories behind the drinks. It feels exclusive yet relaxed at the same time, with lots of cosy corners for drinking the night away in style.
58 Poland St, Soho, London W1F 7NR, socialeatinghouse.com