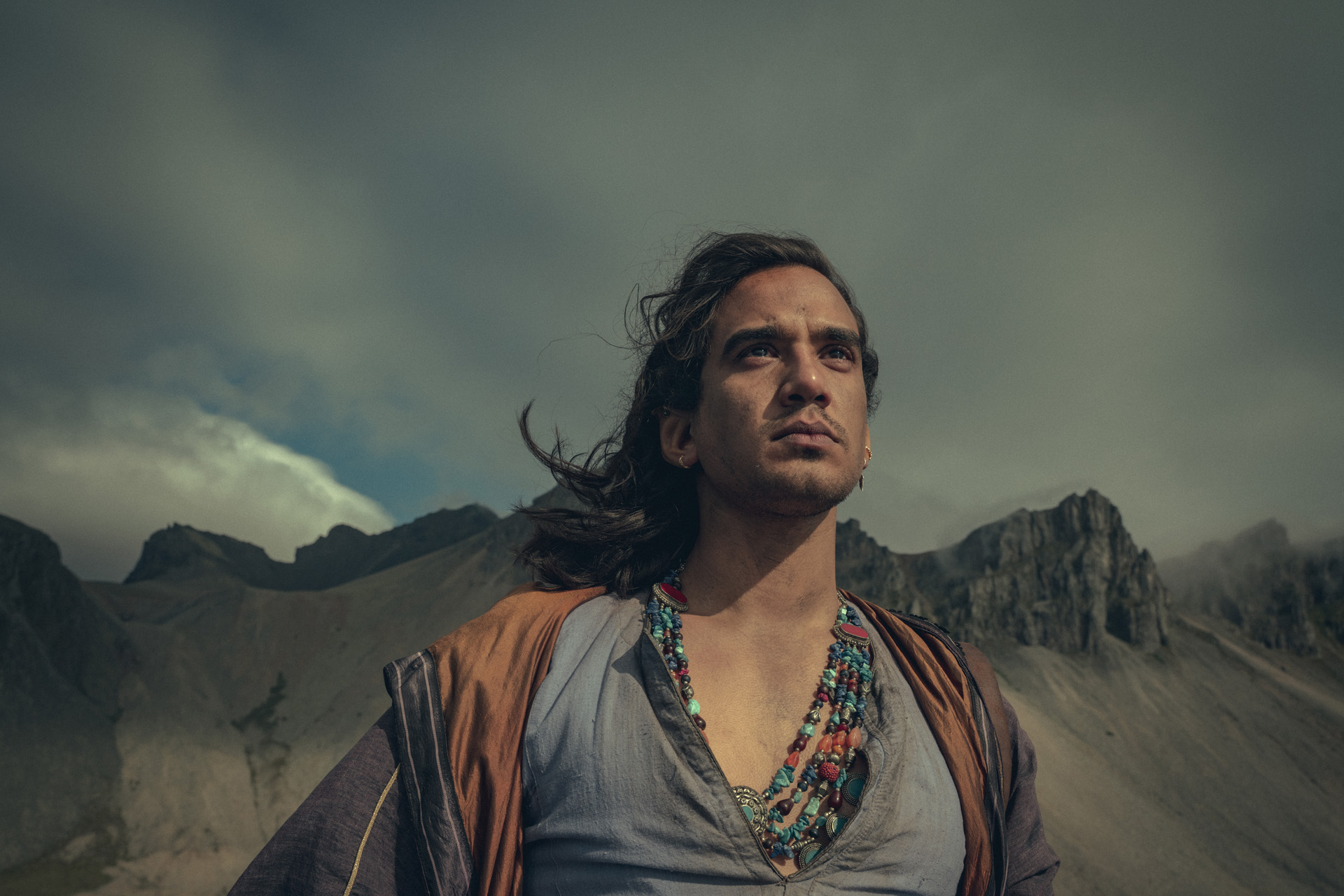 Nathaniel Curtis: 'Listen more and practise a limitless amount of love' – Interview
---
Olivia Emily sits down with the star of Netflix's The Witcher: Blood Origin
From Channel 4 and HBO's breakout show, It's a Sin, came a shining new star: Nathaniel Curtis, the young British actor who played Ash Mukherjee in the series penned by Russell T. Davies. From 1980s Britain to a fantastical, medieval inspired land: Nathaniel is now starring in Netflix's The Witcher: Blood Origin alongside Lenny Henry and Mirren Mack, a prequel to the popular 2019 series led by Henry Cavill. Olivia Emily sat down with Nathaniel to chat all things Blood Origin, singing and dancing to keep warm, and the virtues of patience and perseverance.
Interview with Nathaniel Curtis on Netflix's
The Witcher: Blood Origin
Hi Nathaniel, it's great to be chatting with you. We love The Witcher at C&TH, but can you give our readers an elevator pitch – and tell us a little more about Blood Origin – in case anyone is unfamiliar?
Blood Origin is about the Conjunction of the Spheres, which is mentioned a lot in The Witcher and happens 1200 years before the main series.
Can you tell us about your character?
I play a character called Brían, who is a young merchant and fighting against his class to be with the man he loves. He's ambitious but he's also sincere and gentle.
Any funny stories from rehearsals or filming?
There was a day on set where there was a lot of singing and dancing in between takes to keep warm, which was glorious.
Any quirky ways you get into character?
I do as much character work as I can beforehand and then when I'm on set. I listen to music to get straight into character. Shaun Dooley introduced me to this method and it's so useful. For Blood Origin, the song was Justice by Patrick Doyle from the Murder on the Orient Express score. It's incredibly random, but I prefer to think of it as niche.  
What is the cast dynamic? Who was your favourite person to work with?
The cast were mostly quite young in this show and we were around the same age, so we were able to connect easily – they're so fun and all so lovely and hardworking! However, I actually only worked with a select few, as the storyline I was involved in was very isolated. I did get to hang out with the other actors a fair bit though, as we were normally on set at the same time and, to this day, I still see a few of them regularly.
You previously starred in It's A Sin – what a success story! What was it like filming?
It was sensational! There are few other words for it. The cast, the crew and the process was all so exceptional. I will never forget the experience.
And what was it like when the positive responses started flooding in?
It was crazy, to be completely honest – and so unexpected. We knew the show was special and hoped it would do well, but the response was so overwhelmingly positive and people were so supportive. It really brought people together in such a special way that it was genuinely touching.
You also recently starred in Britannicus on stage – do you prefer stage or screen?
I love both for different reasons. Stage is so magical because you're there in the room watching a story unfold and you're having to trust the production in the hands of the people both on stage and off. Screen is more expansive, in my experience, and is just as intimate for different reasons – and can change dramatically in the editing process once you've done your bit.
What is the transition from stage-screen/screen-stage like?
It's been strangely easy for me. I completely chalk this down to the people I've worked with. The cast and crew of all the productions I've done have been wondrous, and it's been so exciting to be able to explore and really throw myself into my work.
What has been your favourite role to date and why?
I honestly love them all. Ash from It's a Sin was my first screen character, and the story he was involved with was so quietly devastating that it was my honour to be trusted with that. On the other hand, Brían is a sexy elf, which I never thought I'd get to play, and the relationship with my on-screen fiancé was gorgeous to film.
Which character that you have played in the past do you relate to the most in your own life?
They all have traits of me. I think a healthy mix of Ash's temperament and Brían's soul are probably close to me.
Who has been your favourite actor to work with in the past?
Oh, this is a very difficult question to answer… I've been so lucky to work with some insane talent. I couldn't pick one at all.
Which co-star did you learn the most from?
Everyone from It's A Sin. It was my first screen job, so I was very much learning on the go and everyone was so patient and willing to help teach me. I remember one day on set where I was working with Keeley Hawes and I was just watching her work – it was fascinating. I could do that all day.
What's a role you'd cut your right arm off to get?
If they ever make a version of The Song of Achilles, I'd do anything to play Patroclus.
What demands do you have during rehearsals? 
An endless stream of coffee and someone needs to bring in a dog at least once a day so I can play with them. Or I walk.
Do you get to spend much time at home?
It really depends on what my schedule is like; when I'm working, I tend to be all over the shop but in the in between periods, I do get to spend more time at home, which is lovely.
Do you live in the town or the country? Which do you prefer?
I live in London but I do like to escape to the country when I can. I'm very much a town mouse, but a break in the quiet is so necessary sometimes.
What's your interior design style?
My style is definitely cosy – lots of books, some art, brushed cotton bedding for the winter. There are a lot of fairy lights and I have no shame about that.
What qualities do you think have made you successful? 
I'm perseverent and I'm patient. I think that's what pushed me not to give up in the five years after graduating from drama school where I didn't land an acting role.
What's your relationship with social media like?
Not particularly interesting, to be honest. I don't live on it and I can see both the pros and cons of it too. One thing I have learned is to NEVER read the comments.
How do you find balance in your personal and work lives?
When I find it, I shall let you know.
What did you want to be when you were growing up?
I actually always wanted to be an actor. I was never as passionate about anything else.
If you could give advice to your 15-year-old self, what would it be? 
Chin up, keep working hard, have more faith in yourself.
How can we all live a little bit better?
Look after our planet, be kind, listen more and practise a limitless amount of love.
Quick Fire
What I'm reading… Dancer from the Dance by Andrew Holleran
The last thing I watched was… The Vicar of Dibley Christmas Special
What I'm most looking forward to seeing… Mission Impossible: Dead Reckoning
Favourite film of all time… Singin' in the Rain
Singer I always have on repeat… Troye Sivan
My ultimate cultural recommendation… The theatre
Cultural guilty pleasure… The British Museum and the V&A
The Witcher: Blood Origin is streaming now on Netflix.
Featured image: Nathaniel Curtis in The Witcher: Blood Origin. Lilja Jonsdottir/Netflix