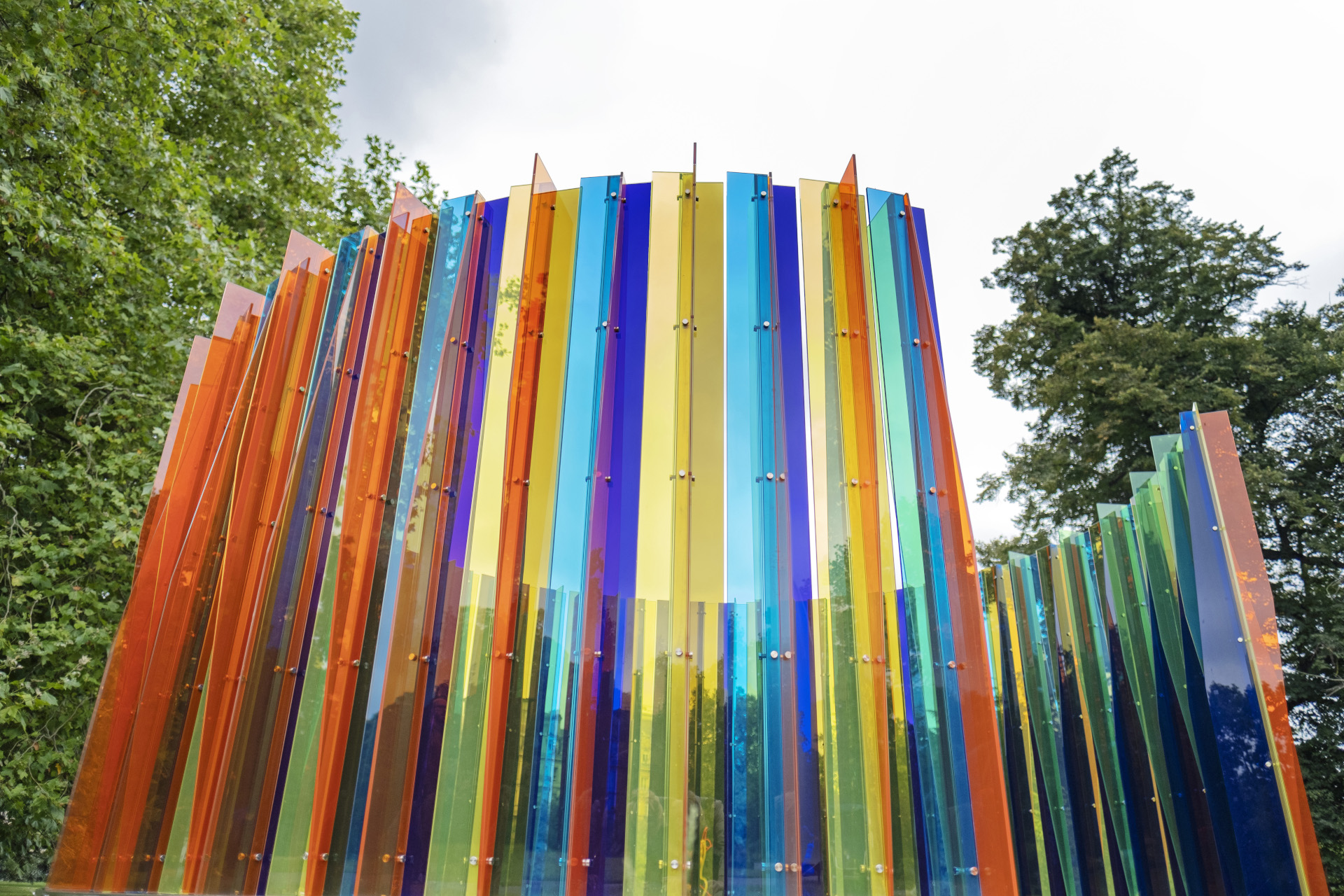 A Guide To Frieze London and Frieze Masters 2021
---
This year marks the return of in-person events
Culture vultures and artsy types have a whole host of events to look forward to this October. Next on the line-up is Frieze London and Frieze Masters, which are bringing back a selection of events to in-person guests (as well as the occasional virtual audience). From exciting new sections to firm favourites, Frieze is set to take over the UK capital and reignite the city's love of art. Read on for our guide to the highlights of the week, and stay tuned for updates.
Black History Month 2021: Events & Exhibitions To Book Now
Frieze London and Frieze Masters 2021: A Guide
Unworlding
Frieze is taking London by storm with a new series of in-person events throughout the city. Curated by Cedric Fauq (Curator, Palais de Tokyo, and incoming Chief Curator, CAPC musée d'art contemporain de Bordeaux), Unworlding is the first section to make its debut for Frieze London 2021. Centred around the idea of 'undoing the world as we know it', this section will feature a selection of international artists, including Nora Turato (represented by Gregor Staiger), Ndayé Kouagou (represented by Nir Altman) and Natacha Donzé (represented by Parliament Gallery).
Editions
The second new section to join Frieze is Editions, which will showcase the world's leading publishers of editioned works and multiples by today's most renowned contemporary artists. Editions seeks to open up the world of collecting to new audiences by offering the opportunity to buy works by leading international artists at affordable prices. Visitors can expect to the likes of Paula Rego (represented by Cristea Roberts), Yinka Shonibare (represented by Cristea Roberts), Georg Baselitz (represented by Knust Kunz), Sam Durant (represented by STPI), Julie Mehretu (represented by Borch Editions) and Frank Bowling (represented by Paragon) – as well as many more big names in the industry.
Focus
Focus, the fair's section for galleries aged 12 years or younger, provides a platform for emerging artists. This year will see Arcadia Missa, Empty Gallery, Instituto de Visión, Hot Wheels Athens, ​​Edouard Malingue Gallery, PM8 / Francisco Salas, Proyectos Ultravioleta and Temnikova & Kasela participating in the line-up. You can also catch this year's winner of the Frieze Artist Award, Sung Tieu, as she exhibits her winning film Moving Target Shadow Detection with Emalin (booth H9).
Frieze LIVE
This year's LIVE has been curated by Languid Hands, a London-based artistic and curatorial collaboration between Rabz Lansquot and Imani Robinson. The two have previously worked together to present 'No Real Closure' as curatorial fellows at Cubitt Artists in 2020, where they looked to experiment with and develop Black artistic practice across exhibitions, moving image, text, performance and public programming. The LIVE programme will build on this through performances exploring liminal space, embodiment, transformation and grief with work by Rebecca Bellantoni, Ebun Sodipo and Ashley Holmes. Hosted online from 13 October
Frieze Sculpture
For 2021, Frieze Sculpture will be showing work that addresses the themes of architecture, geopolitical power structures and environmental concern. Featuring a variety of international artists, including Ibrahim El-Salahi, Isamu Noguchi, Solange Pessoa and Rose Wylie, the programme will be available to view in person at the English Gardens in Regent's Park in London and online on the Frieze London and Frieze Masters Viewing Room. Frieze Sculpture, for its fourth consecutive year, will also be partnering with Mtec to continue its support of young galleries and emerging artists by offering a bursary to put towards their participation in the programme. The 2021 Mtec Bursary has been awarded to L'Etrangere, Irene Laub Gallery, presenting Untitled (module 1 and 2), 2019, by Tatiana Wolska. Free and open to all, Frieze Sculpture takes place from 14 September until 31 October 2021
Stand Out
Frieze Masters will also be introducing new sections to the programme, starting with Stand Out, which will bring together objects of conceptual and technical brilliance to uncover a more complex, inclusive and interesting history of art. Curated by Luke Syson (Director of the Fitzwilliam Museum), Stand Out seeks to blur the boundaries of traditional hierarchical distinctions so that audiences reconsider how they view art objects often termed 'decorative' or 'functional'. Artwork that will be in the spotlight includes reverse glass painting, plaster sculpture, reliquary busts, decorated vases and objects from the Silk Road.
Spotlight
Dedicated to pioneers of avant-garde art from across the world, Spotlight will be overseen this year by Laura Hoptman (Executive Director of The Drawing Center, New York) which brings together 28 international galleries exhibiting painting, photography, sculpture, drawing, and conceptual installation from ground-breaking artists of the 20th century. Championing diversity, overlooked figures, and rarely seen practices by modern masters, this section will feature art from Feliciano Centurión (represented by Cecilia Brunson Projects and Galeria Millan), Beauford Delaney (represented by Michael Rosenfeld Gallery), and Alice Rahon (represented by Gallery Wendi Norris).
Frieze Talks
This year's Frieze London Talks will be overseen by Jeppe Ugelvig and focus on 'artistic collaboration and economies of exchange'. The series will discuss new and long-time relationships between artists and creatives to reflect on art within and across disciplines, with highlights including Ruangrupa, the artist collective in charge of the documenta 15 next year, in conversation with Frieze founder Matthew Slotover, and artist Jes Fan in conversation with artist Rindon Johnson. Frieze Talks will take place online and in-person at No. 9 Cork Street, Frieze's new space for pop-up exhibitions in London. 11 – 16 October
Frieze Masters Talks will see the return of Dr Nicholas Cullinan (Director of National Portrait Gallery) as curator, with discussions that bring together contemporary artists, writers and curators to explore the connections between historical art and contemporary practice. The series will also feature the likes of Kaye Donachie, Erdem Moralioglu, Amie Siegel, Michael Borremans and Dries Van Noten. 11 – 17 October
Frieze Viewing Room
While we can celebrate the return of in-person programming, Frieze will also be running a dedicated edition of Frieze Viewing Room in parallel with both fairs. Those who can't make it to the fair need not fear, as the expanded online programme will be able to connect audiences to galleries no matter where they are. 13 – 17 October
Gallery Highlights
Frieze London 2021 is expected to be packed with solo shows and exhibitions, such as:
Carlos/Ishikawa presenting a solo booth of new paintings by Issy Wood
Pilar Corrias with a solo presentation by Sabine Moritz
Stephen Friedman Gallery showcasing new works by Deborah Roberts to coincide with the artist's first European institutional solo show at The Bluecoat, Liverpool
Casey Kaplan showing an exhibition of new Renaissance inspired paintings by Ella Walker
Lisson Gallery's solo presentation of Garrett Bradley featuring the premiere of a new film by the artist
Other leading galleries involved in the 2021 edition include Sadie Coles HQ, Hauser & Wirth, Xavier Hufkens, Taka Ishii Gallery, Karma, Kukje Gallery, Matthew Marks Gallery, Mendes Wood DM, Maureen Paley, Sfeir-Semler Gallery, Stevenson and David Zwirner.
Outside the Fair
After you've looking round the fair, head over to one of the many galleries and art show pop-ups in the city. Highlights include:
Claridge's is launching Claridge's ArtSpace, which will be showing a previously unseen exhibition by Damien Hirst. Opens 12 October
The London EDITION is opening 'CULTURE'S PANIC ROOM', an immersive exhibition by the emerging American artist duo Wickerham & Lomax. Opens 14 October
Banksy's former agent Steve Lazarides has announced the opening of a physical expansion to his popular Laz Emporium online store, launching in the heart of Soho at Lexington Street. Opens 7 October
Purslane has teamed up with Soho Revue to showcase 'Thesmophoria', a co-curated all-female
group exhibition that will be raising money for Women for Women's Afghan Relief Fund. Opens 6 October
Innovation in Craft Exhibition
Coinciding with Frieze London and Frieze Masters 2021, Silverlining will host a two-week exhibition at Chelsea Barracks showcasing its forward-thinking ideas, craftsmanship and finishes through hand sketches and jewel-like material. This will include demonstrations of how leatherwork, marquetry and carving are advanced by the latest science and technology. 4 – 17 October, 10am – 6pm
Frieze London and Frieze Masters will be held between 13 – 17 October 2021 in Regent's Park, with general admission tickets priced from £46. For more information, please visit frieze.com
Featured image: Carlos Cruz-Diaz 'Environment of Circular Transchromie' (1965-1927), presented by Galerie Phillippe Gavier, Paris, for Frieze Sculpture 2021. Frieze Sculpture Park, Regent's Park, London. Photo by Linda Nylind for Frieze.