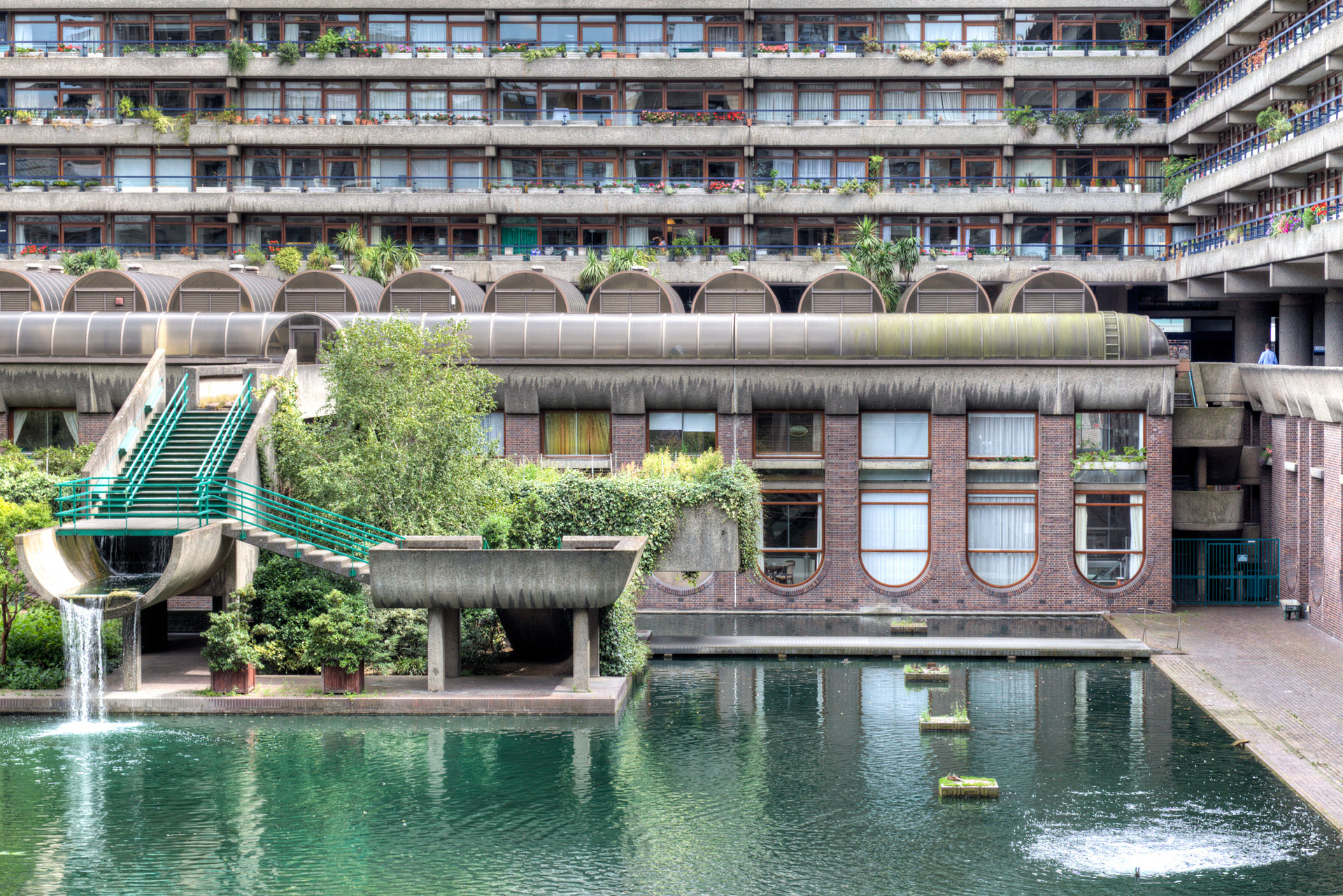 The Guide to Brutalist London
Where to find London's modernist masterpieces
Beauty is in the eye of the beholder, which might explain the popularity of Brutalism, an oft-maligned modernist style of architecture that was prevalent in the 1950s through to the late '70s. For all its breathless devotees (#brutalism has over 1.3 million results on Instagram), there are just as many detractors – buildings that provoke a rapturous response in some can look to others like nothing but an unseemly pile of concrete. Whether you love it or hate it – and there's plenty of people falling into either camp – there's no denying that London's Brutalist buildings are part of what makes the city's architecture so special. Here are some of the best places to see the best of Brutalism in London.
Where To See Brutalism In London
Barbican
Something of a Mecca for Brutalism lovers, the Barbican is worth a visit even if you aren't completely won over by its architecture (though many are – the average price for a flat in the complex tops the £1 million mark). As an exhibition space, theatre and cinema, it is a cultural hub that hosts some of the most thought-provoking exhibitions in London, star-studded productions (Benedict Cumberbatch took on the role of Hamlet here in 2015) and indie films – and that's not to mention the tranquil outdoor space. Inside, it has a distinctly retro-future vibe with swooping concrete beams and thick carpets, best seen in Netflix's recent ghost-hunter series, Lockwood & Co. There's also the Conservatory, a glass-topped enclosure teeming with lush greenery and over 1,500 species of plants and trees; it's free to enter, though you'll have to book in advance.
FIND IT: Silk St, Barbican, London EC2Y 8DS. barbican.org.uk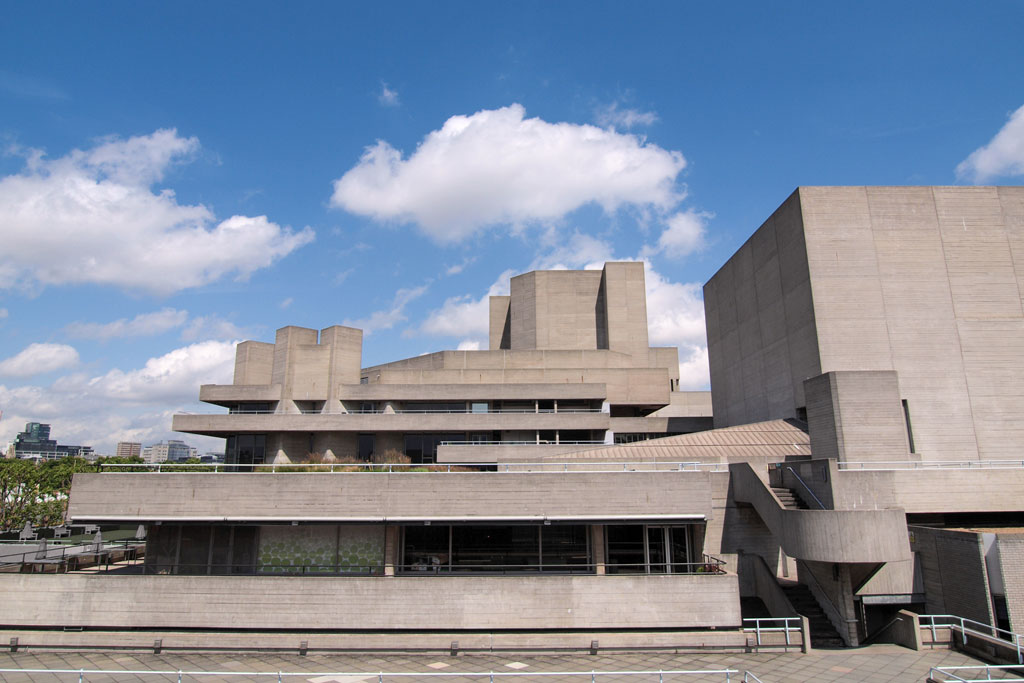 National Theatre
Completed in 1976 to a mixed reception – Prince Charles famously said that it looked like a nuclear power station – the National Theatre is now a beloved institution and a must-visit for avid theatregoers. Inside, expect thick carpets, a warren of staircases, multiple stages and plenty of bars and restaurants to grab a refreshment.
FIND IT: Upper Ground, Bishop's, London SE1 9PX. nationaltheatre.org.uk
Southbank Centre
Along with its neighbour the National Theatre, the Southbank Centre is part of what gives the southern side of the Thames a distinctly Brutalist feel. The largest arts centre in Europe, it hosts popular talks, musical performances and festivals, as well as contemporary art exhibitions at the Hayward Gallery and a street food market on the weekends.
FIND IT: Belvedere Road, London SE1 8XX. southbankcentre.co.uk
The Standard
Built in 1974 by architect Shawn Hausman, the Brutalist façade of The Standard hotel stands as a stark contrast to the Neo-Gothic red brick of St Pancras which it faces. The first European outpost of the trendy boutique brand, The Standard quickly established itself as one of London's hottest new hotels, with a sleek bar space, three restaurants and a distinctly retro, '70s-inspired aesthetic which pairs perfectly with the building's heritage.
FIND IT: 10 Argyle St, London WC1H 8EG. standardhotels.com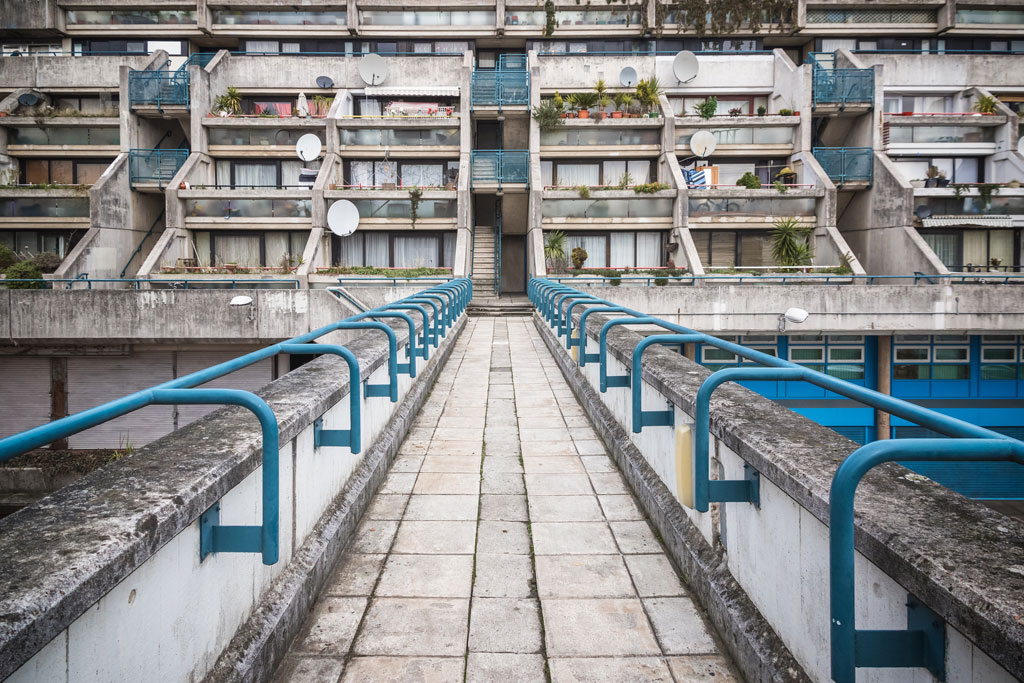 Alexandra Road Estate
One of the best places for immersing yourself in Brutalism in London (or just to get a good photo), Camden's Alexandra Road Estate was built in 1978 by Neave Brown as an ambitious, idealistic social housing project at a time when council housing was often at the centre of experimental, avant-garde architecture. Listed as Grade II* in 1994, it's a uniquely atmospheric place to visit today, with two public walkways adorned in greenery and a central park.
FIND IT: Rowley Way, London NW8 0SN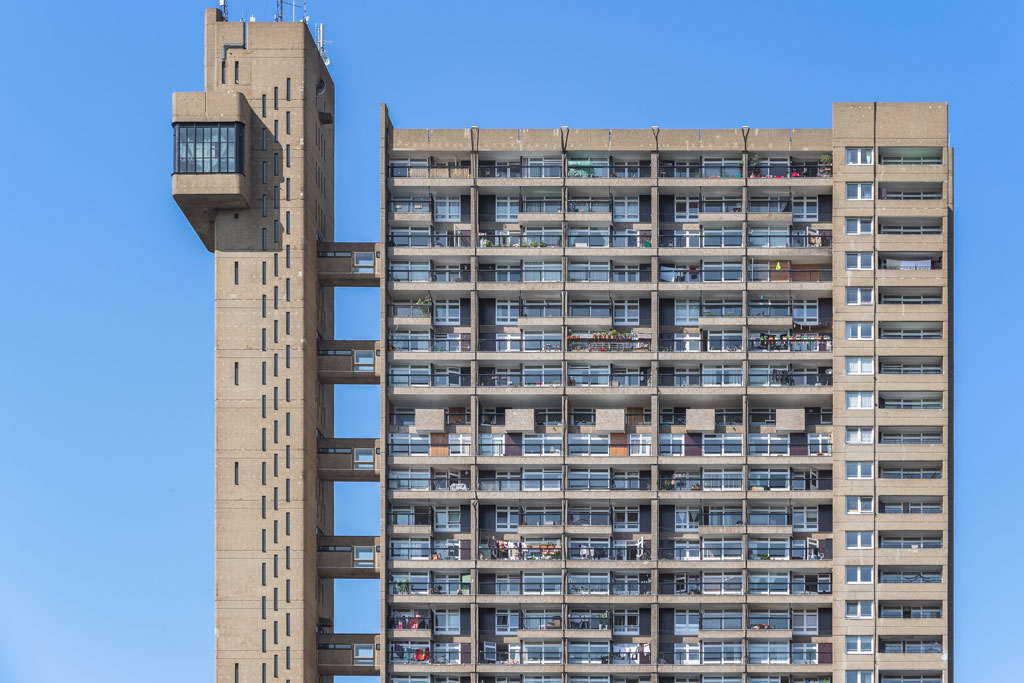 The Trellick Tower
Looming out over the streets of Ladbroke Grove, Ernö Goldfinger's Trellick Tower often crops up on lists of most reviled buildings in London. It's certainly one of the most controversial, having earned a Grade II* listing in recognition of its architectural importance, cameos in numerous music videos and tabloid infamy as the 'Tower of Terror'. Moments away from the antique stores of Goldborne Road and Portobello, it's now become something of a haven for hipsters with mid-century modern tastes: apartments are rare, and, when they do come on the market, quickly snatched up.
FIND IT: Goldborne Road, London W10 5PB
The Brunswick
If you like your shopping with a side of modernist architecture, it's worth stopping by the Brunswick, a bright and open Brutalist space tucked away behind Bloomsbury's quiet Georgian terraces. The Grade II-listed shopping centre has clothes stores, supermarkets, restaurants and a Curzon cinema, and also houses Skoob, one of London's best little-known second-hand bookshops, which specialises in academic texts, politics, history and modern literature.
FIND IT: Bloomsbury, London WC1N 1BS. brunswick.co.uk