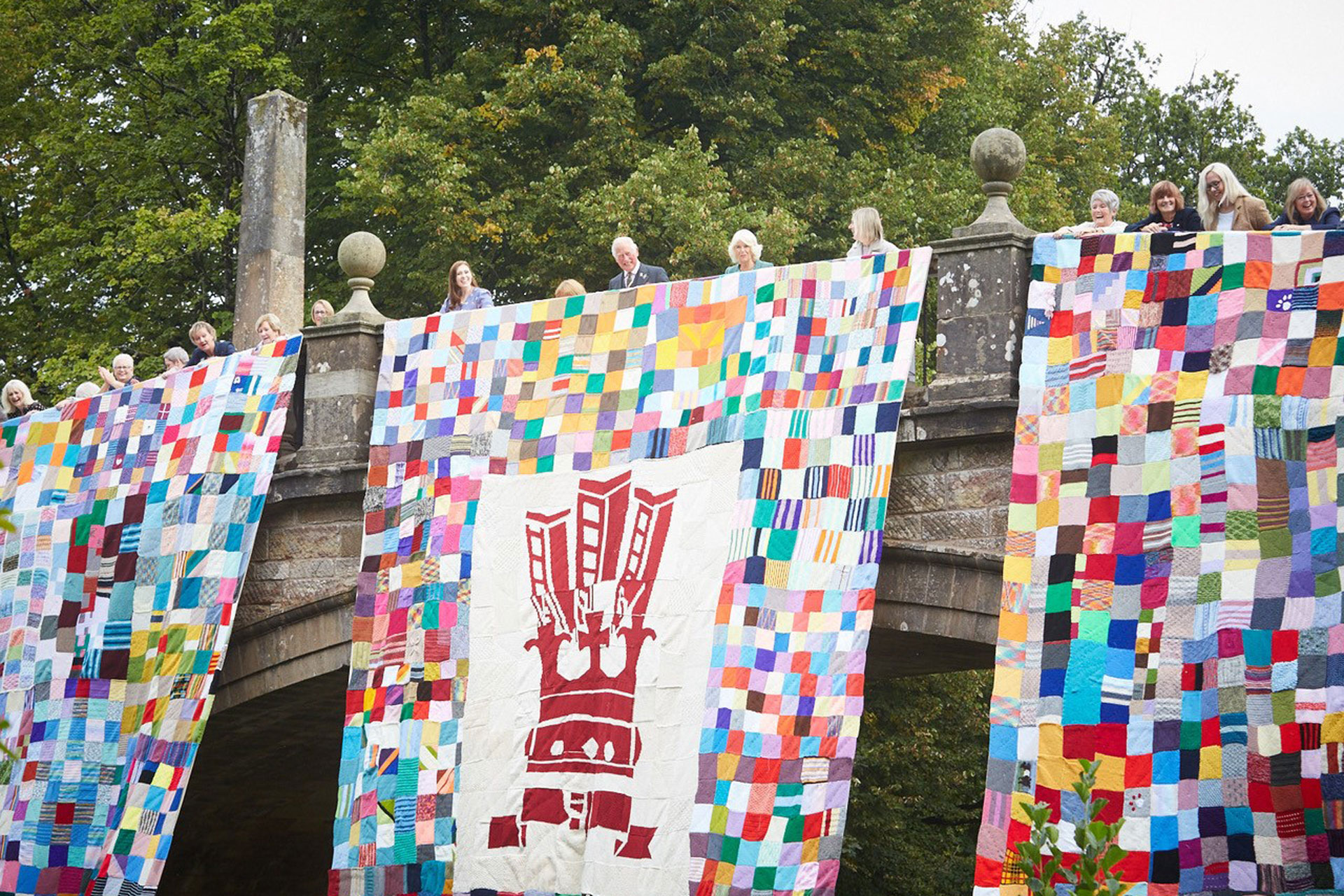 Prince Charles and Camilla Unveil a Giant Knitted Patchwork
---
The kaleidoscopic quilt celebrates knitting's many benefits
The Prince of Wales and The Duchess of Cornwall have unfurled a joyous knitted patchwork mosaic made up of over 9,000 handmade squares 'to get the world knitting'.
Weighing over 130kg, the art installation was draped over the historic Adam Bridge at the Palladian stately home, Dumfries House. The Scottish patchwork marks knitting's proven mental health benefits, especially for soothing anxiousness and stress. It's also a nod to knitting as a supreme sustainable alternative to fast fashion. Not only is wool is a natural renewable and biodegradable fibre, but if you've knitted a piece yourself, you'll treasure it and keep it for longer.
Prince Charles personally came up with the idea for the patchwork, and knitting groups across the world, as far as Australia to Tasmania, crafted the thousands of hand-knitted squares over the past few months. Some of the squares were then stitched together from prisoners from Stirling, Scotland as part of a rehabilitation initiative. Once the installation is dismantled, the patchwork will be cut into blankets and distributed to charities in need.
The project is part of a larger mission to future-proof the craft industry by helping turn a hobby into a viable business. The Prince's Foundation with The Joseph Ettedgui Foundation launched Knitwise earlier this year, which brings together knitters from the local community to socialise, whilst also getting trained up to reach a professional standard. The aim is to boost income and employment for deprived areas in Scotland.
Keen to start a stitch? Head over to our beginner's knitting guide, where yarns expert Abby Parkes of Luxury Yarns, will walk you through the basics, plus all the handy hacks you'll need to reach pro status.
Main image: The Prince's Foundation
SEE MORE:
Manual Labour: The Comeback of Craft / The Beginner's Guide to Crochet