Placards, banners and flags at the ready, ladies and gents! Gender equality here we come…
This Sunday's March4Women event is set to be the biggest yet, celebrating International Women's Day and the 100 years of suffrage. Join London's men and women from midday as they celebrate women and call for an end to gender-based discrimination and violence in workplaces around the world.
This year marks 100 years since women in the UK first won the right to vote – and how far we have come since! To mark the occasion, a host of exhibitions and activities are happening across the country, and we've launched our editorial series exploring what it means to be a woman in 2018.
However despite numerous advances for women, gender equality still hasn't been fully met, and women are still too often subject to sexism, abuse, harassment and violence. This issue has been particularly pertinent in 2018, brought to the fore by the Harvey Weinstein scandal, #MeToo movement and a number of high-profile women coming out to denounce sexual harassment and tell their own harrowing tales. So what better time to march for women's rights and demand a less discriminatory world?
READ MORE: What it Means to Be a Woman in 2018 – Trans Activist Charlie Craggs
This Sunday, CARE International's annual March4Women event will begin in Millbank and end with a rally in Trafalgar Square, where there will be speeches from campaigners and supporters, as well as music and entertainment.
"Feminism is a global issue, and our solidarity does not end at the shores of our own country," says Helen Pankhurst, great-granddaughter of suffragette leader Emmeline Pankhurst, and a senior advisor on gender equality for CARE. "Compared to the situation in my great-grandmother's day, we are now living in a world that is more interconnected and interdependent than ever; one where individual voices and actions in one part of the world can and need to be amplified, to make the world a more beautiful place for all."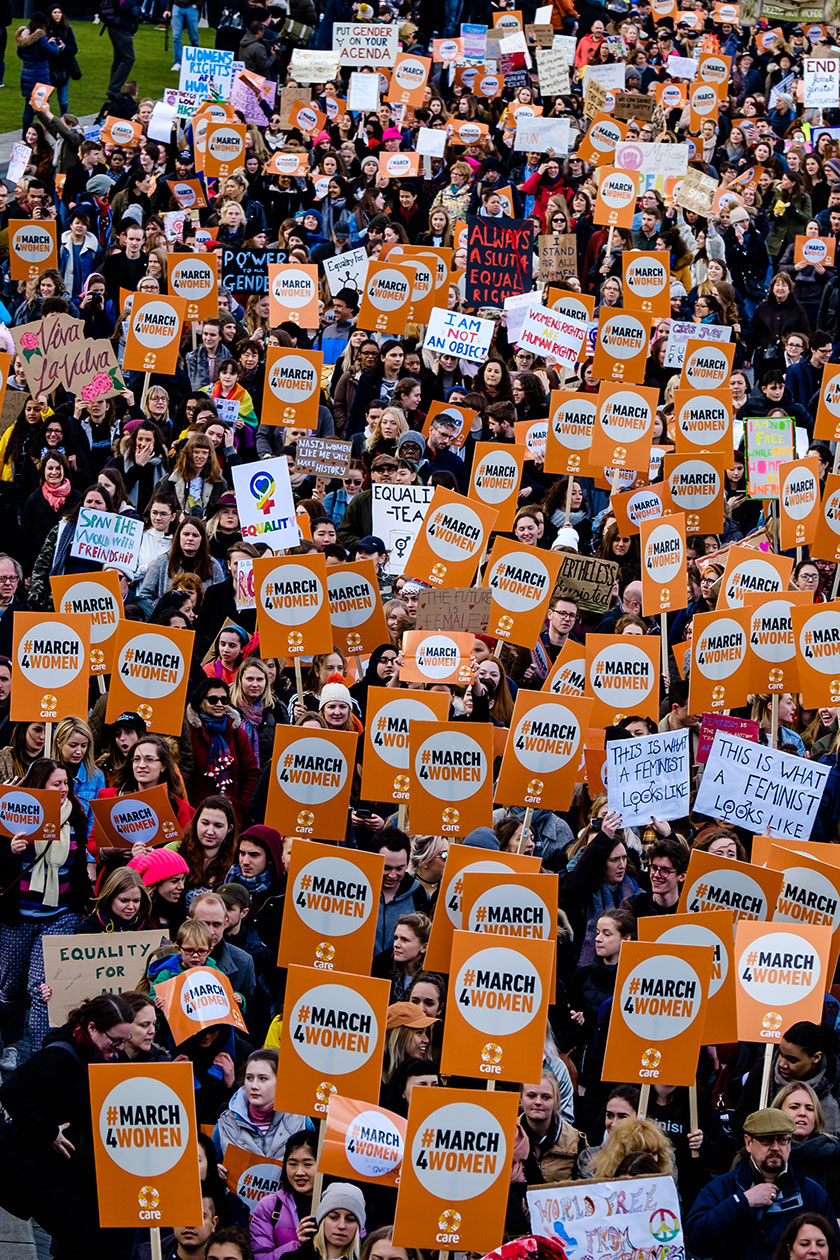 So, what does March4Women stand for? The march calls for equal rights for people of all genders, the right to speak out and be heard, the right to work free of harassment and abuse, and the right of every woman and girl around the world to live, learn and earn with safety, dignity and respect.
Everything that's Happening this Year to Mark 100 Years of Suffrage 
One hundred years after women were first granted the vote, it is saddening that we still have to march for such basic rights. It's no wonder that the march has received the support of Mayor of London Sadiq Khan as well as numerous other high-profile personalities who will give inspiring speeches on the day, including Sue Perkins, Helen Pankhurst (great-granddaughter of suffragette leader Emmeline Pankhurst), Bianca Jagger and even Annie Lennox who will give a video address.
Head of Women's March London Shola Mos-Shogbamimu and Faeeza Vaid of the Muslim Women's Network will lead the crowds through the city, ending in Trafalgar Square where there will be appearances from Sophie Ellis-Bextor, Imbrugliamburglia, Sandi Toksvig and Jude Kelly CBE, with more to be announced. Salena Godden will entertain the troops with poetry before the grand finale which will see women singers, the all-female Bond String Quartet and X-Factor choir performing a rendition of 'You Don't Own Me', produced by legendary composer David Arnold.
When & Where?
The annual #March4Women will take place on, unsurprisingly, the 4th March. Meet at Millbank, SW1, at 12 noon before following the march North through Parliament Square and along Whitehall, ending at Trafalgar Square.
You can find the full map and timetable here.
Register here for free or just turn up on the day, placards at the ready! Find out more at careinternational.org.uk/march4women
Interviews with Women of Note: Hannah Shergold | Sabrina Mahfouz | Thomasina Miers
---