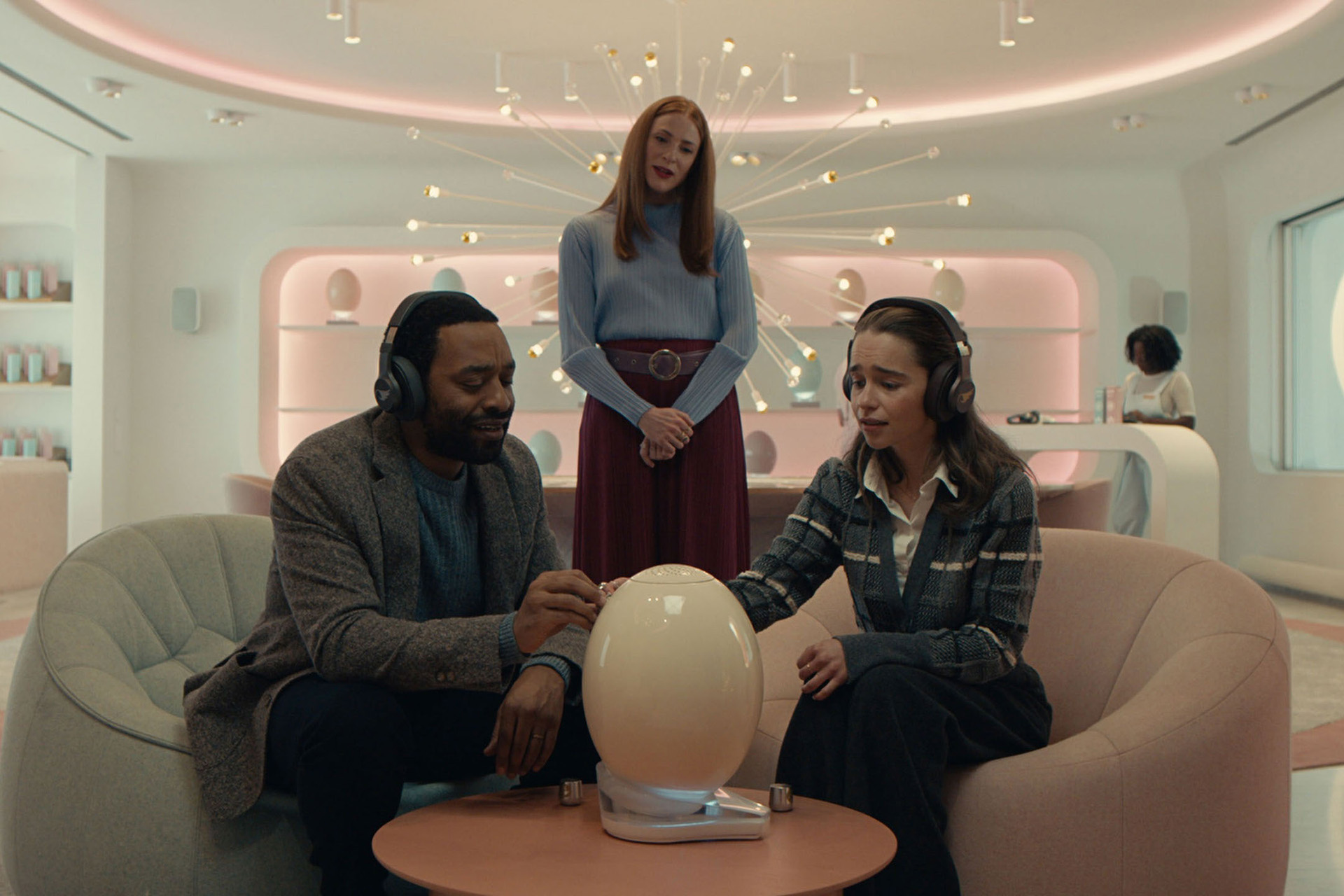 Sundance 2023: Films To Have on Your Radar
---
The big hits sure to make a splash
The Sundance Film Festival is fast-approaching, taking place from 19–29 January 2023 in Salt Lake City, Utah, USA – in person for the first time since 2020. There's a star-studded line-up of speakers for the 'Beyond Film' series of talks, including Dakota Johnson, Jonathan Majors, Randall Park and Marlee Matlin. But, as always, it will be the films at the front and centre. Historically, Sundance has directed acclaim toward titles such as Reservoir Dogs, Little Miss Sunshine, 500 Days of Summer, Whiplash and CODA. Here are the buzziest films to have on your radar, set to be screened at Sundance 2023.
Sundance 2023: The Best Films To Have on Your Radar
Earth Mama
From the UK's Film 4 and the renowned A24 Films comes Savanah Leaf's coming-of-age film, Earth Mama. Leaf has previously directed music videos, but most notably competed on Team GB, playing volleyball at the London 2012 Summer Olympics.
Director: Savanah Leaf
Starring: Tia Nomore, Erika Alexander, Doechii, Sharon Duncan Brewster, Dominic Fike, Bokeem Woodbine
Synopsis: A pregnant single mother with two children in foster care embraces her Bay Area community as she fights to reclaim her family. 
Cat Person 
This upcoming psychological thriller is based on Kristen Roupenian's 2017 short story of the same name published in The New Yorker.
Director: Susanna Fogel
Starring: Emilia Jones, Nicholas Braun, Geraldine Viswanathan, Hope Davis, Fred Melamed, Isabella Rossellini
Synopsis: College student Margot meets 33-year-old Robert at the movie theater where she works. After a casual flirtation at the concession stand, they carry on conversations through texts. As their perceptions of each other collide, events spiral out of control.
Fairyland
Based on Alysia Abbot's memoir, Fairyland: A Memoir of My Father, Fairyland is a coming-of-age drama film, and Andrew Durham's directorial debut.
Director: Andrew Durham
Starring: Emilia Jones, Scoot McNairy, Geena Davis, Cody Fern, Adam Lambert, Maria Bakalova
Synopsis: Set against the backdrop of San Francisco's vibrant cultural scene in the 1970s and '80s, chronicling a father-daughter relationship as it evolves from an era of bohemian decadence to the heartbreaking AIDS crisis.
Eileen
Based on Ottessa Moshfegh's 2015 debut novel of the same name – which was shortlisted for the 2016 Man Booker Prize, Eileen transports us back to 1964 Massachusetts.
Director: William Oldroyd
Starring: Thomasin McKenzie, Anne Hathaway, Shea Whigham, Marin Ireland, Owen Teague
Synopsis: Set during a bitter 1964 Massachusetts winter, young secretary Eileen becomes enchanted by the glamorous new counselor at the prison where she works. Their budding friendship takes a twisted turn when Rebecca reveals a dark secret — throwing Eileen onto a sinister path.
Fair Play
This thriller will star Bridgerton break-out Phoebe Dynevor, swapping ball gowns and courting for a high-intensity hedge fund.
Director: Chloe Domont
Starring: Phoebe Dynevor, Alden Ehrenreich, Eddie Marsan
Synopsis: An unexpected promotion at a cutthroat hedge fund pushes a young couple's relationship to the brink, threatening to unravel far more than their recent engagement.
Flora and Son
Getting its global premiere at Sundance 2023, Flora and Son is an upcoming feature film directed by John Carney, best known as a developer, writer and producer for Prime Video's Modern Love.
Director: John Carney
Starring: Eve Hewson, Joseph Gordon-Levitt, Orén Kinlan, Jack Reynor
Synopsis: Single mom Flora is at war with her teenage son, petty thief Max. Encouraged by the police to find Max a hobby, she rescues a beat-up guitar from a dumpster and finds that one person's trash can be a family's salvation.
Landscape With Invisible Hand
Crossing sci-fi with romance, is based on M.T. Anderson's 2017 novel of the same name.
Director: Cory Finley
Starring: Tiffany Haddish, Asante Blackk, Kylie Rogers, Josh Hamilto
Synopsis: When Earth is taken over by aliens who control the economy, a pair of teenagers come up with a plan to save their families.
You Hurt My Feelings
This New York City satire was swooped up by A24 films at the 2021 American Film Market.
Director: Nicole Holofcener
Starring: Julia Louis-Dreyfus, Tobias Menzies, Michaela Watkins, Owen Teague, Arian Moayed
Synopsis: A novelist's long standing marriage is suddenly upended when she overhears her husband giving his honest reaction to her latest book.
The Pod Generation
Giving Black Mirror a run for its money, The Pod Generation pictures a not-so-distant future, asking questions about reproductive technology, with Game of Thrones' Emilia Clarke at the fore.
Director: Sophie Barthes
Starring: Emilia Clarke, Chiwetel Ejiofor, Rosalie Craig, Vinette Robinson, Jean-Marc Barr
Synopsis: In a not-so-distant future, amid a society madly in love with technology, tech giant Pegazus offers couples the opportunity to share their pregnancies via detachable artificial wombs or pods. And so begins Rachel and Alvy's wild ride to parenthood in this brave new world.
Past Lives
Another picture from A24 films, Past Lives comes from writer-director Celine Song, and will also premiere at Sundance 2023.
Director: Celine Song
Starring: Greta Lee, Teo Yoo, John Magaro
Synopsis: Nora and Hae Sung, two deeply connected childhood friends, are wrest apart after Nora's family emigrates from South Korea. Two decades later, they are reunited in New York for one fateful week as they confront notions of destiny and love, and the choices that make a life. 
Drift
This Greek picture is based on Alexander Maksik's novel, A Marker to Measure Drift. 
Director: Anthony Chen
Starring: Cynthia Erivo, Alia Shawkat, Ibrahima Ba, Honor Swinton Byrne, Zainab Jah, Suzy Bemba
Synopsis: Jacqueline, a young refugee, lands alone and penniless on a Greek island where she tries to survive, then to cope with her past. While gathering her strength, she begins a friendship with a rootless tour guide and together they find the resilience to forge ahead.
Featured image: Emilia Clarke, Chiwetel and Rosalie Craig appear in a still from The Pod Generation by Sophie Barthes, an official selection of the Premieres program at the 2023 Sundance Film Festival. Courtesy of Sundance Institute, photo by Andrij Parekh (cropped).