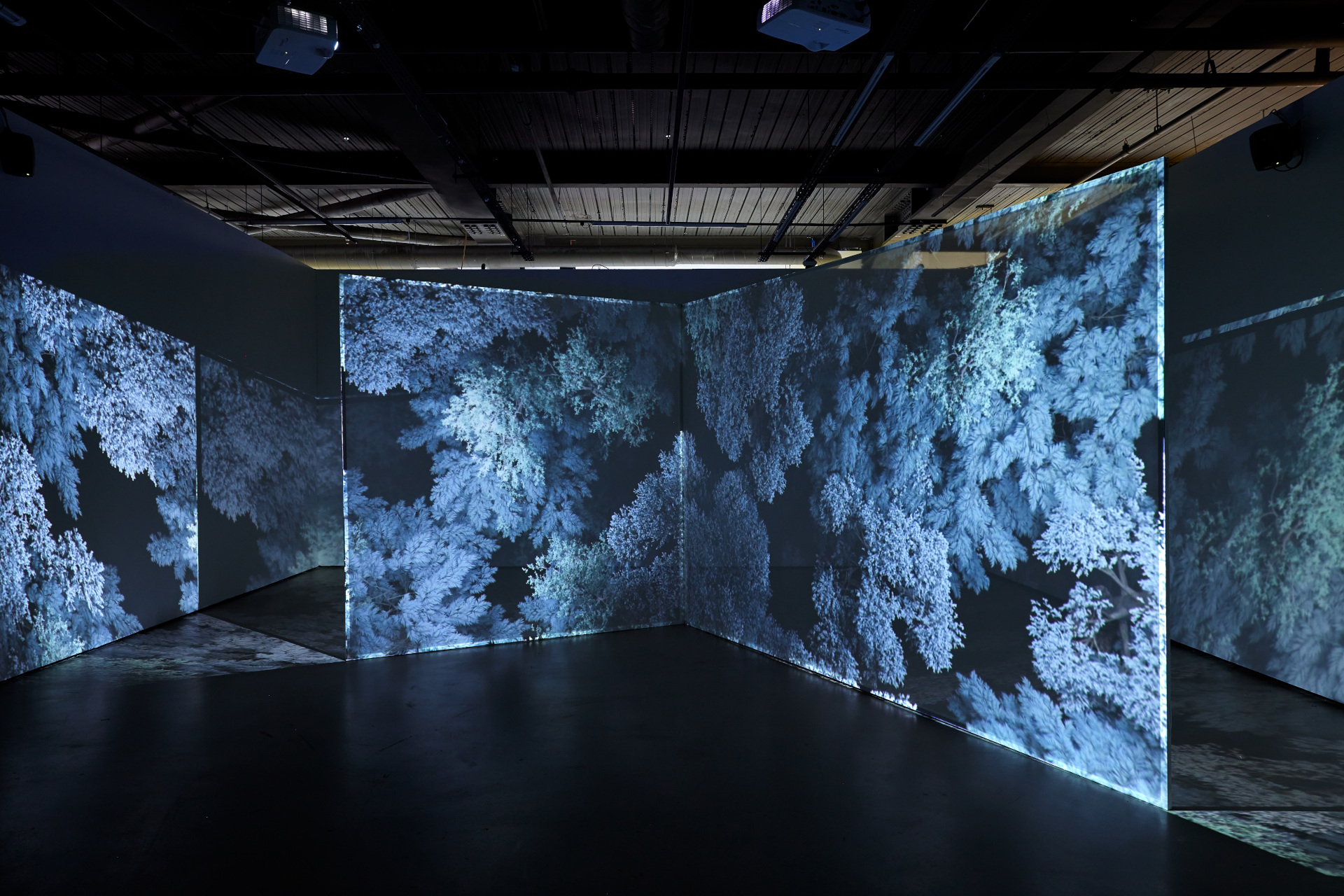 Eco-Conscious Exhibitions and Art Shows in the UK
---
Where to get your fix of green culture
We love a good art show as much as the next culture vulture, but sometimes we need artists, galleries, and museums to take the lead when it comes to educating audiences on widespread social issues. Connecting visitors to the natural world, endangered species, plastic consumption, and climate change, these are the eco-conscious art exhibitions to see in the UK right now, and what to look forward to in the future.
Eco-Conscious Exhibitions and Art Shows In The UK
Mike Nelson: Extinction Beckons
Where? Hayward Gallery
When? 22 February–7 May 2023
The work of internationally acclaimed British artist Mike Nelson will be showcased in its first major survey this spring, with sculptural works and new versions of the artist's famed large-scale installations displayed at (and utterly transforming) the Hayward Gallery. With many pieces displayed for the first time since their original presentation, Extinction Beckons will immerse visitors in a science-fictional world – created with materials scavenged from salvage yards, junk shops, auctions and flea markets – that is eerily similar to our own. southbankcentre.co.uk
Milk
Where? The Wellcome Collection (183 Euston Rd, London NW1 2BE)
When? 30 March–10 September 2023
Featuring over 100 items including historical objects, artworks and new commissions, this will be the first museum survey to consider the complexity of this everyday substance, and how it has come to be seen as so central to our perceptions of nutrition and 'good health'. Considering contemporary farming, food, government and sustainability, Milk will invite visitors to reflect on the values on which our food systems are based and question what the future of milk might look like. wellcomecollection.org
Gregor Sailer: The Polar Silk Road 
Where? Natural History Museum
When? From 26 May 2023
Artist and photographer Gregor Sailer's first UK exhibition will explore the climate crisis' impact on the Arctic, with melting ice opening shorter sea routes and creating new opportunities for trade and access to new raw material deposits via the so-called 'Polar Silk Road'. Sailer's exhibition will explore the new conflicts created by this melting, and document our complex relationship with the environment. nhm.ac.uk
Dear Earth: Art and Hope in a Time of Crisis
Where? Hayward Gallery
When? 21 June–3 September 2023
How are artists helping us to connect with nature and the climate crisis? This summer, a pioneering new project will arrive at Hayward Gallery, with an international group of artists responding to artist Otobong Nkanga's suggestion that 'caring is a form of resistance'. Artists – including  Agnes Denes, Andrea Bowers, Otobong Nkanaga, Hito Steyerl and Jacqueline Imani Brown – will explore our emotional connection to nature and new ways we can help the planet and climate-vulnerable communities across the globe across a range of media. southbankcentre.co.uk
Coastal Communities and Climate Crisis [Working Title]
Where? Newlyn Art Gallery & The Exchange, Penzance
When? 30 September 2023–7 January 2024
Through new commissions and recent work, this collaborative exhibition will raise awareness of the threat of rising sea levels and the acute danger facing coastal communities in the climate crisis. Connecting with the local community, Coastal Communities and Climate Crisis will promote direct action to tackle the environmental emergency. newlynartgallery.co.uk
Being Human
Where? The Wellcome Collection (183 Euston Rd, London NW1 2BE)
When? Ongoing
As the title suggests, The Wellcome Collection's permanent exhibition Being Human is an exploration of what it means to live as a human being in the twenty-first century. The space is divided into four themes: genetics, minds and bodies, infection, and climate breakdown. The final chapter addresses the era of modern climate change, and includes artworks by the likes of Superflex and Yinka Shonibare. A thought-provoking look into the future of society, art, and sustainable art exhibitions. wellcomecollection.org
Make Earth Day Every Day
Where? Digital billboards across the UK, the Netherlands, New York's Times Square & Singapore's Ten Square
When? 10th-31st April
A project from Le Good Society, a UK-based organisation dedicated to arts and activism, this international exhibition features works from a vibrant array of artists including Dave Pollot, Steven Wilson, Tia Grazette and Tom Hodgkinson. Tying in with Earth Month, the works harness the power of creativity and technology to remind us of the importance of working towards a more sustainable future. Standout pieces include an illustration by London-based artist Supermundane which showcases the encouraging statement 'do what you can. Take a stand. Make a change,' while other artists such as Cory Van Lew took a different approach, depicting a frenzied figure instructing viewers that it is 'time to wake up.' legoodsociety.com
Featured image: Detail of Unpaved Paradise by Orlanda Broom. Courtesy of the artist and Grove Square Galleries.