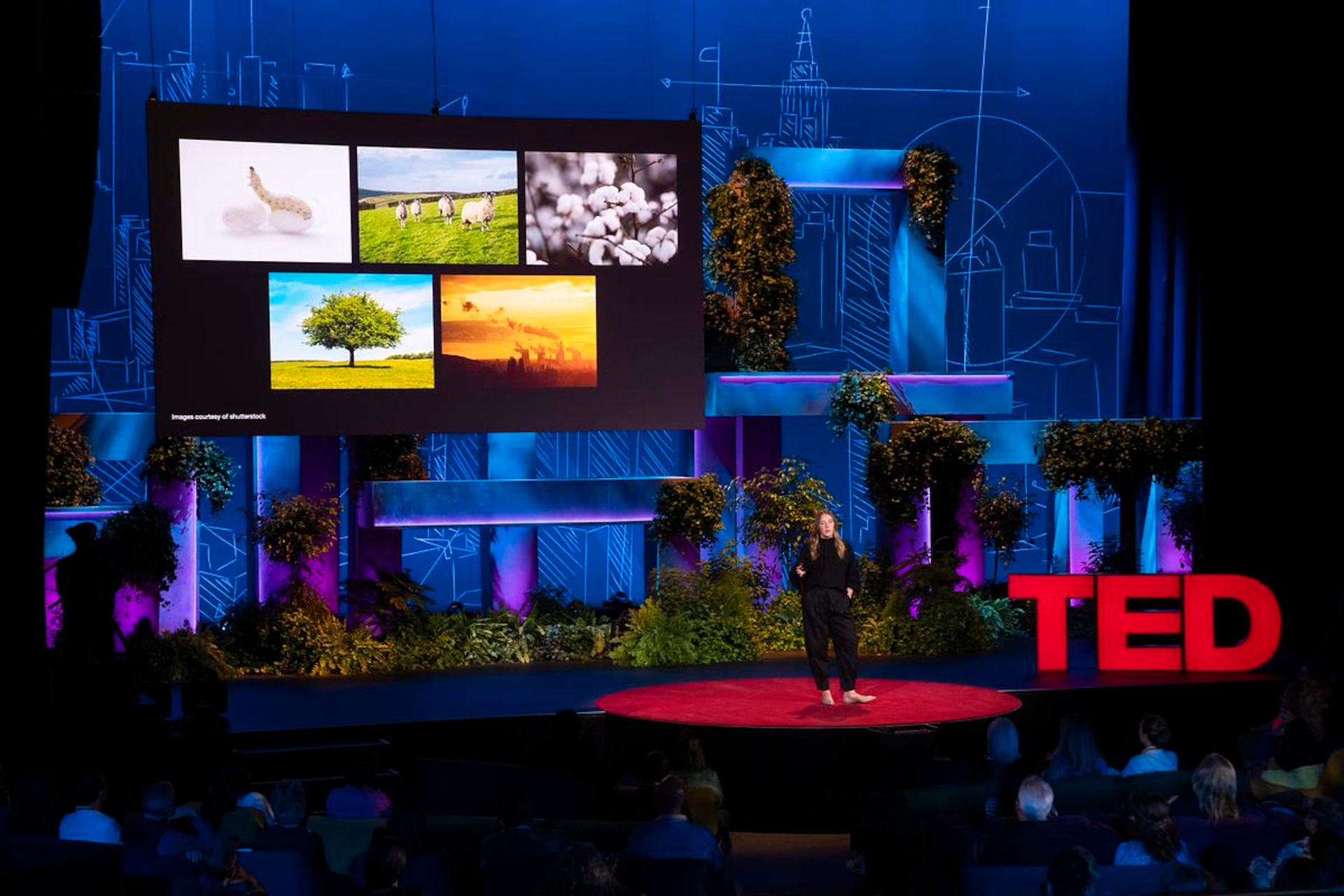 5 Fantastic TED Talks On Sustainability You Can Listen To Now
Get ready to feel inspired
I need of a break from the doom and gloom of climate anxiety? While we don't have all of the answers figured out when it comes to the environmental crisis – but these TED talks on sustainability should give you a positive boost to get through the day (and maybe even inspire you for the future). 
Thought-Provoking TED Talks About Sustainability
How To Fix Fashion And Protect The Planet (Amy Powney)
Following the release of her documentary Fashion Reimagined, Mother of Pearl Creative Director Amy Powney took to the TED stage to address some of the major issues still faced by the fashion industry today – from misconceptions of where our clothes come from to overconsumption, modern day slavery and the industry's impact on natural resources.
Can AI Help Solve The Climate Crisis? (Sims Witherspoon)
One of the fastest-evolving technologies of the modern age, AI is both amazing and terrifying – but does it hold the answers to tackling the climate crisis? Sims Witherspoon, a leader at the AI research lab Google DeepMind, explains how the technology can help us better predict Earth's changing ecosystems and put us on a fast track towards scientific breakthroughs.
Can Global Food Companies Make The Shift To Regenerative Agriculture? (Steve Presley)
A buzz term in the world of food and drinks, regenerative agriculture looks to produce food in a way that gives more back than it takes from the land. In this talk, Nestlé North America CEO Steve Presley joins TED's Lindsay Levin to talk about how large-scale food companies can work more closely with farmers and partners across supply chains.
The Simple Solution To Fast Fashion (Josephine Philips)
Another one for fashion fans. Examining the harmful impact of fast fashion on our relationship with clothes, entrepreneur Josephine Philips gives a talk on the power of re-wearing and repairing items in our wardrobe. It all starts with that infamous pair of jeans you refuse to throw out.
The Climate Crisis Is Expensive – Here's Who Should Pay For It (Avinash Persaud)
Climate change notoriously impacts the developing world more harshly than anywhere else, despite having contributed the least to the crisis. Economist Avinash Persaud presents a solution to the problem: the Bridgetown Initiative, a guide for how rich countries can catalyse climate mitigation, contribute to loss and damages and help build a sustainable future.
Featured image: Jasmina Tomic / TED