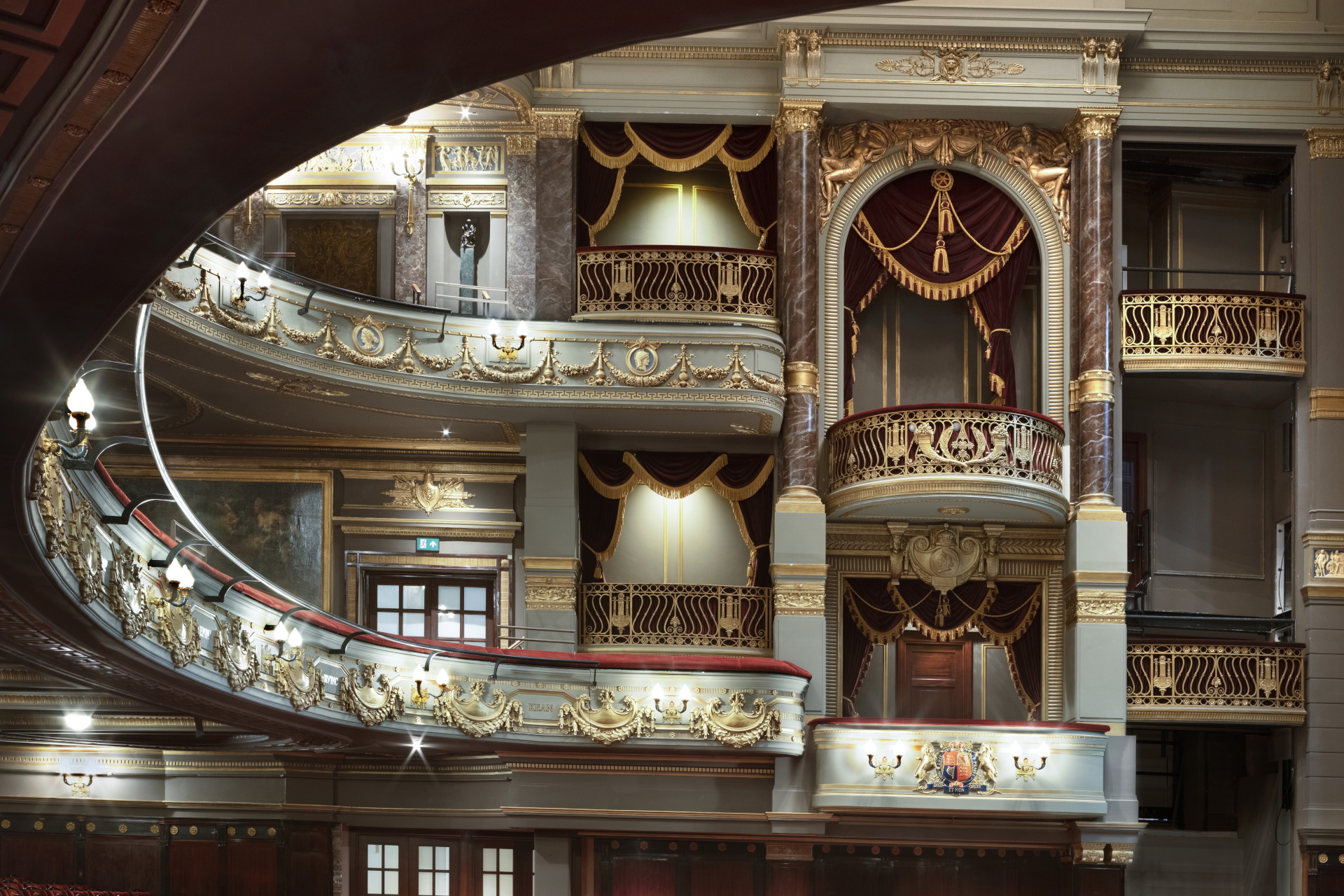 Where To Get Married In London: The Loveliest Venues
---
From intimate spaces to extravaganzas
Looking for the best places to get married in London in advance of your big day? Here, we bring you the ultimate round-up of the most beautiful luxury wedding venues in London, for the ultimate town wedding.
Gorgeous Wedding Venues in London
From ancient guildhalls to magnificent glasshouses, gorgeous museums to splendid restaurants and hotels, there's no such thing as 'too extravagant' in our beloved Roman capital. Here are our favourite spots to tie the knot across London.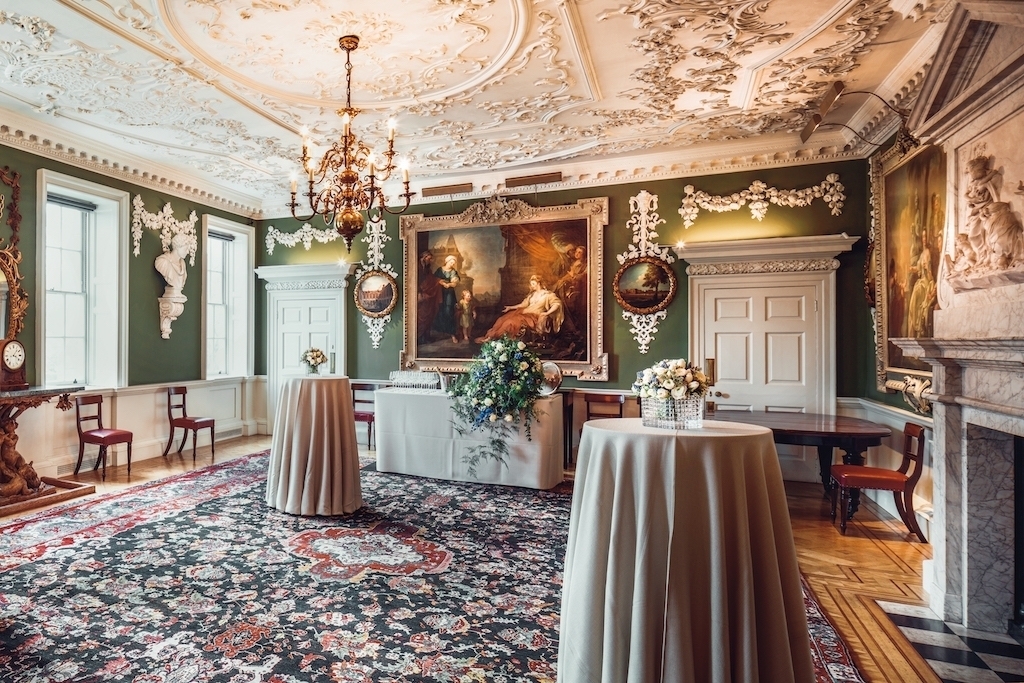 The Foundling Museum, Bloomsbury
Best for Dickensian design and Bloomsbury's bookish legacy – and it's one of the only museums in London offering exclusive hire. foudlingmuseum.org.uk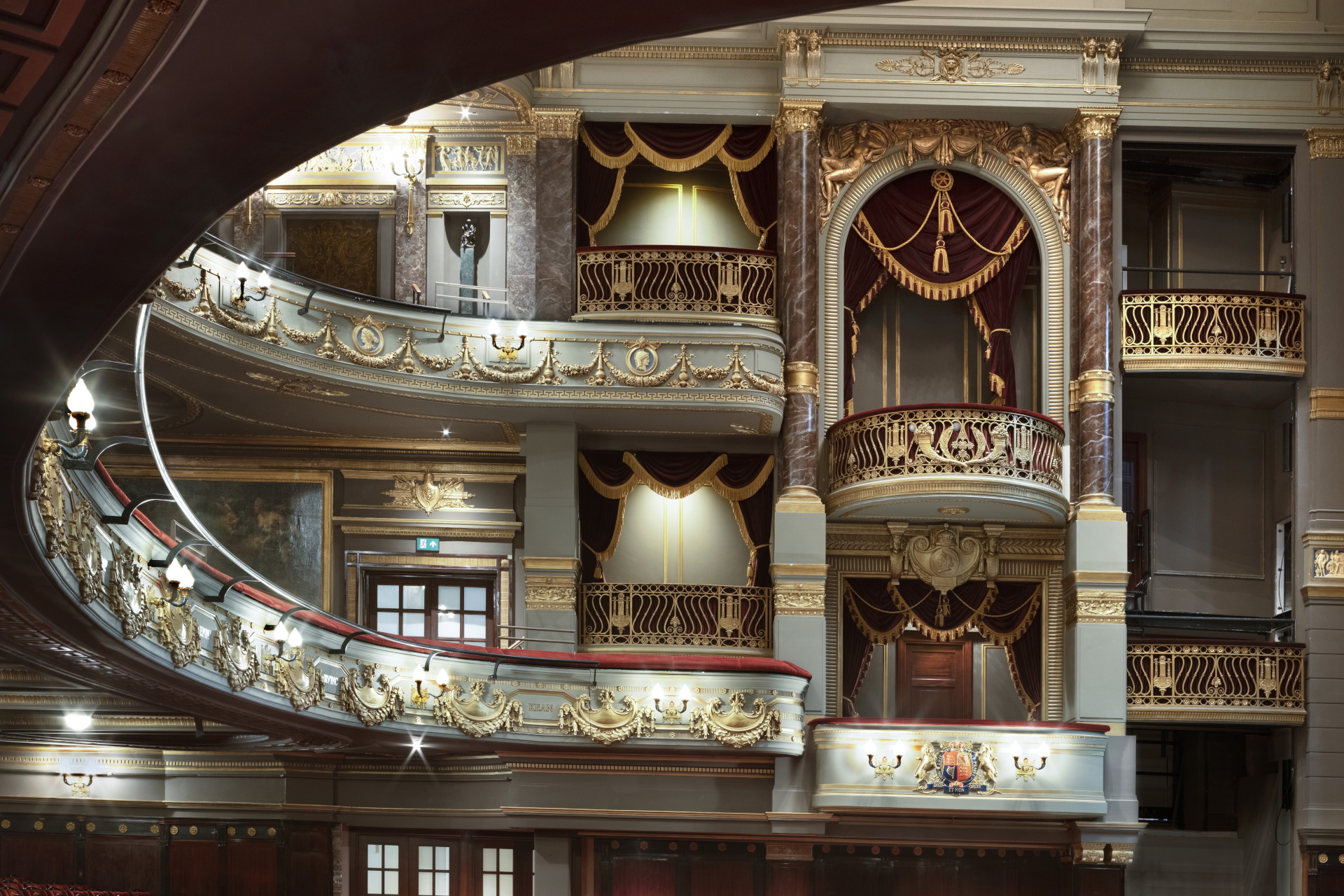 Theatre Royal Drury Lane, Covent Garden
On Valentine's Day 2022, 210-year-old West End venue Theatre Royal Drury Lane announced it will be opening its doors to wedding parties. Those wanting to recite their vows in theatrical style can book the 2,000-seat main auditorium, The Garden or the Grand Saloon. thelane.co.uk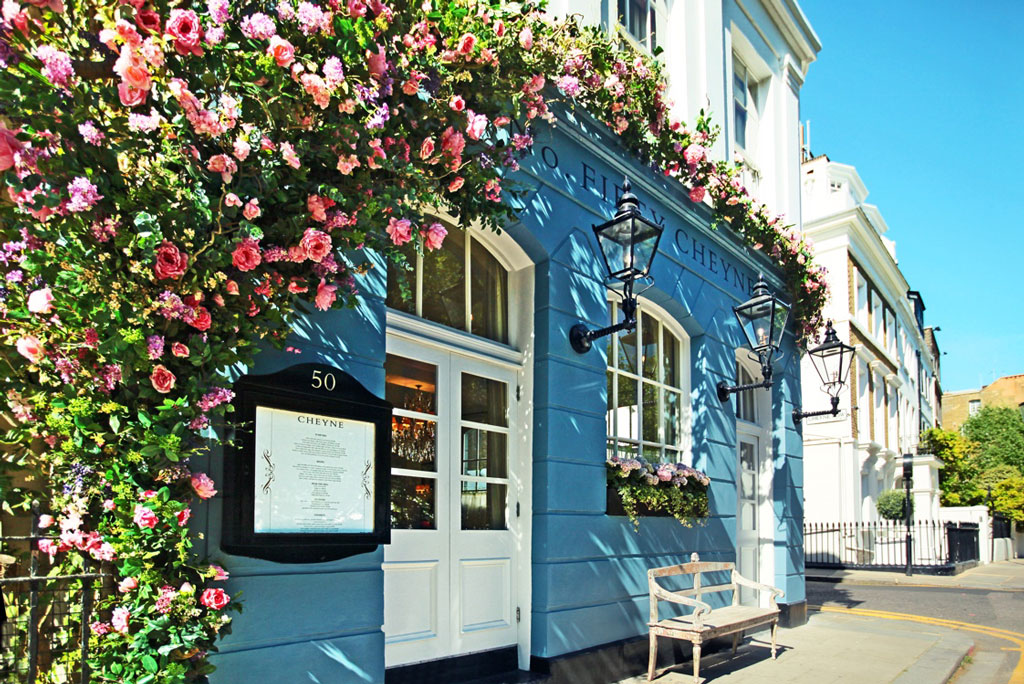 No. Fifty Cheyne, Chelsea
Perched beside the river with views across Albert Bridge and a floral façade, No. Fifty Cheyne is one of the most picturesque spots in Chelsea. It has recently been appointed as a wedding venue, with ceremonies taking place in the homely yet glamorous first floor Drawing Room and various private and semi-private options for the reception. fiftycheyne.com
Strawberry Hill House, Twickenham
Plump for gothic opulence in London's leafy fringes (once Walpole's own castle). With beautiful gardens, a grand Gallery and plenty of more intimate spaces, there are lots of options for wedding parties big and small. strawberryhillhouse.org.uk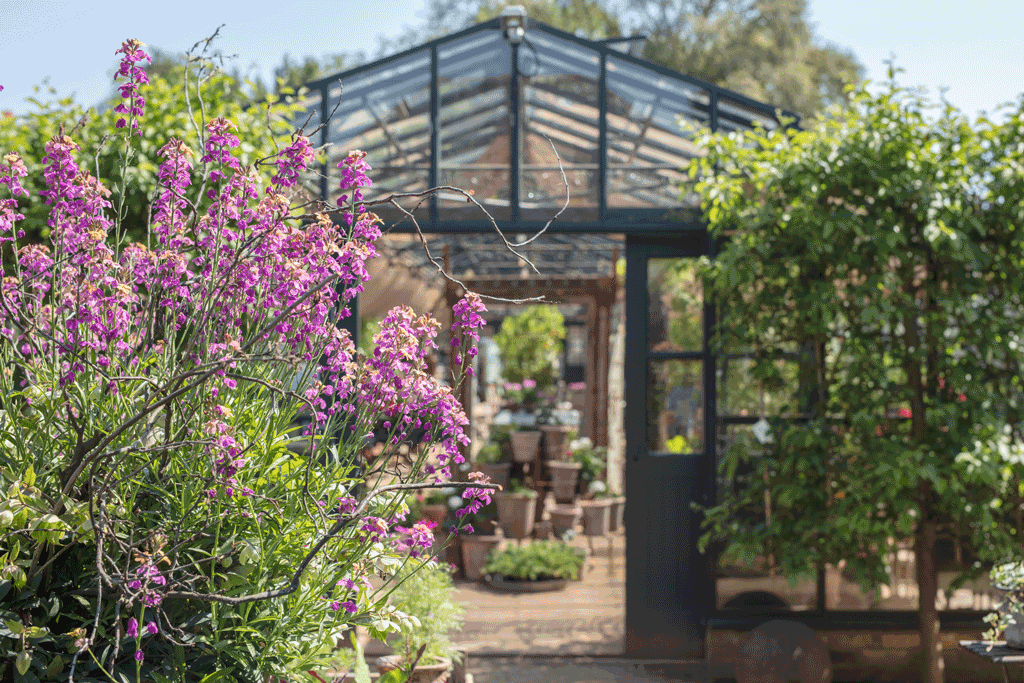 Petersham Nurseries, Richmond
For a rustic, horticultural celebration with locally-sourced dishes and fairy lights aplenty, consider Petersham Nurseries. Located next to Richmond Park, the venue is a green oasis offering a slice of country living in the capital, with in-house florists on hand to help with the décor and menus created using produce from the restaurant's own kitchen garden. petershamnurseries.com
View this post on Instagram
Horniman Museum, Forest Hill
A Victorian conservatory, bandstand, or modern pavilion, the choice is yours at this anthropological museum. The collections are idiosyncratic, but the weddings by Suzanne James are seamless. horniman.ac.uk
Leighton House Museum, Kensington
The former home of the Victorian artist Lord Frederic Leighton is an awe-inspiring palace of art. The extraordinary Arab Hall, with its golden dome and mosaic tiles, offers the ultimate backdrop for a unique yet lavish reception. rbkc.gov.uk
Picking a ring? Choose a lab-grown diamond
View this post on Instagram
Clissold House, Stoke Newington
If you're reluctant to ship your cohort out of London but fancy a country house feel, this solves all your problems. This recently renovated Grade II listed marvel has vast windows that offer scenic views across the park. hackneyvenues.com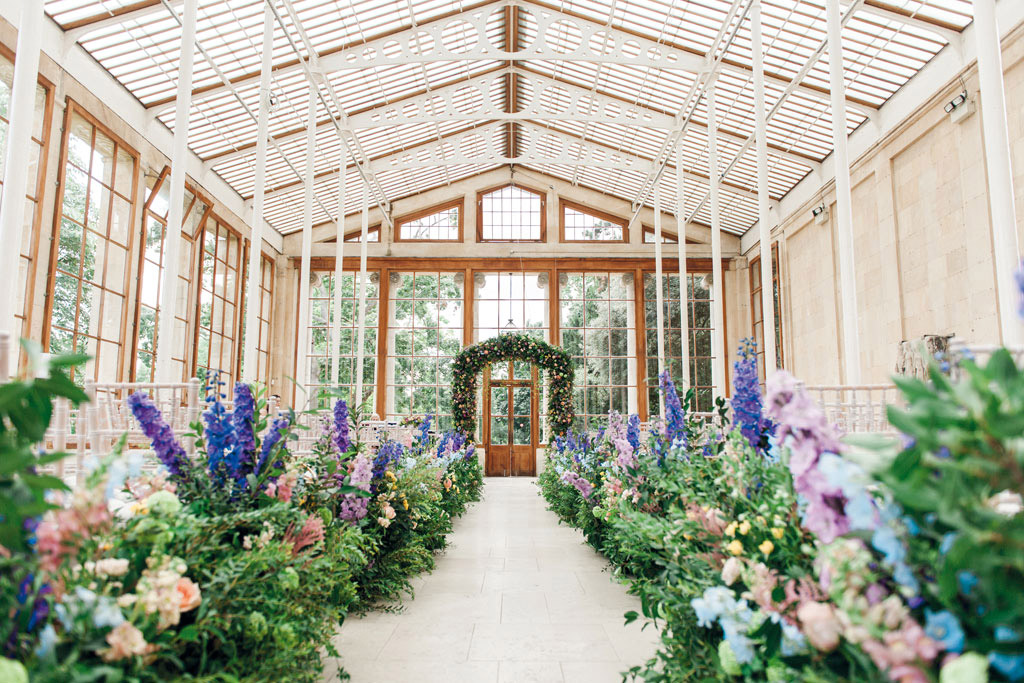 Kew Gardens, Kew
Spend your special day inside the world-renowned gardens and iconic buildings in Kew and dance your evening away with some of your nearest and dearest alongside the blooms. kew.org
View this post on Instagram
Hotel Café Royal, Mayfair
Providing classic and contemporary weddings in the heart of London for over 150 years, Hotel Café Royal certainly knows its stuff. So sit back, relax and let the magic unfold. hotelcaferoyal.com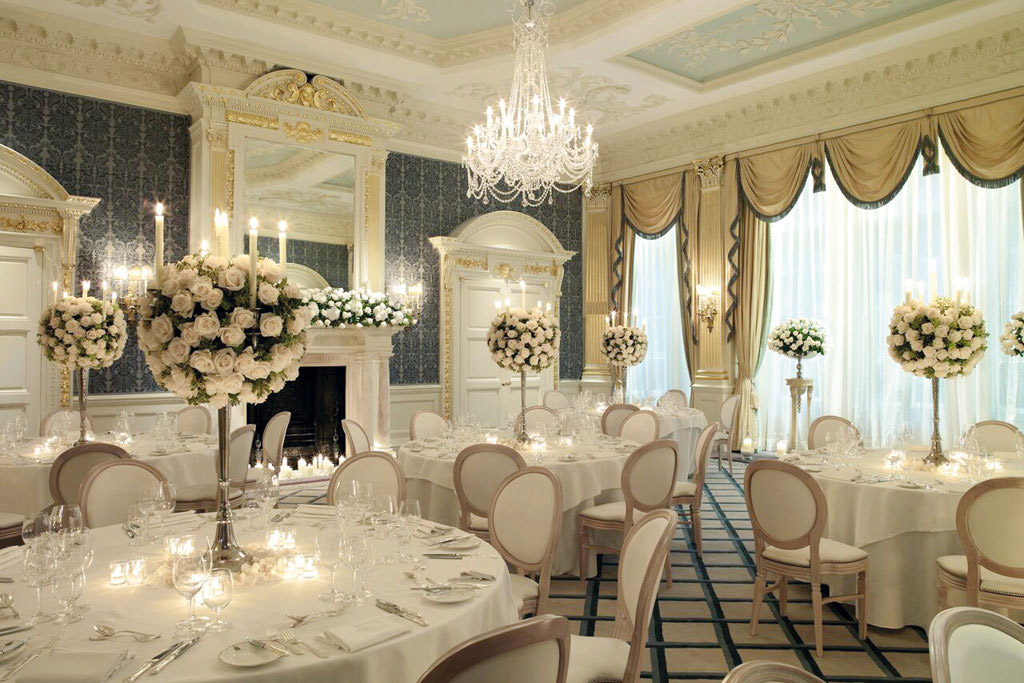 Claridge's, Mayfair
No idea is too big or detail too small at Claridge's. With a history of state banquets and royal receptions, you'll be in the right hands. claridges.co.uk
View this post on Instagram
Ironmongers' Hall, Barbican
This Tudor style hall was built in the 1920's and is the perfect example of a beautiful country house which sits in the City of London. Its striking architecture, rich history and warm atmosphere are just three things which make this venue perfect. ironmongers.org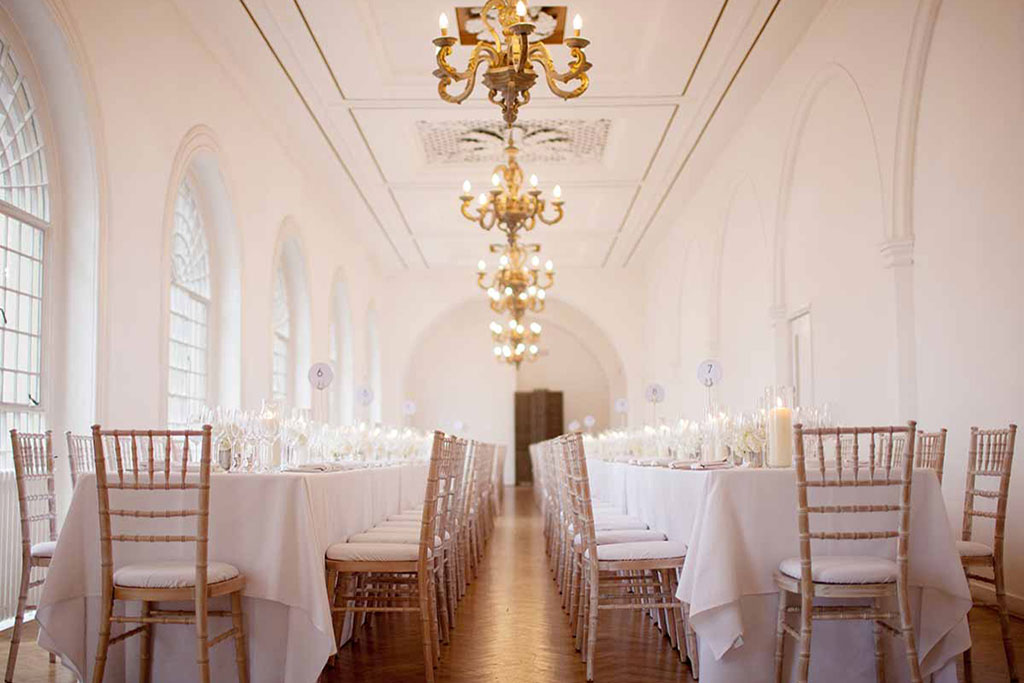 One Marylebone
Just a stone's throw away from Regent's Park station is the beautiful, Grade I listed One Marylebone, one of London's leading unique venues. Only one of only three London churches by Soane, the venue is most architecturally distinguished with a beauty of national and architectural significance. Fall in love with the beautifully landscaped gardens and breathtaking courtyard and choose between two exclusive spaces for your perfect day. The 27 foot high Soane Hall with its stunning mosaics and stained glass windows or the U-shape Galleries with marvellous floor to ceiling windows that let in natural light. one-events.co.uk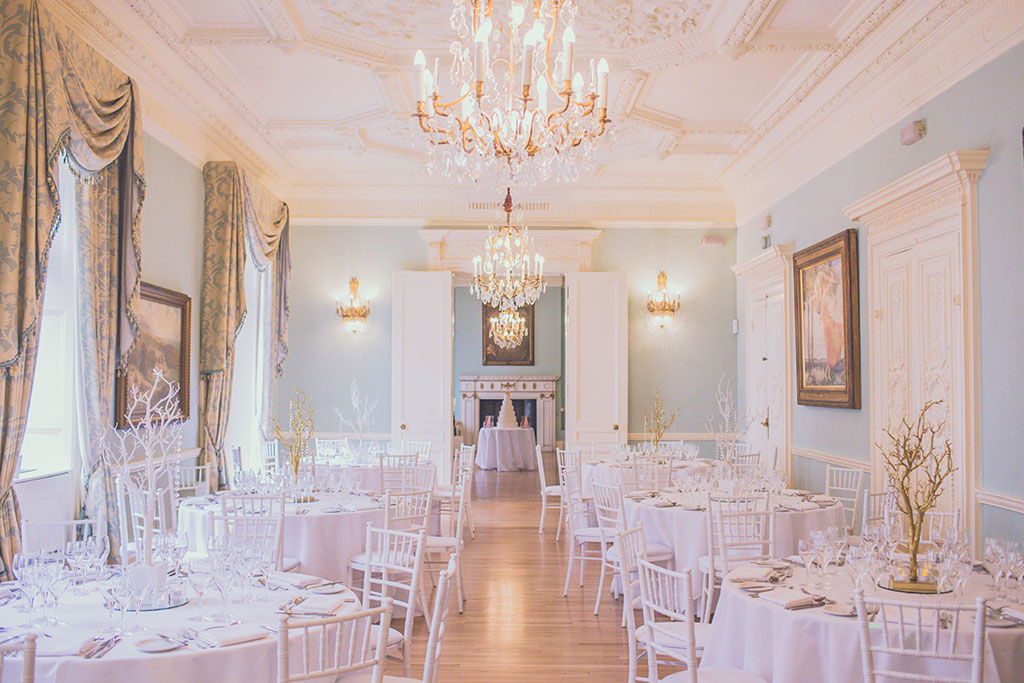 Dartmouth House, Mayfair
The perfect place for a quintessential London wedding, Dartmouth House features only the most elegant interiors to wow your guests on your big day. The Grade II listed building offers three spaces: The Long Drawing Room, The Small Drawing Room and The Churchill. Each room has seating for around 100 guests and standing room for 450. The mansion also has a courtyard, a private and secluded haven if an open air reception is more your style. Situated in the heart of Mayfair, the mansion features a grand marble staircase to make sure you get all the insta-worthy wedding shots. dartmouthouse.co.uk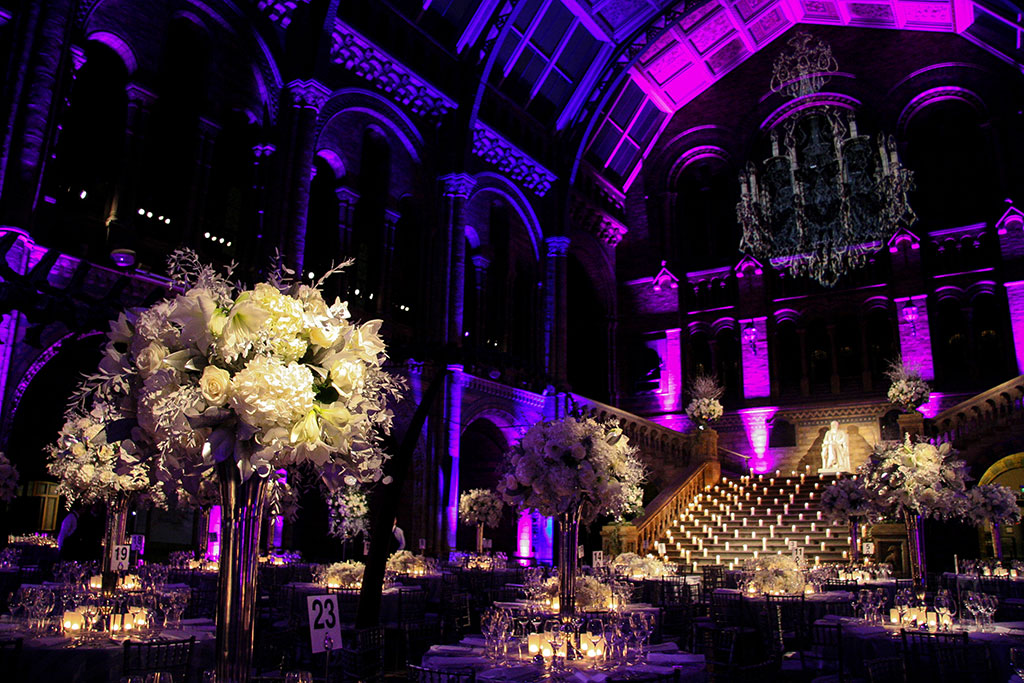 Natural History Museum, South Kensington
Walk down the aisle inside London's Natural History Museum. Breath-taking architecture and spectacular collections make for a stunning backdrop to your vows. Choose between eight spaces in which to host your event: from the popular Hintze Hall with its romanesque arches to Fossil Way, home to the giant Stegosaurus fossil, or even the North Hall, the perfect place to soak up the Museum's grandeur. nhm.ac.uk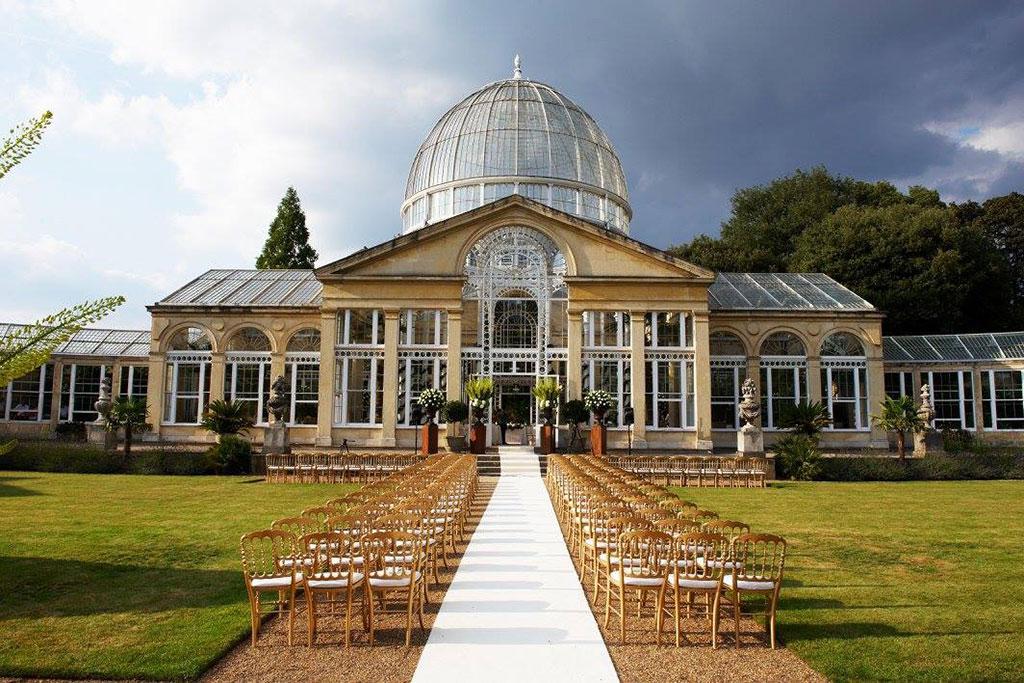 Syon Park, Isleworth
Fall in love all over again at Syon Park as you and your partner celebrate your special day at this idyllic venue. Be as intimate or extravagant as you want with 50-800 of your most loved friends and family in this sublime London home of the Duke of Northumberland. From the impressive and majestic Great Hall to the intimate State Dining Room, or even the stunning Great Conservatory and Garden Room Marquee, you can design your wedding however you dreamed. syonpark.co.uk
The Queen's House Greenwich
Feel like a real-life princess and get married inside Britain's first and finest classical building. This unique wedding venue takes its place inside Greenwich Park and offers sublime views over the Thames and Canary Wharf. A masterpiece of 17th-century architecture, the venue comprises is a spacious 40-foot Great Hall with classic black and white geometric marble flooring on which to dance your night away. The marvellous Orangery, Parlour Room and the vaulted Undercroft are the most perfect place to toast to a happy couple. rmg.co.uk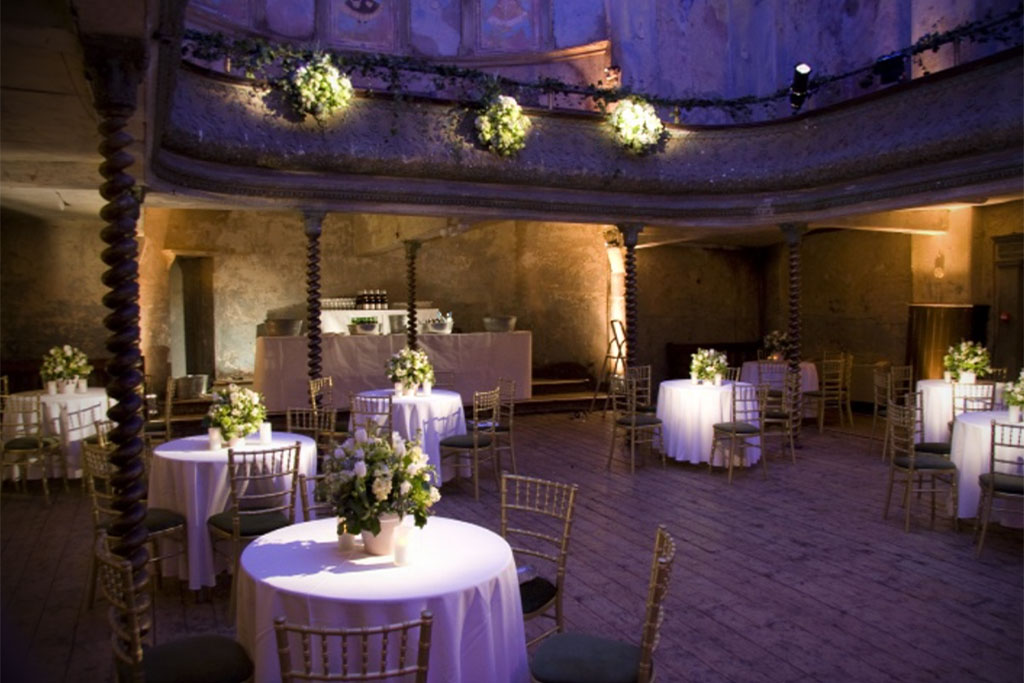 Wiltons, Shadwell
A true London gem, this Grade II listed hall offers the chance to get married in the world's oldest grand music hall. The auditorium still retains many of its original features, including its famous barley-twist columns. With only a small amount of dates available each year, this is one of the most exclusive wedding venues around and features interiors that inspired Moulin-Rouge. wiltons.org.uk
Featured image: Theatre Royal Drury Lane