25-year-old Pippa Guy is the Senior Bartender at The American Bar in the Savoy – the ONLY female bartender given this role in over 100 years. Making history by being promoted amongst her celebrated male predecessors after working there as a junior bartender for only 9 months, Pippa is an inspiration and a beacon of hope to all young women wanting to excel in a competitive, male-dominated industry such as bartending. Here, Pippa answers our 'what it means to be a woman in 2018' Q&A, to mark 100 years of suffrage; the Representation of the People Act 1918 was passed on 6 February 1918.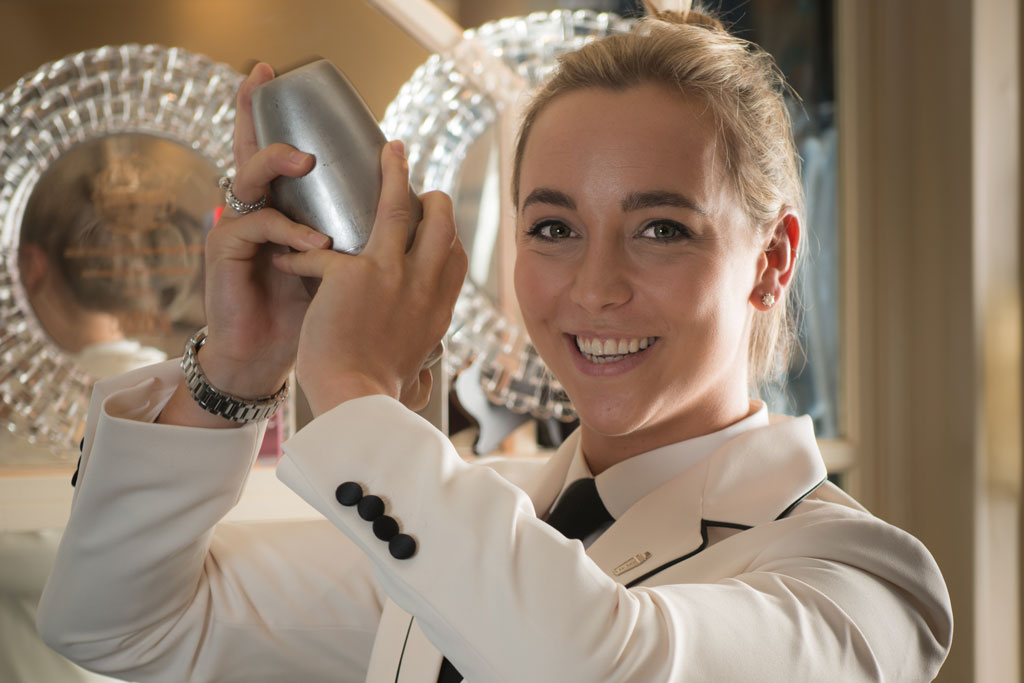 Pippa Guy Q&A
It's been 100 years since (some) women were granted the right to vote in the UK –how far do you think women have come in the last century?
In terms of Bar culture, a century ago women were not allowed to drink in the same room as the men. If you look here *points to an area in the American Bar* – this is the area when men were separated from women back in the day. On a grander scale, I have found that women are taking charge more, and pushing to ensure that equal opportunities are presented to them.
What does it mean to be a woman in 2018?
I am grateful that I have been able to take on the role that I am currently in at The Savoy. It has given me a lot of opportunities to show other young women to push for what they want and to be supportive of other people's journeys.
What do women still need to achieve?
It is important for women to continue to push for equality and opportunity. There has been so much progress to date thus far that we cannot neglect, however, there is still so much room for growth. When looking at this from the Bar industry perspective, I would like to see the volume of women behind the bar increase, and not look at women in these positions as a novelty, so much so that their title is preceded by their gender – 'female bartender'. For example, giving out awards that are female specific, such as Best Female Chef… it should really just be Best Chef.
Your personal proudest achievement?
Easy! My first cocktail book comes out next week. Stay tuned.
If you could teach young women one thing about being a woman it would be…
Bravery. It is important for young women to always have the courage to try, no matter what the possible outcome might be.
And if you could teach young men one thing…
The exact same.
In the next 100 years, I hope women will…
Continue to support each other in the drive for equality.
Everything that's Happening this Year to Mark 100 Years of Suffrage 
More women of note: Hannah Shergold |Juliet Sargeant | Thomasina Miers | Charlie Craggs | Sabrina Mahfouz | Wendy Holden
---