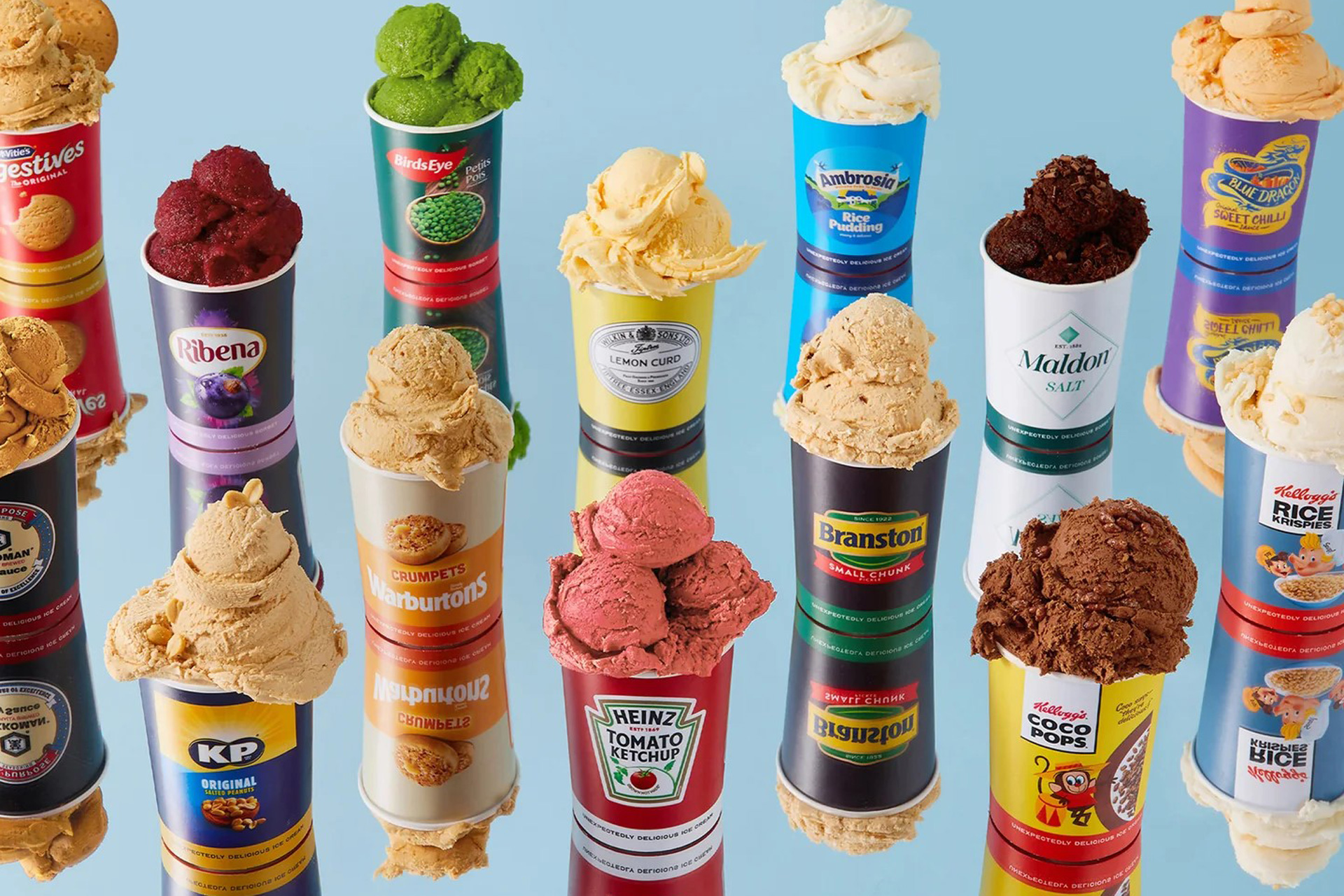 Pickle, Ketchup and Soy Sauce: London's Quirkiest Ice Cream Pop-Up Is Back
Move over chocolate chip: pickle ice cream has arrived
Ever tried Branston pickle flavoured ice cream? How about tomato ketchup? Or soy sauce? These flavours might sound a tad bizarre, but they're being served – and enjoyed – at the buzziest food pop-up in town, courtesy of Anya Hindmarch.
Anya Hindmarch's Unconventional Ice Cream Pop-Up Is Back
Following its successful inaugural year in 2022, the luxury accessories label is bringing back its quirky Ice Cream Project for the summer, popping up until 27 August at The Village, Anya Hindmarch's retail concept on Chelsea's Pont Street. An array of unexpected ice creams and sorbets are up for grabs, with some flavours returning from last year, alongside a whole host of newbies. 
Instead of your classic strawberry and vanilla, flavours are inspired by pantry items – think savoury sauces, biscuits and condiments. And while it might all sound a bit rogue, many concoctions are sweeter than you might think.
View this post on Instagram
The Branston is described as a 'mellow cheddar cheese with the 'crunchy, chunky bite' of Branston', while the Heinz Tomato Ketchup features 'the unmistakable taste of sun-ripened tomatoes with the perfect combination of sweet, salty and tangy flavours'. There's also Warburtons Crumpets, Blue Dragon Original Sweet Chilli, Kikkoman Soy Sauce and Birdseye Petits Pois.
If all this sounds a bit too left-field for you, there are some (slightly) more conventional flavours too. The Maldon Salt is made with rich dark chocolate and Maldon sea salt flakes, while the Kellogg's Coco Pops features milk chocolate and the classic breakfast cereal. We're also very intrigued by the Ribena: 'the unmistakably delicious taste of juicy blackcurrants bursting with berryness'. 
In not-so-shocking news, Salad Cream and Baked Beans, both of which featured on last year's menu, didn't make the cut.
Handmade in small batches in Devon, the ice cream is available by the scoop or in 500ml tubs which you can takeaway. Note that you may have to queue, as it turns out London is filled with curious foodies.
Until 29 August, anyahindmarch.com