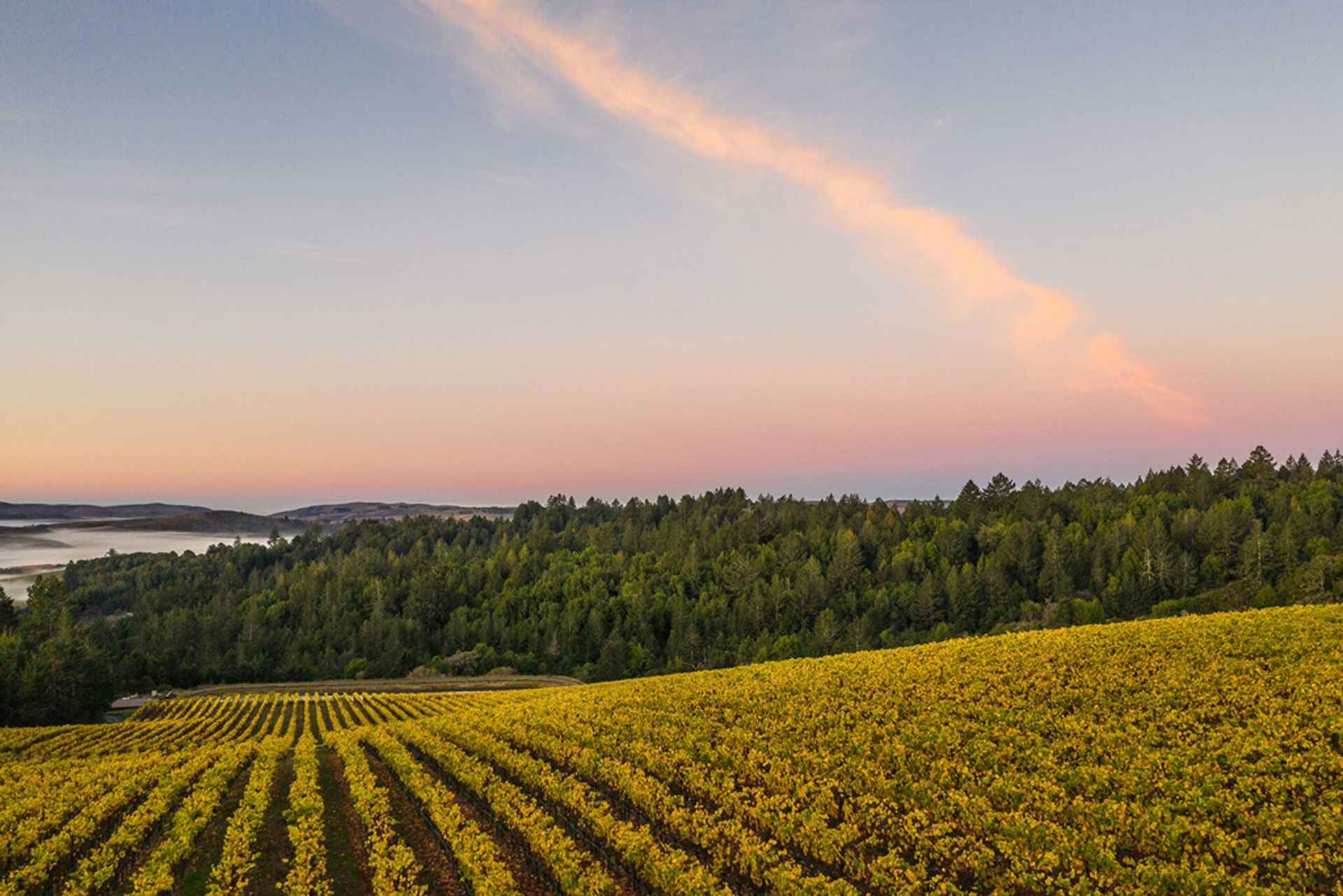 The Best California Reds To Buy Right Now
---
A guide to Californian red wine
While wild fires have been raging in California, winemakers have seen a 70 per cent drop in production, so do your bit and help by buying – and most importantly drinking – the best wine on the market right here now and available in the UK, says Sarah Hyde
Dave Eggers' recent, heartbreaking essay All That Could Burn on the Californian glass fires that appeared in October's The New Yorker, brilliantly highlights the surreal normalisation of wild fires in California.
The world watched in horror as the sky turned orange, purple and red, but for Californian winemakers this was their third hit in five years and a brutal reality. Once again, the climate crisis is meeting boundless Californian optimism head on. Californians pride themselves on positivity, and none more so than the intrepid life-stylers who make wine. These winemakers are so preternaturally optimistic that they barely have the vocabulary to admit defeat. Sadly, homes too recently rebuilt have been lost again and with insurance at 35 cents in the dollar, surely this will be a year where some wine growers must accept that the changing climate conditions will win and let go of their dreams.
Wildfires are not news in California, however as a result of global warming they are getting worse. As with everything else in this challenging year, the issue of the fires and how best to limit them has become entrenched and political, as Jamie Kutch of Kutch Wines passionately explains: 'We also need California to back away from the tree hugging hippies and recognise that clearing trees is in the best interest of the state. Right now, there are politics if there is a raging fire and Cal Fire goes in to puts it out. They can use water, planes or helicopters but they aren't allowed to go into a forest and clear trees or use a backhoe or bulldozer and blaze trails to make fires lines. The politics forbid them from cutting and in turn fires just continue to burn without being put out. It's madness.'
Jamie has lost 70 per cent of his crop this year to smoke damage. This is the same percentage, according to Wine Spectator, that production is down across the Napa Valley for the whole of 2020 Fortunately, Pinot Noir is a small grape that ripens early. Jamie chose to harvest his Pinot Noir grapes two days before the outbreak of the fires, so his premier wine, the delicious Mcdougall Ranch, produced from grapes grown on the Samona coast, will achieve a 2020 vintage.
Californian wine is not all hot tubs and pampas grass; this image of zinfandel and big flavour high octane reds, which a lot of people associate with California, is deceptive and wrong. The area is home to some of the finest winemaking in the world. When you start to discuss the wines, you hear a lot about 'Burgundian approaches' and 'balanced wines' with lower alcohol content. There is an elitist distancing from the more famous big-hitting, highly fruity, high alcohol wines.
The amazing thing about California is the almost infinite possibility that these vast swathes of land, cooled by sea breezes, provide. As the French vineyards get reduced in size by every generation (French inheritance does not follow primogeniture) the opportunity to create huge vineyards, on an almost infinite scale, with Burgundian (or even better) growing conditions, is beyond the dreams of many winemakers which is why important French Chateaux have bought into the area.
Using what works from the old world such as vines and technique, Californians take their wine very seriously. International wine collectors and producers are creating some of their finest product in California. At the recent 'The Park B. Smith Cellar, Celebrating California' sale at Sotheby's in September, the very top of the range Californian Pinot Noirs achieved impressive results.
When asked about how the fires may impact on this market, Jamie Ritchie, Worldwide Head of Sotheby's Wine, stated: 'In this challenging year, it is tragic that so many wineries have lost their building and facilities and many more will not make any 2020 wines due to both their inability to harvest and smoke taint. In the short term, this will have limited impact, as the market is already dealing with the effects of COVID. In the longer term, the wineries and distributors will be determining the effects of this on both their supply and demand and will adjust prices accordingly to be able to successfully manage their businesses. At this stage, it is difficult to determine what the impact will be on the consumer.'
Inevitably, for investment purposes, there will be a rarity and curiosity about the unaffected Californian wines produced in 2020. While it may seem decadent to sip as California smoulders it is actually one of the most supportive things that you can do and hardly a hardship. Here is a selection of delicious Pinot Noirs available in London, now.
Feature image credit:©Occidental | The Bodega Headlands Vineyard