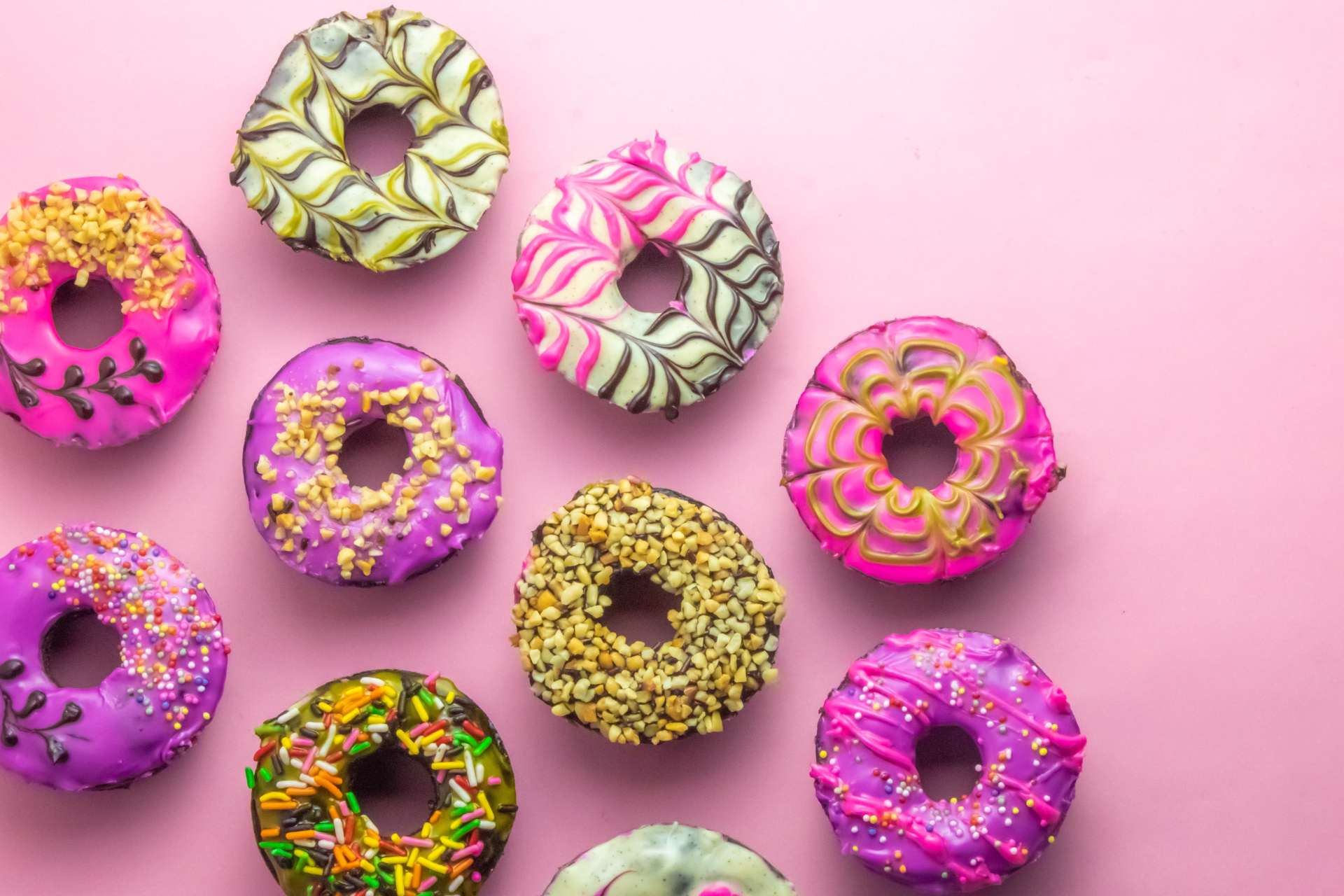 Where To Find the Best Doughnuts in London
Glazed rings, finger doughnuts, pop-culture inspired treats and more
Who doesn't love a doughnut? Whether glazed, sprinkled, iced or filled, these fluffy, pillowy pastries are pure indulgence – and, thankfully, the capital is filled with great bakeries selling them. Here we round up the very best doughnuts in London, from the traditional circular style to croissant hybrids; simple jam and sugar flavours to decadent filling combinations. Happy feasting…
Where To Find the Best Doughnuts in London
Donutelier
Earlier this year, Israel-born bakery Roladin brought its elite doughnuts to UK shores, opening the capital's first Donutelier on Charing Cross Road. Inspired by the concept of ateliers (artists' workshops), Donutelier by Roladin offers visitors an insight into the doughnut-making process. This means you can watch the airy dough being carefully crafted into beautifully fluffy pastries, then artistically decorated by an expert team of pastry chefs. Signatures include the Pistachio, filled with Chantilly cream and topped with pistachio nibs and crispy raspberry; and the Pink Royal, made with miniature strawberry meringues and wild berries cream. Look out for special seasonal editions too.
48-50, Charing Cross Rd, London WC2H 0BB, donutelier.co.uk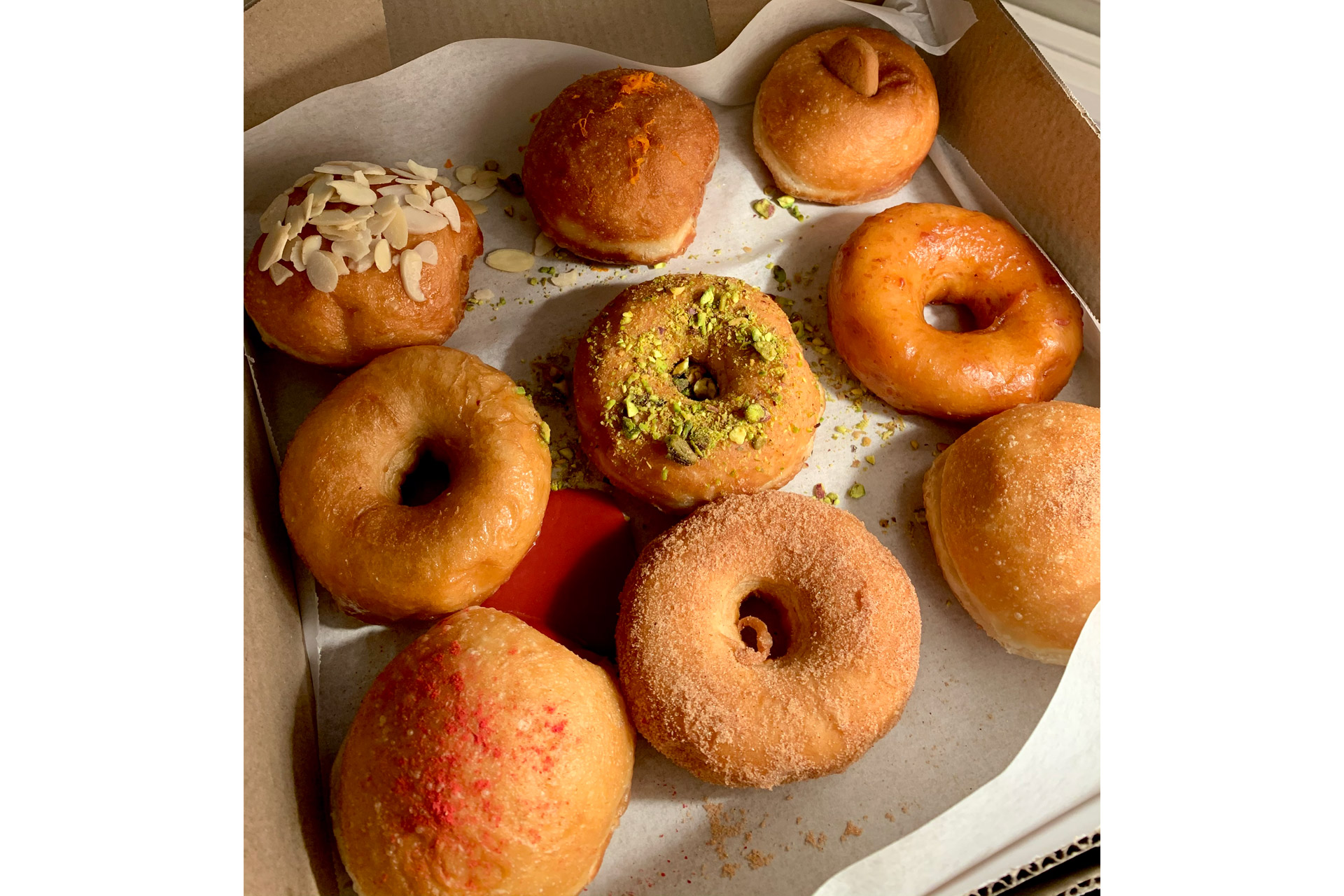 Knead A Little Love
During the pandemic, pastry chef Jess became restless, and decided to fill her free time by making vegan doughnuts and selling them from the back of her bike in south London. Word quickly spread, and before she knew it cafes across the capital were stocking them. Eventually she joined forces with her sister Becca to launch a bricks-and-mortar store in Balham. Handmade, plant-based doughnuts remain the focus, with flavours on offer including rhubarb and mango, biscoff glaze, and a classic strawberry jam.
253 Bethnal Grn Rd, London E2 6AH, kneadalittlelove.com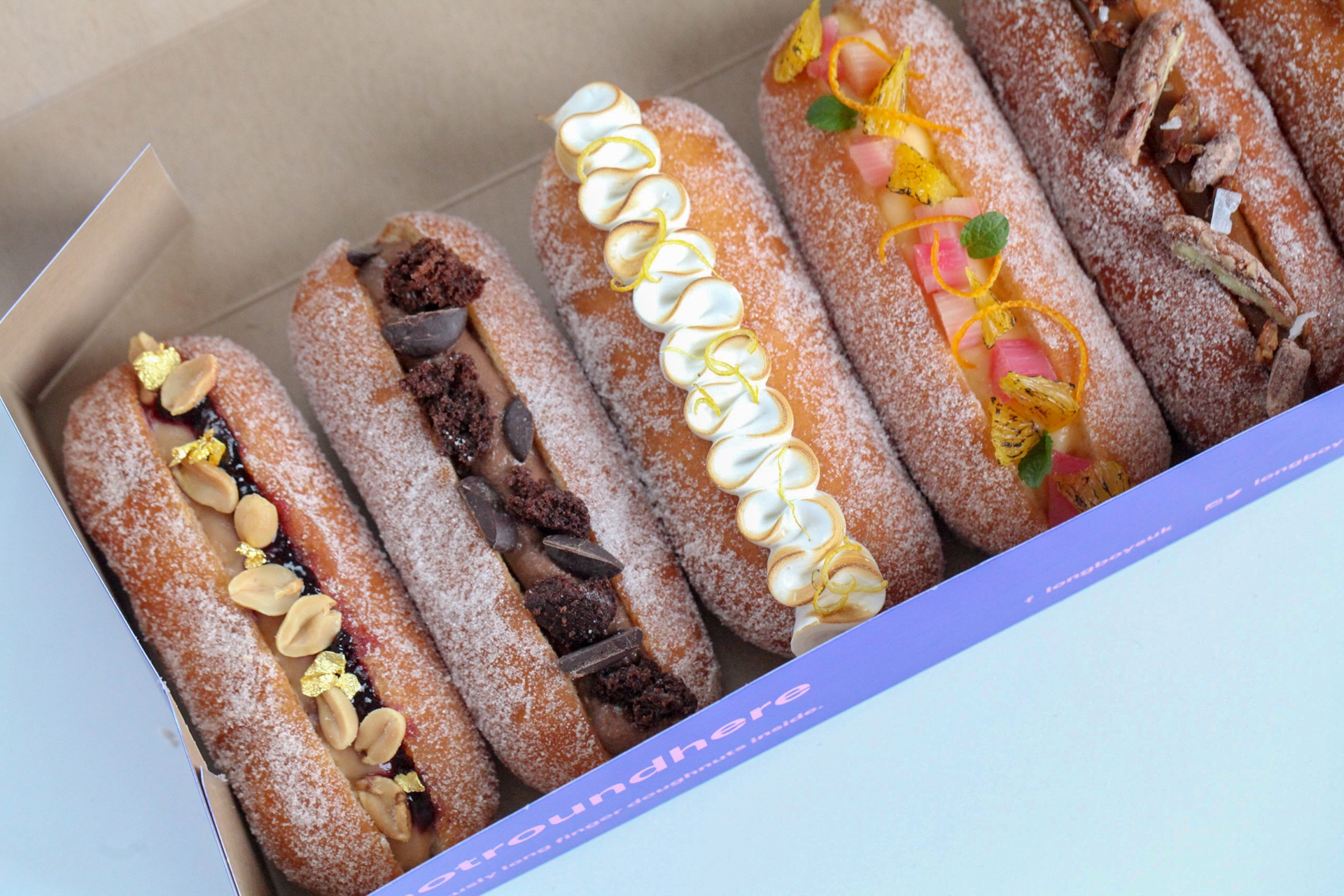 Longboys
Offering a slightly different twist on the classic doughnut is Longboys, a small batch bakery founded by pastry chefs Graham Hornigold and Heather Kaniuk. Here brioche is rolled and cut by hand, resulting in a lighter finger doughnut which is a little less sweet than its counterparts. Fillings, toppings and compotes are made fresh in-house using seasonal ingredients, creating flavours such as lemon meringue pie, triple chocolate and peanut butter jelly – plus a couple of vegan options. There are now two dedicated branches across the capital, with two more set to open in Liverpool Street and Borough Yards, plus the doughnuts are stocked in shops including Harrods and Selfridges.
Multiple locations, longboys.co.uk
St. JOHN
The doughnuts from restaurant and bakery St. JOHN have developed something of a cult following. Back in the day you could only get your hands on them on weekend mornings, but, nowadays, happily, the Borough Corner and Neal's Yard bakeries are open daily. The traditional doughnuts are renowned for their fluffy, cloud-like texture – a result of time spent letting the dough mature and prove, according to the team. Fillings include classics like raspberry jam, custard and vanilla, alongside some more off-piste seasonal treats.
72 Druid Street, London, SE1 2HQ and 3 Neal's Yard, London WC2H 9DP, stjohnrestaurant.com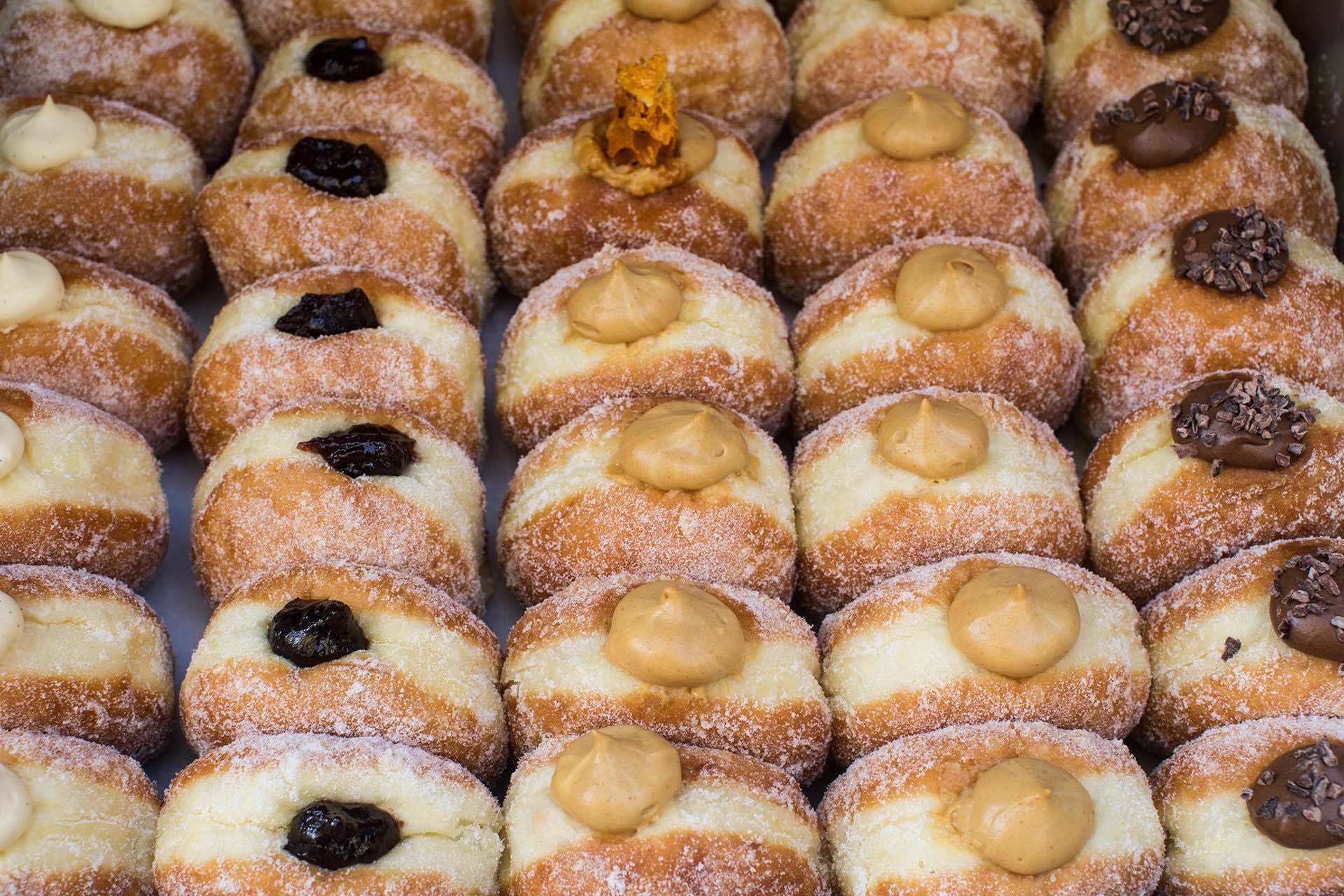 Bread Ahead
This bakery's filled doughnuts are the stuff of legend. Piped with vanilla, chocolate, jam or honeycomb custard and sprinkled with sugar, they are worth every bite of the high-calorie count. And with bakeries across the city in locations including Borough Market, Chelsea and Wembley, you'll never be too far from them. Fancy giving them a whirl yourself? We've nabbed their famous recipe here – though we can't guarantee you'll match up to the experts.
Multiple locations, breadahead.com
Doughnut Time
There was much excitement in 2017 when Aussie-born brand Doughnut Time opened its first UK outpost on London's Shaftesbury Avenue. No surprise when you hear the concept: doughnuts inspired by pop culture – from Legally Blonde to Bruno Mars. These are no gimmick though: doughnuts are artfully created, made fresh daily using a top secret flour blend. Current favourites include the peachy pink Mean Girls selection, and the David Hasselhoff creation made with everyone's favourite Biscoff buttercream.
Multiple locations, doughnuttime.co.uk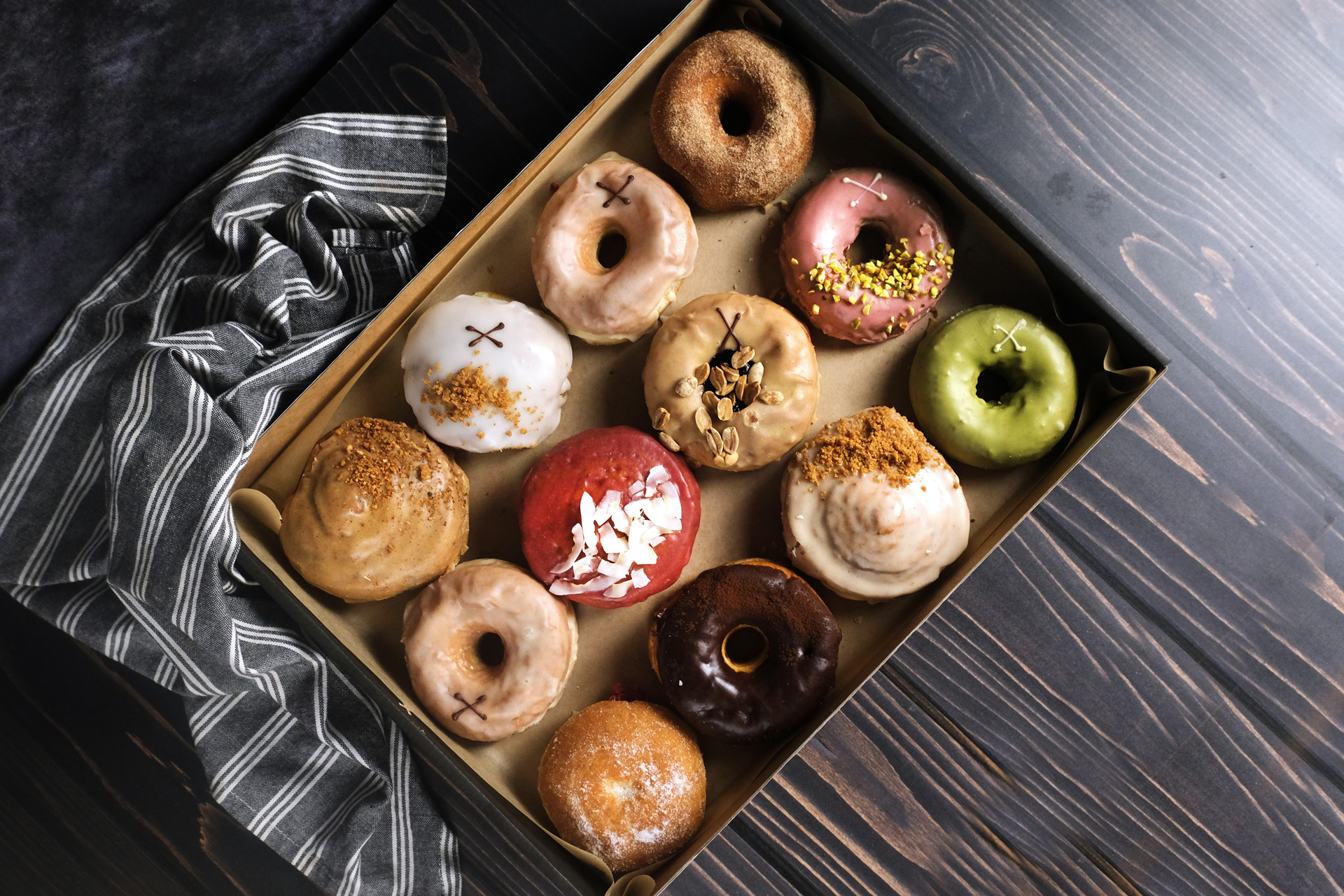 Crosstown
Another big player on London's doughnut scene is Crosstown, launched back in 2014 as a market stall on Leather Lane. There are now 16 outposts across the country, including 11 in the capital – plus you can order them for delivery in many UK cities. The secret to Crosstown's revered doughnuts is its signature yeast-raised hybrid sourdough base, with a vegan alternative added in 2017. There are endless delicious flavours to choose from, ranging from traditional to more wacky – some of the best include peanut butter and blackcurrant, cinnamon scroll and lime and coconut. Can't decide? Order one of the combo boxes and try them all for good measure.
Multiple locations, crosstown.co.uk
Rinkoff Bakery
Not one for the doughnut purists: family-run, East End bakery Rinkoff Bakery is famed for its 'crodoughs', a blend of doughnuts and croissants. This sees croissant pastry fried doughnut-style, then flavoured with all manner of tasty fillings – from Oreo Cheesecake to Creme Egg and Lotus Biscoff. Fun fact: the bakery has been around for over 100 years, and some locals have been coming in since they were children.
224 Jubilee Street, London, E1 3BS, rinkoffsbakery.co.uk