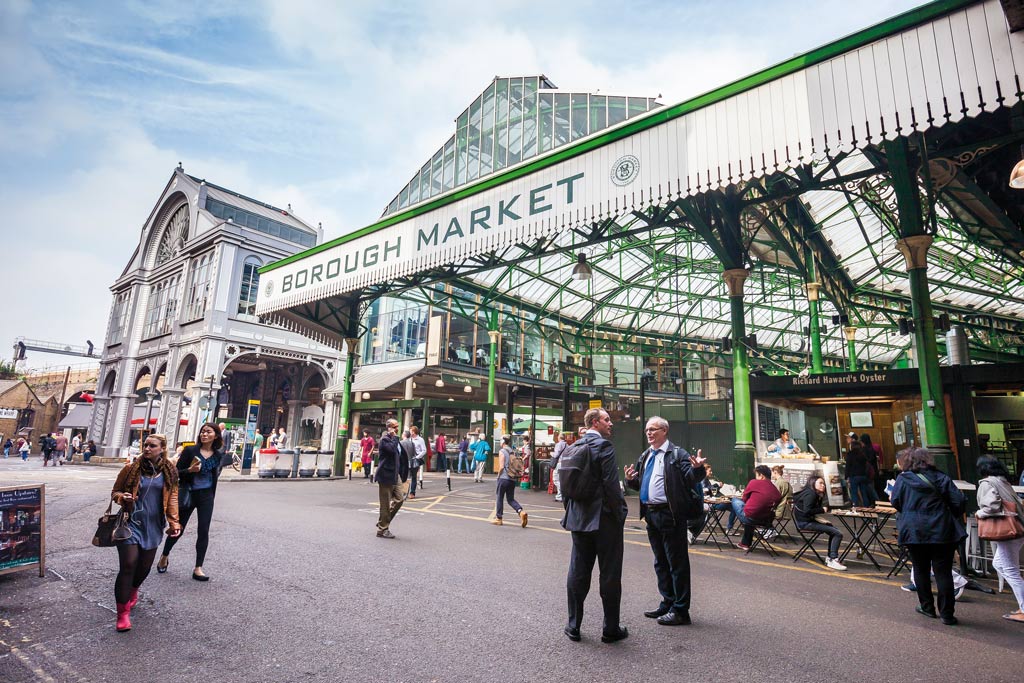 Where To Eat In Borough Market
---
From Tel Aviv-style pitas to Thai coconut pancakes, you'll be spoilt for choice at Borough Market
This week, Borough Market releases its recipe and skills book, Borough Market: The Knowledge. To celebrate, we pick out our foodie highlights from this brilliant corner of London. Here's where to eat in Borough Market.
Borough Market has been feeding Londoners since the 12th century, making it one of the country's oldest and most renowned food meccas. It's as relevant today as it was when it first opened, constantly changing and adapting – whilst always upholding its fundamental values of celebrating fine, seasonal produce.
The Borough Market Kitchen, its food hall and communal dining space, houses a plethora traders, a mixture of familiar favourites and exciting newcomers – all of which create dishes using seasonal produce from the market. As seen across the whole of Borough Market, sustainability is a key focus here: the kitchen has been made using recycled materials, and single-use plastic is banned. Here we've picked out some of the foodie highlights…
Where To Eat InBorough Market
Berenjak Borough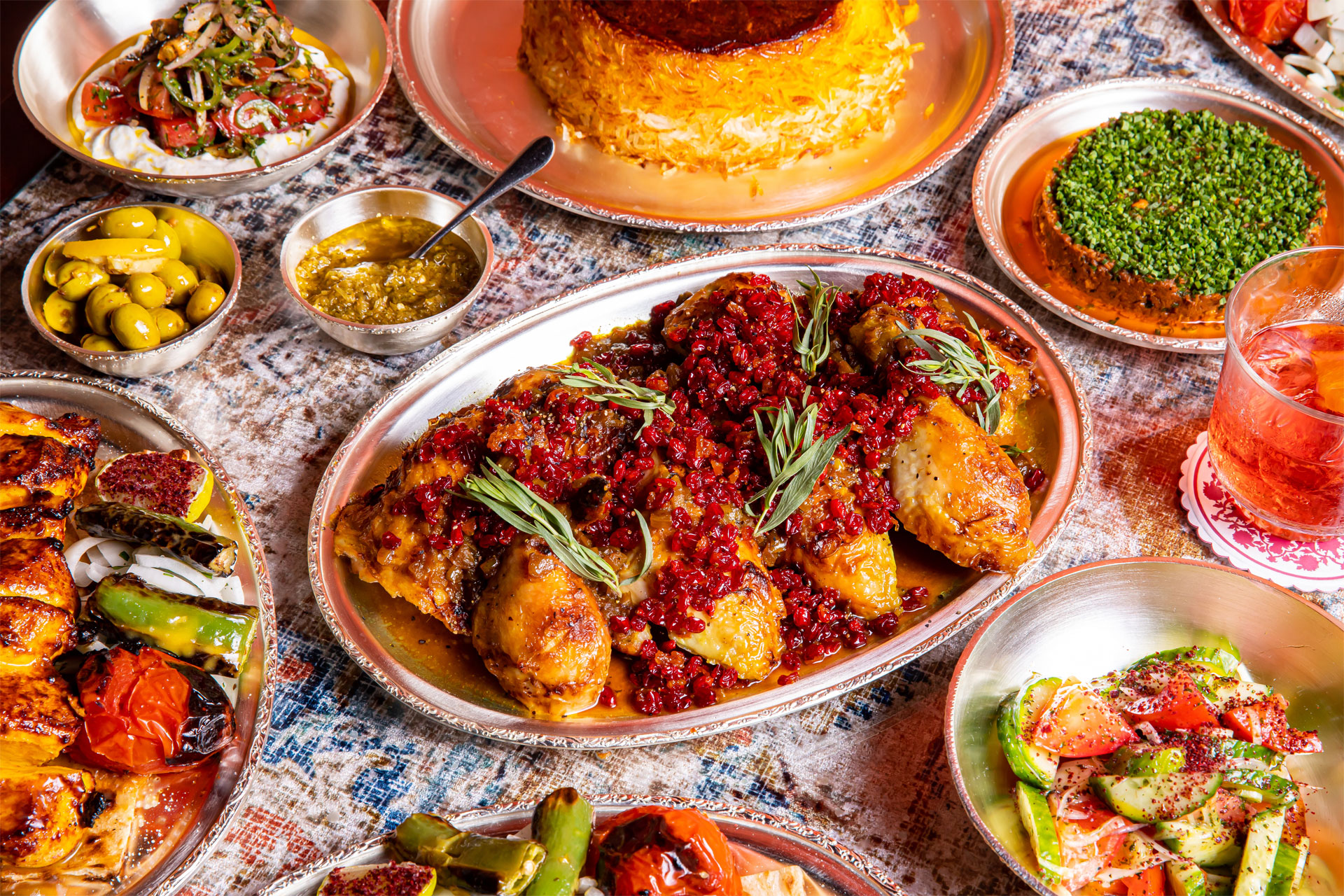 A newcomer, Berenjak only opened in May this year, and we expect it'll be a staple for visitors to the area in no time. The Persian-style restaurant is well worth ducking out of the main thoroughfare of Borough Market for, with its huge mezze plates of skewered meats and vegetables, plus rich lentil dishes.
The restaurant occupies a teetering townhouse on Bedale Street and presents a beautiful picture as you enter: dried flowers from the region hang above your head, contrasted neatly against exposed brick and industrial beams. While the townhouse is full on a Friday night, it is not overcrowded and you can still hear yourself over buzzy atmosphere. If you can get seated downstairs, there's an exciting Chef's Table layout for dinner with a bit more show (plus, you'll get a sneak preview of the menu before you order).
As you order, food comes in streams – you'll never not be eating. In particular, we recommend that you tuck into the Perspepolis set menu (£40pp) and definitely try the cheesy panir sabzi (feta, radish, nuts and herb) dipped with Berenjak's freshly baked bread. Full warning: the portion sizes are huge, so expect to roll back into the Market's crowds. Definitely don't miss out on the cocktails either; a tahini old fashioned (£12) is a fun and regional twist on a classic drink.
Hero dish? The Jujeh Kabab – a boneless chicken breast, smothered in saffron, lemon, yoghurt, tomato, which absolutely falls off the fork.
Mei Mei by Elizabeth Haigh
One of the biggest names in the line-up is Elizabeth Haigh, Michelin-starred former Pidgin chef. She introduces Mei Mei at Borough Market Kitchen, drawing on her South East Asian heritage to create a space which mirrors the buzz and energy of Singaporean cafes. Speciality dishes include Hainanese chicken rice, created using Ginger Pig Yorkshire chickens alongside all-natural ingredients from Borough Market.
JUMA Kitchen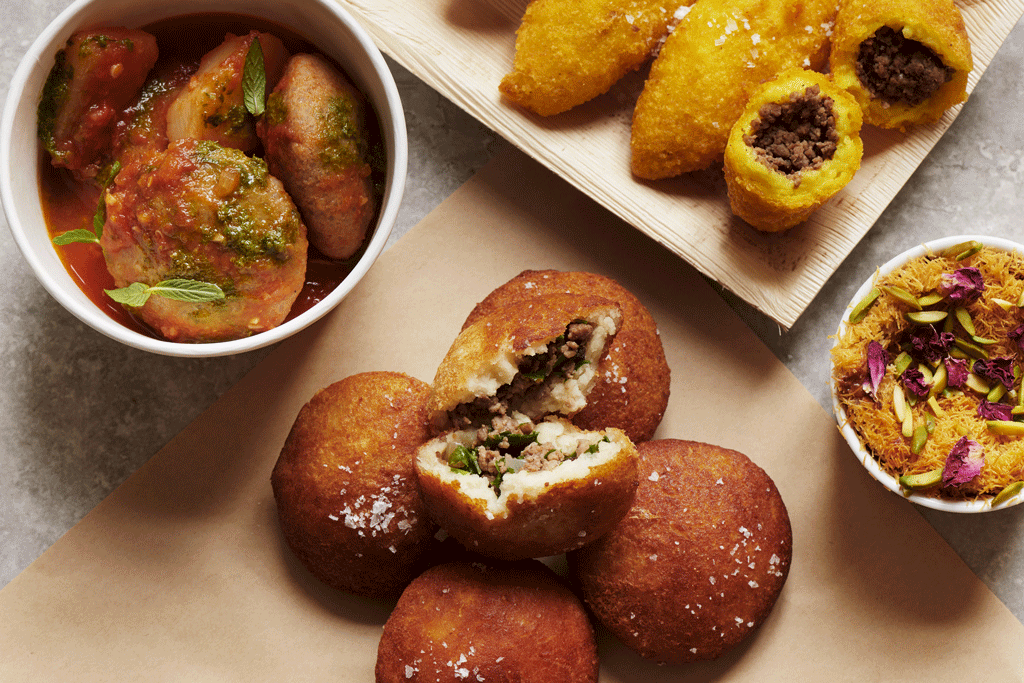 For the ultimate winter comfort food, head to Phil Puma's JUMA Kitchen, which has been putting Iraqi food into the spotlight since it opened in 2012. The core dish is kubbe (fried and braised stuffed dumplings) – think lamb dumplings in a tomato and turnip broth, beef and rice croquettes, and pillowy potato cakes with wild mushroom and truffle oil. Those with a sweet tooth, meanwhile, will love Knafa: baked cream and soft cheese topped with shredded filo pastry. jumakitchen.com
Batera
Batera is a new pintxos bar from the husband and wife duo behind award-winning cookery school Mimo. Meaning 'together' in Basque, Batera draws on the culture of pintxos bars lining the streets of San Sebastian – where Mimo was founded. Here Executive Chef Joseba Lasa and Head Chef Ander Macho serve daily-changing tortillas featuring ingredients such as salt cod, local cheeses and foraged mushrooms, with Joseba's more elevated pintxos including leek and black olive confit; crab dressed in smoked oil and lemon zest; and guindillas and pyke caviar.
SHUK
Gorge on Israeli food at SHUK, which serves up stuffed pitas and salads under Head Chef George Haslan, previously of Gordon Ramsay's Maze Grill and Boundary London. Tel Aviv-style hot pitas are filled with the likes of lamb sofrito and pickled red cabbage; beef brisket and kimchee; or fish tagine and amba tahini – all topped with chilli yoghurt, mint and coriander. Alternatively opt for cold pitas, featuring everything from smoked salmon to aubergine to confit potato, or keep it healthy with a colourful salad, packed with bold ingredients including fennel, kohlrabi, beetroot, Pecorino and horseradish mascarpone.
Where To Eat Israeli Food in London
Horn Ok Please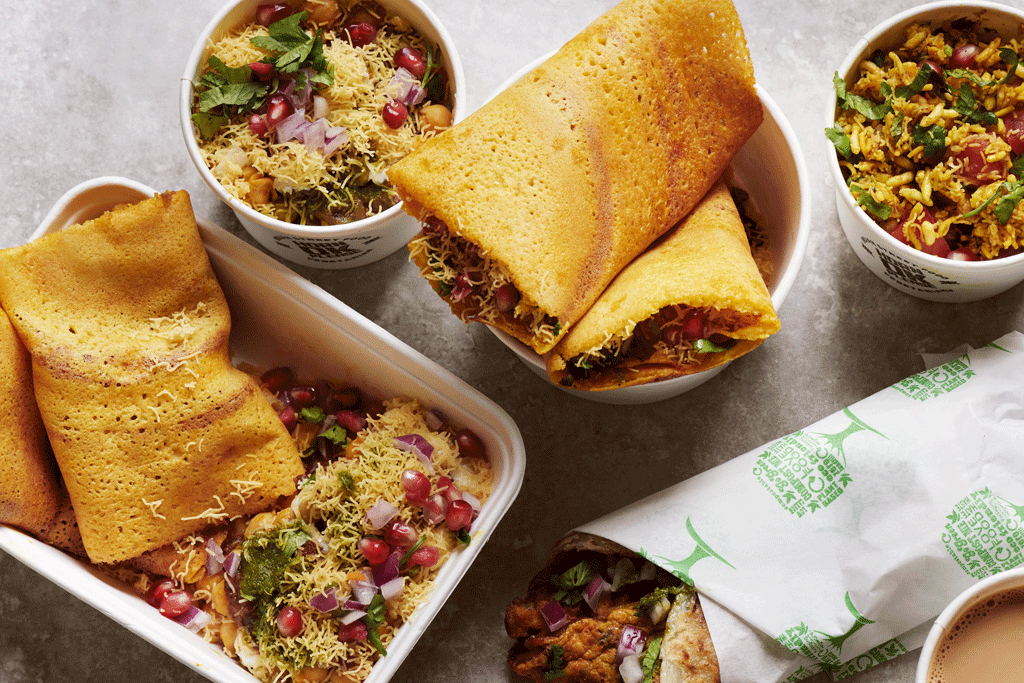 'Horn Ok Please' is a slogan commonly found emblazoned across the back end of vehicles in India – the inspiration behind Gaurav Gautam and Sandhya Aiyar's street food concept, opened at Borough Market in 2017. Indian vegetarian dishes take centre stage here, so you can guarantee hearty, fragrant dishes drawn from all corners of the subcontinent. A highlight is the signature Moong Dal Dosa, a crispy dosa made with moong dal and rice, served with masala potatoes and chana chaat chickpeas and spiced paneer. hop.st
PADRE
PADRE is your new go-to for Mexican tacos and quesadillas, founded by chef Nicholas Fitzgerald, formerly of The Clove Club, Breddos and El Pastor. Meat-focused taco fillings include lamb barbacoa with avocado and pasilla; and pork cochinita pibil with achiote, while veggies can enjoy cauliflower al pastor with coconut and Veracruz-style salsa macha. Quesadillas, meanwhile, come stuffed with the likes of chorizo and smoky salsa negra, alongside a list of 'Especiales' including gorditas de chicharron, little fried corn dough 'gorditas' stuffed with pork rinds; and flautas de papa, crispy potato-filled tacos originating from Jalisco in western Mexico. Be sure to grab some crispy churros for dessert, too.
Khanom Krok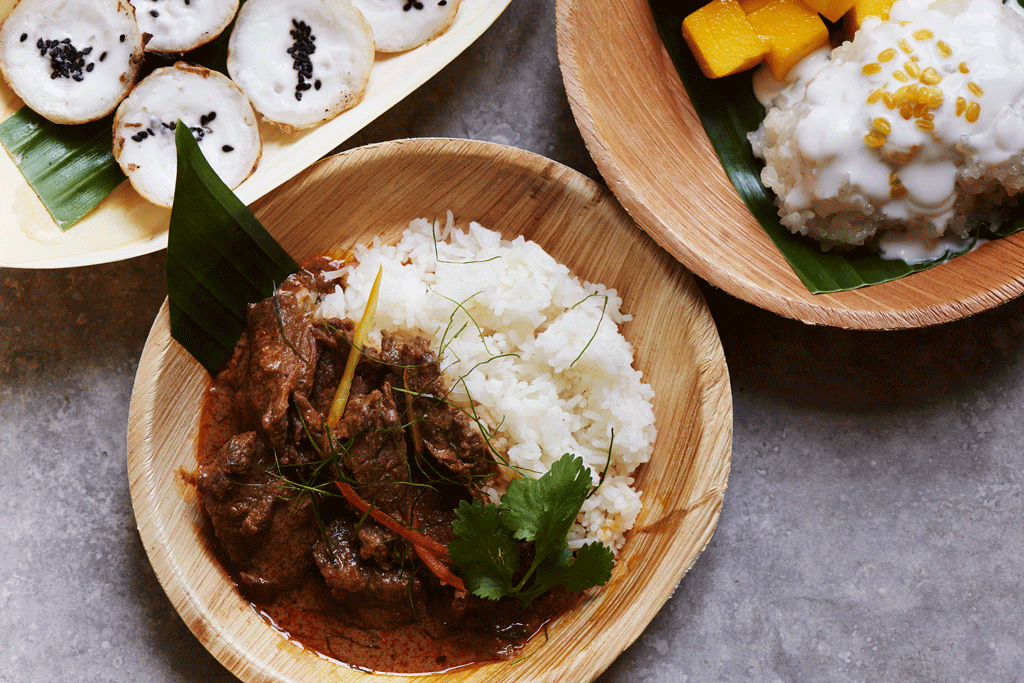 Worawan and Michael Kamann's Khanom Krok opened at Borough Market in 2013, with the aim of demonstrating authentic Thai dishes to the British public – predominantly their eponymous dish: coconut panckakes, a traditional gluten-free and vegan Thai sweet snack sold in local markets. They continue to serve this at The Borough Market Kitchen, alongside curries including Beef Panang and Chicken Massaman. khanomkrok.com
Rudie's Jerk Shack
After proving a success in Dalston and Box Park Shoreditch, Rudie's will be serving up their signature jerk chicken in The Borough Market Kitchen, made using free-range meat marinated for at least 24 hours. Also up for grabs: Roti wraps, fried sweet plantain, Jumbo saltfish fritters and jerk rubbed fries. rudieslondon.com
Pochi
Initially launched as a street food stall at KERB in 2015, Pochi's mission is to bring Japan's lesser known dishes to Londoners. Instead of sushi and ramen, here you'll find dishes like deep-fried aubergine and leek with soy-vinegar sauce; Japanese braised pork belly; and teriyaki tofu with shiitake mushrooms.
Discover the new cookbook by Borough Market here.