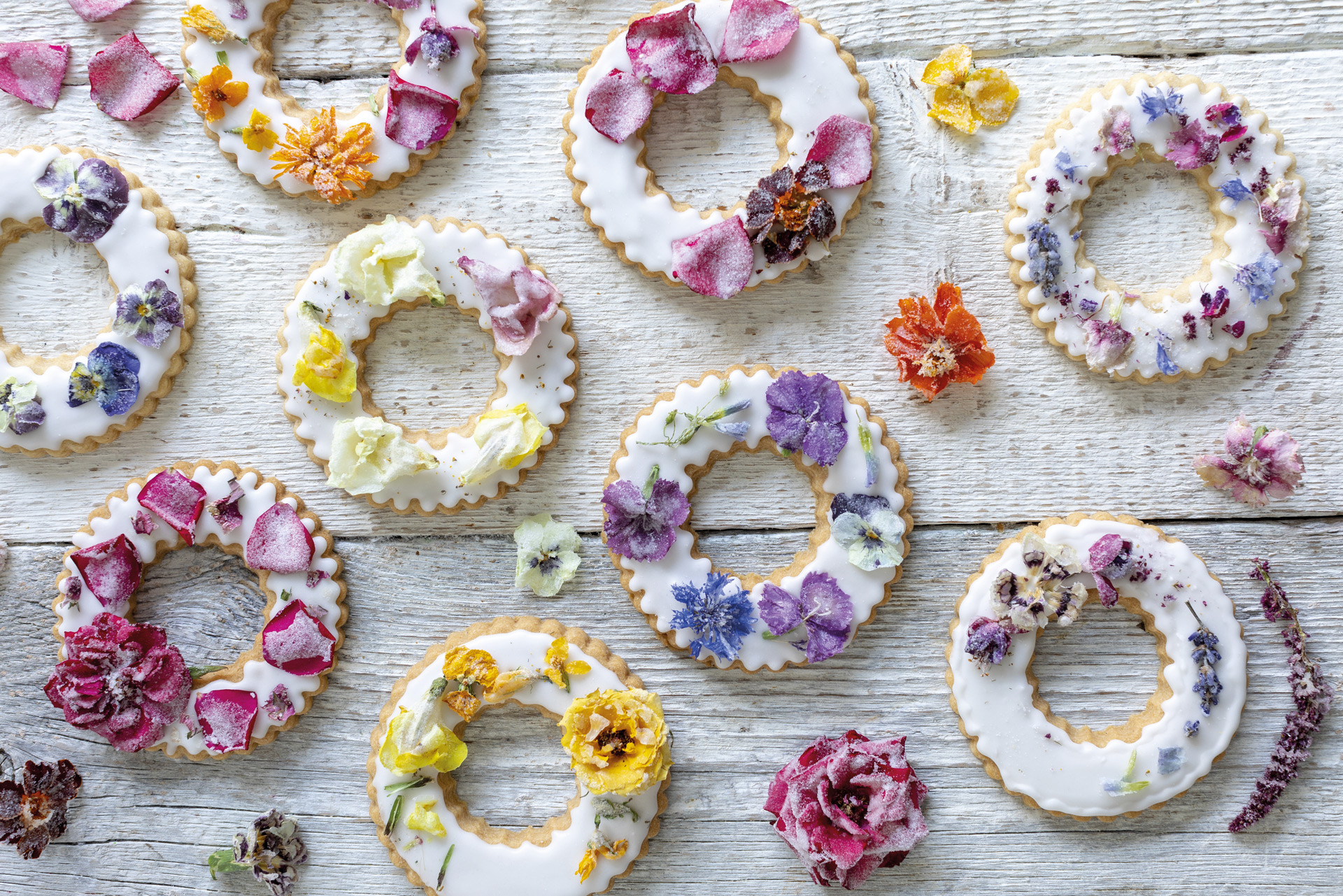 Botanical Baking: Juliet Sear on Baking with Edible Flowers
---
Give the floral baking trend a try this spring
If you haven't yet heard of botanical baking – where have you been? The baking and cake decorating trend has exploded recently, with edible flowers and herbs bringing a whole new dimension to the average bake.
Why should you consider baking with flowers? Food stylist, baking aficionado and author of Botanical Baking, Juliet Sear, says that flowers and herbs can 'transform a regular bake into a show stopper with no hours needed for piping or making decorations – nature has done all the work for us'. Here, she gives us her expert advice on botanical baking, plus three prepossessing and delicious recipes from her cookbook.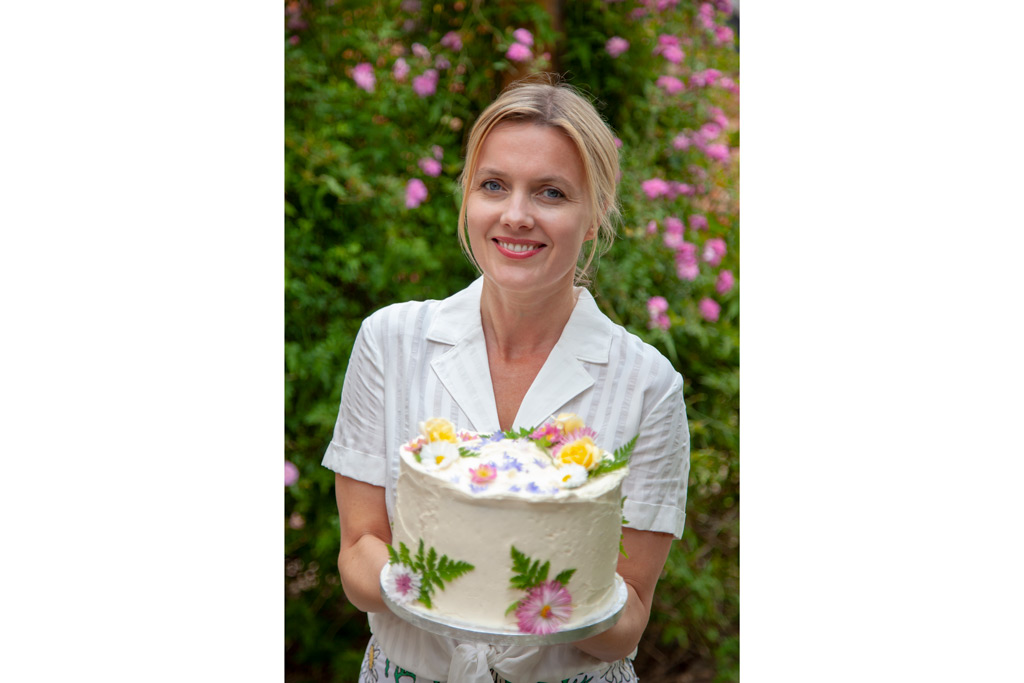 What are the most important things you should consider if you're a botanical baking beginner?
Always make sure that the flowers are definitely edible and also grown properly. They must be specially grown for eating, and not from a florists for example, as they will likely be covered in pesticides and bacteria.
Which do you find are the best flowers for baking and where do you find them?
You can grow your own pretty easily if you have outside space. Start with something easy like violas and make sure you use organic soil if possible. Alternatively, there are some fantastic producers in the UK. Maddocks Farm Organics are great and will send out incredible seasonal and organic flowers with next day delivery. You can also pick them up from Borough Market and many deli's. Some supermarkets are also selling them now as it is becoming such a popular trend.
Which are your personal favourites to work with and why?
It really depends on the recipe and look, but I'd say rose petals are one of my favourites – I love using the petals for crystallising and adding to my cakes. I also love violas, they are very easy to work with, come in so any pretty variations, and are flat faced too which makes them suitable for crystallising and pressing. Also, just adding a few fresh to a salad, a dessert, or even into drinks really lifts your presentation and makes your dishes look fantastic.
Recipes
Iced Rings
'These beautiful biscuits are both delicious and eye-catching, with the crystallised flowers adding a floral crunch. Perfect for presents, parties or afternoon tea, the recipe is really simple and can be made in various different flavours. The dough rolls out easily and holds its shape, so is ideal for cutting out delicate rings.'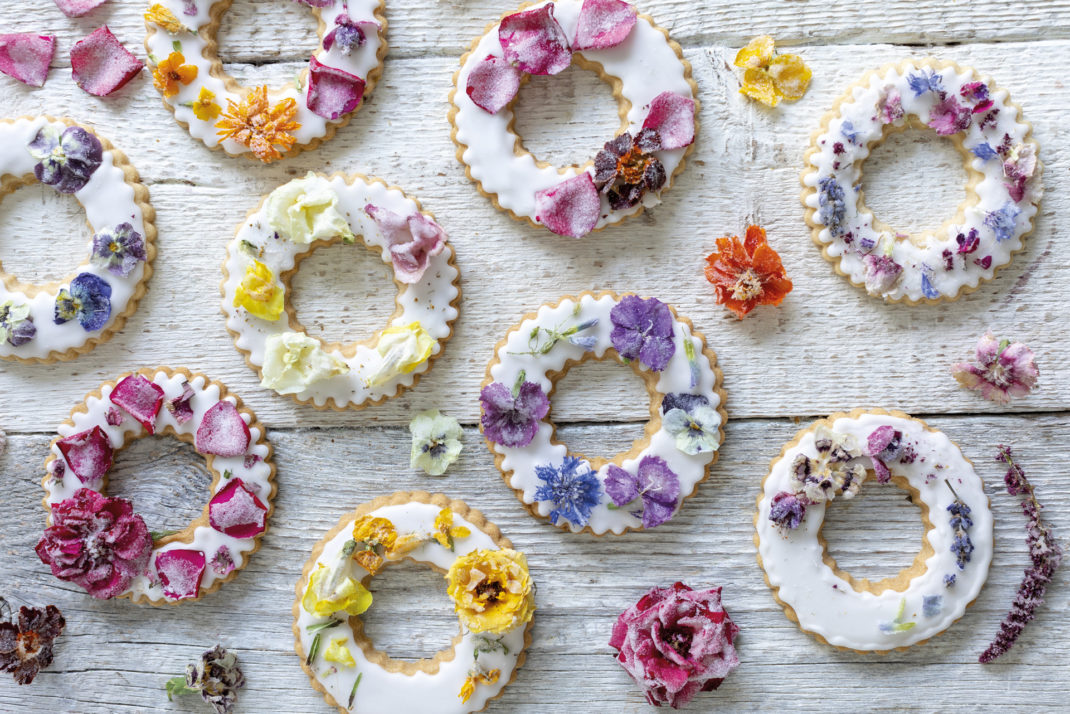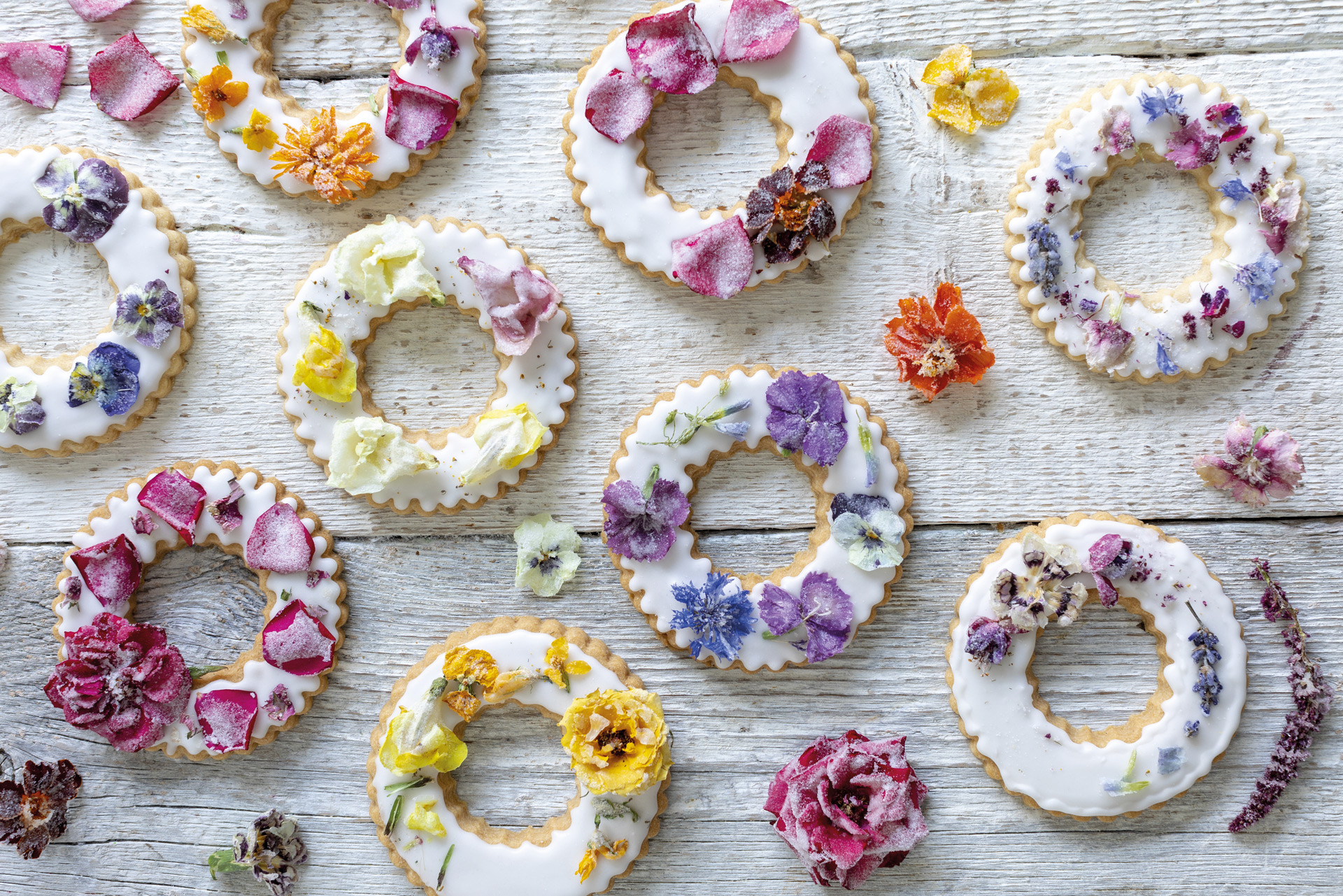 Makes 16–20 biscuits
Prep time, 1 hour, plus crystallising time 
Bake time, 12–15 minutes
Ingredients
200g (7oz) golden caster (superfine) sugar
200g (7oz) salted butter, at room temperature
1 tsp vanilla bean paste 1 medium egg
375g (131/4oz) plain (all-purpose) flour, plus extra for dusting
250g (9oz) royal icing sugar
3–4 tsp water
Variety of crystallised flowers, I've used violas, calendulas, lavender, dianthus, roses, cornflowers, blackcurrant sage, cucumber flowers and snapdragons.
Equipment
Fluted circle cutters, 4cm (11⁄2in) and 10cm (4in)
Piping bag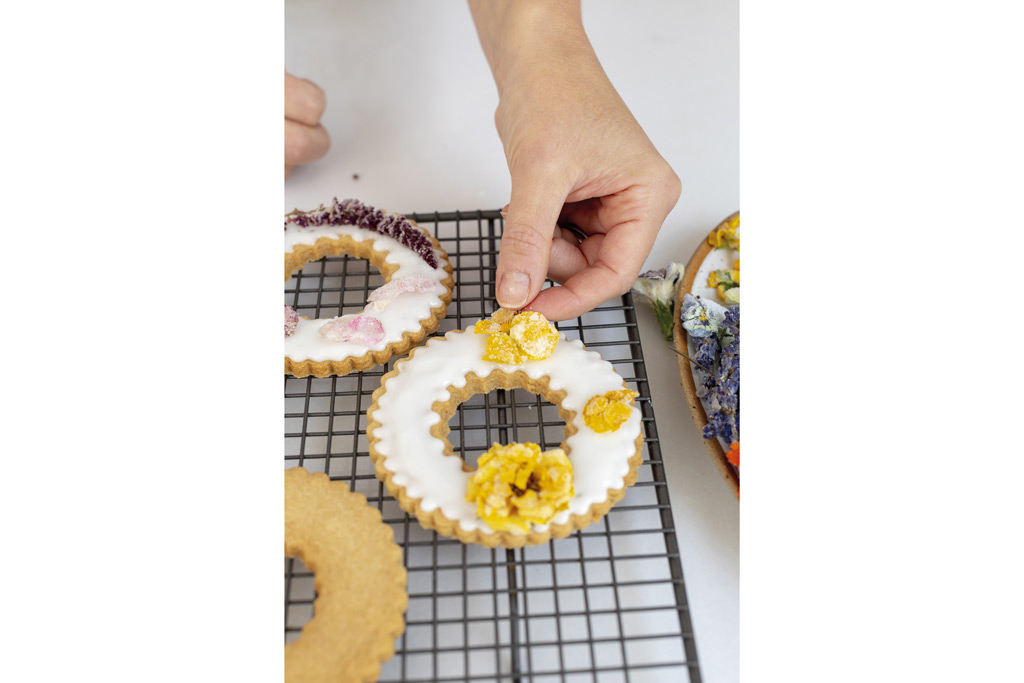 Method
Mix the caster sugar, butter and vanilla bean paste until just combined.
Gently beat in the egg until fully combined.
Add the flour and combine into a dough.
Dust the surface with additional flour and roll out to a thickness of 4–5mm (1/8–1/4in), turning the dough and adding extra dusting flour as required.
Use a 10cm (4in) fluted circle cutter to cut out round biscuits. Cut 4cm (11⁄2in) fluted circles from the centre of each biscuit to create rings (A). Roll out the excess dough and cut out more rings.
Place the biscuits on a lined baking tray and bake at 180°C (356°F) for 12–15 minutes until golden. Press your finger lightly onto one of the rings. If the dough springs straight back they are cooked, but if an indention is left then they need to be baked for longer until crisp.
Remove from the oven and leave to cool on the tray or on a wire rack.
Mix the royal icing sugar with water until it reaches a thick but still runny consistency. The consistency is right when you lift up or drag a spoon through the icing and the trail disappears after 5–10 seconds.
Place the icing into a piping bag and pipe a wavy line around the outer edge (B). Pipe a wavy line around the central hole and then fill in the space between the two lines by flooding with icing (C). If you want a quicker finish, you can dip the rings into a bowl of icing to roughly cover the top.
Place crystallised flowers onto the iced rings to decorate (D). Leave to dry on a wire rack.
Dried Flowers Chocolate Bark
'I love making chocolate bark, it's so pretty and simple to create and makes the perfect treat. It's also lovely to use as a cake decoration. Using dried edible flowers gives you the lovely 'funfetti' effect without having to use tons of sweets and artificial colourings.'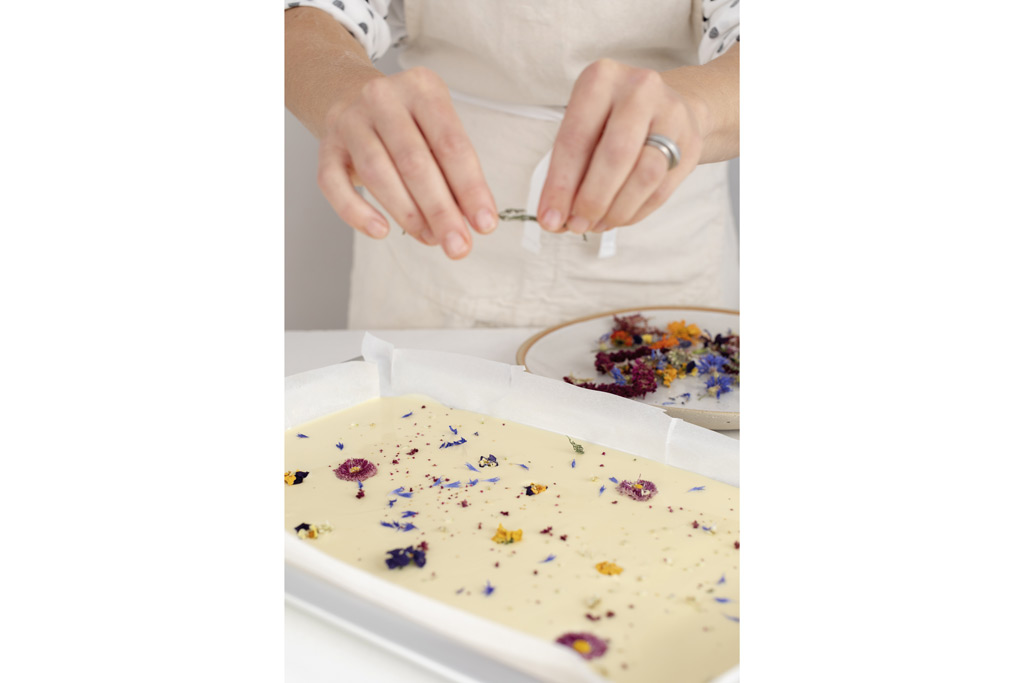 Makes 33 x 23cm (13 x 9in) of bark
Prep time, 20 minutes
Cooling time, 1–2 hours, depending on temperature of surroundings
Ingredients
500g (1lb 2oz) good-quality white chocolate
Dried flowers of your choice, I used a mix of whole and crumbled dried flowers including bellis daisies, amaranth, fire feathers, cornflower, calendula petals and some greenery
Equipment
Baking tray lined with greaseproof parchment paper, 33 x 23cm
(13 x 9in)
Bain-marie, or microwave-safe bowl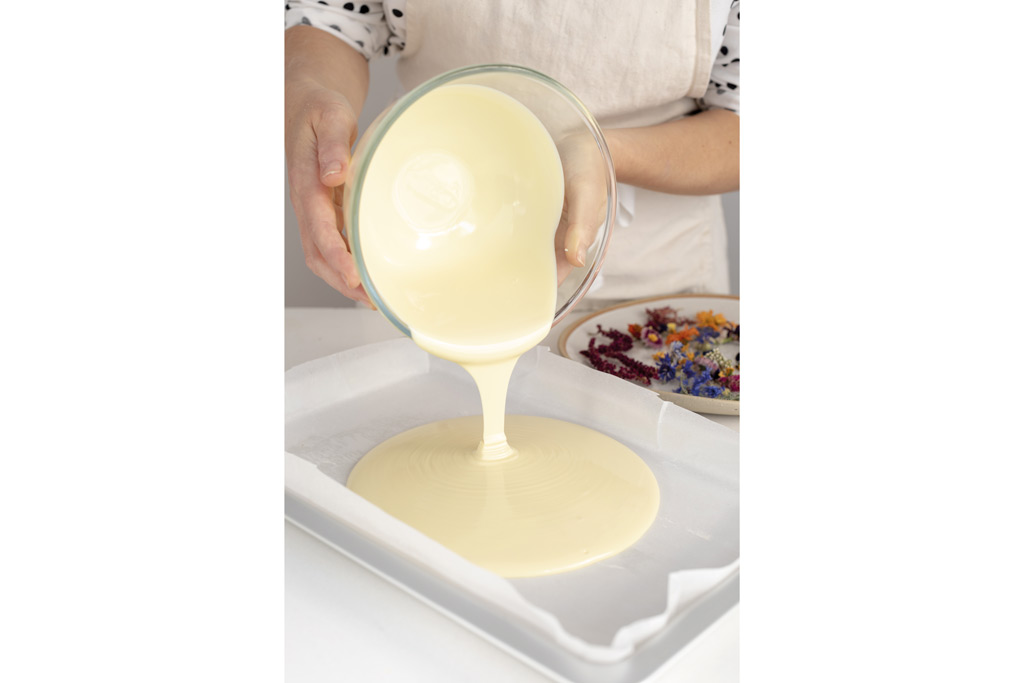 Method
Melt the white chocolate gently either in a bain-marie or with a microwave on low-medium heat for 30 second blasts, stirring until just melted.
Pour the melted chocolate into the baking tray and gently tap the tray on your work surface to settle the chocolate flat and get rid of any bubbles.
Decorate with your dried flowers, leaving some whole and crumbling some for finer details.
Allow to cool completely then snap or cut up and serve, wrap or use for cake decorations.
Elderflower Cordial Recipe
'Elderflower is so abundant in our gardens in the UK, but when its season is over it's gone. However, you can bottle its delicious floral flavour for use all year round with this syrup. It lasts for a couple of months in the fridge, and can be frozen in ice cube trays or food bags and defrosted as needed.'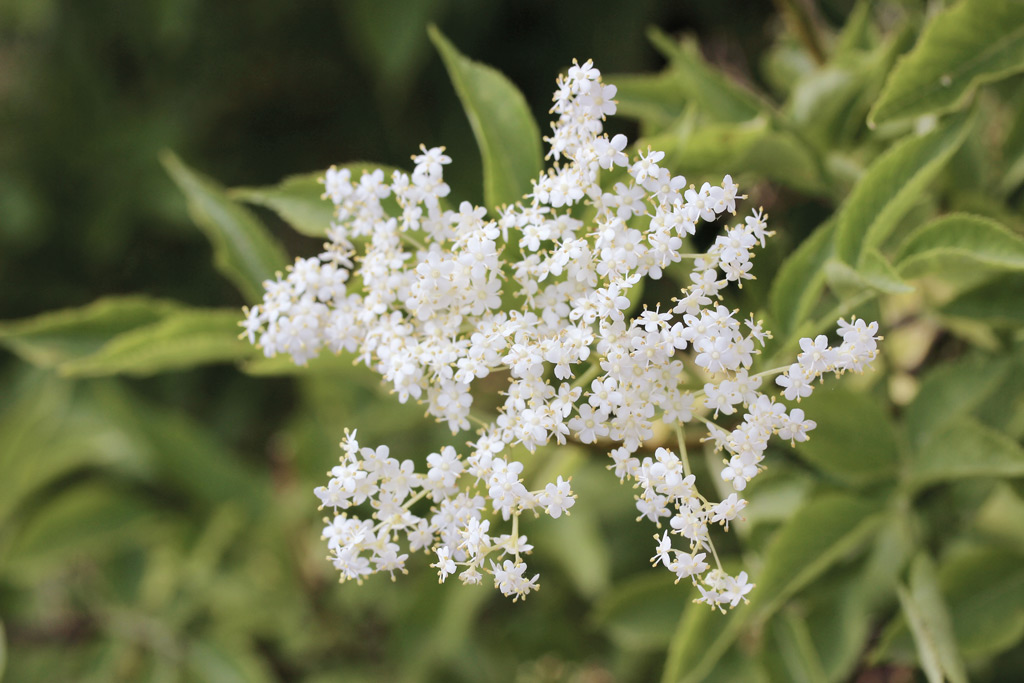 Ingredients
2.25kg (5lb) white caster (superfine) sugar
2 large unwaxed lemons, zest pared and fruit sliced
20–24 fresh elderflower heads, stalks removed
80g (23/4oz) citric acid
Method
Shake off the elderflowers to get rid of any debris or little bugs, then swish them around in a large bowl or bucket of clean water, lift out and shake off the excess water.
Put the sugar and 1.5ltrs (23/4 pints) water into a large saucepan and heat gently until the sugar granules are all dissolved, stirring occasionally. Once the sugar has completely dissolved, bring the pan of syrup to the boil and let it bubble for a minute, then turn off the heat.
Add the elderflower heads, lemon zest and slices and citric acid to the syrup and stir well. Cover the pan and leave to infuse for 24 hours, stirring halfway through that time.
Strain through a muslin or clean tea towel. Use a funnel or ladle to fill sterilised bottles. Chill or freeze as needed.
Botanical Baking is available now (David & Charles, £16.99, waterstones.com) 
MORE RECIPES:
Picnic Recipe: Cauliflower and Kefir Dip / Bread Ahead's Famous Doughnut Recipe / Recipe: Gill Meller's Blackcurrant Ripple Goat's Milk Sorbet