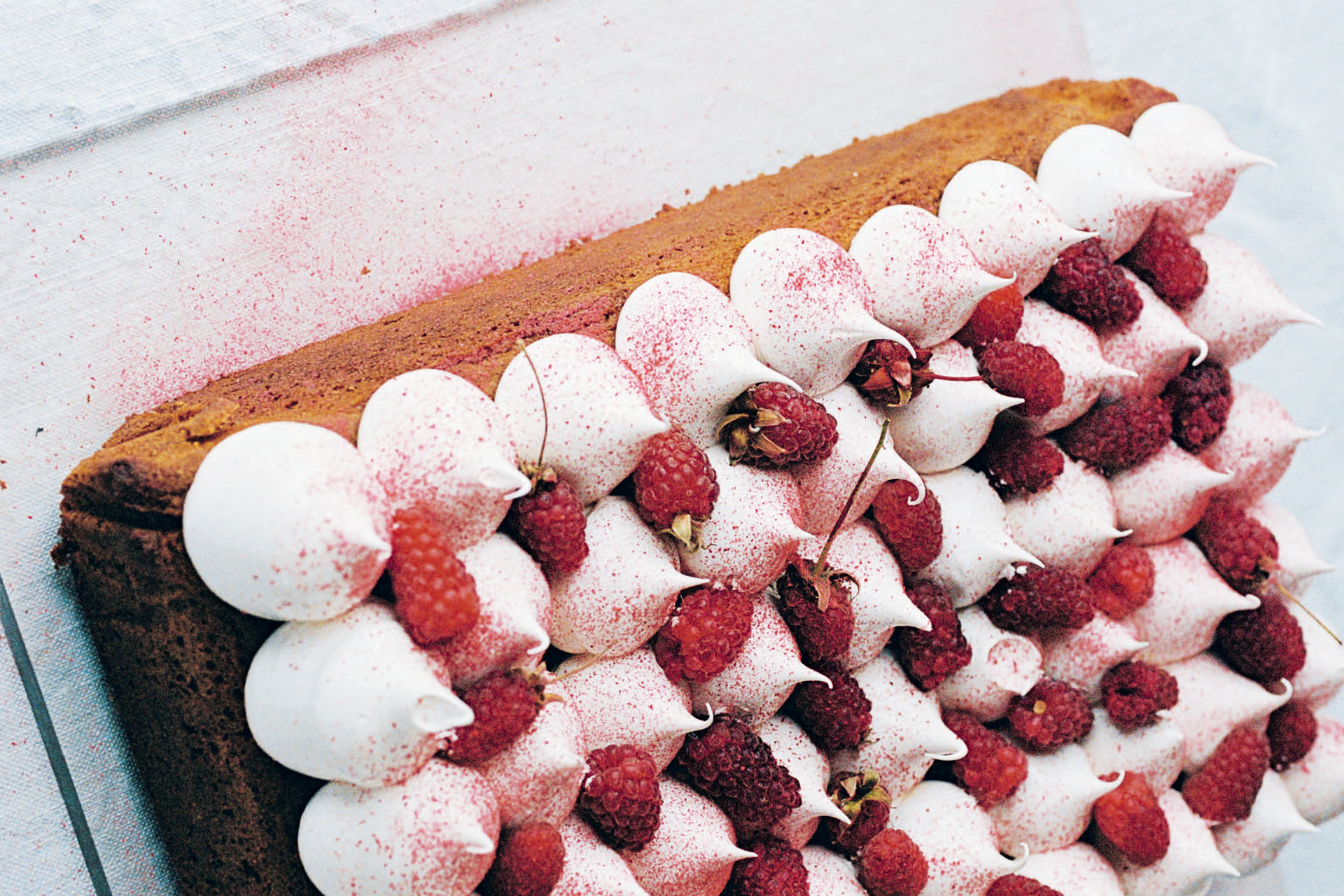 2 Showstopping Baking Recipes From Claire Ptak
The esteemed baker shares two recipes from her new book Love is a Pink Cake
Baker Claire Ptak shot to fame in 2018 when she was asked to create the wedding cake for none other than Harry and Meghan. This put her Hackney bakery, Violet Cakes, firmly on the map. Claire uses organic and low intervention ingredients to create exquisite bakes – which she showcases in a new cookbook, Love is a Pink Cake. Her fifth book, it features English classics with a west coast twist, inspired by her two homes of California and East London – including the lemon and elderflower cake she created for Harry and Meghan's wedding. Here we share two recipes from the book: bubble cake and vegan cookies.
2 Showstopping Baking Recipes From Claire Ptak
Bubble Cake
Serves up to 20
Ingredients:
300g (2 cups + 2 tbsp) sorghum flour

300g (2 cups + 2 tbsp) brown rice flour

80g ( 2∕3 cup) tapioca flour

21⁄4 tsp xanthan gum

21⁄2 tbsp baking powder

75g (3⁄4 cup) ground almonds

21⁄4 tsp fine sea salt

225g (2 cups) unsalted butter

750g (33⁄4 cups) caster sugar

120g (1⁄2 cup) oil

6 eggs

480g (2 cups) whole milk

11⁄2 tbsp vanilla extract

3 tsp almond extract
For the marshmallow icing:
3 egg whites

150g (3⁄4 cup) caster sugar

11⁄2 tbsp golden syrup

Pinch of salt

11⁄2 tbsp vanilla extract

Raspberries or loganberries and freeze-dried raspberry powder, to decorate
Method:
Preheat the oven to 150°C fan/170°C/340°F/gas mark 31⁄2 and grease and line a deep 23×33cm (9×13in) rectangular tin that is 8cm (3in) deep.

Sift all of the flours, the xanthan gum and baking powder together into a bowl, then repeat, to be sure the flours are evenly combined. Then whisk in the ground almonds.

In the bowl of a stand mixer fitted with the paddle attachment, cream the salt, butter, sugar and oil together until light and fluffy. Add the eggs one at a time, beating well after each addition.

Pour the milk and vanilla and almond extracts into a jug and whisk together. Add half of the dry ingredients to the mixer and combine, then mix in half of the milk, then the remaining dry ingredients and finally the remaining milk mixture.

Pour the batter into the prepared tin and bake on the middle shelf of the oven for 60 minutes, or until golden and springy to touch. Allow to cool completely on a wire rack.

Once the cake is cooled, make the marsh-mallow icing. Put all of the ingredients into the metal or glass bowl of a stand mixer and place over a saucepan of boiling water (do not let the water touch the bottom of the bowl or it will cook the egg whites). Whisk continuously until the sugar dissolves and the mixture is very warm to the touch. If using a sugar thermometer, whisk continuously for 2 minutes, or until it reads 70–75°C (158–167°F) – whichever comes first. Transfer the bowl to your mixer and whisk on high speed until you almost have stiff peaks.

Put the icing into a piping bag with a large round nozzle (or use a spoon) and pipe (or

spoon) large blobs of icing onto the cooled cake. Decorate with fresh berries and a

dusting of raspberry powder.
Vegan Cookies
Makes 18 cookies
Ingredients:
1 tbsp ground flaxseeds

60g (1⁄4 cup) oat milk

455g (31⁄4 cups) plain flour

60g (1⁄2 cup) rolled oats

11⁄4 tsp baking powder

1 tsp bicarbonate of soda

1 tsp fine sea salt

250g (1 cup + 2 tbsp) plant-based butter

250g (11⁄4 cups) soft light brown sugar

150g (3⁄4 cup) caster sugar

1 tsp vanilla extract

250g (9oz) vegan chocolate, broken

into 1cm (1⁄2in) pieces

Flaky sea salt, to finish
Method:
Soak the ground flaxseeds in the oat milk and set aside.

Whisk together the flour, oats, baking powder, bicarb and salt in a bowl and set aside.

In the bowl of a stand mixer fitted with the paddle attachment, beat the vegan butter and both sugars until creamy. Beat in the flax mixture and vanilla, then add the dry ingredients and mix until just combined. Finally add the chocolate and mix once again.

Use and ice-cream scoop to portion out 18 cookies onto a tray. Chill or freeze for at least 1 hour. (You can also store the unbaked cookies in the freezer and bake as needed.)

When ready to bake, preheat the oven to 170°C fan/190°C/375°F/gas mark 5. Line 1 or 2 large baking sheets with baking paper and arrange the dough evenly on the trays, leaving enough space between each one so they have room to expand during baking (they almost double in size). If you are baking from frozen, allow the cookies 5 minutes out of the freezer before placing in the oven.

Sprinkle a few flakes of sea salt over the top of each cookie and then bake for 12–14 minutes until the centre of each cookie is slightly soft and underbaked but the edges are crisp and golden. Remove from the oven and allow to cool on the tray for 10 minutes before eating.
Featured image: Photo by Pia Riverola
Love is a Pink Cake is out now (Penguin)