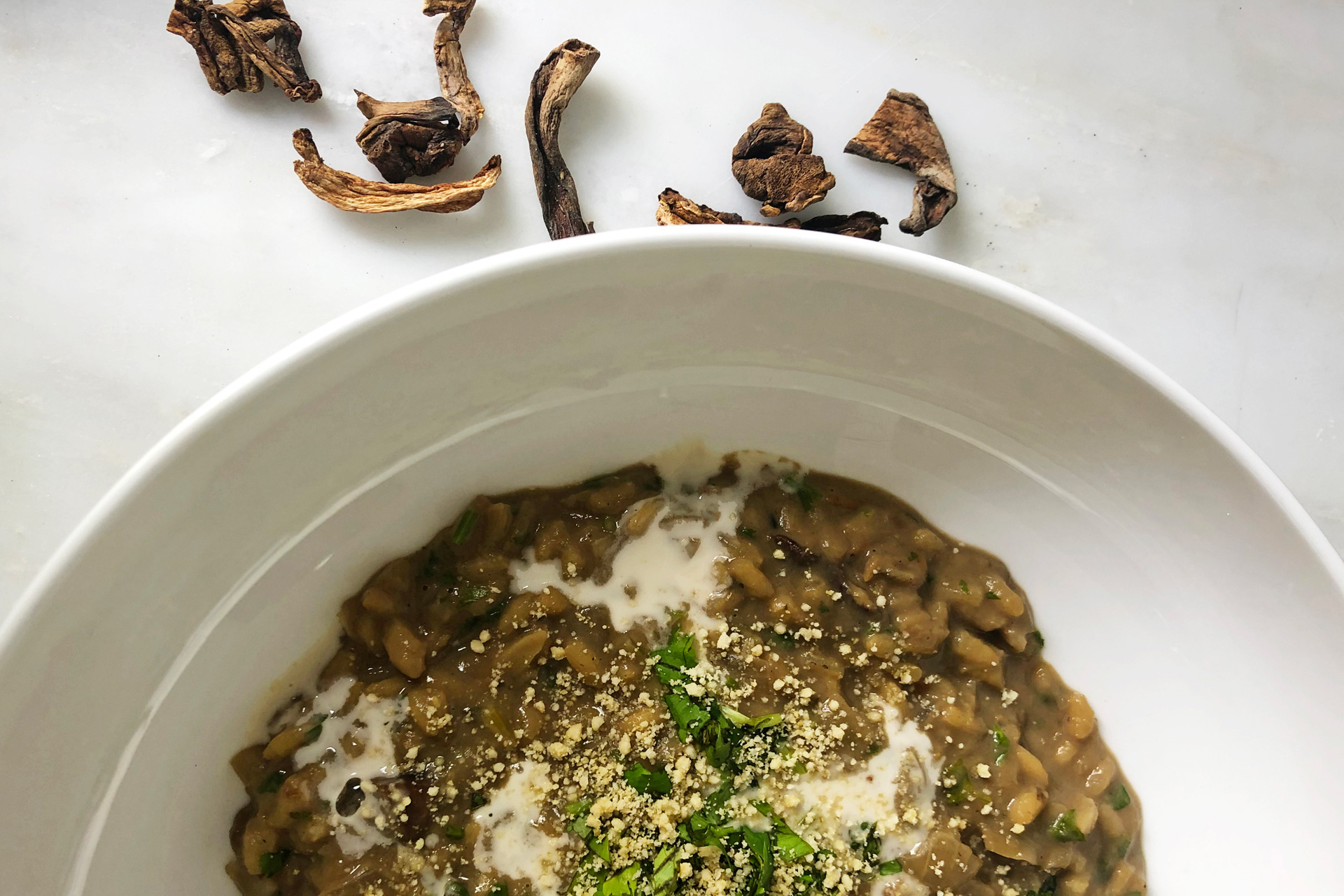 Vegan Recipe: Indulgent, Creamy Mushroom and Coriander Risotto
A plant-based twist on the classic creamy dish
Ursula Lake is an expert in all things vegan food. She worked as a fashion editor before training as a chef at the London College of Naturopathic Medicine, going on to write a book, The Vegan Lockdown Larder, and launch a catering company called RetreatEat. Each month, she'll be sharing her expertise with C&TH, offering a plant-based twist on a classic recipe – up next is risotto.
Vegan Recipe: Indulgent, Creamy Mushroom and Coriander Risotto
A traditional risotto is normally full of dairy products to make it thick and creamy, but the creation of the mushroom sauce does the trick and makes for a much lighter and heathier risotto. I made this recipe up for a satisfying Easter Sunday lunch alternative, but it would be great for a small dinner party. I think that risotto is never a great idea for a big crowd as all that stirring (over a giant pan) will keep you in the kitchen when you should be enjoying your friends, but it's perfect for a more intimate gathering.
On the nutrition side of things, mushrooms are also low in calories, fat and cholesterol free but packed with fibre, vitamins and minerals particularly B and D vitamins, potassium and copper. Copper helps your body to create red blood cells and potassium is needed for heart, muscle and nerve function. We should all be eating mushrooms as much as we can! The spinach that gets added in at the end of the recipe is full of vitamin A, C and K as well as iron and calcium and the vitamin E in the olive oil means that you are getting the full alphabet of vitamins in this recipe!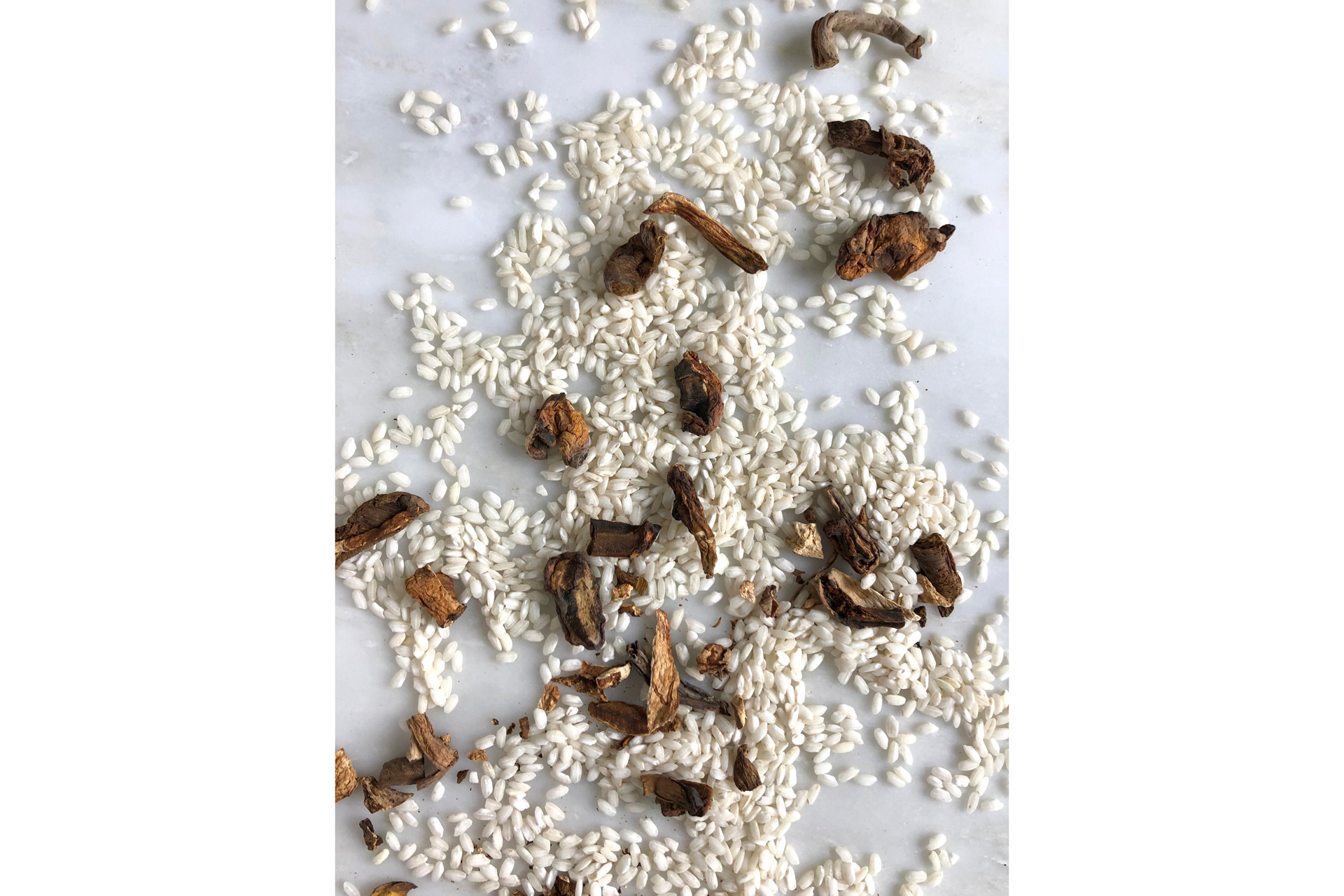 Serves 4
Ingredients:
Stock
30g of dried porcini mushrooms, roughly chopped

1 litre of filtered water

3 tsp of marigold vegan bouillon powder
Mushroom sauce
150g of mushrooms, ideally portobello, chestnut or shitake

½ a finely chopped white onion

1 tbsp of extra virgin olive oil

75ml of boiled filtered water

½ tsp of stock powder




A pinch of salt

A grind of black pepper
Risotto
1 white onion (or leek) finely chopped

1 stick of celery, finely chopped

2 cloves of garlic

200g of risotto rice




1 glass of white wine

100ml of oat milk, or another plant-based milk

1 large handful of coriander, finely chopped

200g of spinach 
Method:
Make a stock using a litre of boiled filtered water, marigold bouillon and the chopped porcini mushrooms, and leave to one side so that the mushrooms can rehydrate in the hot water. 

For the mushroom sauce, sweat the onions over a medium heat in a frying pan with the mushrooms, a pinch of salt and some black pepper. Sauté for a few minutes until the onions and mushrooms are starting to go soft before adding in the water and the stock powder and simmer for a couple of minutes. 

Take off the heat and allow to cool for a few minutes before transferring to a food processor or a high-speed blender for a minute or two, until you have a smooth, creamy sauce. Leave this to one side for later. It's also fine to prepare the sauce and leave in the fridge until you are ready to cook the risotto, it makes for less culinary drama that way! 

For the risotto, sweat off the garlic, onion and celery in some extra virgin olive oil, ideally in a largeish, heavy bottomed saucepan for about 10 minutes until the vegetables have become soft and tender. 

Add the rice, turning up the heat, stirring for a couple of minutes. Next pour in the wine and continue until it has evaporated.  

Next, turn the heat down a bit and little by little, add in the stock you made in step one. You want to add about a ladle full at a time, stirring the rice continuously until the rice is almost cooked, but still has a little bite to it. This will take about 20-25 minutes. 

Add in the mushroom sauce, three quarters of the chopped coriander and the raw spinach and stir well to make sure it's thoroughly mixed. Put a lid on the saucepan and leave to rest for a few minutes. 

Scatter the left-over coriander over the top of the risotto to serve and maybe a little more extra virgin olive oil.  If you have some, the vegan parmesan cheese from page 110, is delicious grated over it too. 
Tip – The addition of some Oatley cream (at step 7 of the recipe) would make this recipe even more special, but it's still good without! 
By Ursula Lake, expert from The Vegan Lockdown Larder book. Available from retreateat.com