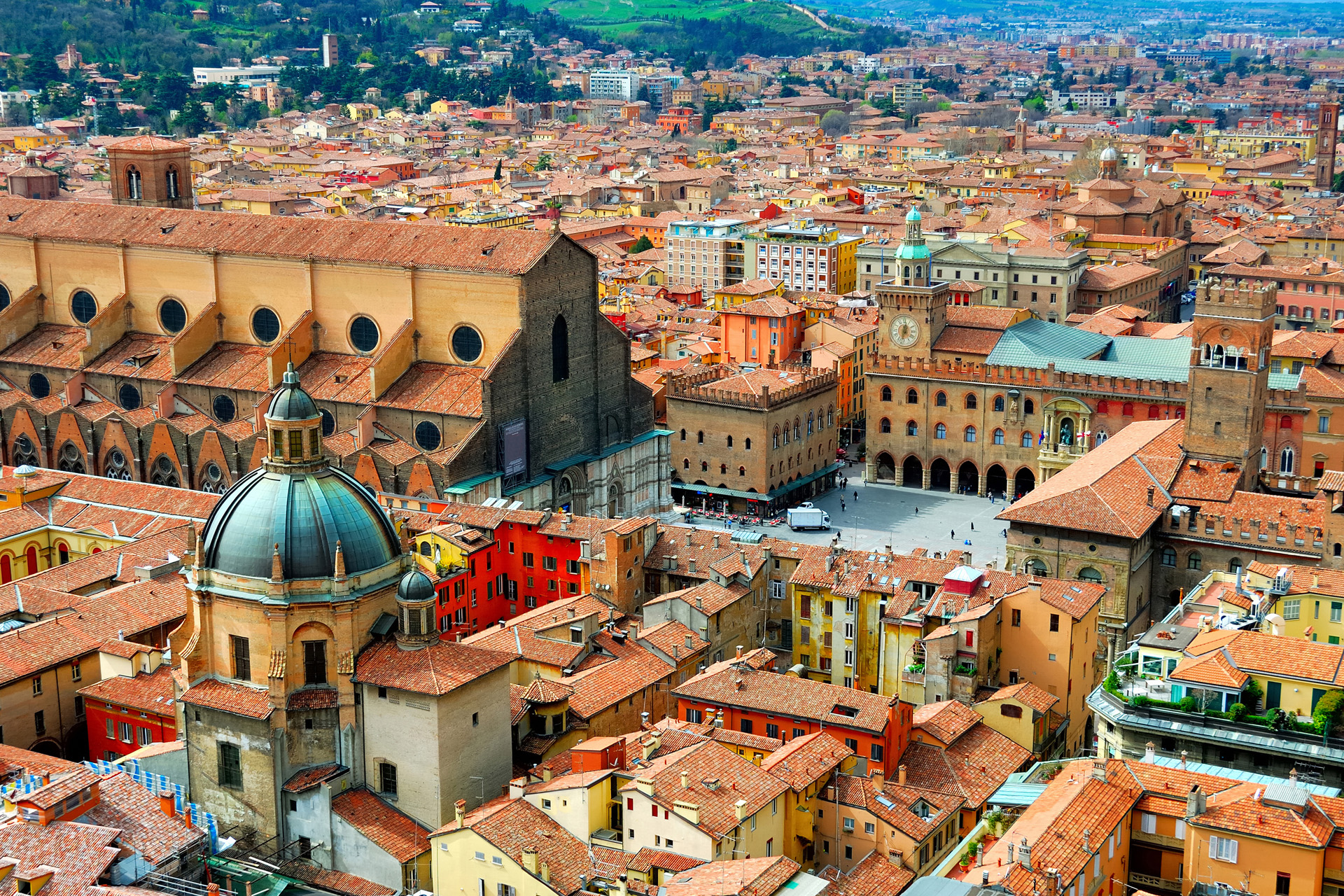 Long Read | La Bella Vita: Exploring Emilia Romagna, Italy's Food Valley
'I have balsamic vinegar in my blood and Parmigiano in my muscle'
In the north of Italy is a region which produces some of the country's most delicious and famed products. Alanna Ospina explores Emilia Romagna beyond the cheese and ham…
La Bella Vita: Exploring Emilia Romagna, Italy's Food Valley
In a cave in northern Italy, there is a painting of a person making pasta. Historic pasta making: as it turns out, the food that the boot-shaped country is renowned for is quite literally carved into its culinary legacy.
Straddling Italy's thigh is Emilia Romagna, a region steeped in gourmet tradition, boasting some of the country's most famous products. Parmigiano Reggiano, Traditional Balsamic Vinegar di Modena, Parma and Mortadella hams, 'Spag Bol' (inspired by Bologna's tagliatelle al ragù): the beloved foods that we sprinkle, scatter, drip, stuff and gorge on in Britain all come from this fertile land. 
Plopped between the Apennine mountains and the River Po, the farms and homesteads where these Italian foodstuffs originated have been graced with ideal cultivation conditions. The environment creates hot summers, cold winters, fecund soil, and a nutritious humid fog that many locals cite as the reason products are so good here.
Italy has classified 138 of its homegrown food products as Protected Designation of Origin ('DOP' – Denominazione Origine Protetta), with 44 of these in Emilia Romagna. The DOP classification means that the tradition, processes and method of producing something has to be done exactly in the approved way of its place of origin, thus conserving ancient food production methods in the history books and passing them on to the future generations. It embodies the very essence of slow food and sustainable eating; the hidden ingredient is patience.
Rita Mattioli is a Bolognan born and raised food historian and lecturer, extra virgin olive oil tester, and chef who runs La Cucina di Petronilla (named after the first woman to obtain a doctorate from the city's university, Europe's oldest). Nobody knows the region's capital, Bologna, quite like Rita who, in a matter of hours, can show you its ancient canal and the sense of humour of its architects (stand behind the Neptune statue in the Piazza Maggiore to watch certain body parts transform), and teach you how to make pasta the northern Italian way. 
In the north, pasta is made with flour and eggs – the likes of tagliatelle, pappardelle, ravioli and tortellini all originate from here. In the south, they traditionally make the sacred dough out of semolina and water to create the likes of spaghetti, orecchiette, and fusilli. Over gentle but forceful rolls of the extra-long pasta rolling pin, Rita explains that a meat ragù (which inspired the beloved Bolognese sauce) should always go with tagliatelle, as the sauce sticks to it much better than a spaghetti. Don't argue with an Italian about how to eat their food, I think. After showing us how to make a true tagliatelle al ragù, I can confirm she is absolutely right.
Exploring Bologna
'Not even a baby can get lost in Bologna,' says the city's former local rock star, Lucio Dalla. This is helpful as, after various watering hole stops, the walk back to the hotel is never more than a cheery jaunt away. Grand Majestic Hotel Bologna is the only five-star hotel in the city, a veritable grande dame decked in marble, heavy curtains and gilded furniture with deliciously comfortable beds. It's also walking distance from all the city's sights, including the Due Torri, Piazza Maggiore where you can marvel at the Basilica di San Petronio and stop and have a cappuccino at Bar Vittorio Emanuele. 
The Quadrilatero – a foodie hub and market area that is buzzing at all hours of the day with happy people eating from wooden boards piled high with mortadella and prosciutto – is also nearby. Try Salumeria Simoni, and check out Drogheria Gilberto, a divine enoteca selling tins of amaretto, biscotti sweets and wine. Walk through Bistrot Opera Caffè e Tulipani to one of the tables overlooking the Reno canal, and have a coffee and cannoli. For beautiful kitchenware, pasta and wine making appliances, A. Pezzoli Enologia is a must. It is also next to Basilica Santo Stefano, a complex of seven different churches. For artisanal craftmanship visit the Ghetto Ebraico neighbourhood. See if it is possible to get lost.
The Cuisine of Emilia Romagna
'You should never leave the table without a taste of cheese in your mouth' – so goes an old Emilia Romagnan saying. With the region's Parmigiano Reggiano offered at any given occasion – chunks prized and tumbled onto a plate with an aperitif or presented under a glass dome when arriving at Casa Maria Luigia, a destination hotel and restaurant in its own right – it is an easy anecdote to stay faithful to while exploring this area of Northern Italy, also known as Food Valley.
'I have balsamic vinegar in my blood and Parmigiano in my muscle,' says Modena-based chef superstar, Massimo Bottura – perhaps the region's most famous ambassador, with its products immortalised forever in his signature dishes, including 'Five Ages of Parmigiano Reggiano in different textures and temperatures', served at his three-Michelin star, Osteria Francescana. 
The Consortium of Parmesan Cheese Makers begged him for years to take it off the menu – they worried he was ruining the hard cheese's reputation. When they realised the depth and innovation of what Bottura had created – using five different ages of cheese (24, 30, 36, 40 and 50 months), all transformed into unrecognisable creams, crisps and froths – they would change their minds, naming it one of the best dishes in a decade.
The Best Italian Restaurants in London
Massimo Bottura has become somewhat of a poster boy for the region, which also counts Luciano Pavarotti and Enzo Ferrari (the eponymous fast car founder) as fruit of its loins. 
This year marks the 27th anniversary of Bottura's Osteria Francescana. Since then, the Francescana Group has expanded to further restaurants: Franceschetta58, a more wallet-friendly option; and Cavallino, a restaurant partnership with Ferrari in Maranello, the town where Ferraris are still manufactured. The restaurant is a retro fit-out in Ferrari colours (which are an homage to its heritage: Modena yellow, red from the Italian flag and a racing green), and a short walk away from the Museo Ferrari, well worth a visit to see the history of this iconic Italian brand and chance to drive one, (though in a simulator, it is still thrilling). Gucci Osteria, the fashion label's first foray into cuisine, is also overseen by Bottura.
Casa Maria Luigia, Bologna
Just outside of Modena is Casa Maria Luigia – Bottura and his wife Lara Gilmore's chic hotel offering. It is an extension of their own home, where every square inch feels like it has been overseen by their love, passion, creative eye and mischievous twinkle. Arriving at the 18th century country house, two giant coupes of gelato – by Italian ceramic artist, Giorgio di Palma – are perched on the balcony, the first suggestion that there will be plenty more surprises in store.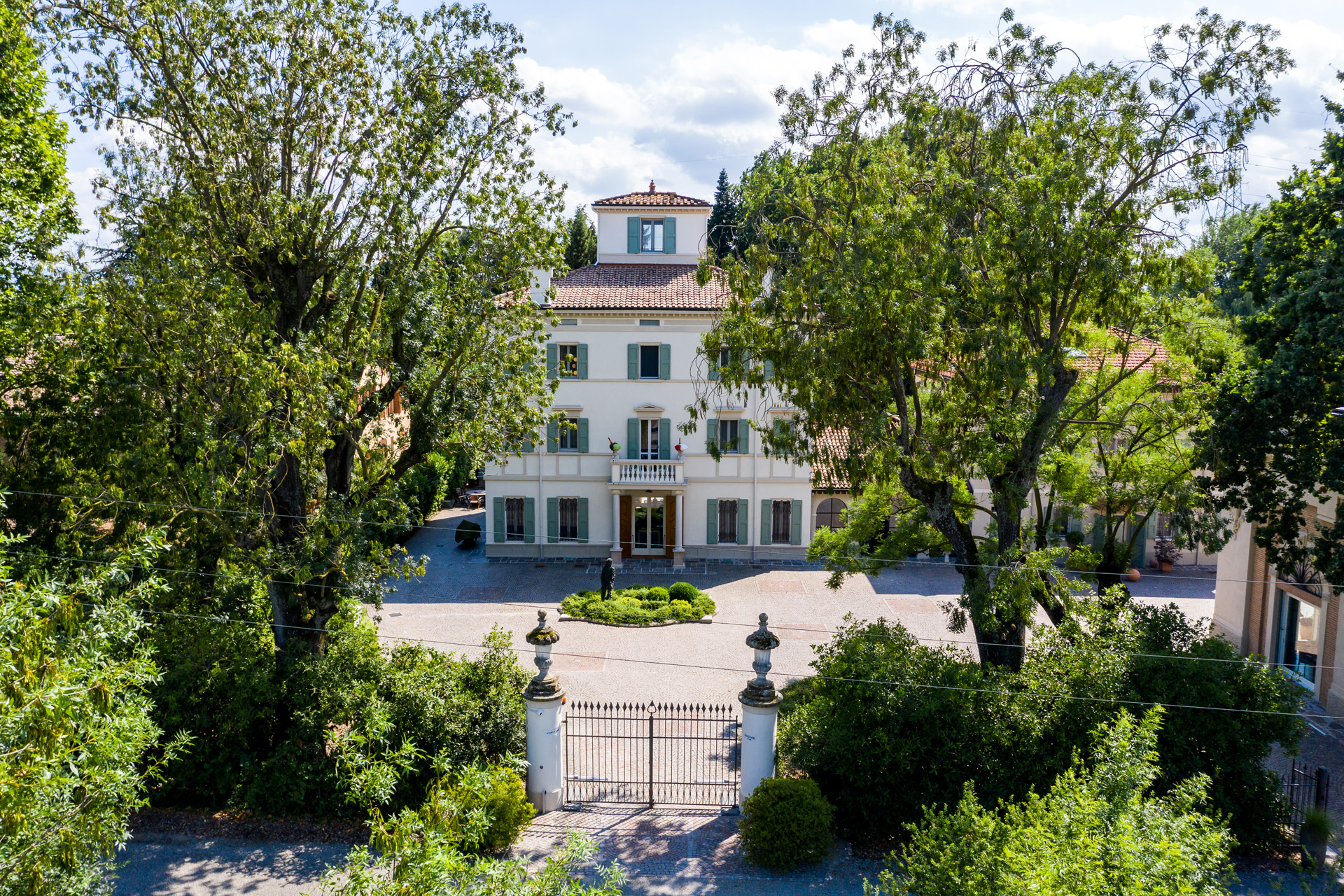 Chic New Hotels in European Cities
Throughout the house, in each of its 12 rooms and in the separate gym (aka Bottura's play pad, complete with bespoke Lamborghinis and Ducati motorbikes) is a carefully curated collection of contemporary art that name checks some of its most illustrious names: Ai WeiWei, Damien Hirst, Sam Taylor-Johnson. In the main house, the kitchen is kept well-stocked with gourmet snacks (though, trust me, feeling hungry will never be an issue here), a drinks room for a night-cap, and my personal favourite, the record room, a pistachio delight filled with thousands of Bottura's personal collection of vinyls.
While the celebrated Modena restaurant Osteria Francescana continues to serve up pioneering new tasting menus, Francescana at Casa Maria Luigia, led by brilliant head chef Jessica Roval, rolls out the classics that people flock to Bologna for: the aforementioned Five Ages of Parmigiano, Crunchy Part of the Lasagne, and Oops I dropped the lemon tart. 
It took the Italian culinary scene nearly a decade to appreciate how good Bottura was. At first, they thought he was blaspheming their national dishes. However, like Picasso – whose ability to abstract was only because he could create to form so perfectly – Bottura has reimagined classic dishes while still communing the same dedication as all the nonnas that precede him, with the quality of the products taking centre stage. This has changed the dialogue around Italian cuisine forever.
The Making of Emilia Romagna's Delicacy: Parmigiano Reggiano 
40 million Parmigiano Reggiano wheels are produced each year across 309 caseifici di Parmigiano Reggiano across the region, including Caseificio Quattro Madonne, a dairy that welcomes tours for those curious to expand their cheesemaking knowledge (a truly sensory experience that walks you through the various stages of production).
The method of cheesemaking only takes a couple of days: fresh milk from designated cows (either local red or white cows, or now more commonly Friesian, which produce double the amount of milk) is blended with enzymes to create the cheese's customary crystals; the whey is separated, with creamy, fresh ricotta cheese being an immediate by-product; kept in a salt bath for 28 days, the parmesan wheel is eventually quality checked and, once passed, will be left in a giant parmesan library for a minimum of 12 months (the oldest cheese on the shelf is currently about 80 months). Quattro Madonne currently has 33,750 wheels in house, each weighing about 38 kilograms, lined up from floor to ceiling for about 30 metres – a remarkable sight for anyone partial to a Parmigiano.
Discovering True Balsamic in Emilia Romagna 
If Parmigiano is one part of the holy Emilia Romagna trinity, traditional balsamic vinegar and the variety of Parma hams make up the triumvirate. A sad reality: the balsamic vinegar we chuck quite thoughtlessly into our supermarket baskets is very rarely the real deal. These are a commercially-viable product that is, in actuality, a blend of balsamic vinegar and vinegar. Although delicious, it pales in comparison to the true black glistening viscosity of traditional Balsamic Vinegar di Modena.
While in the UK it is traditional to lay down a case or two of nice wine or port with the birth of a child, in Modena, barrels of traditional balsamic vinegar are put down. The barrels could be easily mistaken for wine, so balsamic is kept in the attic and wine in the cellar to avoid any disappointment either way. A minimum of five barrels are laid side by side in increasing sizes. The biggest barrel is filled from 'the mother barrel' (that any balsamic producing family will protect with their life) and, every year, two litres are extracted from the smallest barrel. The delicate balance of evaporation and vinegar means it will never spoil. It is a small return for so laborious a process, but any Italian knows that a good thing is worth waiting for. The taste is in the care and the heritage of the process as much as it is the glorious transformation of the simple grape. 
To see the process and taste the vinegar at different stages, a visit to the Museum of Balsamic Vinegar is a must. Massimo Bottura stores his own daughter Alexa's balsamic barrels there. When staying at Casa Maria Luigia, make sure to also visit Modena's city centre and covered food market – it is like an art collection of local produce, perfectly ripe and delicious. 
The Pigs of Polesine Parmense, Parma
In another part of Emilia Romagna – west of Modena, outside of the city of Parma – is a little village called Polesine Parmense. The area was once covered in vast oak forests where wild pigs roamed, snuffling acorns. Although much of the forest has disappeared over the centuries, the provenance of pig farming still reigns supreme, and the butchery of the pigs takes form in many different hams, varying from the most commonly known prosciutto di Parma to local favourite culatello, which is made with the fleshy hindquarters of a pig, as the name suggests. Covered with salt and spices, the ham is hung in a cellar for at least a year to develop a delicious, sweet flavour with a hint of spice.
Antica Corte Pallavicina, a former 14th century customs house, is one of the oldest farms to make culatello. Over the last thirty years, the Spigaroli family have lovingly and painstakingly restored their former family home and business that had fallen into almost disrepair following the Second World War. Spurred by the memory of their ancestors – who successfully farmed and ran a restaurant there in the early 20th century – Antica Corte Pallavicina is now a 12-bedroom mediaeval hotel with rustic, comfortable rooms, a Michelin-starred culatello restaurant, and a more informal hosteria and AgriBottega, where they sell their own products. A fascinating Museo del Culatello has also been installed – a museum dedicated to preserving the tradition and history of the hallowed meat of the area. Walking around the grounds, expect to see otters frolicking on the banks of the tributary running behind the property, a pair of peacocks presidentially parading around, and an ancient landscape that doesn't look like it has changed all that much since the wild pigs presided here.
It provides a perfect launchpad to explore the often completely overlooked city of Parma, a vibrant city and architectural triumph deserving of its own few days to explore. The city has a colourful past, once the Papal Duchy of Parma, ruled by the Farnese family who built an exquisite palazzo and one of the original modern theatres. The city owes its cosmopolitan, French feel to its days under Bourbon and Napoleonic rule. Napoleon's wife, Marie Louise I – known locally and affectionately as Maria-Luigia – took it upon herself to make the city a thriving cultural hub, building one of the most magnificent opera houses of the time, now the Teatro Regio. 
A tightly packed city that exhibits baroque, rococo and renaissance buildings almost on every corner, Parma celebrates the decadence of its past while throwing innovation to the wind, too. Check out the much loved La Proscuitteria to try a variety of Parma's local hams. Or, stand in line at local favourite Enoteca Fontana where you will eat whatever is on the menu, and not have the choice for anything else. For outstanding innovative local cuisine, go to Borgo20 where their crunchy pizzas – made from three-day leavened dough with local flours – are laced with culatello and the risotto is drenched in perfect Parmigiano cream. 
Final Word
Two hours from the UK, Emilia Romagna – aka, 'food valley' – fulfils all foodie desires, from seasoned gourmande to simple pizza and pasta lovers. If Rome is a city for lovers, Emilia Romagna is a region for food lovers who will long to return again and again, uncovering secrets in an area of Italy not yet on the well-trodden tourist trail. Buon appetito!
BOOK
For Emilia Romagnan foodie experiences, visit Modenatur and Foodvalleytravel. To plan your trip to Emilia Romagna, visit emiliaromagnaturismo.it. To plan your trip to Bolgna, visit bolognawelcome.com. 
Flights to Bologna are two hours from London with British Airway, EasyJet and Ryanair.
Featured Image: Bologna's main square (c) Getty
MORE TRAVEL GUIDES
Puglia, Italy / Lake Como, Italy / Orne, Normandy