Food & Farming with the Jefferies: Why World Soil Day Is Important
We must nurture and respect our soil, say John and Jenny Jefferies
By John and Jenny Jefferies | 1 month ago
In our column, husband-and-wife duo John and Jenny Jefferies will give us some insight into life on their south Cambridgeshire farm. John is a farmer, while Jenny is a food writer, having penned books like For The Love Of The Land. They're both passionate about British farming, and will share their expertise with C&TH on a bi-monthly basis. This winter, they are reflecting on how important it is to look after our soil – tying in with World Soil Day on 5 December.
Food & Farming with the Jefferies: Why World Soil Day Is Important
The single greatest natural resource that exists on this beautiful planet of ours is here with us as a constant, but is overlooked so easily. It is right here under our feet. The soil that we stand on. The greater the fertility of the soil, the greater the soil biology (fungi, bacteria, worms and micro-organisms), the greater the crops we farmers can grow upon the soil. 
Plants have adapted to grow on virtually every soil on this planet. From the incredible Giant Redwoods of California to cacti in the most arid desert and amazing tiny plants that colonise ash on a side of an extinct volcano in Chile. I will always remember driving across seemingly endless featureless outback on W Australia, only to stop to stretch my legs and find a vast array of plants within the arid scrub. 
But soil is frequently overlooked by every person, including farmers. Modern agriculture tends to favour large machines and balance sheets to such an extent that the slow degradation of the soil is not noticed. The post WWII agricultural revolution has forgotten what our forefathers worked hard to preserve. Each harvest is stripping out nutrients and organic matter from the soil. It is said that some soils have as little as 50 harvests left within them before they are exhausted. 
However, more and more farmers are waking up to what is happening and are relearning what our grandfathers knew. We are introducing cover crops, livestock and organic manures into our farming systems, all designed to improve soil health and fertility. This also helps to lock up carbon dioxide within our soil, so we can have a positive effect on the climate too. 
I have long been saddened to see how little respect some have for soil. They call it dirt or mud. They allow it to be blown or eroded. Our rivers carry vast amounts of soil into the sea each year. A developer will bulldoze the top soil off a site, drive endlessly over the subsoil and then replace a thin covering of top soil in the gardens of the new homes. The owners of these homes are then puzzled why nothing grows. 
On an individual basis, the best thing you can do to your soil is to love it. Feed it home produced compost and resist the temptation to dig it too deep. Don't forget your lawn either. Feed that compost. Without soil, every food chain on this planet would collapse. We all depend upon soil.
Laura Smithson at Dyson Farming says: 'Our methods and innovative practices work in harmony with nature to enhance biodiversity, improve soil fertility and conserve the environment while growing highly nutritious food without diminishing our natural capital.' This month, we're sharing Dyson Farming's recipe from For The Love Of The Land: pea and mint croquettes.
Recipe: Pea and Mint Croquettes with a Beetroot Yoghurt Dip
'This recipe reflects the seasonal produce from Beeswax Dyson Farming. The classic and familiar potato croquette has been given a modern edge with flavours of pea and fresh mint. This dish can either be served as a starter or alongside roast lamb.'
Preparation time: 30 minutes

Cooking time: 1 hour 30 minutes

Serves: 12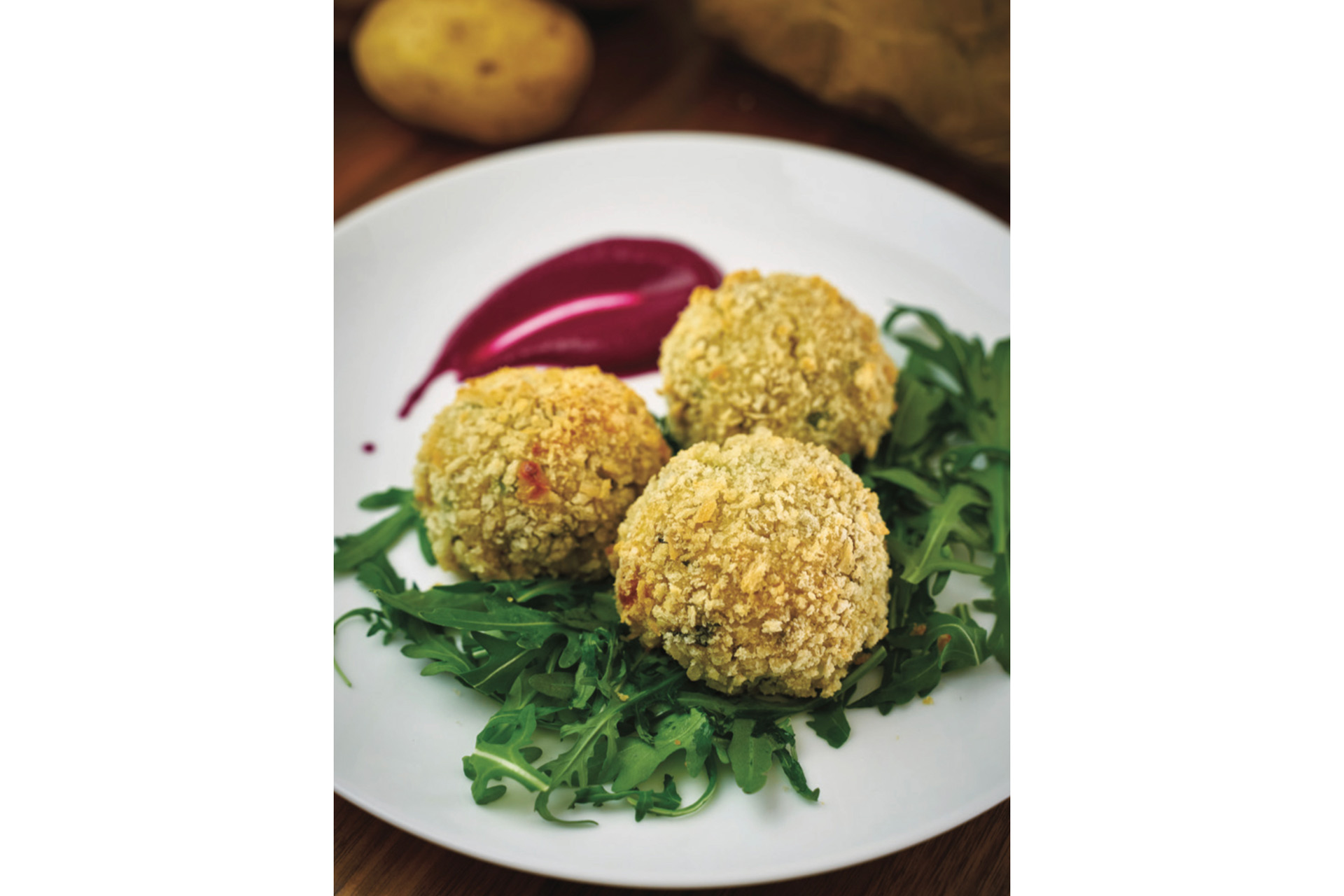 Ingredients:
For the croquettes
400g floury potatoes (such as King Edwards or Mozart)

150g peas

1 tsp butter

40g Gruyère cheese, grated

1 medium egg yolk

Small bunch of mint, finely chopped 

30g plain flour

2 medium eggs, beaten

60g panko breadcrumbs
For the dip
4 medium beetroots Rapeseed oil

1 lemon, zested and juiced 

Small bunch of mint, chopped 

6 tbsp plain yoghurt
Method:
For the croquettes
Preheat the oven to 200°c. Peel and chop the potatoes, place them in a pan of lightly salted boiling water and cook for 15 minutes, or until tender. Meanwhile, cook the peas for 5 minutes in a pan of lightly salted boiling water then drain.

Drain the potatoes and put them back into the pan over a low heat to steam off any excess water for 1 minute. Mash the potatoes with the butter then beat in the cheese and egg yolk until fully combined. Lightly crush the peas and stir these into the potatoes along with the chopped mint.

Leave the mixture to cool until it's the right temperature to handle. Divide into 12 balls. Put the flour, eggs and panko breadcrumbs into three separate bowls. Dip each croquette into the flour, knocking off any excess, then into the egg mix and finally into the panko breadcrumbs, covering each ball well. Drizzle with rapeseed oil and bake in the preheated oven for 30 minutes or until golden.
For the dip:
This can be made ahead and kept in the fridge. Wash and trim the beets, leaving the skin and roots on. Lightly oil and place them in an ovenproof dish then cover with tin foil and place in the preheated oven for 1 hour 30 minutes or until tender and easily pierced with a knife.

Once cooked, peel off and discard the skins, roughly chop the beets and place in a blender. Season with salt and pepper, add a glug of rapeseed oil, the lemon zest, half the lemon juice and all the chopped mint. Blitz until smooth. Stir in the yoghurt and check the seasoning, adding more lemon juice, salt and pepper if required. Serve the dip with the warm croquettes.
Follow @jennyljefferies for more.