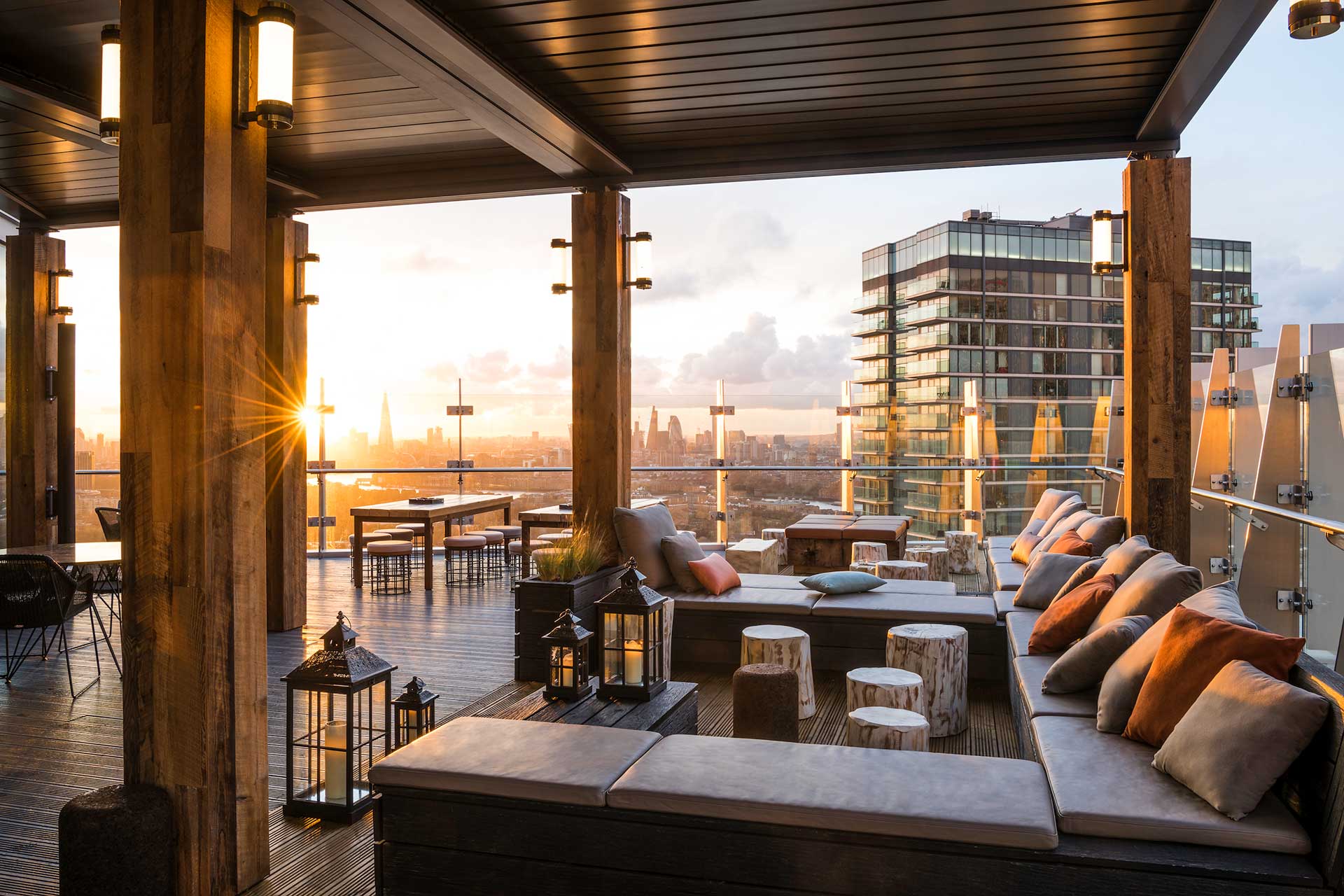 A Foodie's Guide To Canary Wharf
Where to eat in London's business district
Since the first skyscraper appeared in Canary Wharf in 1990, the area has changed dramatically. It's still a big financial hub, but there's life outside of that too: homes, schools, and an ever-growing collection of restaurants. Sky-high eateries and waterside hotspots have helped turn the neighbourhood into a destination in its own right. Looking for the best places to eat there? Here chef and restaurateur Andrew Macleod, founder of Emilia's Crafted Pasta, shares his favourite places to eat in Canary Wharf.
A Foodie's Guide To Canary Wharf
Andrew Macleod
After growing up in West London, Andrew Macleod started his career in the hospitality industry aged just 17, setting up his own poker events company while studying at university. He went on to travel Italy to learn the craft of pasta making, and upon returning to London he decided to launch Emilia's Crafted Pasta, which now has three outposts across the capital – including a flagship in Canary Wharf.
'Canary Wharf has truly become a destination in its own right, brimming with a vibrant cultural scene and some of the best food and drink destinations in London,' he says. 'Not only that, but the area is also home to an award-winning collection of free-to-visit public art, as well as a year-round events programme that never fails to impress. 
'In recent years, the main Canary Wharf Island has been extended with the addition of Wood Wharf, an exciting new riverside neighbourhood that boasts a lush green environment and an array of enticing dining options. Whether you're in the mood for classic Italian pasta, succulent steaks, or creative sushi dishes, there's truly something for everyone in Canary Wharf.'
Best Restaurants in Canary Wharf: Andrew's Pick
Goodman Steakhouse
'For those who love steak, look no further than Goodman Steakhouse. They're all about high-quality, dry-aged beef, and the restaurant's elegant décor and impressive wine list make it the perfect spot for a romantic dinner.'
3 S Quay Square, London E14 9RU, goodmanrestaurants.com
Emilia's Crafted Pasta
'Call me biased, but If you're looking for authentic Italian cuisine & freshly made pasta, Emilia's Crafted Pasta in Wood Wharf is an absolute must. Handmade pasta dishes are made with fresh, locally sourced 100 percent natural ingredients, and the pappardelle with slow-cooked ragù is a standout. Having opened just over a year ago in February 2022, Emilia's Crafted Pasta was the first restaurant to launch in Wood Wharf and we've quickly became a local favourite. Our riverside location is a real asset, be sure to keep an eye out for our summer terrace launching soon.'
12 George St, Wood Wharf, London E14 9QG, emiliaspasta.com
Dishoom
'Whenever I'm in the mood for some Indian food, I always head to Dishoom in Wood Wharf. The restaurant's retro décor and delicious Indian dishes, like the bacon naan roll, black daal, and lamb biryani, always hit the spot.'
13 Water St, London E14 5GX, dishoom.com
Sticks & Sushi
'If you're craving sushi, Sticks & Sushi is the spot. The restaurant's modern décor and impressive cocktail menu create the perfect atmosphere for a relaxed lunch or dinner. And their sushi and other Japanese dishes, like yakitori skewers and gyoza dumplings, are always fresh and flavourful.'
1 Crossrail Pl, London E14 5AR, sticksnsushi.com
Rice Guys
'Rice Guys is one of my favourite traders at the Canary Wharf food market, it's staple Chinese food and they use fresh and natural ingredients so you don't get the comedown afterwards. I've tried a lot of their whole menu but always go back to the Hainanese roast chicken – simply delicious.'
Reuters Plaza, 1 Canada Square, London E14 5AJ, riceguys.co.uk
Dumpling Shack X Fen Noodles
'I love wandering down by the harbour and always find myself popping into Dumpling Shack X Fen Noodles. It sits in The Collective – an airy, hotel-style complex, and home to some of the best dumplings in the business. Dumpling Shack is famed for its pork pan fried soup dumplings, and I can see why. It's always a struggle not to eat them straight away as they're piping hot. You've been warned!'
20 Crossharbour Plaza, London E14 9YF, thecollective.com
Big Easy
'Finally, for a fun and lively night out with friends, Big Easy is my go-to. It's perfect for casual dining and drinks, and their classic American barbecue dishes, like ribs, brisket, and pulled pork, are always delicious. Plus, the live music and extensive drinks menu create the perfect atmosphere for a night of fun and relaxation.'
Crossrail Pl, London E14 5AR, bigeasy.co.uk
The C&TH Pick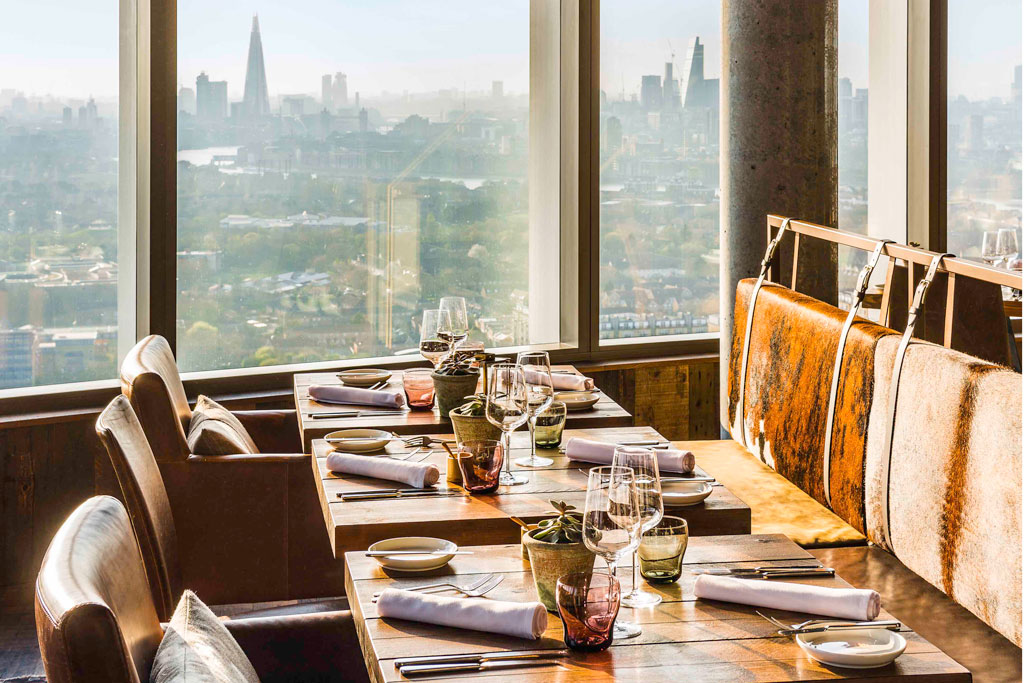 Bokan
This glitzy spot found on the 37th floor of The Novotel hotel offers spectacular views of the city through floor-to-ceiling windows. The AA Rosette restaurant is inspired by European cuisine, with current dishes on offer including pumpkin tortellini with ricotta and truffle, Irish beef fillet, and sea bass with spring greens. There's also a lovely rooftop terrace serving great cocktails.
40 Marsh Wall, London E14 9TP; bokanlondon.co.uk
The Lowback
The latest outpost from Hawksmoor is housed on a boat, floating on the Canary Wharf riviera. As expected, steak is the star of the show, but the restaurant also does a good Sunday roast, alongside sharing plates like ash-baked beetroot and Brixham scallops.
1 Water St, London E14 5GX, thehawksmoor.com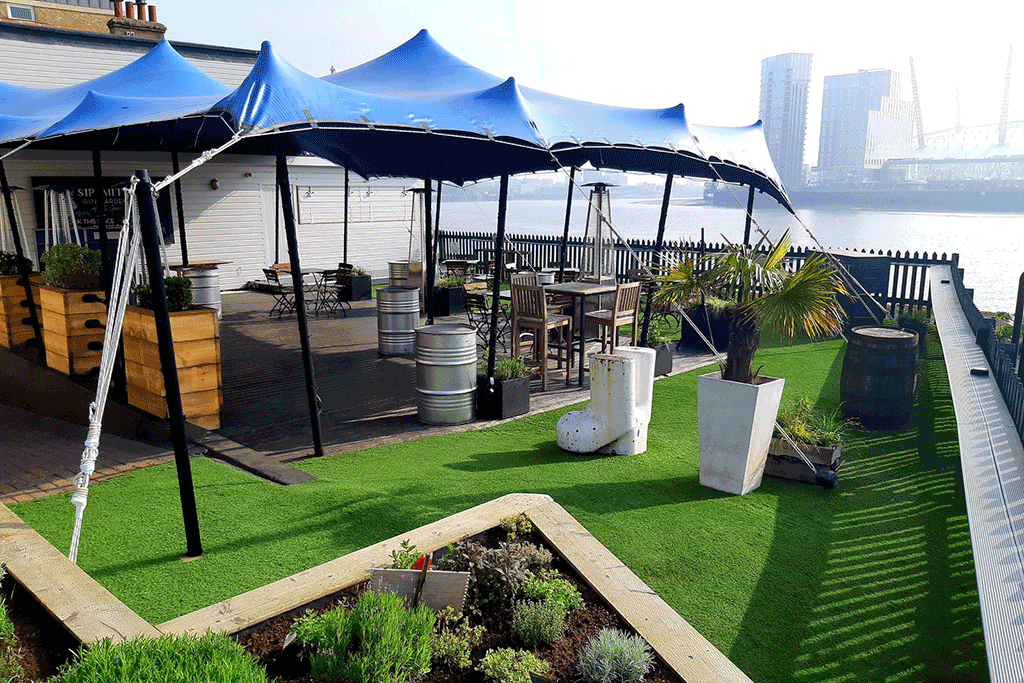 The Gun
Off-the-beaten-track gastropub The Gun is a bit of a walk from Canary Wharf, but it's well worth going slightly out of your way for. Perched right on the Thames, the stylish pub boasts lovely views of the 02 and Greenwich – particularly from its waterside terrace, which fills up quickly during the summer months. Despite undergoing a lengthy refurbishment recently, The Gun maintains its history and heritage, with long-cherished features such as open fires and wooden panelling. Most importantly, the food is great: succulent meats are paired with whole grain mustard cabbage, garlic roast carrots, buttered kale, roast potatoes and roasted cauliflower gratin.
Docklands, 27 Coldharbour, London E14 9NS, thegundocklands.com