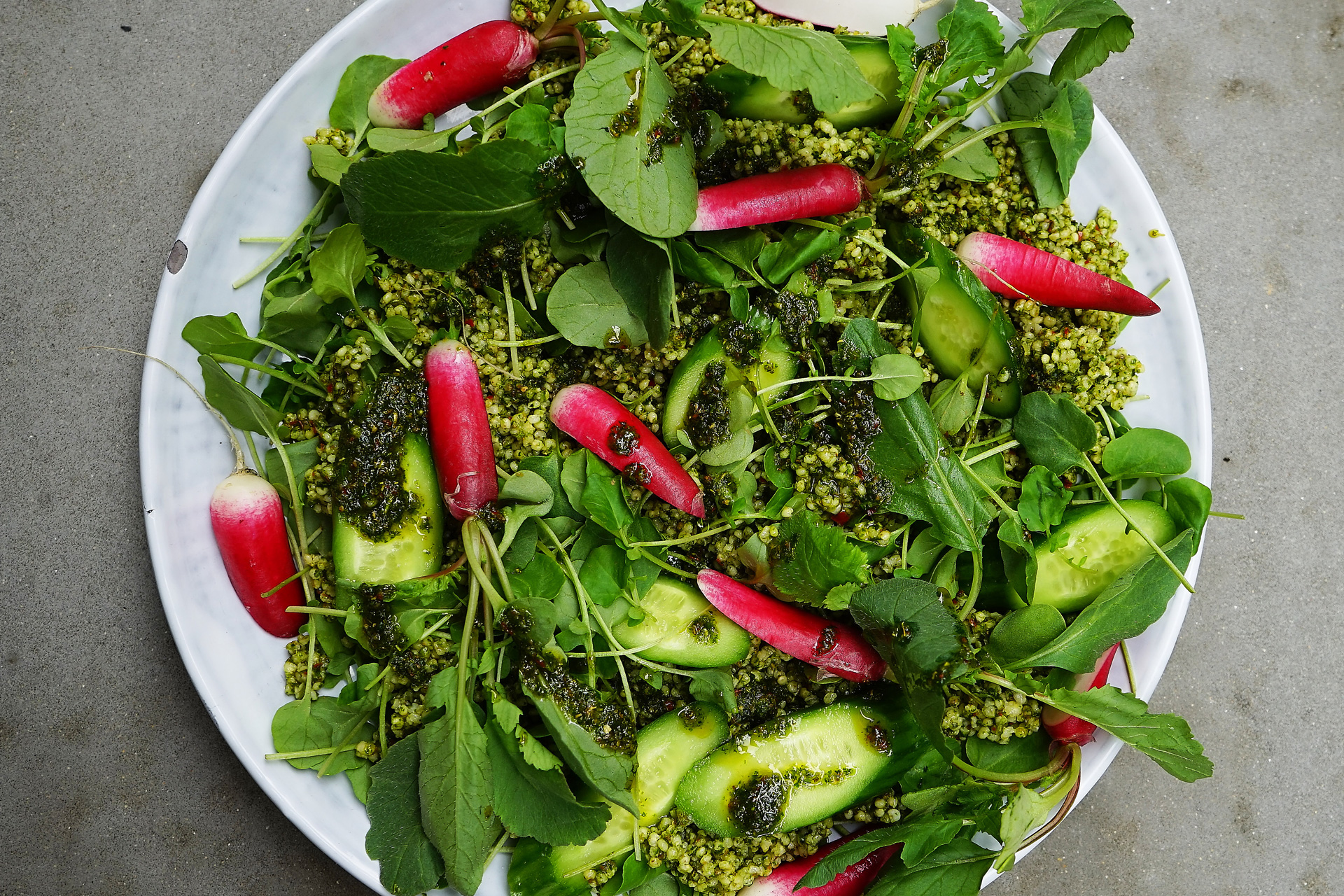 Vegetable of the Week: Lambs Lettuce
---
'Distinctive in taste as it is in design'
Each week plant-based cook Bettina Campolucci Bordi, founder of Bettina's Kitchen, gives us the lowdown on a particular seasonal vegetable or ingredient, offering cooking tips and a recipe. This week it's lamb's lettuce.
Similar to that of baby spinach or Cos lettuce, lamb's lettuce is one those few we know the name of – that plenty would have tried, and that the rest should. Distinctive in taste as it is in design, its spoon-shaped, gangly dark leaves have a rich tangy flavour quite unlike any of its other green cousins. It's characteristically nutty but with an ironically soft texture that is normally served alongside a mixture of other leaves in a classic salad greens bag that you pick up at your local supermarket.
But head out a little further afield next time and visit your local farmer's market and get this by the bunch. Not only is lamb's lettuce rich in beta-carotene: a great antioxidant that helps convert Vitamin A in the body, but it also promotes good skin health, growth and a healthy immune system. It's also super versatile – eaten raw in salad but also steamed as a vegetable with a slightly tangy taste on the tongue, like a mixture between cress and rocket.
Named after its close relation to looking exactly like that of a lamb's tongue with its smooth, green leaves that grow in small clusters, the beautiful delicate rosettes can be placed and served whole or can be chopped and shredded. Furthermore, utilise its nutty background to create a deliciously vibrant and fragrant pesto to stir through pasta. Soft cheese such as Goat's or camembert also pair great, as does its predecessor behind its name – lamb. Not one to eat meat? Mushrooms – especially the larger, dense variety such as a field mushroom will be the perfect accompaniment. Simply toss the lamb's lettuce in a side salad with tomato and a nut of choice – walnut, hazel or chestnuts work well to adorn on top or quickly wilt in the leftover fat from your protein choice – just enough time to soak up the juices and sauté to perfection.
Recipe: Watercress, Lambs Lettuce, Cucumber Salad & Zhoug Millet
A great way of eating lamb lettuce is in a salad. This is one of my favourite summer salads using millet which is local to the UK and is a tasty underused seed full of nutrients and flavour.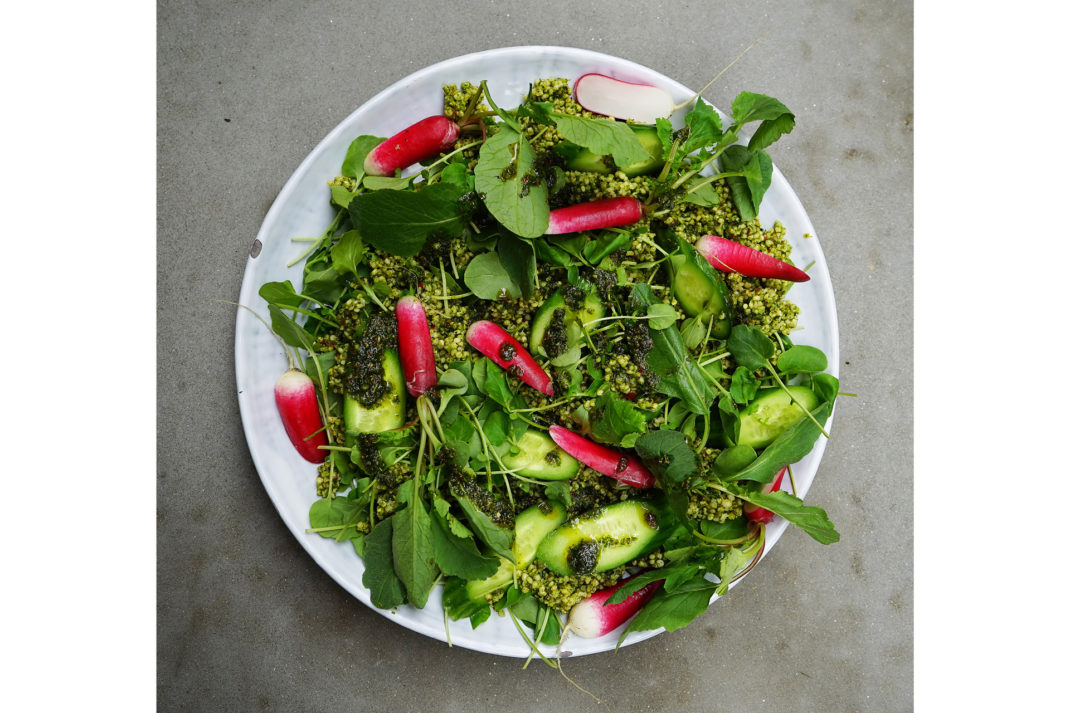 Ingredients:
For the zhoug:
2 tbsp fresh coriander/cilantro 2 tbsp fresh parsley
1 clove garlic
1 chili pepper1 tbsp cumin seeds
1 tbsp coriander seeds (or ground coriander) 1⁄2 tsp salt
120ml olive oil
For the salad:
120g millet (dry weight), precooked as per packet instructions 80g watercress
20 grams of lambs lettuce
1 cucumber, sliced

1 bunch of radishes, sliced in half
Method:
To make the zhoug, add all ingredients into a blender and blitz until smooth. Stir 3-4 tbsp of the zhoug through the pre-cooked millet, to coat.
In a nice salad bowl or platter, layer the watercress, lamb's lettuce zhoug coated millet and cucumber, top with the radishes, then generously drizzle some more zhoug over the top before serving.
Top Lambs Lettuce Leaf Tips:
Treat as any delicate leaf and trim and wash before use. The best way to do so and to hold their integrity is to soak in a bowl of cold water for a few minutes before taking out and dabbing dry – don't be tempted to squeeze or shake the water out as this can damage the leaves. And leave them immersed in the water long enough for all the grit to fall to the bottom.
Sticking to their delicacy, the leaves themselves wilt quickly so don't over purchase and aim to eat within a few days. Keep dry and wrapped loosely in a cheesecloth and store in a crisper drawer. Lamb's Lettuce doesn't freeze naturally well on its own – so if you do have a yield, blitz into sauces or pesto's and freeze those in ice-cube trays for Lamb's Lettuce freshness throughout the year.
MORE INGREDIENT OF THE WEEK: