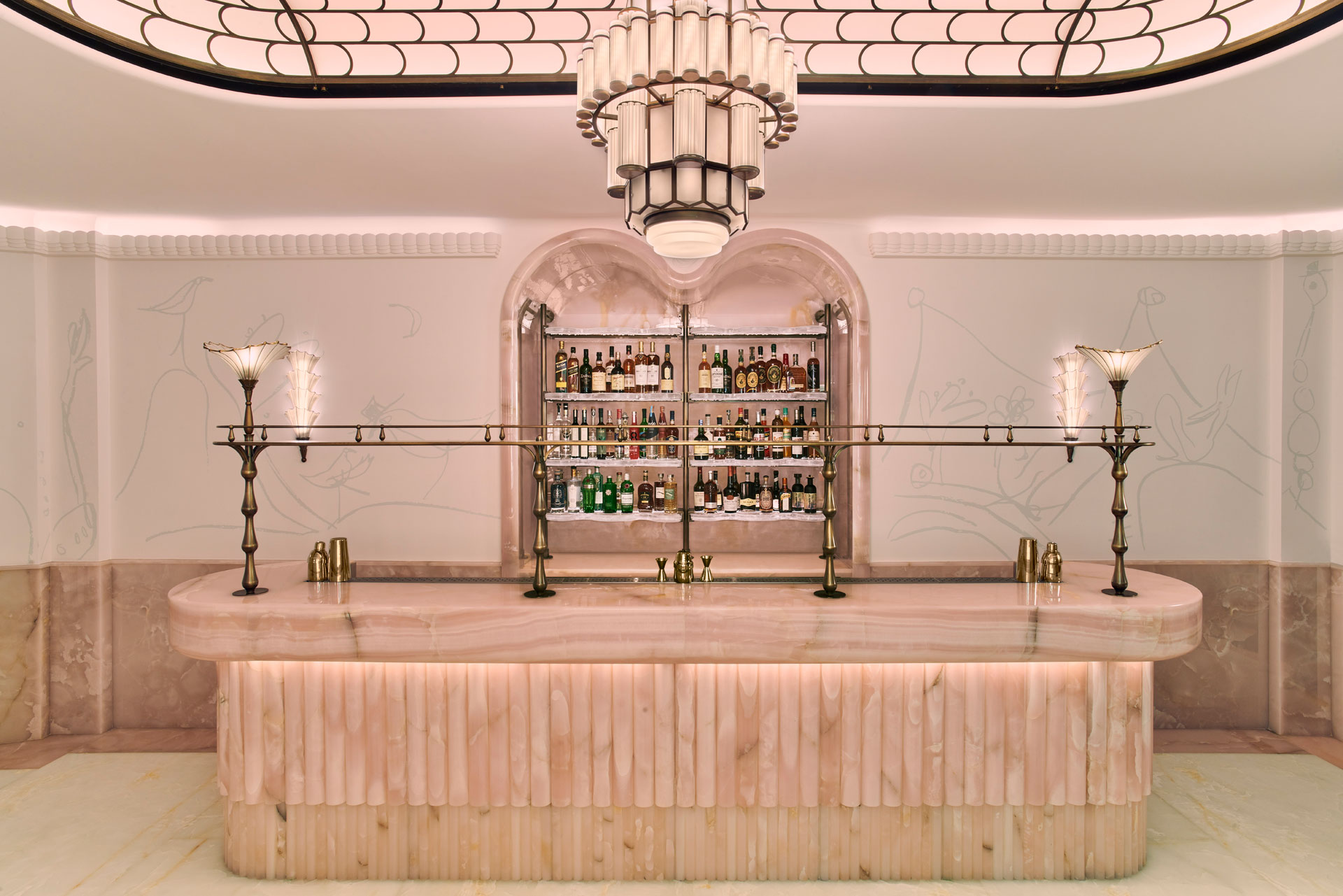 Chic Hotel Bars You Need To Visit in London
---
The bars that will make you want to stay the night
London's hotel scene is one of the best in the world. Long-standing institutions sit alongside buzzy new boutiques, drawing in visitors from all over the globe. It's no surprise, then, that you'll find some of the city's best bars inside hotels. Done well, hotel bars are classy, characterful places where expert bartenders mix up creative drinks, many boasting noteworthy interiors and star-studded histories. These are some of our favourites.
Best Hotel Bars in London
Dandy Bar at The Mayfair Townhouse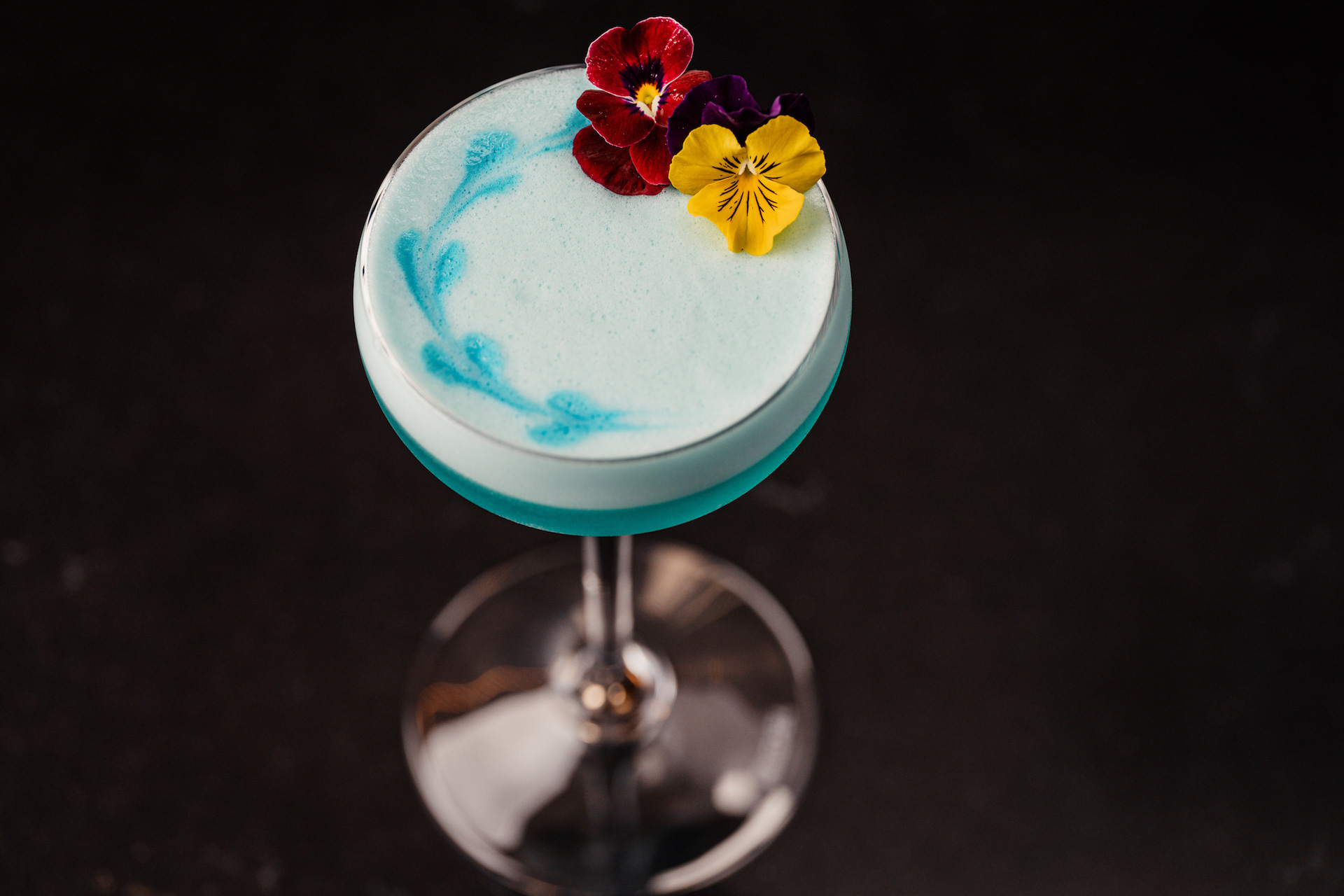 At the heart of The Mayfair Townhouse, the fifth property from Iconic Luxury Hotels, sits the Dandy Bar: a cosy spot serving up twists on classic cocktails. A secluded oasis away from the hustle and bustle of Mayfair, it's a sophisticated bar with flamboyant interiors: think Oscar Wilde meets Alice In Wonderland, with printed velvet seating, silk pleated lampshades and low lighting. Cocktail highlights include the Rum Away With Me, mixed with Havana 7, Grand Marnier, fresh lime juice, orange bitters and cinnamon, alongside The Kingpin, a blend of Remy Martin 1738, Frangelico and smoke-infused maple syrup. Alongside this, guests can tuck into small plates like yakitori chicken skewers and mushroom arancini, alongside burgers and salads.
27-41 Half Moon St, London W1J 7BG; themayfairtownhouse.com
Artists' Bar at The Dorchester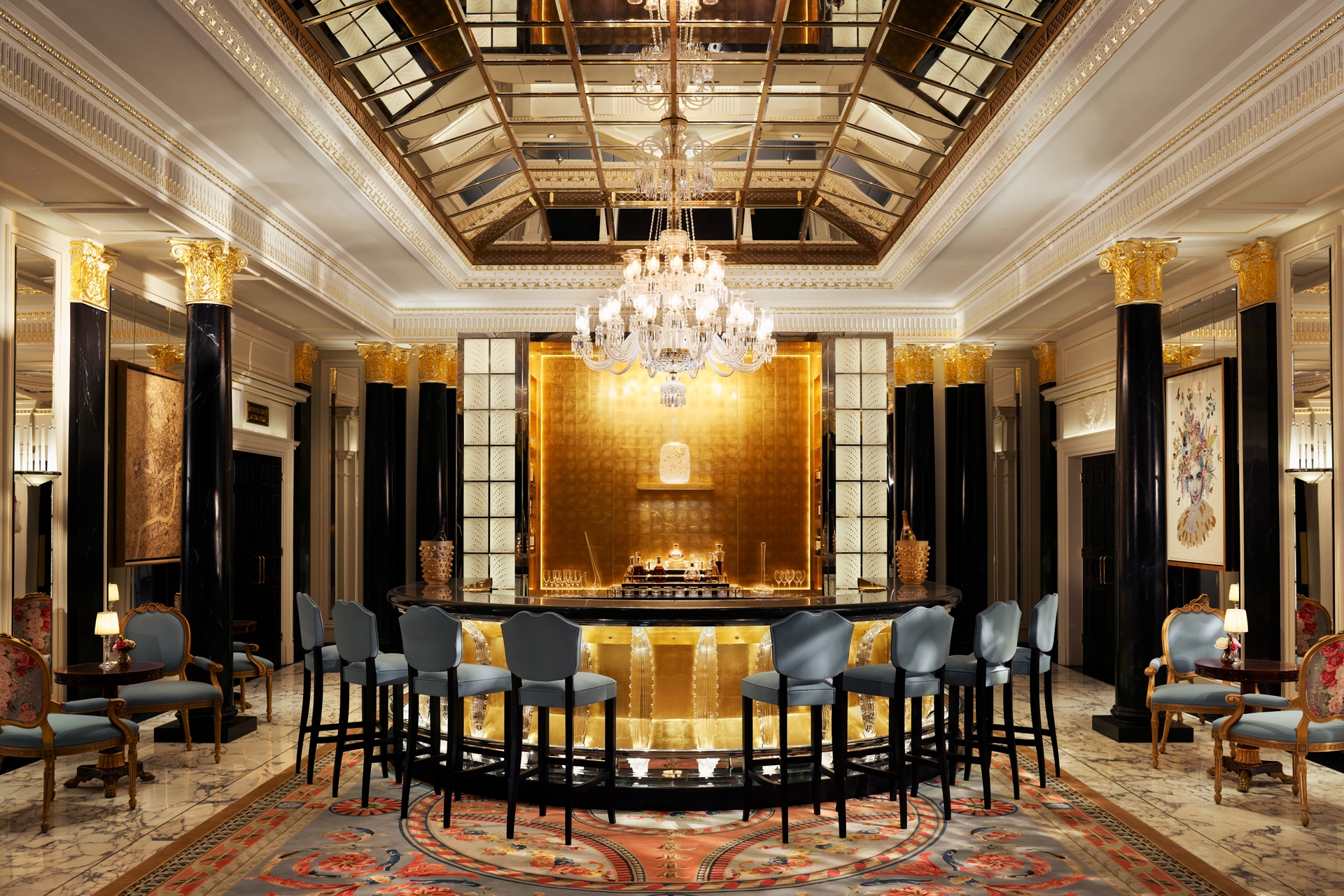 A new bar has opened at The Dorchester – part of a big transformation project at the iconic hotel. Designed as a space to enjoy champagne, seafood and entertainment, Artists' Bar features glamorous interiors, complete with Lalique crystal designs and Liberace's legendary mirrored piano. Original artworks by artists working in Britain will line the walls, celebrating the city of London and reflecting The Dorchester's history, with nods to famous figures associated with the hotel. Cocktails will be a tribute to these works, served tableside on bespoke trolleys.
53 Park Ln, London W1K 1QA; dorchestercollection.com
Waeska Bar at The Mandrake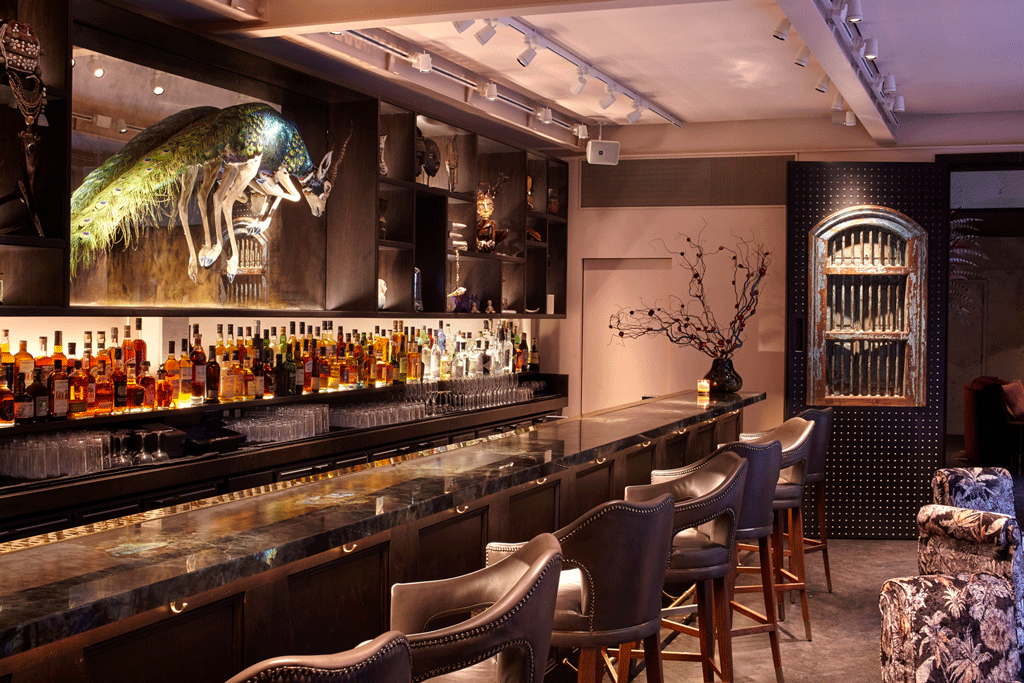 It's all about surrealism at Waeska Bar, found within the endlessly cool Mandrake Hotel in Fitzrovia. Since opening in 2017 it has become the go-to destination for London's fashion elite, and it's easy to see why. Named after a medicinal plant – as are all areas of the hotel – Waeska Bar is a beautifully bizarre mish-mash of patterns, colours and textures. Leather bar stools sit beside tropical-print armchairs and mirror-topped tables, while a flower-bedecked courtyard houses bamboo tables. The most striking aspect of all is the fantastical creature which leaps above the bar: a half-kangaroo, half-gazelle with scales made from harvested beetle wings, designed by renowned artist Enrique Gomez de Molina. Drinks are equally exotic, with a cocktail menu rooted in ethnobotany: the study of a region's plants and their practical uses through traditional knowledge of local cultures. The 'Mangosteen', for instance, is a blend of Patron Silver Tequila-infused mangosteen and hibiscus, chipotle agave, grapefruit soda and chilli.
20-21 Newman St, Fitzrovia, London W1T 1PG; themandrake.com
Dukes Bar at The Dukes Hotel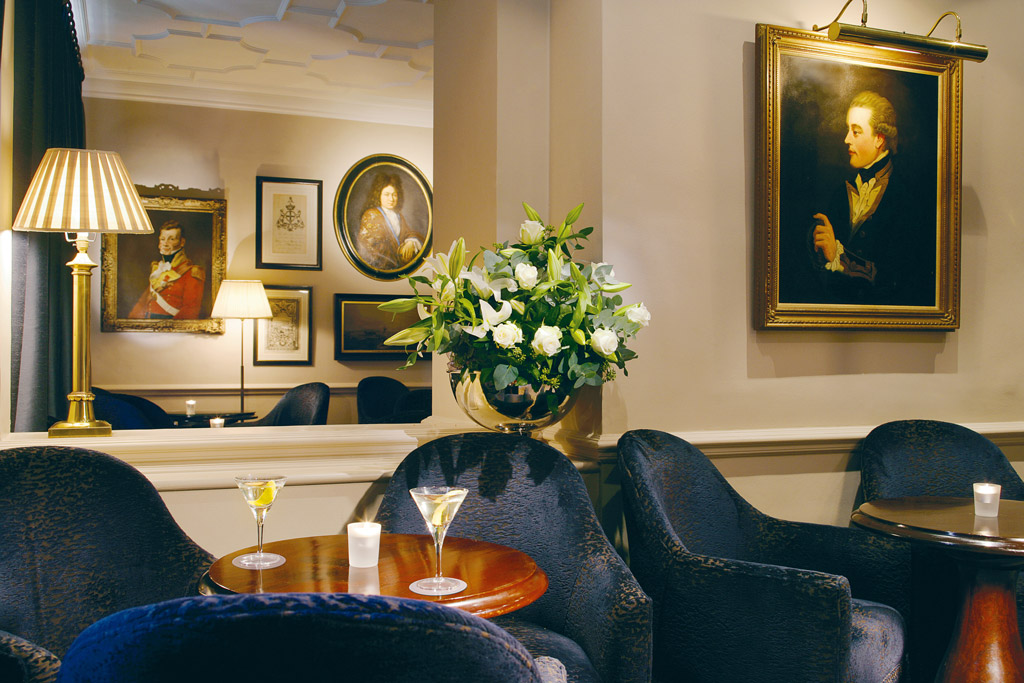 Infinitely elegant and hidden away in St James', the bar at The Dukes Hotel is renowned for serving the best martinis in town – even the world, some would argue. Such an accolade is merited by Alessandro Palazzi, the Dukes Bar manager who uses a combination of the best ingredients from around the world to perfect his cocktails, even importing Amalfi lemons from his native Italy to add an irresistible spritz of bitter zest to the renowned Vesper Martini. As Sir Ian Fleming's favourite watering hole, and where he apparently coined the phrase 'shaken, not stirred', there is still a big dose of old-school James Bond glamour about the place – from the antique silver drinks trolley where each cocktail is prepared, to the cognac and cigar garden where guests can retire afterwards.
35 St. James's Place, London SW1A 1NY; dukeshotel.com
GONG Bar at The Shard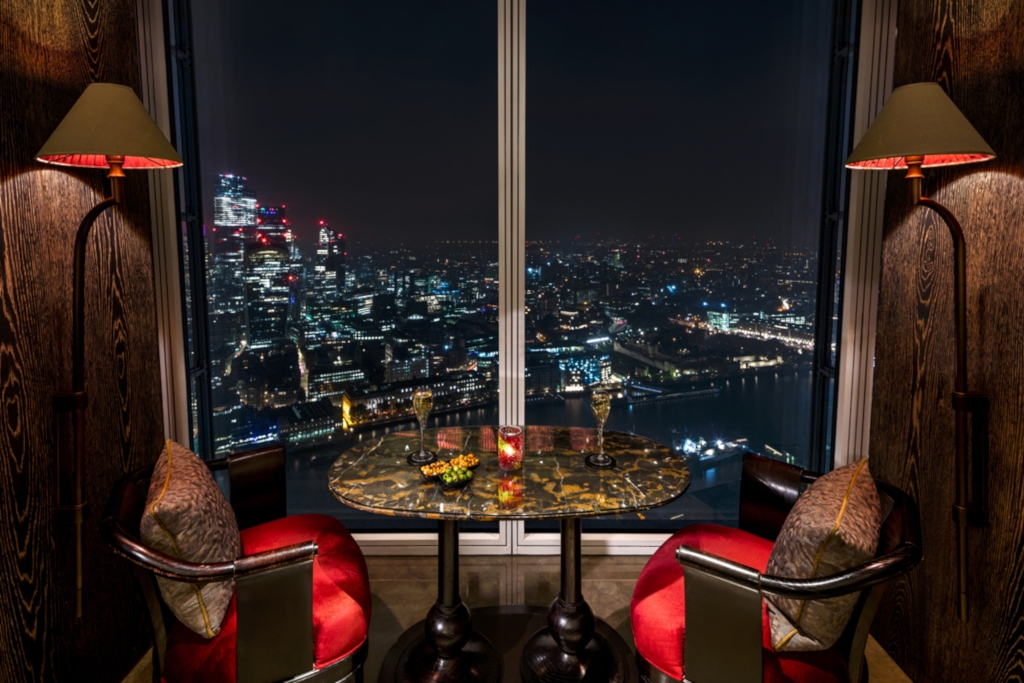 Cocktails taste better with a view – particularly when the vantage point is from the top of London's highest hotel bar. Perched on the 52nd floor of London's Shangri-La Hotel, At The Shard, the ever-glamorous GŎNG offers unparalleled panoramas of the city skyline from all angles. The name derives from 'dougong', a traditional Chinese architectural element of interlocking wooden brackets, with Asian-inspired décor seen throughout. The Voyager Zheng Cocktail Menu features 15 drinks highlighting eight countries linked to Shangri-La, with the name inspired by an ancient Chinese treasure ship in the fleet of Admiral Zheng. 
31 St Thomas St, London SE1 9QU; the-shard.com
Scarfes Bar at Rosewood London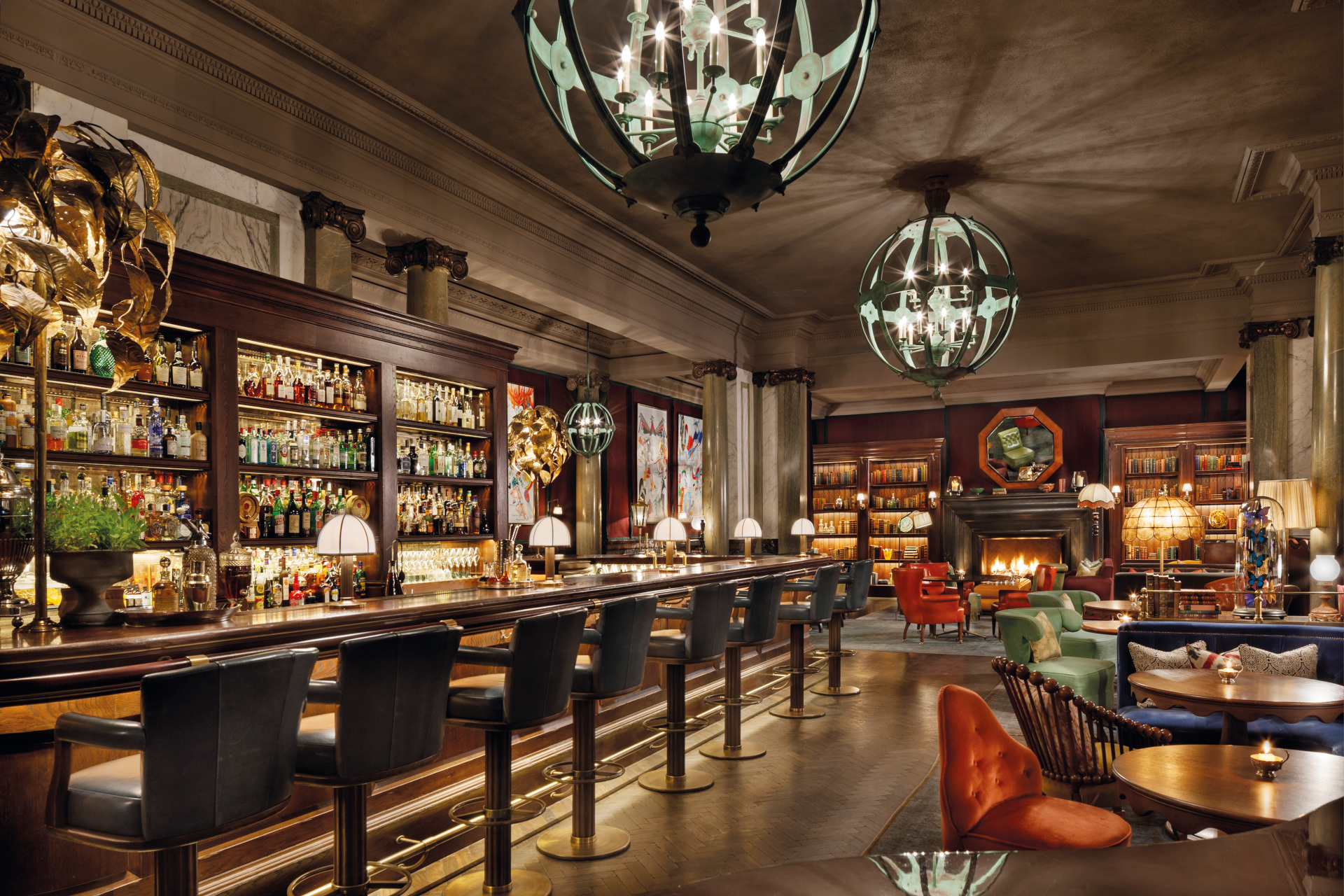 Rosewood London's bar is named after one of Britain's great cartoon satirists, Gerald Scarfe, and his influence can be felt throughout – from his framed cartoons which cover the walls, to the new cocktail menu which he personally illustrated. Cocktails range from the classic to the creative, sometimes verging on wacky, but always maintaining the element of sophistication which so defines the venue. It's the kind of place where you can while away a worrying amount of time as you sink into the leather armchairs – and it's also C&TH's favourite spot for cosying up to interviewees.
Rosewood London, 252 High Holborn, London WC1V 7EN; scarfesbar.com
Silverleaf at Pan Pacific London
Sleek City hotel Pan Pacific London recently expanded its bar offering with the launch of Silverleaf. It's the brainchild of three of London's top bartenders: Martyn 'Simo' Simpson, owner of Milroy's in Soho, his former director of bars Chris Tanner, and Callooh Callay alumni Liam Broom. In-keeping with the wellbeing theme of Pan Pacific, the new bar is inspired by 'naturalism and the elements', with interiors courtesy of British designer Tom Dixon – think charred timber and bespoke tables carved from solid marble blocks. Drinks follow the same theme, with each cocktail championing two or three core ingredients – some created in-house – and presented in a minimalistic style with pops of colour and edible garnishes. 
3rd Floor, Devonshire House, 3 Bishopsgate, London EC2M 4JX; panpacific.com
Laurel's On The Roof at Mondrian Shoreditch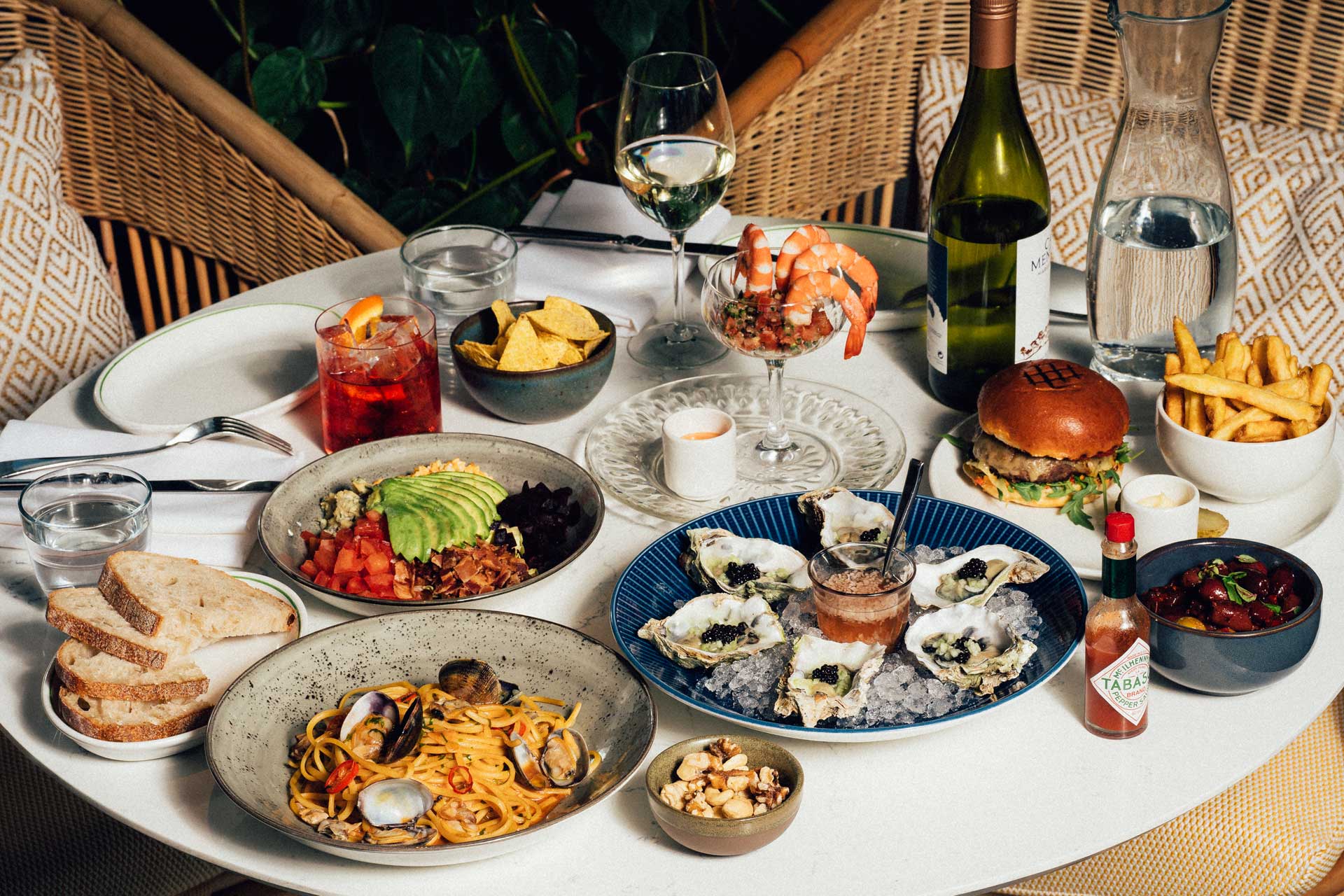 The rooftop restaurant, bar and pool at the recently opened Mondrian Shoreditch brings LA vibes to the capital. Inspired by the mountainous neighbourhood of Laurel Canyon and 1970s pool parties in the Hollywood Hills, the décor is chic and bright, with relaxed lounge seating, low-hanging rattan chandeliers and a neon 'Laurel's' sign. If the sun is out, secure yourself a spot on the pool-side terrace and settle in for the long haul. Bag the biggest table on offer; your friends will want to join. Laurel's becomes adults-only at midday every day, with live DJs set to bring the place to life every Thursday, Friday and Saturday nights, offering laid-back beats to accompany sunny afternoons sliding into long evenings sipping cocktails, rosé or Camden pale ale. The cocktails in question are chic, playful twists on classic mixes, perfect for a retro pool party. The Rose and Cardamom 75 is a light summer blush to whet your appetite, or if you're going all out on your city escapism, why not try the Colado Neuva, a fruity update on the classic coconut rum concoction. Cooling off with a frozen spicy margarita is a great alternative to jumping in the pool, if you've forgotten your swimmers. 
Mondrian Shoreditch, 45 Curtain Road, London, EC2A 3PT; sbe.com
The Coral Room at The Bloomsbury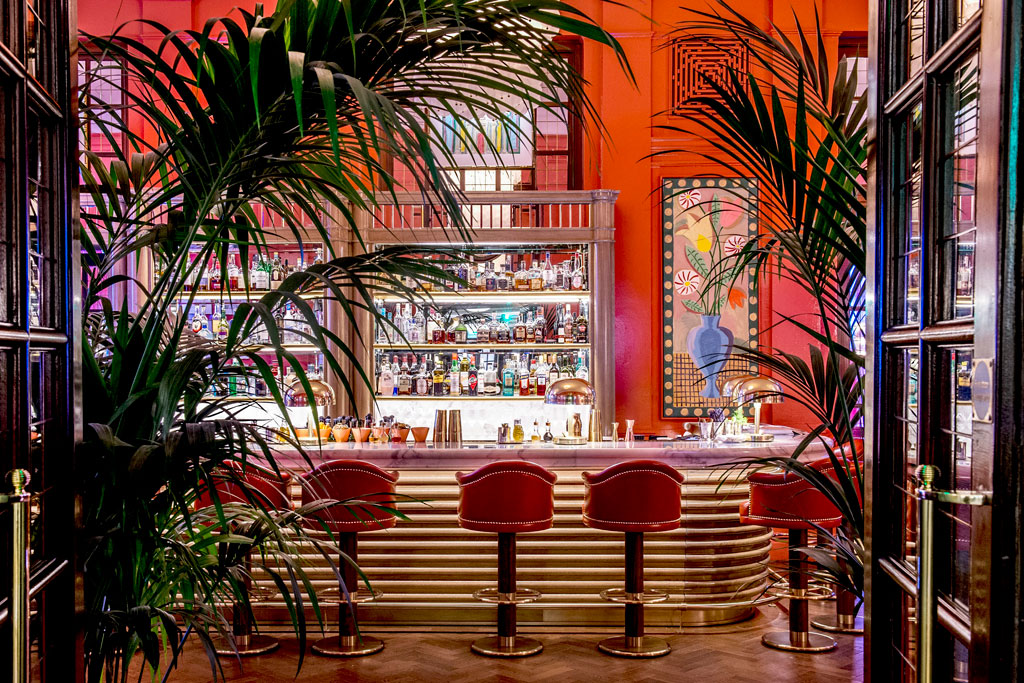 Perched on the outskirts of Soho sits one of the area's most stylish bars: The Coral Room, part of The Bloomsbury hotel. Designed in collaboration with maverick Martin Brudnizki, the Jazz Age-inspired hangout has coral-coloured walls, bespoke Murano glass chandeliers and a striking marble bar. Expect slick service and a stellar drinks menu of classic cocktails done well, plus a great selection of English sparkling wines.
16-22 Great Russell St, London WC1B 3NN; thecoralroom.co.uk
The American Bar at The Savoy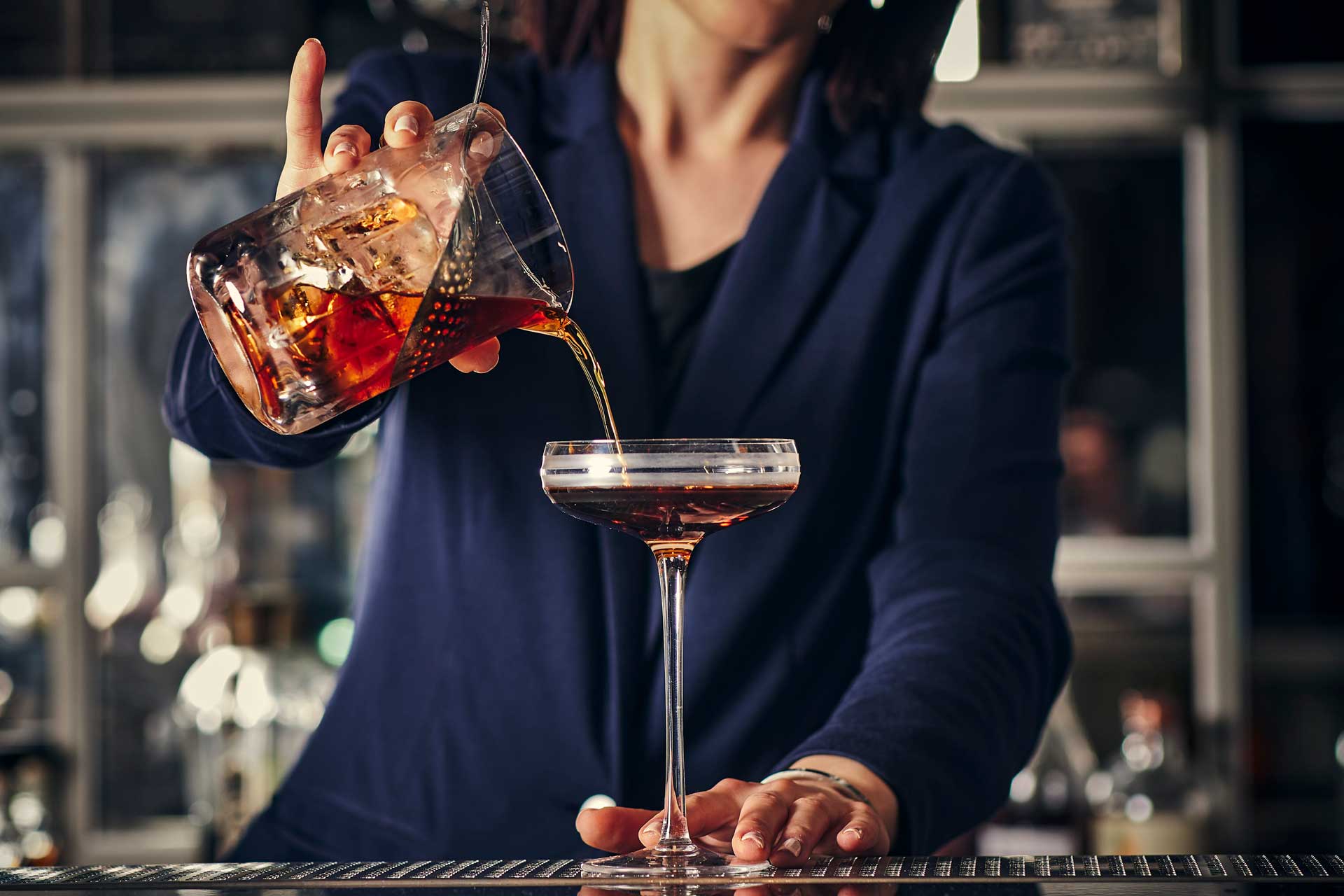 Once bagging the title of 'Best Bar in the World', the Savoy's American Bar has long been a go-to for London's most refined drinkers. The 1930s-inspired bar combines flawless service with an energetic atmosphere and whispers of a bygone era. Take a perch at the bar to watch some of the world's top bartenders expertly craft cocktails from the superlative menu unless, of course, you prefer something rather more bespoke, in which case they are always delighted to create something that perfectly matches your tastes. The bar recently reopened to the public for the first time in a while, with a brand new Re:Invented cocktail menu created by the American Bar's talented team, under the direction of Anna Sebastian. 
The Savoy, Strand, London WC2R 0EU; fairmont.com
The Magritte Bar & Terrace at The Beaumont
The Beaumont underwent a revamp recently, which involved a redesign of its popular bar, Le Magritte. Nestled in a corner close to the hotel's entrance, the bar oozes old-world glamour, drawing inspiration from the traditional American bars of 1920s London and Paris. With its deep velvet armchairs, walnut wood panelling and checkerboard flooring, the bar has the feel of a speakeasy, with an impressive collection of paintings and photographic prints. It specialises in bourbons, with Cuban cigars on offer alongside suitably lavish bar snacks of oysters and caviar. The redesign also saw the launch of a lovely little terrace, which overlooks Brown Hart Gardens. 
8 Balderton St, Brown Hart Gardens, London W1K 6TF; thebeaumont.com
The Painters Room at Claridge's
While tradition is a pivotal part of Claridge's 200-year history, the hotel stays current by constantly evolving – for instance, launching Instagram-worthy new bars like The Painter's Room. In keeping with the Mayfair establishment's signature Art Deco style, the sumptuous space – created by interior designer Bryan O'Sullivan – is influenced by 1930s photos from the hotel archives, bedecked with pale pink onyx and featuring an eye-catching skylight in peach-and-cream-coloured glass. Whilst the stylish space is clearly a feast for the eyes, The Painter's Room also has a lot to offer the tastebuds, with significant emphasis placed on cocktails 'inspired by the culture, art and design of Europe'. The menu is divided into four chapters; Light, Interpretations, Complex and Clean, where ingredients are 'at the core'. As well as innovative cocktails, a selection of small plates also feature on the menu (including crispy scampi and beetroot tartar), presented by waiters wearing traditional painters' jackets in a shade of blue inspired by American photographer Bill Cunningham.
Brook Street, London W1K 4HR; claridges.co.uk
The Connaught Bar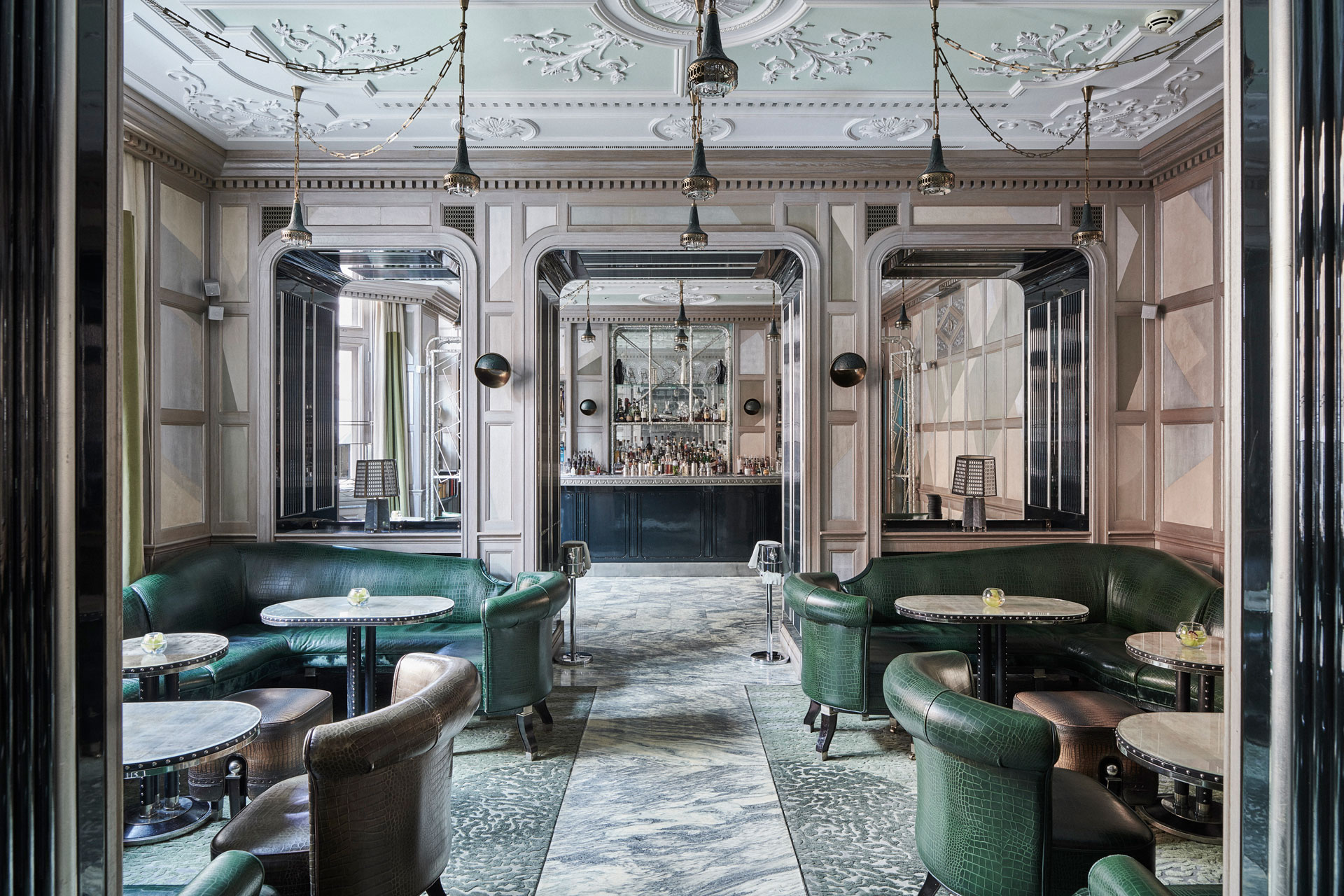 Of course we had to include The Connaught Bar, which recently secured a place in the esteemed World's 50 Best Bars list. Found within Mayfair hotel The Connaught, the glamorous spot is renowned for its faultless service and ceremoniously served martinis (quietly stirred, never shaken), prepared from a travelling trolley. If that's not your bag, though, the new Impressions menu features interesting cocktails like the 'Avant-Garde', a tribute to the experimental spirit of the bar mixed with Konik's Tail, raspberry vinegar, barberries and mulberries. The surroundings are equally chic, with textured walls in platinum silver leaf, a cool grey bar and David Collins-designed cubist decor. No surprise it has hosted an endless stream of A-listers and royals since its inception in 2008.
Connaught, Carlos Pl, London W1K 2AL; the-connaught.co.uk