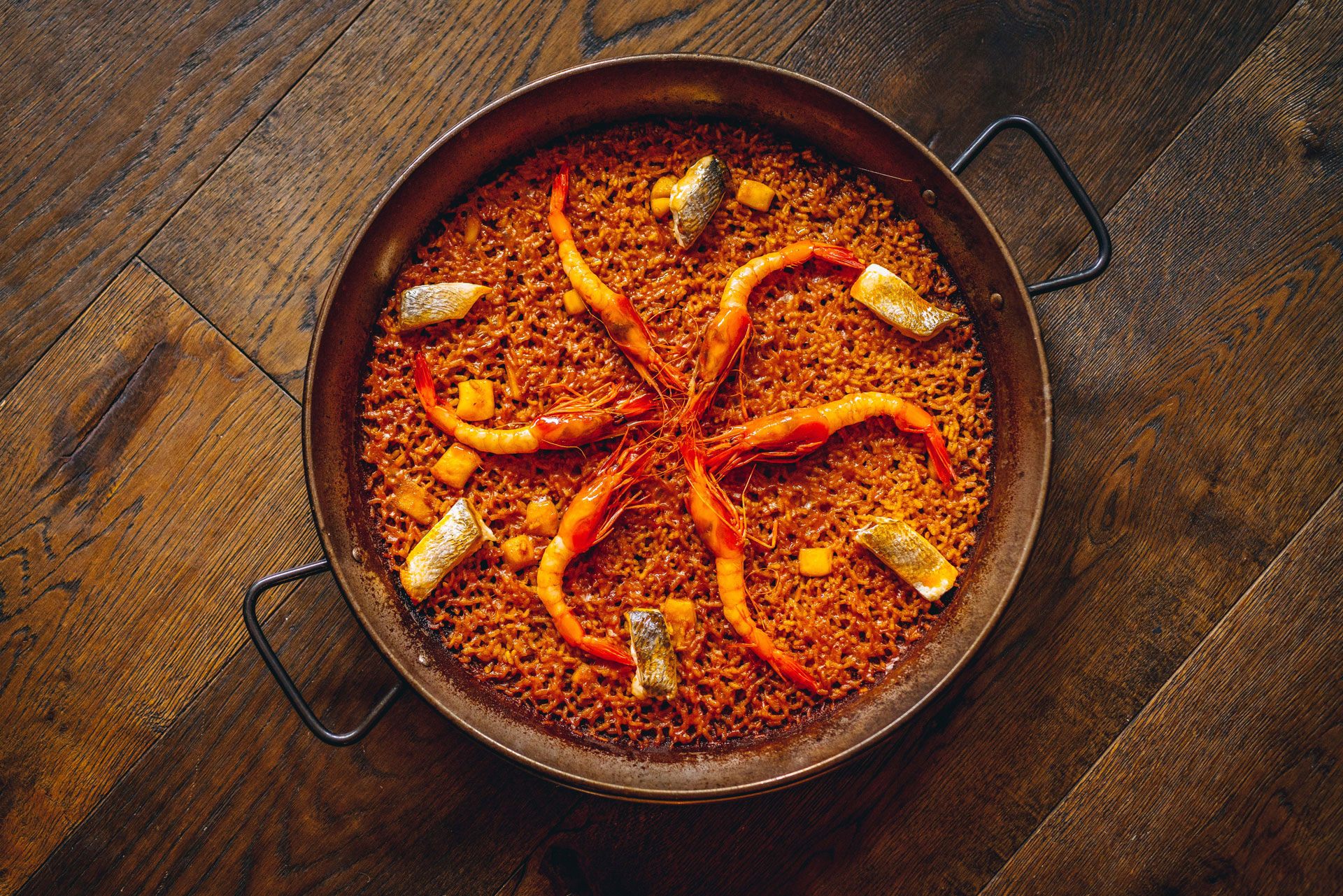 How To Make Paella At Home
---
Experts share the best way to cook the traditional Valencian dish
Do you need any fancy equipment? What's the deal with stock? Oven or hob? Paella can be a tricky recipe to nail, but the experts at Valencian restaurant Arros QD have got it down to a tee. Here are some top tips and recipes from founder, three Michelin-starred Quique Dacosta, alongside his head chef Richard De La Crux.
Making Paella: Top Tips
Do not overcook the vegetables. I normally add the vegetables half way through cooking so once the paella is done, the vegetables are perfectly cooked with a little crunch.
Make a lighter paella by cutting down on excess oil. Using sofrito and stock ensures you can digest the meal better without ending up with a heavy feeling afterwards.
Choosing the right rice will help conduct the flavour. Use rice from Valencia to ensure top quality, such as senia rice, bomba or albufera.
It is very important that before you pour the stock into the paella, your stock is absolutely full of flavour and tastes just right. This is going to be the key element of the paella, so don't scrimp on it.
Keep track of the time. In our recipe, we use 1200ml of stock and 240g of rice, and from the moment we add the stock we start the 20-minute countdown. This is how long it takes for the rice to be cooked, and not a minute longer.
Tapas Starter Recipe: Tempura Spanish Padron Peppers Stuffed with Goats Curd
By Brindisa for the Estrella Galicia Gastronomy recipe collection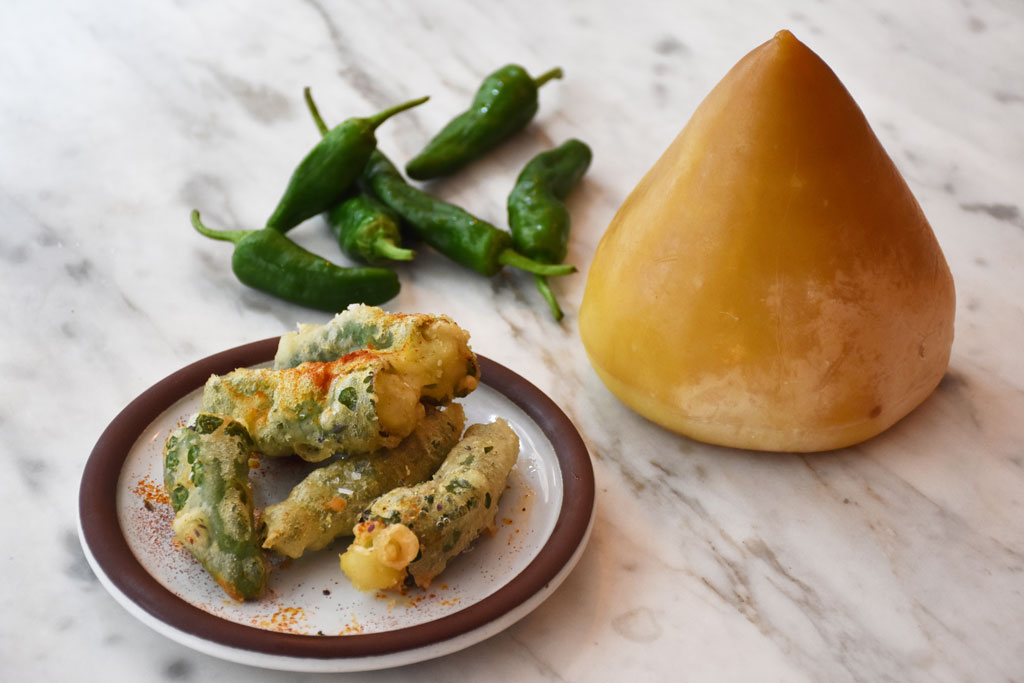 Serves 1 greedily or 2 to share
Ingredients:
8 units Padrón Peppers (medium size)
40g San Simon cheese or goats 'curd instead
125cl sparkling water
75g plain flour plus a little bit of extra flour
Pinch of fine salt
Pinch of smoked Maldon salt
Pinch of paprika
Method:
Set your fryer to 180 degrees.
Cut the tops of the padrón peppers and delicately remove the seeds from the inside.
Dice the cheese in small cubes and stuff inside of the peppers and place to one side.
In a large mixing pour combine the sparkling water with the plain flour and the pinch of fine salt, ensuring there is no lumps.
Lightly coat the padrón with a dusting of extra flour before dipping in the tempura batter. Make sure the pepper us completely coated to avoid the cheese from bursting out during when fried.
Deep-fry the stuffed and battered padrón peppers at 180 degrees for around 2-3 minutes in olive or vegetable oil, until the batter puffs up and becomes crispy and golden.
Serve and eat immediately with a liberal pinch of smoked Maldon sea salt and paprika.
Recipe: Iberian Presa Paella
By Arros QD, Fitzrovia
Serves 2
Ingredients:
240g short grain rice "bomba"
1200ml stock: 600ml game/ 600ml chicken or 1200ml chicken if easier
50g sofrito
50g sofrito oil
60g veg: broccoli, cauliflower, asparagus, courgettes
150g grilled prime Iberian presa – but if you can't find this then chicken thighs, rare steak and lamb work well too
Method:
Place the paella pan over a high heat. Heat the sofrito oil in the paella pan (we use a 40cm paella pan), then add the rice.
Fry the rice for about 1 minute until it turns transparent, then add the Sofrito tomato and fry it lightly for another 45 seconds.
Pour in the stock, bring to boil and cook over a high heat for 6 minutes.
Season according to your taste.
Lower the temperature and cook for another 7 minutes.
In a meantime, while paella is cooking prepare the vegetables. Take a sharp knife and cut broccoli with cauliflower in a small piece around 6mm thick. Finely dice courgettes with asparagus then mix it with broccoli and cauliflower.
Season Iberian presa and then sear it on the grill (medium rare). When the meat is ready, slice it in approximately 1 cm thick pieces.
By this time paella already would be cooking for around 15 minutes, add vegetables on top of the rice and let it cook for another 2 minutes.
The last step before serving is to make the socarrat – the crispy layer of rice that meets the pan. Bring the temperature up to the highest heat and cook for approximately 3 minutes. Add Iberian presa on top. Check if the rice has soaked up all the stock and leave the paella to rest for a few minutes.
MORE RECIPES:
Amelia Freer's Mushroom Quinoa Risotto / How To Make Fresh Pasta