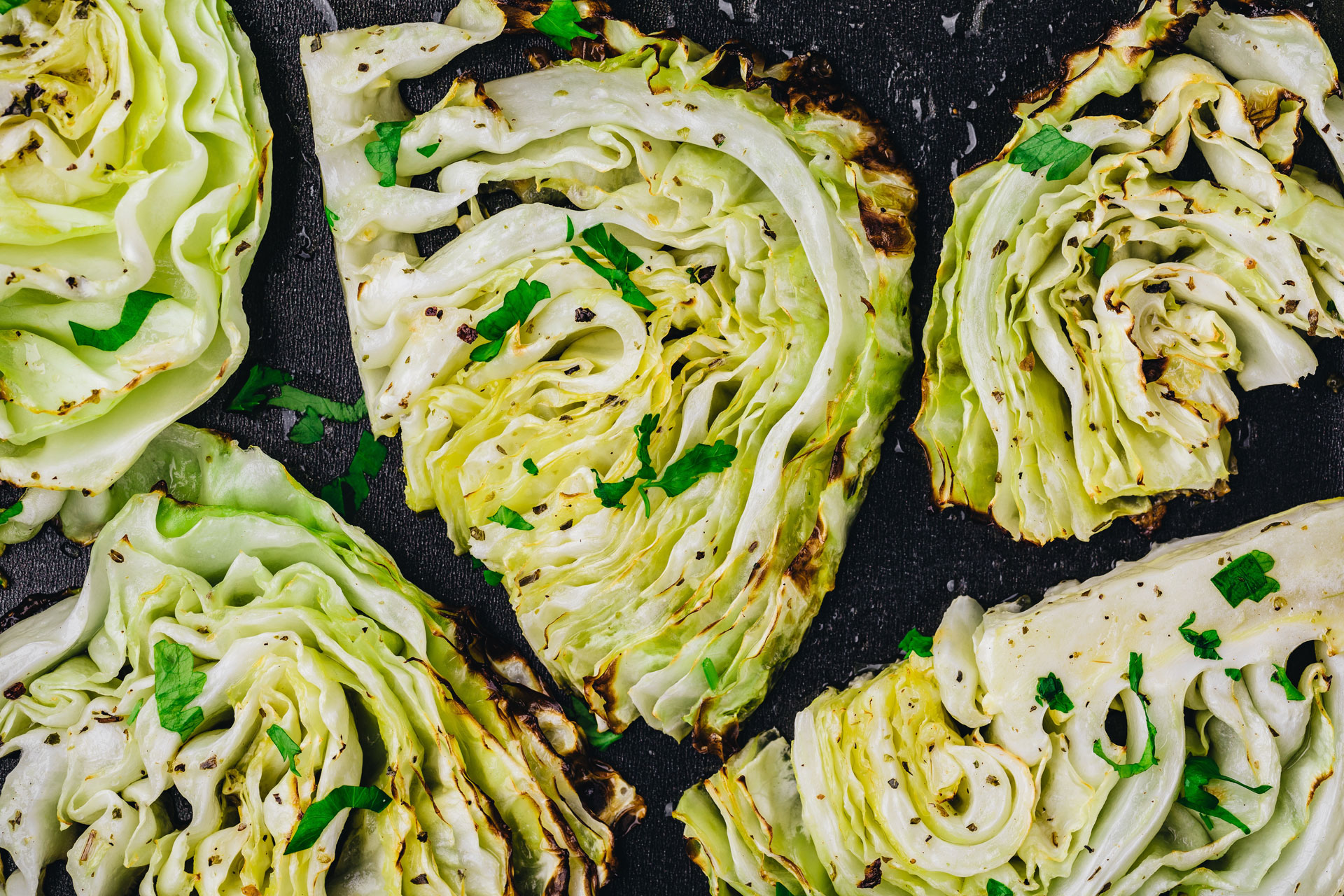 Ingredient of the Week: Cabbage
---
Bettina Campolucci Bordi shares some top tips for making this often overlooked vegetable shine
Each week plant-based cook Bettina Campolucci Bordi, founder of Bettina's Kitchen, gives us the lowdown on a particular seasonal fruit, vegetable or ingredient, offering cooking tips and a recipe. This week it's cabbage.
Ingredient of the Week: Cabbage
Let's make cabbage sexy! There's often a general attitude that cabbage neither looks or tastes appealing – but I would like to change that notion.
Cabbage is often associated with the infamous cabbage soup diet, but this crisp, inexpensive, and versatile vegetable can actually be used in many recipes and add crunch and color to salads, sandwiches and dishes. It has many nutritional benefits too, providing fibre and other nutrients like potassium and vitamin K.
How To Pick and Store Cabbage
The brilliant thing is that cabbage is available year round in grocery stores and farmer's markets – there are so many varieties like savoy, red and pointed. Look for large cabbage heads that are intact, not split. These vegetables should be tight, heavy for their size, and free of insects and decay. 
Fresh cabbage is hardy and can be stored in the refrigerator for up to two weeks (savoy varieties are best used within four days). In colder conditions with less humidity, it may keep for as long as five months. It can also be pickled or fermented for home preservation. Korean kimchi has become very popular and also I can definitely see a revival of sauerkraut in the last few years. Fermented cabbage in the form of kimchi and sauerkraut are fabulous for gut health. Just be aware that a little goes a long way!
In regards to preparation, wait to wash cabbage until you're ready to use it. Rinse the leaves well under running water before cutting or eating. Remove the core and any decayed outer leaves before preparing.
You might notice an unpleasant smell if you're steaming or sautéing cabbage. This is because of the sulfur compounds in cabbage that are activated during the heating process. To minimize the smell, avoid using aluminum cookware. Try splashing with a bit of acid, like lemon juice, to inhibit the smell and activation.
Preparing red cabbage with stainless steel knives and cookware will prevent color changes. To keep red cabbage from turning blue or grey, cook with an acidic ingredient like vinegar or a splash of lemon.
I love it slightly marinated in olive oil, a sprinkle of salt and eaten raw and shredded as in coleslaw or used in soups and stews. You can also chop it up and add to stir-fry dishes like the one I am about to share with you. Alternatively, steam the leaves and use them as a wrap for meat or other fillings. The options are limitless, you just need a sprinkle of imagination!
This is one of my go to weekly recipes using all the leftover veggies in my fridge. A little bit of this goes a long way and becomes a delicious, nutritious meal.
Recipe: Veggie Stir Fry
Makes 2 servings
Ingredients:
Olive oil for frying

½ leek, washed and sliced

½ cabbage, sliced

1 pepper, any colour, halved, deseeded and sliced

1 clove garlic, grated

Thumb of ginger, grated

2 nests of noodles

3 tbsp soy

1 tbsp maple syrup or honey

Handful of toasted peanuts
For the topping:
1 spring onion, sliced

Handful of toasted peanuts
Method:
Add olive oil and leeks to a frying pan and cook over a medium heat for a few minutes until nice and soft. Then add cabbage for a few minutes until soft, and then add the peppers.

Meanwhile, boil a pot of water and add the noodles and cook as per packet instructions. Drain and set aside.

Create a well in the middle of your stir fried veggies, add the grated garlic and ginger and then add the soy and maple syrup (or honey), allow the garlic and ginger to cook for a minute or so in the well, then add the noodles and peanuts and mix everything together.

Plate this up and top with the spring onions and peanuts.