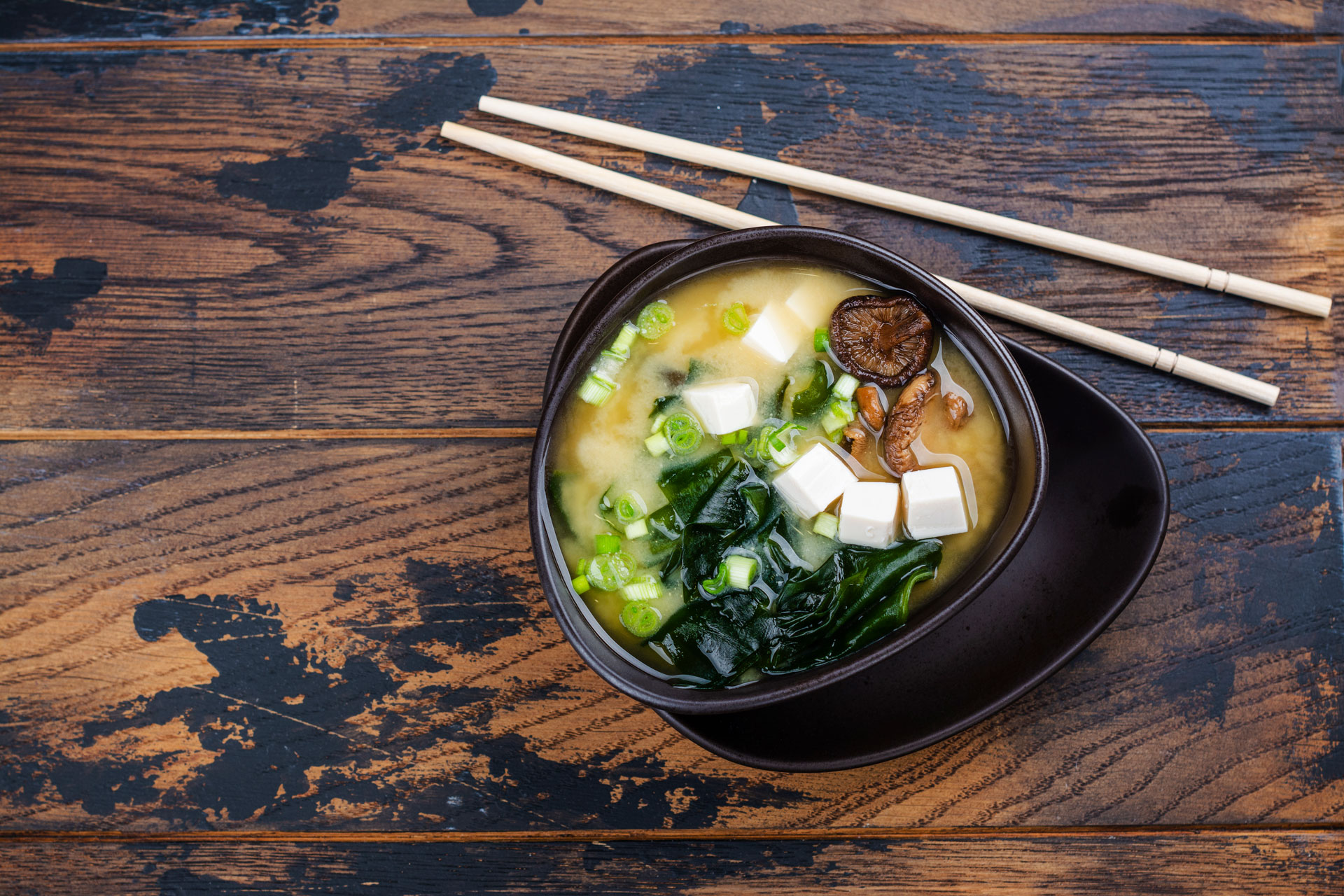 Ingredient of the Week: Miso
---
This umami ingredient can transform a dish, says Bettina
Each week plant-based cook Bettina Campolucci Bordi, founder of Bettina's Kitchen, gives us the lowdown on a particular seasonal fruit, vegetable or ingredient, offering cooking tips and a recipe. This week it's miso.
Ingredient of the Week: Miso
One of my favourite ingredients is miso paste: a salty, fermented umami rich paste made from soybeans that can turn any dish magic.
It is basically a mash of cooked soybeans, a grain which is usually rice, barley, or soybean, that's been cultured with a mold called koji, a bit of miso from an earlier batch thinned with water, and salt. The whole mix ferments for anywhere from a few months to a few years, turning into a thick paste that serves as a seasoning for soups, marinades, and more.
There are more than 1,300 kinds of miso. They vary in colour, aroma, and flavour based on where the miso was made, the type of koji used, the proportion of soybeans to koji, and how long and under what conditions it ferments. With Noma's book on fermentation coming out there has been something of a miso boom. I have seen it made from chickpeas, fava beans and more.
Kome miso refers to miso made with rice koji, mugi miso is made with barley koji, and mame miso uses soybean koji (and within each type, there are yet more variations). It can also be made with koji inoculated buckwheat, rye, millet, or another grain. You can get it in light or dark variations: the darker a miso is, the longer it has aged and the saltier and more complex its flavour.
Many commercial misos are produced quickly, over weeks or a few months. They're also oxidized, so they're darker than a traditionally made miso. Miso is a wonderfully versatile seasoning that has a rich, umami, meat-like flavour. It lends itself really well as a base for stock, but can also be used in a surprising variety of dishes. One of my absolute favourite concoctions is used in sauces, stews, marinades, soups and dressings. The recipe below is for an epic potato salad that thrives off the umami rich flavour that miso has to offer.
I whipped up this potato salad for a recent family barbecue and it went down a treat – everyone was intrigued as to what the secret ingredient was that gave it that rich, almost 'meaty' taste and nobody guessed it was miso. The addition of slow caramelized onions really gives this salad the finishing touch.
Recipe: Miso Mayo Potato Salad and Green Beans
Ingredients
600g potatoes, peeled

200g fresh green beans, tips cut off

2 banana shallots, sliced into half moons

A handful of frozen peas, defrosted

A glug of olive oil, for frying

A pinch of salt
For the dressing:
100g plant mayonnaise

1 tbsp miso paste

1 tbsp honey or maple syrup

1 tbsp apple cider vinegar

A large pinch of salt & pepper
Method
Boil the potatoes in salted water until soft. Scoop the potatoes out of the pan and chop into wedges. Add the green beans to the same boiling water to blanche for 1 minute, then remove to cool.

Meanwhile, add some olive oil to a frying pan and caramelize the shallots by frying over a medium heat until golden – this should take 5-10 minutes.

Add the dressing ingredients to a large salad bowl and whisk to combine. Then add the remaining ingredients to the large bowl and toss together well.

Transfer the potato salad into a serving bowl or platter, and top with the caramelized onions.