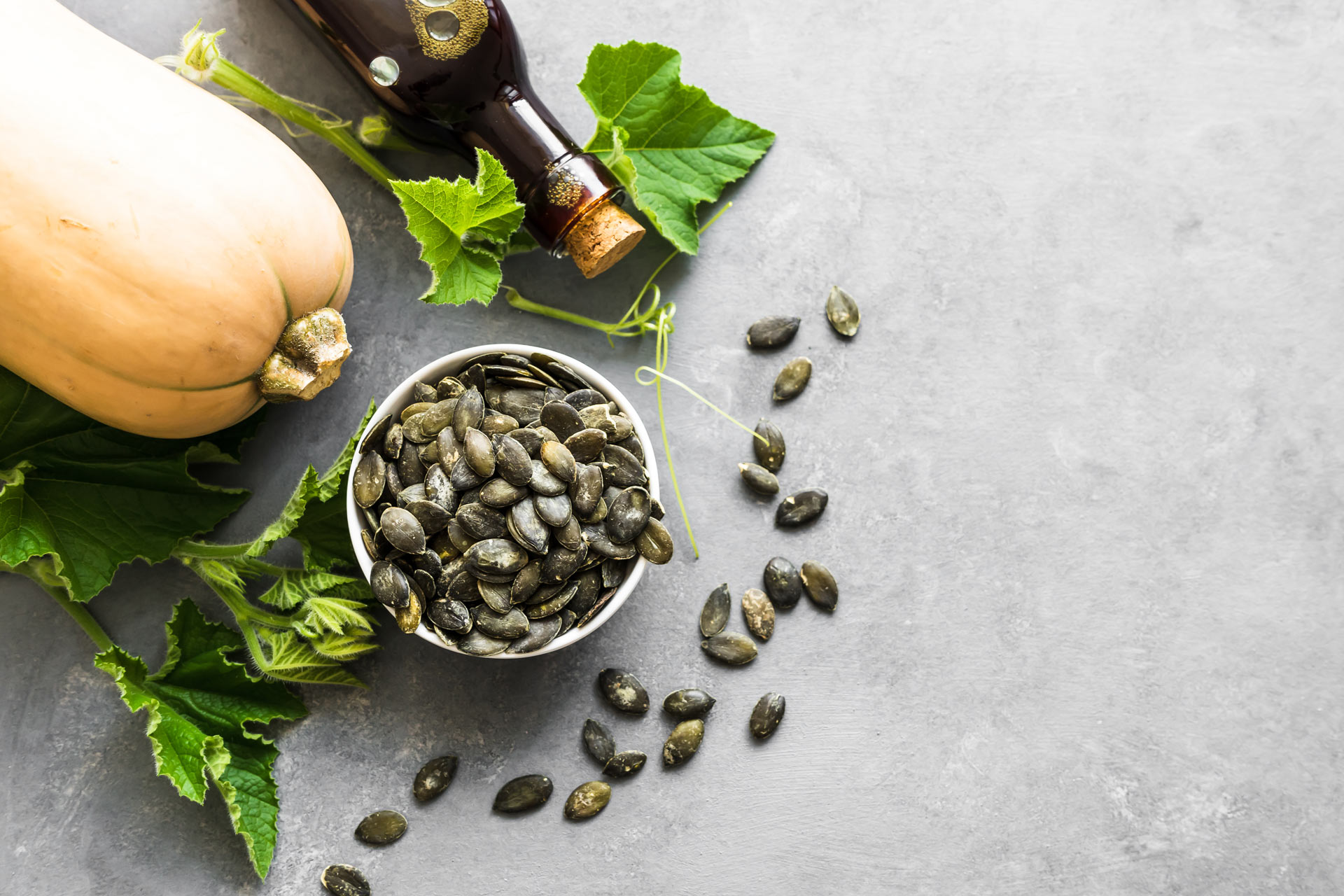 Ingredient of the Week: Pumpkin Seeds
How to incorporate these nutritional powerhouses into your dishes
Each week plant-based cook Bettina Campolucci Bordi, founder of Bettina's Kitchen, gives us the lowdown on a particular fruit, vegetable or ingredient, offering cooking tips and a recipe. This week it's pumpkin seeds.
Ingredient of the Week: Pumpkin Seeds
Pepitas for the win! Pumpkin seeds are also known by the Spanish term 'pepita' – I should know, as I lived there for 12 years. I have been using pumpkin seeds in my cooking for a long time. To look at, pumpkin seeds are green in colour, flat and a neat oval shape and come from the common field pumpkin. They have a slight crunch with a smooth and creamy texture inside – perfect for snacking on with dried fruits and nuts for a boost of natural energy or made into a delicious pesto. 
They are cheaper than pine nuts and still pack a punch in favour. Hulled pumpkin seeds can be eaten as a raw snack, with many people using them in muesli mixes and salads. They are similar to sunflower seeds, but they have a slightly fuller flavour. 
Health Benefits
Pumpkin seeds are highly nutritious and packed full of essential nutrients and vitamins, containing magnesium, iron, zinc, essential fatty acids, and potassium. They are a fantastic and easy way to boost your protein intake simply by having a handful a day – and the rich nutrient content can help boost energy and mood. You can even add them to smoothies. 
How To Use
Sprinkle on top of your breakfast, such as a warm bowl of oats with fresh blueberries or a summer smoothie bowl with your favourite toppings. 

Add to salads for a protein boost.

Make pumpkin seed butter. 

Snack on in its raw form with added nuts and dried fruits. 

Add to bread making for an exciting texture. 

Introduce to cakes, muffins and loaves to compliment the sweetness and a nutty flavour.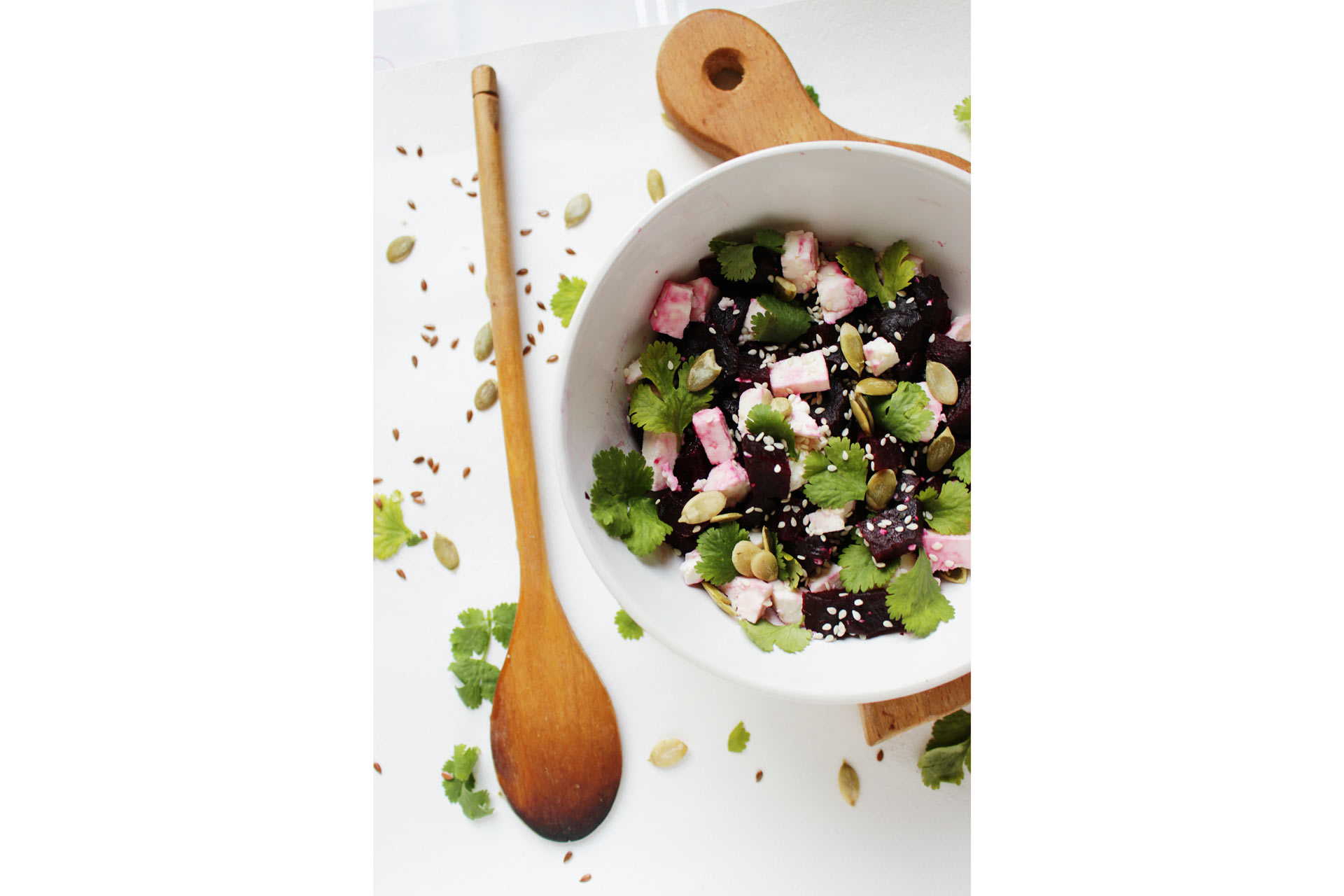 This week I'll be sharing one of my favourite recipes that is so simple to make but extremely gratifying in taste and texture. King oyster mushrooms are a great sized mushroom with a lovely chewy texture. I love the way they pan fry so beautifully, becoming nice and crispy on the outside and staying soft and tender on the inside. They absorb flavours really well, so this white wine sauce with pesto works a treat.
This recipe gives you a double bonus of having a spare jar of pesto in your fridge, which you can use for pastas, sandwiches, salad dressings, or thin it out by adding extra olive oil and drizzle it over roast veggies. I have been making this pesto right from the get go and always have a jar lying around.
Pesto is one of my favourite fridge staples – it lasts forever, tastes good on anything and is super easy to make. This particular recipe is made with pumpkin seeds and was developed for clients with nut allergies. Personally, I think pumpkin seeds have a great depth of flavour and bring some fantastic nutritional value to the table. This recipe has even been approved by my full-blooded Italian father in-law.
Recipe: White Wine and Pesto Pan Fried King Oyster Mushrooms
Makes 2 starter sized servings
Ingredients:
Olive oil for frying

4 king oyster mushrooms

100ml white wine

2 tbsp pumpkin seed pesto
For the pumpkin seed pesto
250ml olive oil, plus extra for sealing

120g pumpkin seeds

1 bunch of basil (30g)

1 garlic clove, peeled

1/2 tbsp each salt and black pepper
Method
Pre-make the pumpkin seed pesto by simply adding all the ingredients to a blender and blitz until you have a lovely pesto. You can choose to blend until smooth or to a chunkier consistency, if you prefer. The fantastic thing about this pesto recipe is that it will keep in the fridge for at least 2 weeks. Cover the top of the mixture with a good layer of oil (1cm), as it serves as a natural preservative.

Halve the mushrooms and score them on the flat side.

Add a generous amount of olive oil to a frying pan and place them in the pan flat side down to sear them until they become nice and brown, which should take around 5 minutes.

Once they become brown, add the white wine and place a lid on top, to steam them. 

Leave for a couple of minutes then remove the lid, angle the pan towards you and spoon the liquid over the top of the mushrooms to baste them in the mushroom and white wine juice.  Then turn the mushrooms over so that the scored side is facing upwards and repeat this process until the liquid has evaporated.

Once all the liquid has evaporated, add the pumpkin seed pesto, then turn the mushrooms to be flat side down to absorb the pesto, then serve straight away onto a plate, drizzled with the remaining pesto sauce from the pan. This makes a beautiful starter!
Featured image: Getty Images