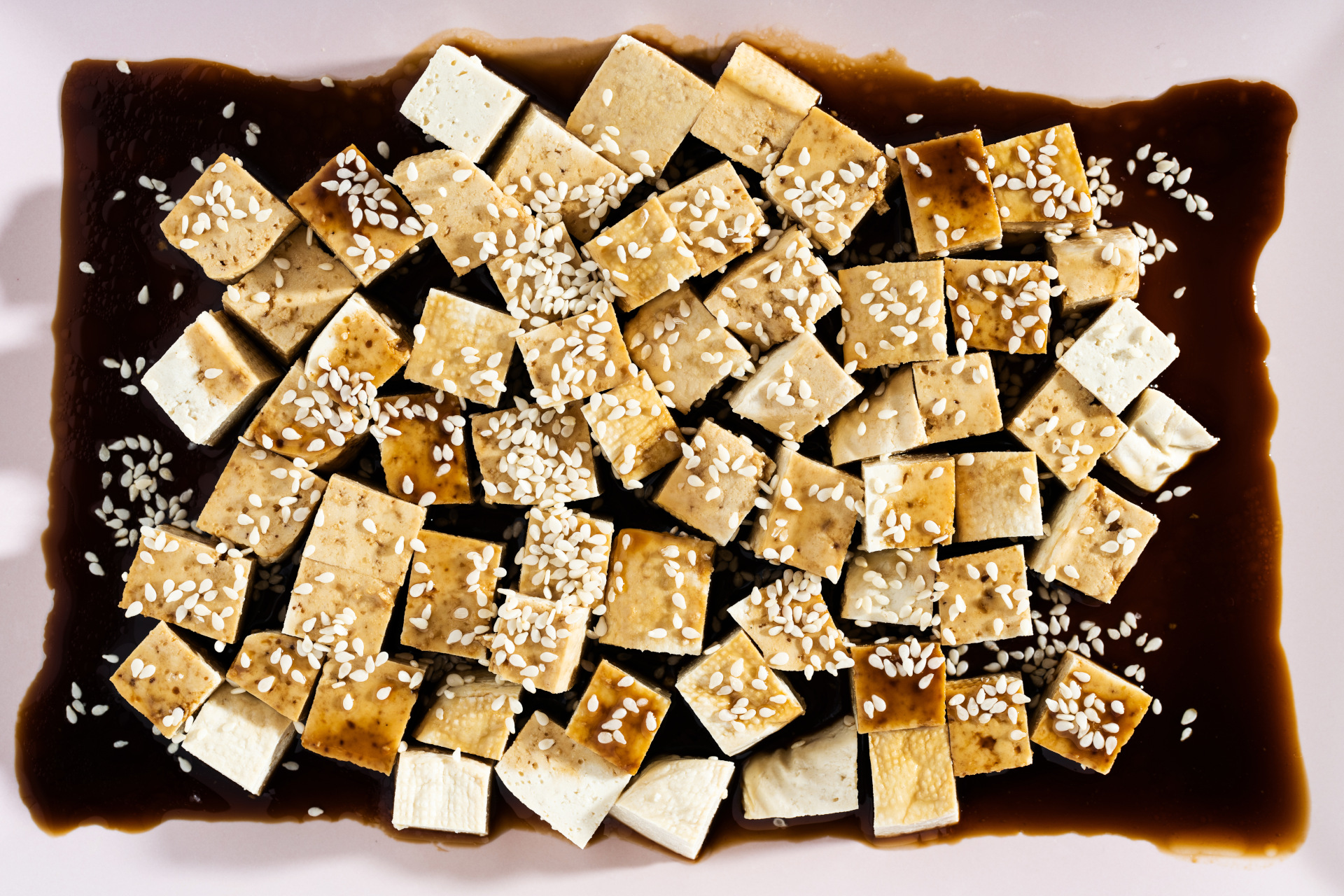 Ingredient of the Week: Tofu
How to pimp up the versatile tofu
Each week plant-based cook Bettina Campolucci Bordi, founder of Bettina's Kitchen, gives us the lowdown on a particular seasonal fruit, vegetable or ingredient, offering cooking tips and a recipe. This week it's tofu. 
Tofu has been getting some serious spotlight as plant based eating becomes more mainstream. While it may look intimidating (or worse, bland and boring), this plant protein is both easy to work with and versatile – it'll take on the flavours of whatever you're cooking. But where did tofu come from?
Tofu originated in China more than two centuries ago. The production of tofu first began around 206 to 220 BC allegedly during the Han Dynasty, before finally reaching Japan in the 8th century AD. In the 1960s, as the Western world became more conscious of healthy eating, tofu arrived on its shores. Although it was still an underrated plant based protein, tofu steadily began to grow in popularity. Tofu became so widely used that, by the early 1980s, there were over two hundred thousand tofu manufacturers globally, over half of which were located in China.
These days tofu is widely produced and enjoyed in most countries around the world. With so many brands and variations out there it can be hit and miss. Although I have been cooking plant based for a while, it has taken time for me to really get into Tofu. But after first cooking it at home, choosing beans that were well sourced and grown organically, and eating it while it was still warm and fresh – I was sold. With that being said, I would recommend choosing a good one that's organic if possible; it makes all the difference.
Since then, I'm always looking for creative ways to pimp up tofu. Here's one of my favourite's so far: Coconut crusted tofu with shallot and creamy noodles. It's a lovely warm and comforting dish, and is an absolute winner for those rainy days when you need a nice big hug in a bowl.
Coconut Crusted Tofu with Shallot & Creamy Coconut Noodles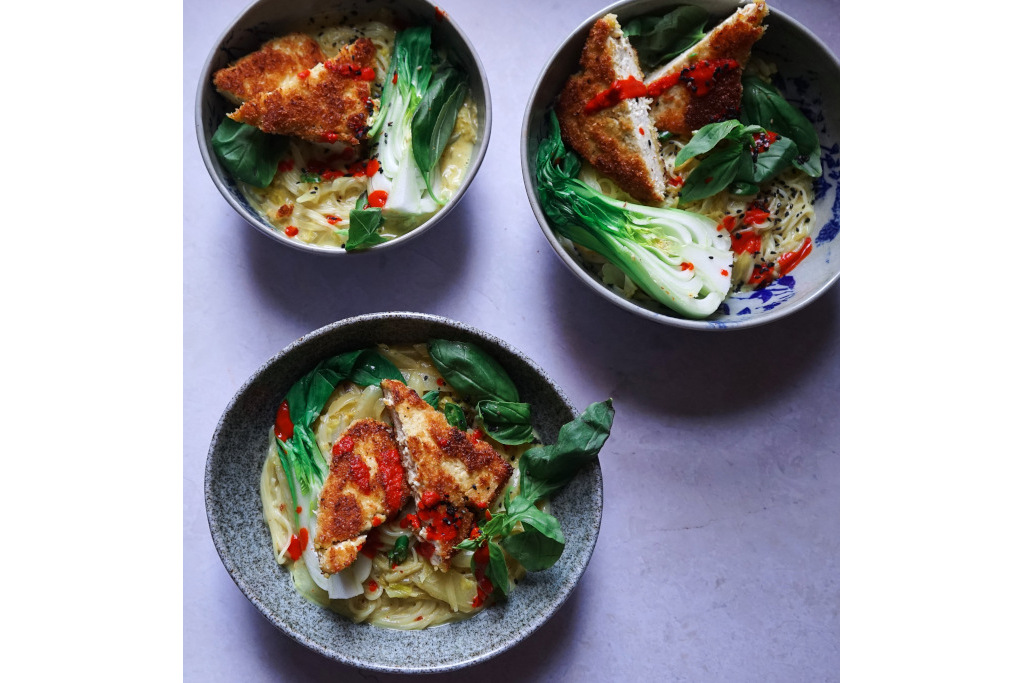 Makes 2 servings
Ingredients:
170g rice noodles
260g hard tofu, sliced into 1cm thick steaks
1 head of bok choi
olive oil for frying
For the Crust:
50g chickpea (gram) flour
60g plant milk
½ tsp baking powder
pinch of salt & pepper
4 tbsp desiccated coconut (enough to coat the tofu steaks)
For the Broth:
1 shallot, finely sliced into half moons
1 400ml tin coconut milk
¼ chinese cabbage, finely sliced
1 tbsp yellow curry powder
½ tsp salt
For the Topping:
handful of thai or normal basil leaves
¼ fresh green or red chilli (optional)
handful of black sesame seeds
drizzle of sriracha sauce
Method:
Heat the olive oil in a pan and add the shallots, fry for 1-2 minutes and then add the cabbage, curry powder and salt and fry for another 5 minutes, stirring occasionally.  Then add the coconut milk, stir well to combine and let simmer on a low heat.
Meanwhile whisk together the chickpea flour, milk, baking powder and salt & pepper to form a batter. Dip the tofu steaks in the batter and coat all sides, then dip in the desiccated coconut to cover.
Add a generous amount of olive oil to a pan and once heated, add the coconut crusted tofu stead and fry until golden brown on both sides.
Add rice noodles to a pot of salted boiling water and cook as per packet instructions, but keep them slightly al dente. Before draining them, place the whole bok choi into the bottom of the colander and pour the boiling water and noodles over the top of the bok choi, letting them sit for a couple of minutes to gently steam it.
Remove the coconut milk broth from the heat and add the drained noodles, stir to combine, then serve into 2 large bowls.
Chop the tofu steaks horizontally in half to create triangles and lay these on top of the noodles. Then slice the bok choi in half and add to the bowls.
Top with basil leaves and chilli (if using), sprinkle with black sesame seeds and drizzle with sriracha.
Featured image: gettyimages
More Ingredient of the Week:
Broccoli / Aubergine / Pak Choi