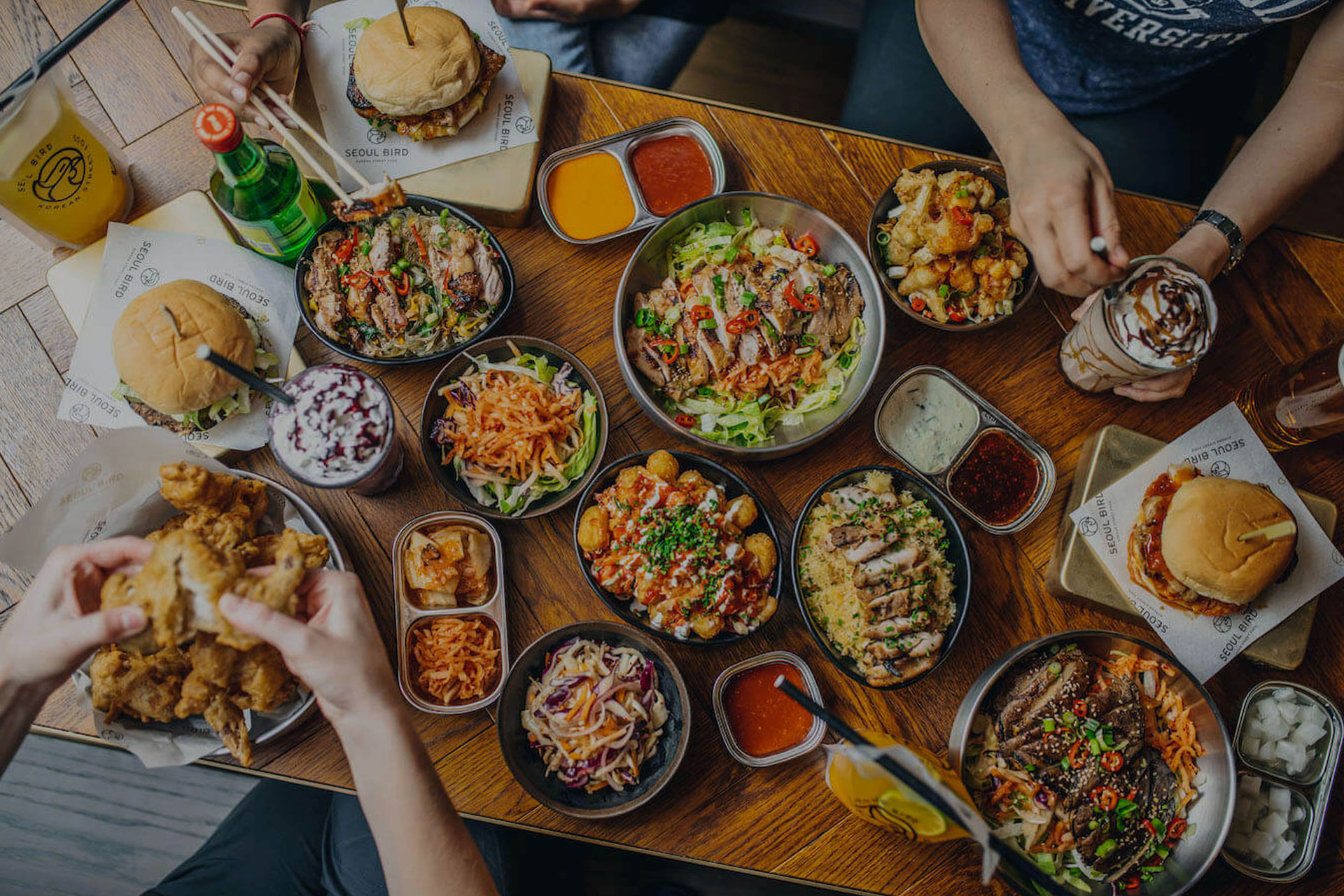 Interview with Seoul Bird's Judy Joo + Recipe
Featuring the perfect Kimchi Fried Rice recipe
An engineering degree from Columbia. A career on Wall Street. Maybe an unexpected CV for the brains behind one of London's best sources of Korean Fried Chicken, Seoul Bird. We caught up with chef Judy Joo about the best restaurants in the capital and across the Atlantic ocean – and take a peek at her fried kimchi recipe.
Interview with Chef Judy Joo
Tell us about Seoul Bird – what's your proudest achievement?
Seoul Bird is built on the foundations of Korean cooking and flavours. It's the best of Seoul's street food with some pizazz. We are famed for our Korean fried chicken (the better KFC), and our rice bowls and chicken burgers. Opening two sites during a pandemic was tricky to say the least, but we survived and thrived. We have just announced the launch of our Las Vegas site too, which is pretty insane considering that we're still yet to see a 'normal' day of trade in our London sites! 
What Korean food should everyone have on their radar? 
Korean fried chicken is a must, but Korean soups and stews are also hearty and seriously delicious, and relatively unknown.  They are normally served bubbling hot in ceramic or stone bowls; there is this theatrical element to them that you can't beat. 
Which restaurants nail that food?
There's a place called Koba in Fitzrovia that I go to – it's good for Korean BBQ. 
The Best Korean Restaurants in London
What is your food philosophy?
I'm very passionate about seasonal produce. I tend to stick to the rule of five. Five colours, five flavours, and five textures in every meal to keep you healthy and fit. 
What is your biggest food mistake?
I wouldn't say it's a mistake, but it's not conventional. I have a penchant for cheese on cheese, any type, and yes, it does make the cheese aficionados cringe!
What is your most memorable meal out?
I split my time between the UK and the US. I love Sushi Nakazawa in New York – it's one of my favourite spots. In London, it would have to be Kutir in Chelsea, a chic townhouse with beautifully flavourful food – every meal I have there is amazing.
7 Most Instagrammable Restaurants in New York
Do you have any unique cooking rituals?
I am a massive Star Wars fan, cooking wouldn't be the same without my R2-D2 pepper grinder. It gives all my food 'the force'!
What's in your fridge?
I have two fridges, one for anything stinky such as kimchi, and condiments, and the other for fresh items. I'm a real hot sauce fanatic; I have a collection from across the world. 
The other fridge has a ton of fruit and veg in, mostly from the Marylebone farmers market – I love it there. They have Isle of White tomatoes, beautiful goats' cheese, and local fish from the coast. I'm also really into tofu so there is always a block knocking about in my fridge. 
Are there any foodie books you love?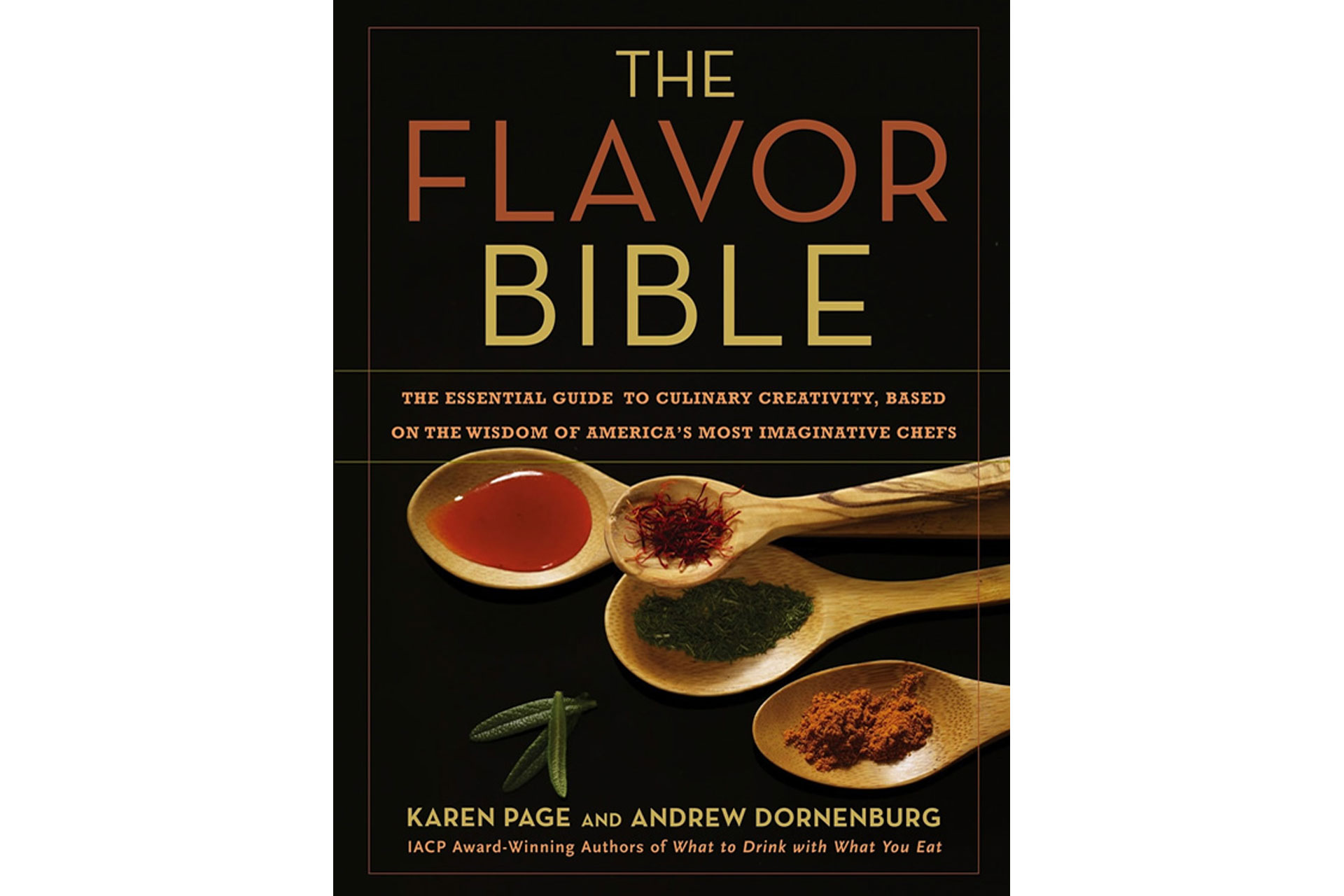 The Flavour Bible is a must have reference for any chef or serious cook. Also, anything by Jeffrey Steingarten, who was the food critic for Vogue for many years. 
What is one piece of sustainable food advice you'd give to our readers? 
I am an omnivore, but I do not eat meat that often. Having a diet that is predominately plant based is the way forward. It's better for you and better for the world.
Recipe: Judy Joo's Kimchi Fried Rice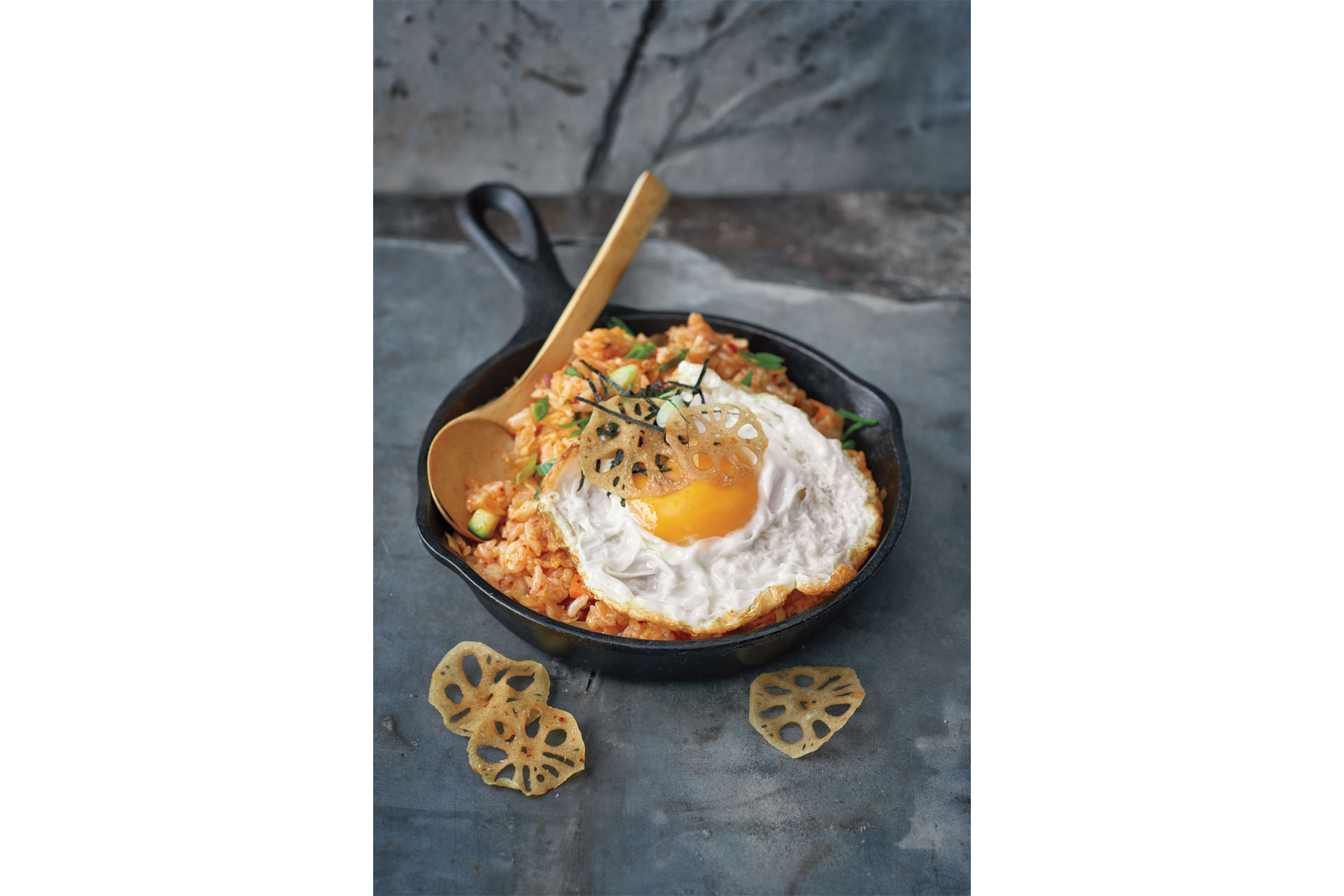 Kimchi Bokkeum Bap (Serves 4)
Ingredients
2tbsp vegetable oil

 

2 slices thick-cut bacon
2 carrots, diced
1 clove garlic, grated or finely diced
9 button mushrooms, destemmed and diced
½ courgette, diced
3 spring onions, thinly sliced on an angle
225g (8oz) drained Cabbage Kimchi, chopped
700g (1 ½lb) Steamed White Rice, at room temperature
Sea salt and freshly ground black pepper
4 soft sunny-side-up fried eggs
Instructions
In a large pan, heat the oil over a medium-high heat. Add the bacon and cook, stirring occasionally, until crispy, about 2 minutes. Using a slotted spoon, transfer the bacon to a kitchen paper-lined plate to drain.
Reduce the heat to medium, add the carrots and garlic and cook for 2-3 minutes, stirring constantly, until the carrots are just softened. Add the mushrooms, courgette, two-thirds of the spring onions and the kimchi and cook for 4-5 minutes until the vegetables are tender. Add the rice with a wooden spoon and combining it with the other ingredients. Cook for about 5 minutes, stirring occasionally, until the rice is hot. Season and spoon the rice into four bowls and top each with a fried egg and the remaining spring onions.
TIP: Kimchi can stain your chopping board and the smell has a habit of lingering too. To avoid this, put the kimchi in a bowl and use kitchen shears to cut it into smaller pieces.