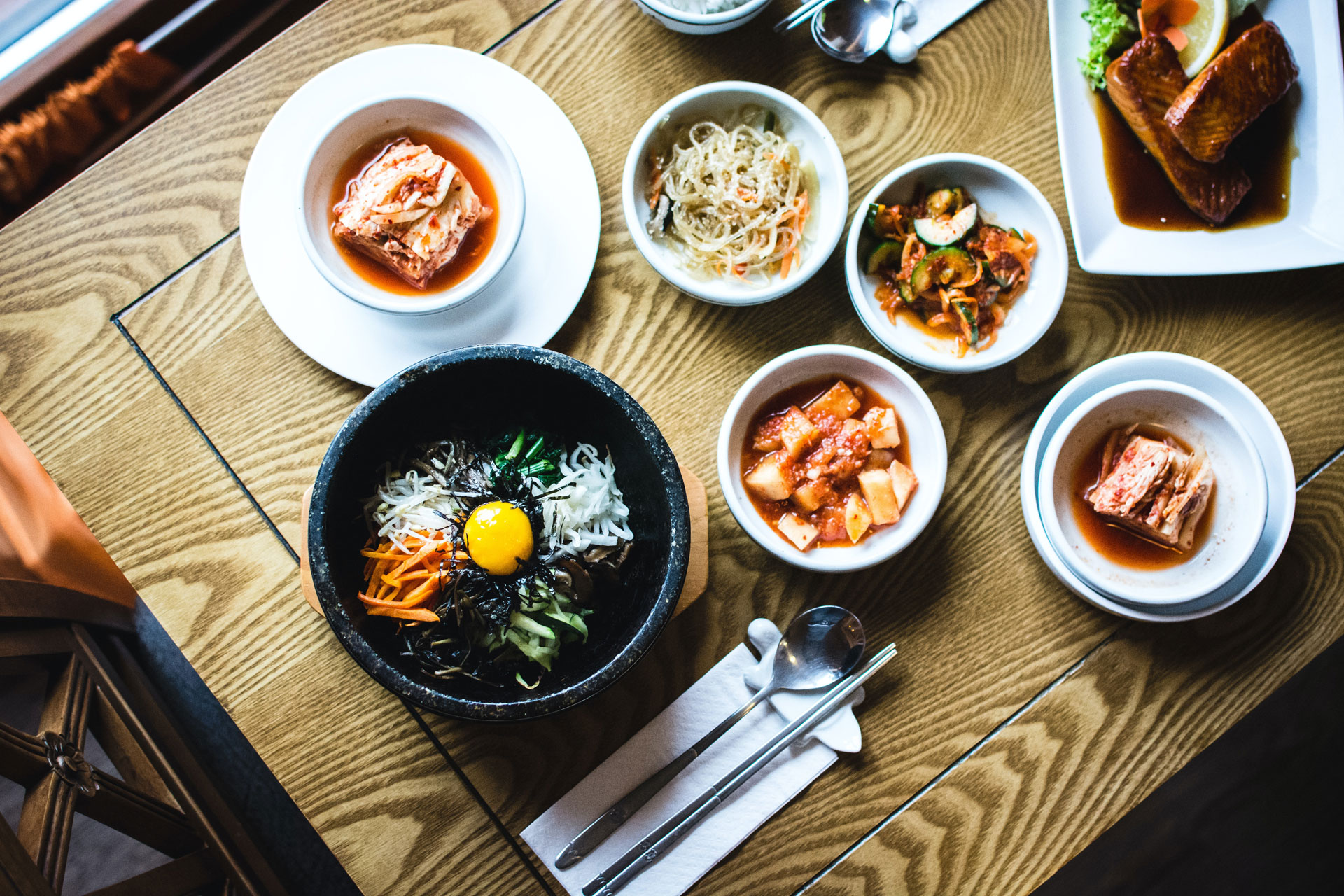 The Very Best Korean Restaurants in London
---
The capital's Korean food scene is on the up
Hearty soups, fried chicken, rice bowls packed with flavour: Korean food is good for the soul. Thankfully there are plenty of places to try it in the capital, from upmarket restaurants to fun BBQ-your-own spots and friendly cheap eats. So, whether you're craving kimchi, bibimbap or bulgogi, read on to discover some of the best Korean restaurants in London.
Best Korean Restaurants in London
On The Bab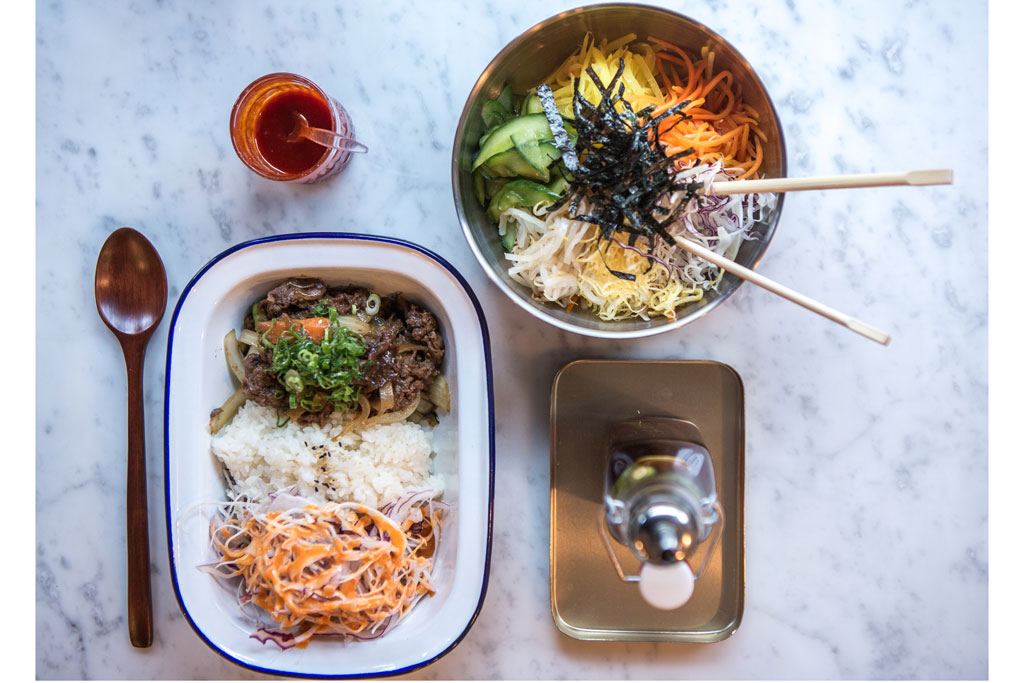 Covent Garden's On The Bab has nailed Korean street food vibes, with its exposed brick walls, ready-to-eat dishes, and help-yourself-style sauces. Menu highlights include sweet, doughy bao buns filled with crispy mushroom fritters, succulent shrimp dumplings, and bibimbap, South Korea's wholesome traditional rice dish topped with sautéed vegetables, bulgogi beef and an oozy fried egg. 
36 Wellington Street, Covent Garden, London, WC2E 7BD; onthebab.com
Koba
View this post on Instagram
Launched back in 2005, Koba was a pioneer of London's Korean food scene. It specialises in Korean-style BBQ food, cooked at your table. Begin with some starters of yook hwei (Korea's answer to steak tartare), deep-fried tofu and bossam (steamed pork with radish kimchi) before tucking into the main event. Choose from an array of meat and seafood dishes, which you can sizzle up yourself – there's soy marinated beef, spicy pork belly, sesame prawns and ox tongue. Pair with sides of dolsot bibimbap: rice and vegetables served in a hot bowl. 
11 Rathbone St, London W1T 1NA; kobalondon.com
Yan Ji Korean BBQ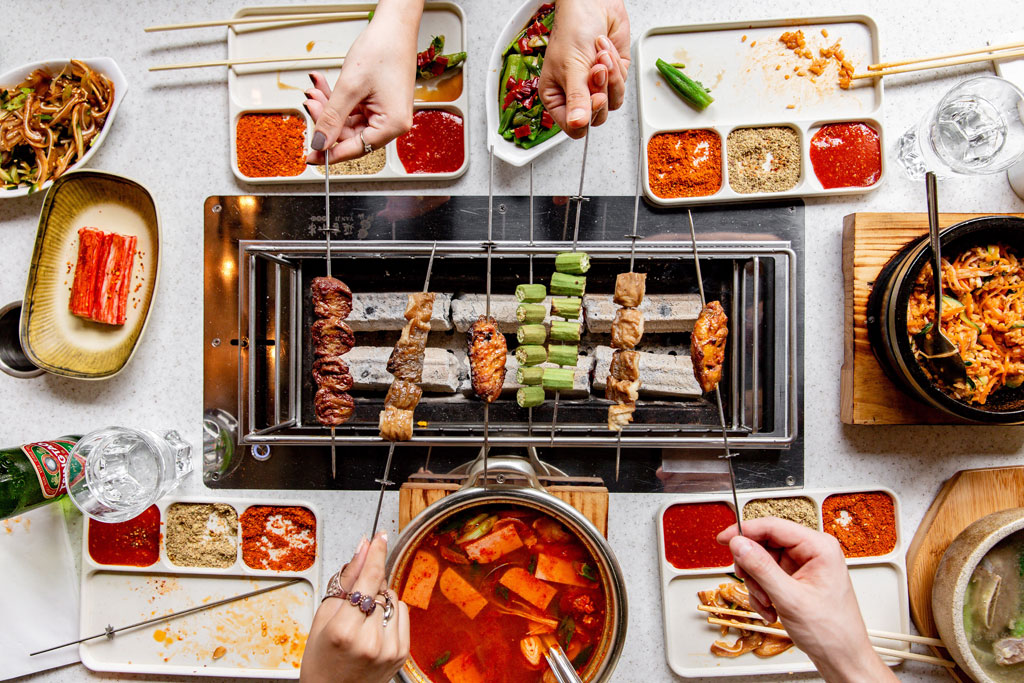 For a sizzling South Korean dining experience, head to Shoreditch's Yan Ji Barbecue to indulge in crispy chicken wings, spicy stir fried pork belly with kimchi, king prawn skewers and hot pot sausage with tofu. Whether you're willing to venture east and truly test your taste buds, or play it safe with milder flavours, this flaming east London meatery caters to both the K-food novice and connoisseur alike. 
153 Bethnal Green Rd, London E2 7DG; yanjirestaurant.com
Lime Orange
View this post on Instagram
This unassuming restaurant on Vauxhall Bridge Road specialises in bibimbap and bulgogi. It's family-run, with a welcoming feel and great food to match. Kick things off with some yangyeum chicken (deep-fried chicken wings tossed in sticky chilli sauce) and pa jeon (savoury Korean pancakes topped with seafood) ahead of the mains. There are plenty of bibimbap dishes to choose from, topped with tofu, kimchi, pork and more, while the bulgogi sees beef marinated in a house sauce and served with spinach and glass noodles.
312 Vauxhall Bridge Rd, London SW1V 1AA; limeorange.co.uk
Gaza (temporarily closed)
Proving K-cuisine has a sweet side too, Gaza in Soho – the buzzy café which plays K-pop on repeat – serves 12 different flavours of bingsoo; a melt-in-your-mouth frozen milk dessert, typically topped with fruit, syrup and red beans. If you can't adhere to having beans in your dessert (no judgement), you can opt for a more westernised style with chocolate-coated oreos, macaroons or whipped cream.
47 Greek St, London W1D 4EE; @gaza_soho
Dotori
View this post on Instagram
Finsbury Park's neighbourhood restaurant Dotori offers a fusion of Japanese and Korean food. With its no-bookings policy, it can be tricky to get a table – but the food is worth queueing for: spicy kimchi stews and bibimbap dishes are paired with gyozas, sushi rolls and soup noodles. There are endless options to choose from – but if you're struggling to choose the set menus should do the trick. 
3 Stroud Green Rd, Finsbury Park, London N4 2DQ; dotori.co.uk
Jin's Kitchen
This cheap and cheerful spot on Shaftesbury Avenue is perfect for quick on-the-go lunches. It's nothing fancy, but the chefs really know their stuff, and dishes are prepared with care. Many come here for the spicy Korean soups, but there's also kimchi pancakes, bulgogi with rice, and some particularly good fried chicken. 
232 Shaftesbury Avenue, WC2H 8EG; there's no website but you can check out the menu on Deliveroo
READ MORE: