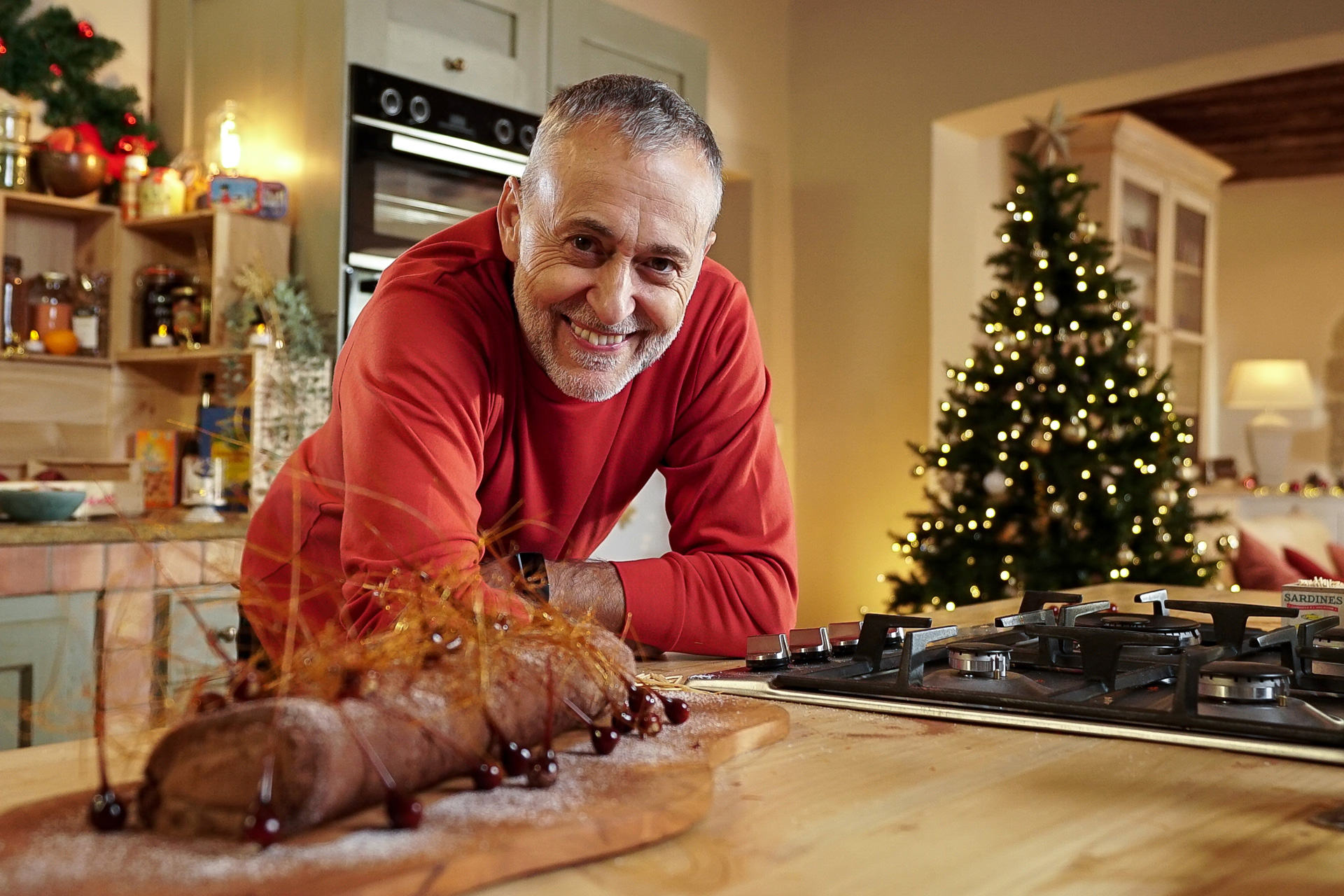 Michel Roux's Top 5 Tips For Cooking at Christmas
---
How does a chef stay stress-free over the festive season?
There's no denying cooking at Christmas is stressful: the stakes are high, and you're often cooking for a big group of people. So, we've enlisted a professional to share some words of wisdom. Here two Michelin-starred chef Michel Roux give us five top tips for cooking at Christmas – plus shares some of his favourite festive recipes.
Michel Roux's Top 5 Tips For Cooking at Christmas
Prep is key, make a list, be professional.

A small turkey is best. There's less cooking time so less chance of being dry, and less cost to buy and cook. 

Par boil the potatoes the day before and leave uncovered in the fridge to dry out, that will help to crisp them up.

If you've got family and guests coming, ask them to not bring presents but to bring a course or dish to contribute to the dinner. Share the chores, stress and cost.

Don't be tempted to have a sneaky drink before your guests arrive, there was only one Keith Floyd!
3 Festive Recipes To Try
Buche de Noel, by Michel Roux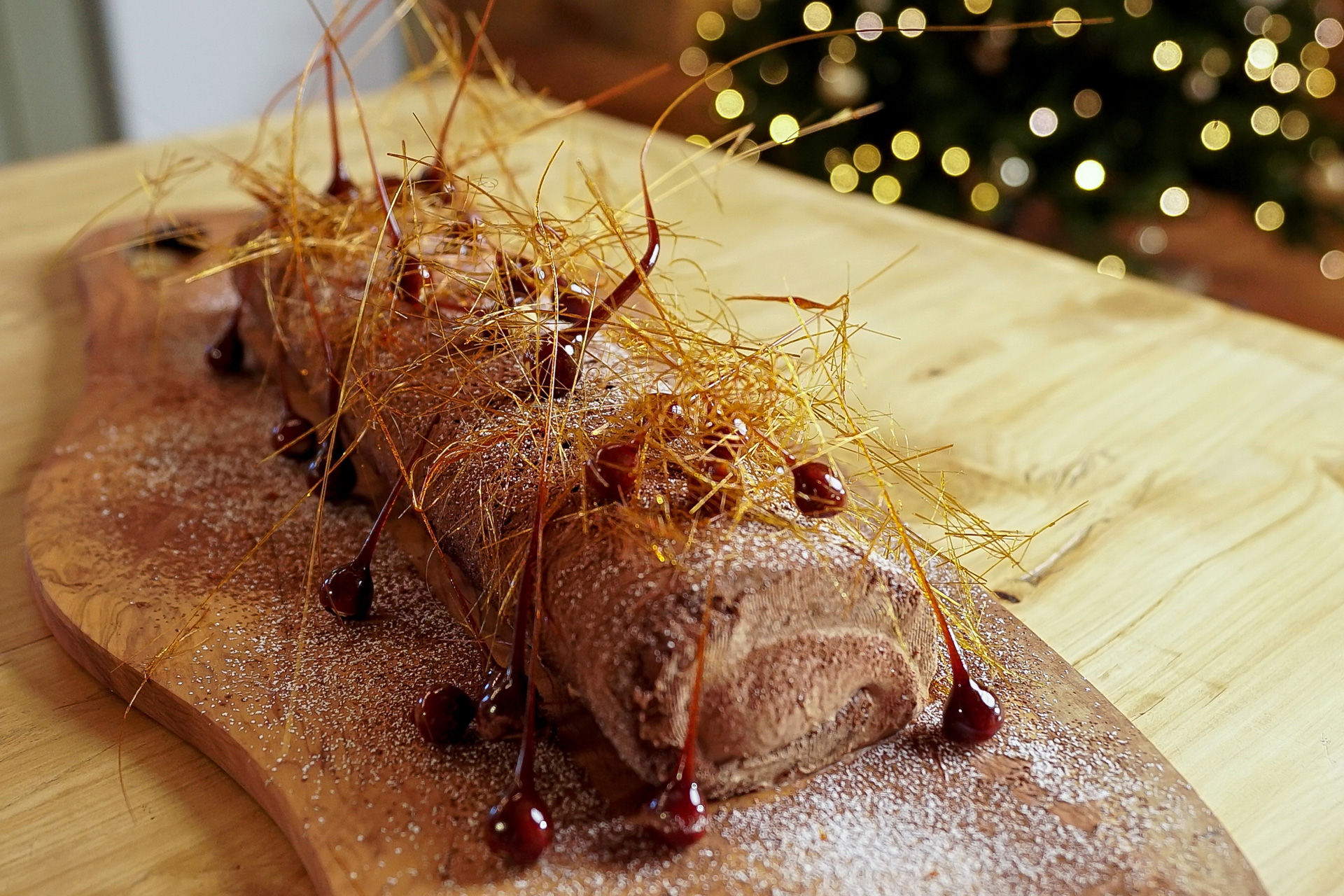 Serves 8-10
Ingredients:
6 large free range eggs, separated

150g caster sugar

70g plain flour

30g pure cocoa powder

Pinch of salt

30g butter, melted and cooled 

Extra caster sugar for sprinkling 

Extra cocoa for dusting 

Extra melted butter for greasing the tray
Method:
Preheat the oven to 180c fan 

Grease and line a 30 x 40cm swiss roll baking tin with non-stick greaseproof paper. 

Place the egg yolks and 100g sugar into the bowl of a stand mixer and whisk until pale and fluffy. You want to get this to the ribbon stage, which will take around 3-4 minutes. 

Next place the flour, cocoa and salt into a sieve and sieve into a bowl. Add ½ of the dry ingredients to the egg yolks and fold in very gently. Add the remaining dry ingredients and fold again until it's all incorporated.  Next pour in the cooled butter and fold in gently. 

Using a clean bowl, whisk the whites until frothy then add the remaining 50g sugar and continue to beat until stiff peaks form. Add 1/3

rd

of the eggs whites into the chocolate mix and mix in well. Next add the remaining egg whites to the bowl and fold this in very gently until all incorporated. Then working quickly, pour the cake mixture into the lined baking tray and spread out evenly. 

Place into the oven for 12-15 minutes. While the sponge is cooking, lay out a clean tea towel and dust it liberally and evenly with caster sugar. Remove the sponge from the oven and flip it out onto the tea towel. Gently peel the baking paper off the cake and discard. Sprinkle this side of the cake with a little extra caster sugar, then carefully roll the sponge lengthways using the tea towel to help keep its shape. Leave the cake to cool slightly in the tea towel. 
Ganache
Ingredients:
250ml cream

250g Valrhona Caramelia chocolate buttons
Method:
Pour the cream into the saucepan and place over a medium heat and bring the cream to the simmer. Place the chocolate into a heatproof bowl and immediately pour the hot cream over the chocolate, mix until smooth then leave to cool.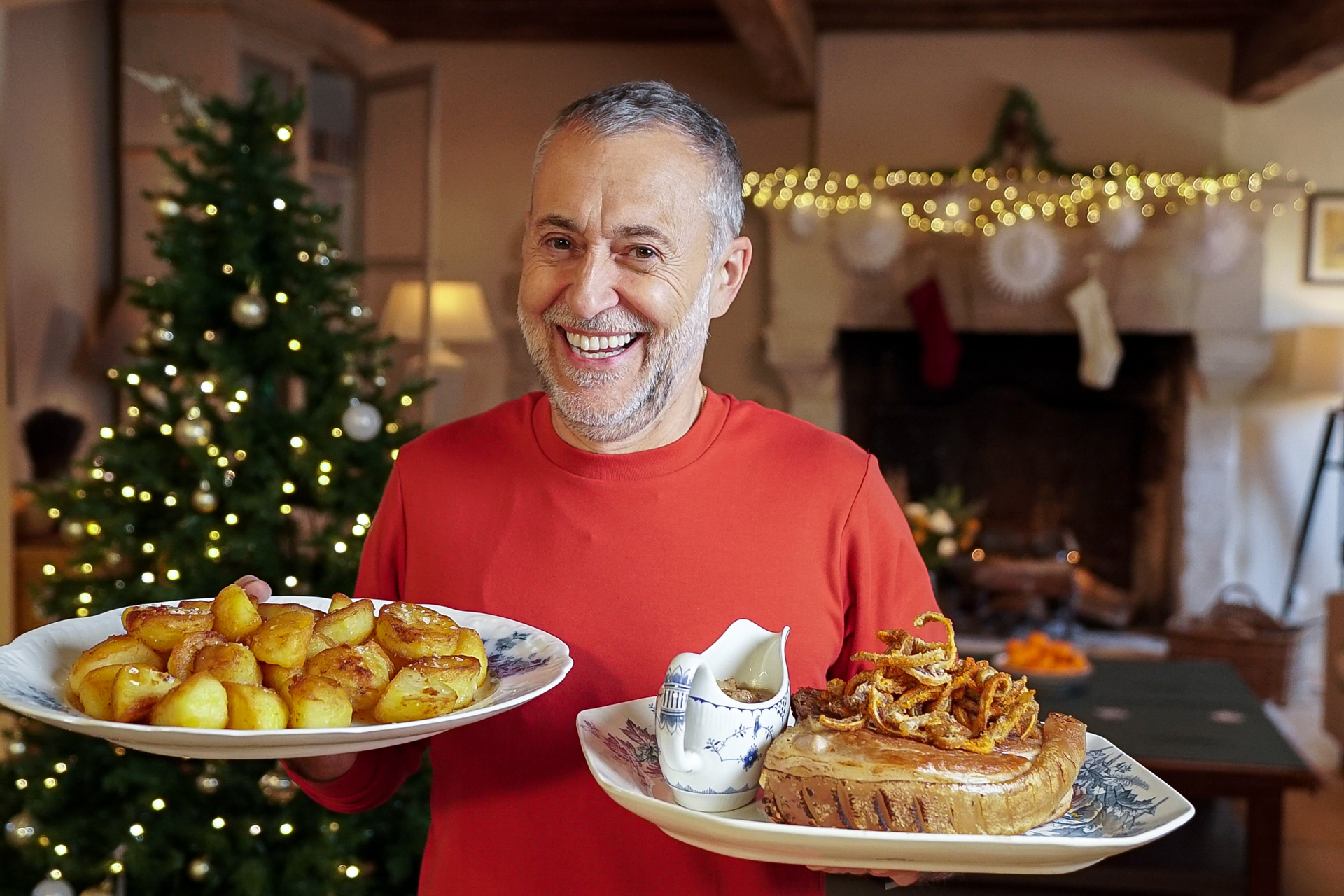 Omelette Soufflé with Prunes and Armagnac, by Michel Roux
Serves 6
How to make the crème patissière
Ingredients:
250ml milk

5 egg yolks

50g caster sugar

40g plain flour
Method:
Heat the milk to boiling point. Whisk the yolks with the sugar in a bowl until pale and creamy. Whisk in the flour and pour the boiling milk on the mixture. Return to the saucepan and bring back to the boil, stirring continuously. Remove from the heat and transfer to a large bowl and leave to cool. 
Ingredients:
18 prunes, pitted

200ml Armagnac

40g caster sugar, plus

2 tablespoon caster sugar 

8 large egg whites

80g salted butter for cooking 

Icing sugar for dusting
Method:
Marinate the prunes in the Armagnac with 40g of the sugar for at least a week in an airtight container or jar. 

Divide the butter between the 6 blinis pans and cook over a low heat until the butter begins to brown, remove from heat. 

Press six of the prunes through a fine sieve and add to 1/3

rd

of the crème patissière. Heat the oven to 180C/350F/gas4. Beat the egg whites until frothy, then add the sugar and continue to whisk until stiff. Stir one third of the whites into the crème patissière, then lightly fold in the rest. Divide this mixture between six hot buttered blini pans (12cm diameter) and cook over medium heat for 15 seconds, then place in the oven for 6-8 minutes. Turn out on to warmed plates and decorate with 2 or 3 marinated prunes per person. You can gently warm them in a small saucepan in some of their marinade. Dust with icing sugar and serve. 
Gingerbread Biscuits, by Michel Roux
Makes 40
Ingredients:
125g butter

125g dark muscavado sugar 

100ml golden syrup 

400g plain flour

1 tsp bicarbonate of soda 

Pinch of salt 

1 tsp ground cinnamon

2 tsp ground ginger 

Extra flour for dusting 

Icing sugar 

Christmas ribbons 
Method:
Preheat oven to 160C fan 

Place butter, sugar and golden syrup in a small pan, over a low heat and stir until the sugar dissolves. Remove from the heat and leave to cool for a few minutes.

Place the dry ingredients into a mixing bowl. Pour the sugar and butter mixture into the flour and mix well until a dough forms, adding a little water if need be. Flatten the dough into a disc and wrap in cling film and place in the fridge to firm up for 30 minutes. 

When the dough is firm, roll it out on a lightly floured surface until it's around 4mm thick. Using some star shape cutters, Christmas tree cutters and gingerbread cutters, cut the dough into shapes and lift them out carefully, using a palette knife and place them onto a lined tray. Re-roll any leftover dough scraps and cutting out more shapes. If you are wanting to use these as Christmas tree decorations, you can create a hole in each one, by stamping them with a straw. When they are ready, place them in the oven for 8-10 minutes or until lightly browned. Remove them from the oven and cool on the trays completely.

Thread some Christmas ribbons through the holes to hang these on the tree!
Michel Roux's Christmas in Provence premieres 9pm, 15 December on Food Network and will also be available to stream on discovery+