Oktoberfest 2023: Where To Celebrate In London
Bavarian shindigs taking place in the capital
Every October, people don their lederhosen and flock to Munich to drink beer by the bucketload. The largest folk festival in the world, which sees a whopping six million litres of ale drunk each year, Oktoberfest is always a hoot – but you don't need to catch a flight to join in with the festivities. Us Londoners love an excuse to party, so naturally plenty of the capital's venues throw big Oktoberfest events too, complete with bratwurst, steins of beer and Oompah music aplenty.
Oktoberfest 2023: Where To Celebrate In London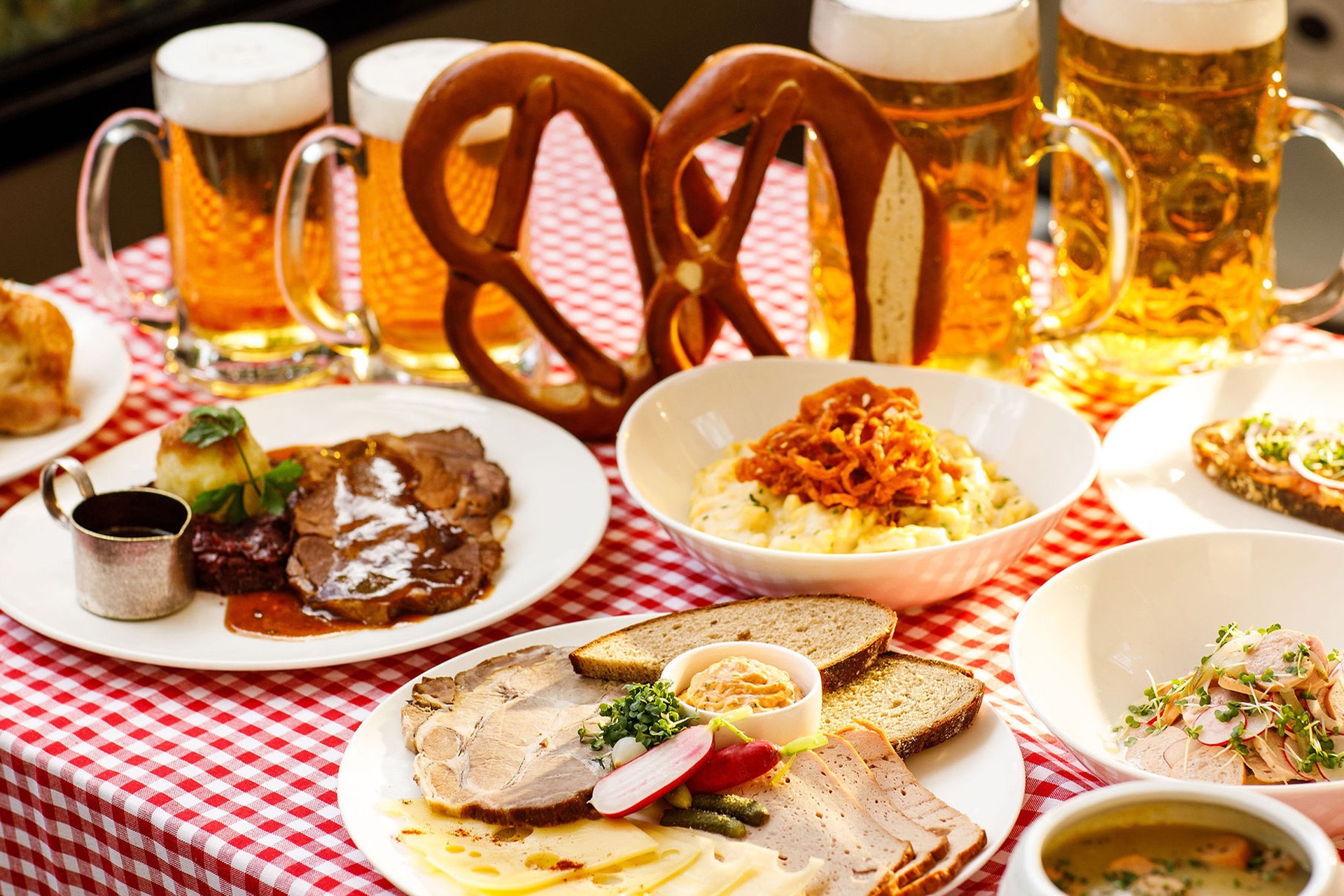 German Gymnasium
King's Cross restaurant German Gymnasium has been given a Bavarian makeover for the season, inspired by the buzzy beer halls of Munich. Its outdoor terraces have been decked out in themed decor and the team will be dressed up in traditional attire, with a special food menu crafted by executive chef Alexander Thiel. Think twists on German classics, such as hendl mit kartoffelsalat, roast chicken with German-style potato salad, and Scwheinebraten, pork belly roast with beer sauce, cabbage and dumplings. Visit on a Friday to fully get into the spirit with a traditional Oompah band – and if you come dressed the part, you'll receive a complimentary stein.
Until 31 October 2023, 1 King's Blvd, London N1C 4BU, germangymnasium.com
Electric Brixton
South Londoners, get yourselves down to Electric Brixton for an evening of Bavarian street food, live music and of course plenty of beer. Parties are taking place at the venue on Saturdays throughout the month, with music from German Jukebox and DJs ensuring a lively atmosphere – expect plenty of dancing on tables. Alongside beer from Spaten, Löwenbräu & Becks, there will be street food on offer including wursts flown in from Germany's Black Forest, plus pretzels and plates of Schweinshaxe (roast pork knuckles).
7, 14, 21 and 28 October 2023, Electric Brixton, Town Hall Parade, Brixton Hill, London SW2 1RJ, electricbrixton.uk.com
Bierschenke Bierkeller
One of the city's biggest Oktoberfest parties takes place at Bierschenke Bierkeller in Covent Garden, a German beer hall with space for over 500 people. Having celebrated the festival for many years now, the venue is an expert in recreating the atmosphere of Munich with Oompah music, proper German beers and traditional food. For big groups, the platters of meat, cheese, bread and pretzels are a welcome antidote to all that beer.
Until 4 November 2023, 50 Earlham St, London WC2H 9LJ, bierschenke.co.uk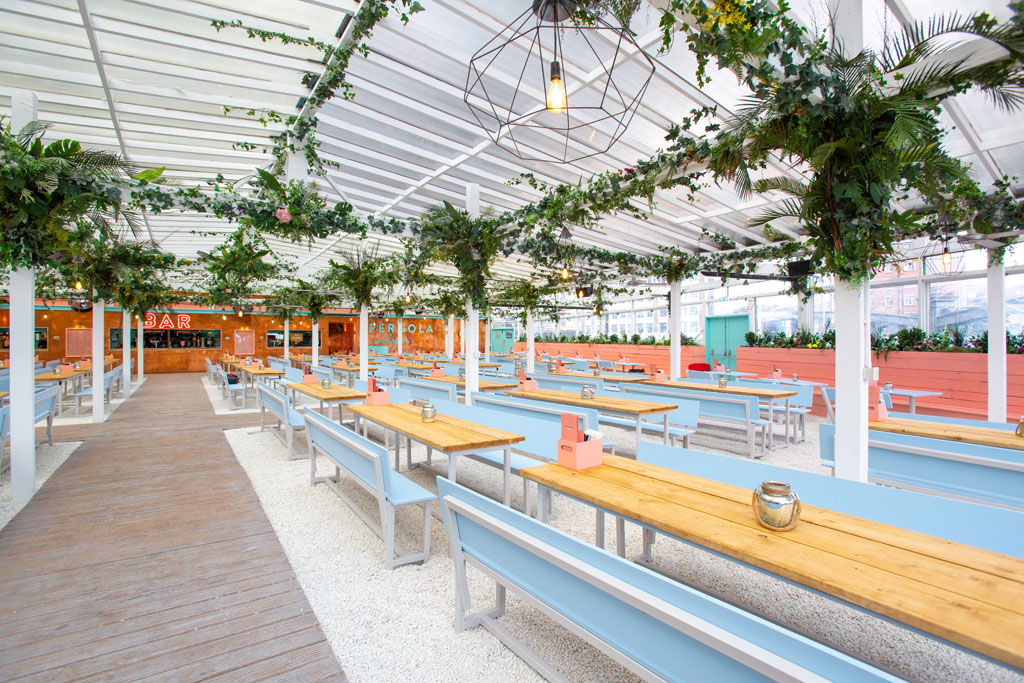 Pergola Paddington
The huge Pergola Paddington is bringing back its Wunderbar for October: a four-week Oktoberfest extravaganza. Fancy dress is very much encouraged – with prizes for best dressed – and on Thursday, Friday and Saturday there's a live Oompah band. Food traders will also be on hand to provide Bavarian goods: think cheese fondue and knodel from Wursthaus, alongside beer and special Oktoberfest cocktails. Expect singalongs, dancing and plenty of Bavarian cheer.
Until 31 October 2023, 5 Kingdom St, London W2 6PY, pergolapaddington.com
London Oktoberfest
Since launching in 2011, London Oktoberfest has been hosting authentic pop-up events all over the capital. You have three opportunities to get involved this year: first up in Walpole Park in Ealing, then the following two weekends in Finsbury Square. Tents are filled with long tables and waiters are dressed in dirndl and lederhosen, with giant Bavarian beer specially made in a small brewery close to Nuremberg.
19–21 October, 26–28 October, 2–4 November 2023, various venues, london-oktoberfest.co.uk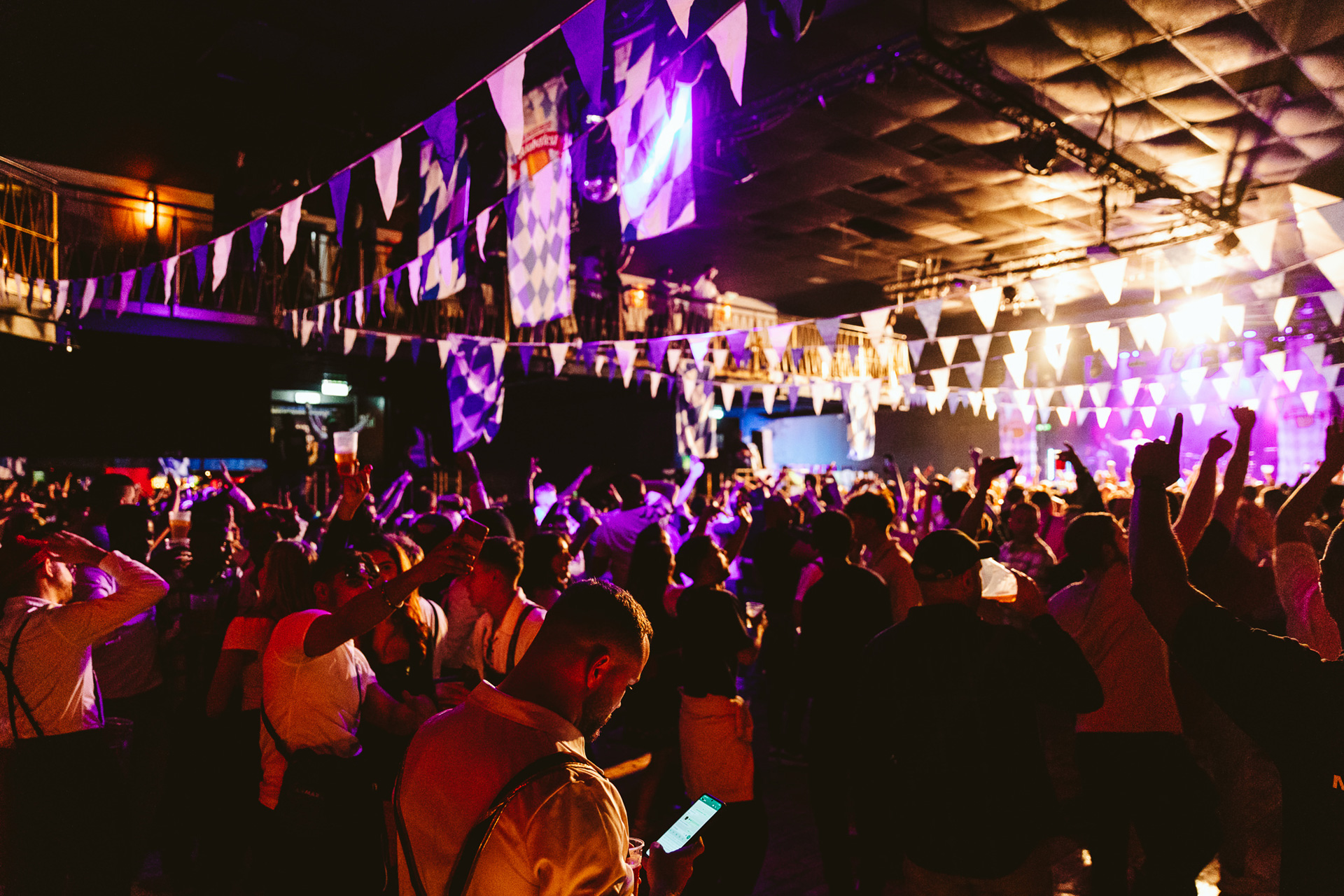 Electric Ballroom
Long-standing Camden favourite Electric Ballroom is another great option for Oktoberfest celebrations. Every Saturday, head there to enjoy live music from No Limit Street Band, bratwurst and schnitzel, and all the party vibes – complete with themed games and prizes.
Saturdays until 28 October 2023, 184 Camden High St, London NW1 8QP, electricballroom.co.uk