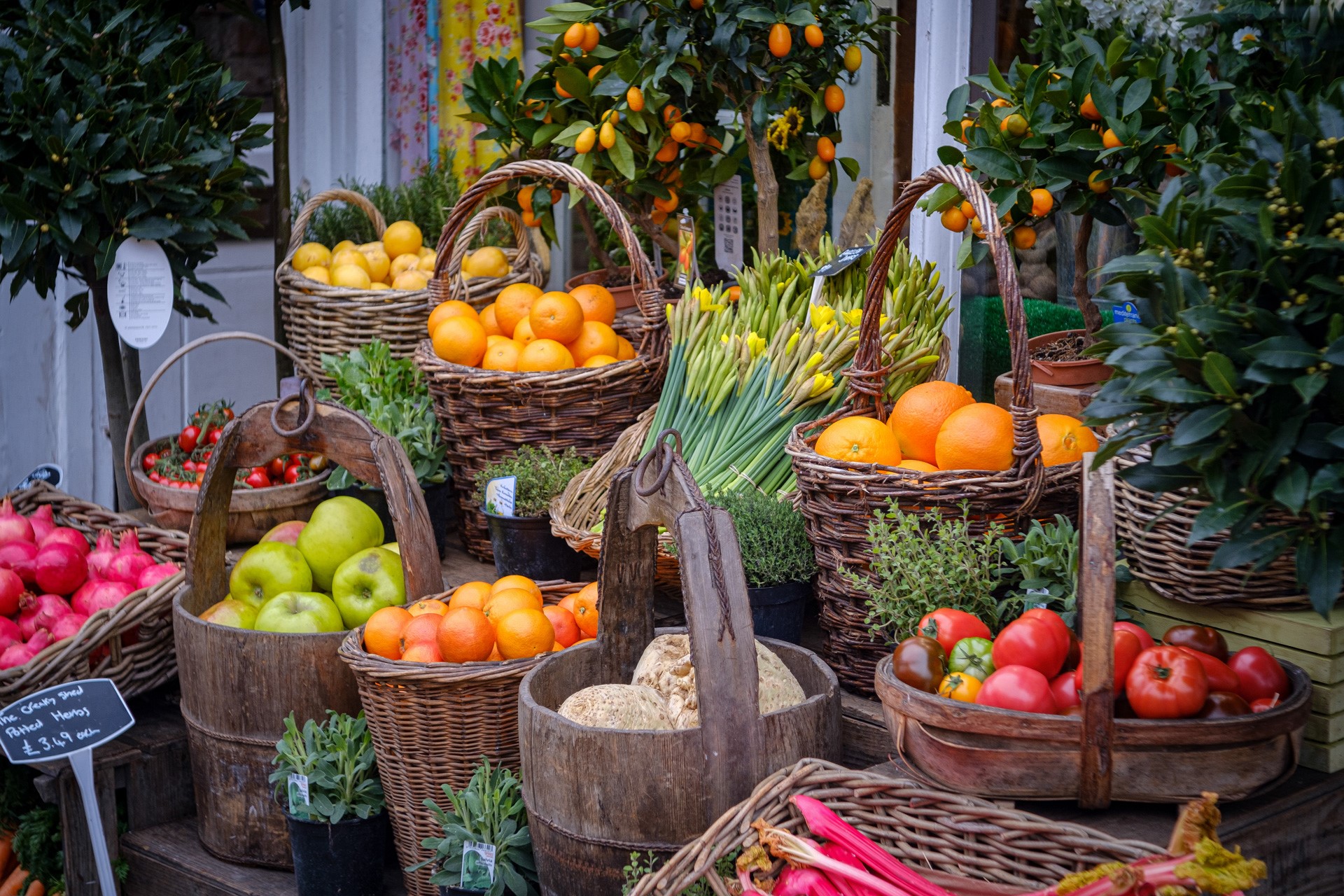 Organic September: Organic Food Shops in London
Stock up your fridge with organic goodness from these health food hotspots
Organic September is a month-long initiative designed to spotlight the organic sector, and all it does for the climate, nature and our health. You can find out more about what the term organic means here, but in short, it is a legally protected term which recognises the farms and products which focus on maintaining the health of soils, ecosystems, animals and people. Anything that is labelled as organic must have been certified by an approved control body, from food to beauty products. Wondering where to stock up on the goods? Here we bring you a list of organic food shops in London.
Organic Food Shops in London
Planet Organic
View this post on Instagram
One of the world's most famous organic shops is Planet Organic, founded in London's Bayswater back in 1995. It was the brainchild of Mississippi-born Renee Elliot, who set out to 'promote health in the community' by pushing 'organic and natural food out of the niche that it was in and into the mainstream as the best quality food around.' The business has grown a great deal over the years, and there are now outposts dotted all over the capital in places like Balham, Chiswick, Spitalfields and Marble Arch. They sell everything from store cupboard goods to wine and fresh vegetables, with many of the big organic brands on offer alongside Planet Organic's own range.
Multiple locations, planetorganic.com
Daylesford Organic
The Daylesford name is synonymous with top-quality organic produce. Founded in the Cotswolds over 20 years ago by Carole Bamford, the company has grown into one of the UK's most famous sustainable farms, with shops and cafes dotted all over the country – including a handful in London. The stores sell produce from the farm, including fruit and vegetables, meat, bread and dairy products, alongside organic wine – including bottles from Daylesford's Provencal sister Château Léoube. There's also a line of pre-made organic meals which you can reheat in minutes – think pies, curries and soups.
Multiple locations, daylesford.com
Whole Foods
View this post on Instagram
A stalwart on the health scene, Whole Foods began its life as a small vegetarian food store in Austin, Texas (originally called SaferWay). It expanded to other US states, eventually coming to the UK in 2004, and has since become one of the most renowned shops for health food in the country. Whole Foods is certified organic by the Soil Association, and sells a wide range of fresh produce, pantry goods, breads and meat, plus to-go offerings such as salads, sushi and sandwiches. There are a number of branches across London, including the colossal High Street Kensington outpost, an emporium of organic goodness with its own food court on the top floor.
Zest Organic Food
View this post on Instagram
This independent, family-run organic health food store in Bermondsey was created in order to 'make a tangible difference to the world by offering healthier, more earth-friendly everyday choices to people everywhere.' It sells a wide range of fresh produce, store cupboard items, baking ingredients, snacks and more, alongside coffee, wine, beer and non-alcoholic drinks. As well as being certified organic, the shop also takes steps to be as green as possible, instilling zero-waste principles throughout the business. 
33 Dockhead, London SE1 2BS, zestorganic.co.uk
Seasons and Blossoms
View this post on Instagram
A friendly neighbourhood grocer in Highbury, Seasons and Blossoms was founded in 2012 by Rabiye Cinar, who grew up on a farm in Turkey. She originally opened a shop in Kent, but realised there was more demand for produce in London, where fresh farm produce is trickier to get hold of. The majority of produce sold is organic, sourced from a biodynamic farm in Kent, with fruit and vegetables, dairy products, dried foods and household products on offer, from names like Ella's Kitchen, Yeo Valley, Rude Health and Divine Chocolate. Rabiye is also passionate about supporting the local community, and often gives leftover produce to a local charity that cooks meals for homeless people. 
92 Highbury Park, London N5 2XE, seasonsandblossoms.com
Earth Natural Foods
View this post on Instagram
If you're after organic fruit and veg in north London, you'll be well served at Earth Natural Foods, an independent food retailer in Kentish Town. It's packed to the brim with health foods, and all of its fruit and veg is certified organic, sourced as locally as possible from farms like Ripple Farm. You'll find all the basics – potatoes, carrots, garlic, spinach – alongside an ever-changing range of seasonal produce. Everything is sold loose too, in a bid to help reduce waste. Much of the other produce – cheese, wine, oils and so on – is organic too, but not all, so check the labels when shopping or ask for help if you're unsure.
200 Kentish Town Rd, London NW5 2AE, earthnaturalfoods.co.uk
Bumblebee Natural Foods
View this post on Instagram
Another north London hotspot, Bumblebee Natural Foods was a pioneer in the organic food scene, launching back in the '80s. The name comes from the fact that Graham, the shop's co-founder, kept bees in the back of the store. There are now two branches – The Veg Shop and The Nut Shop – both located on Brecknock Road in North London. As the name suggests, The Veg Shop is all about organic, seasonal fruit and veg, with a deli counter and grocery section. The Nut Shop, meanwhile, is all about kitchen cupboard goods: think condiments, jams, honeys, oils and more.
33 Brecknock Rd, London N7 0BT, bumblebeenaturalfoods.com