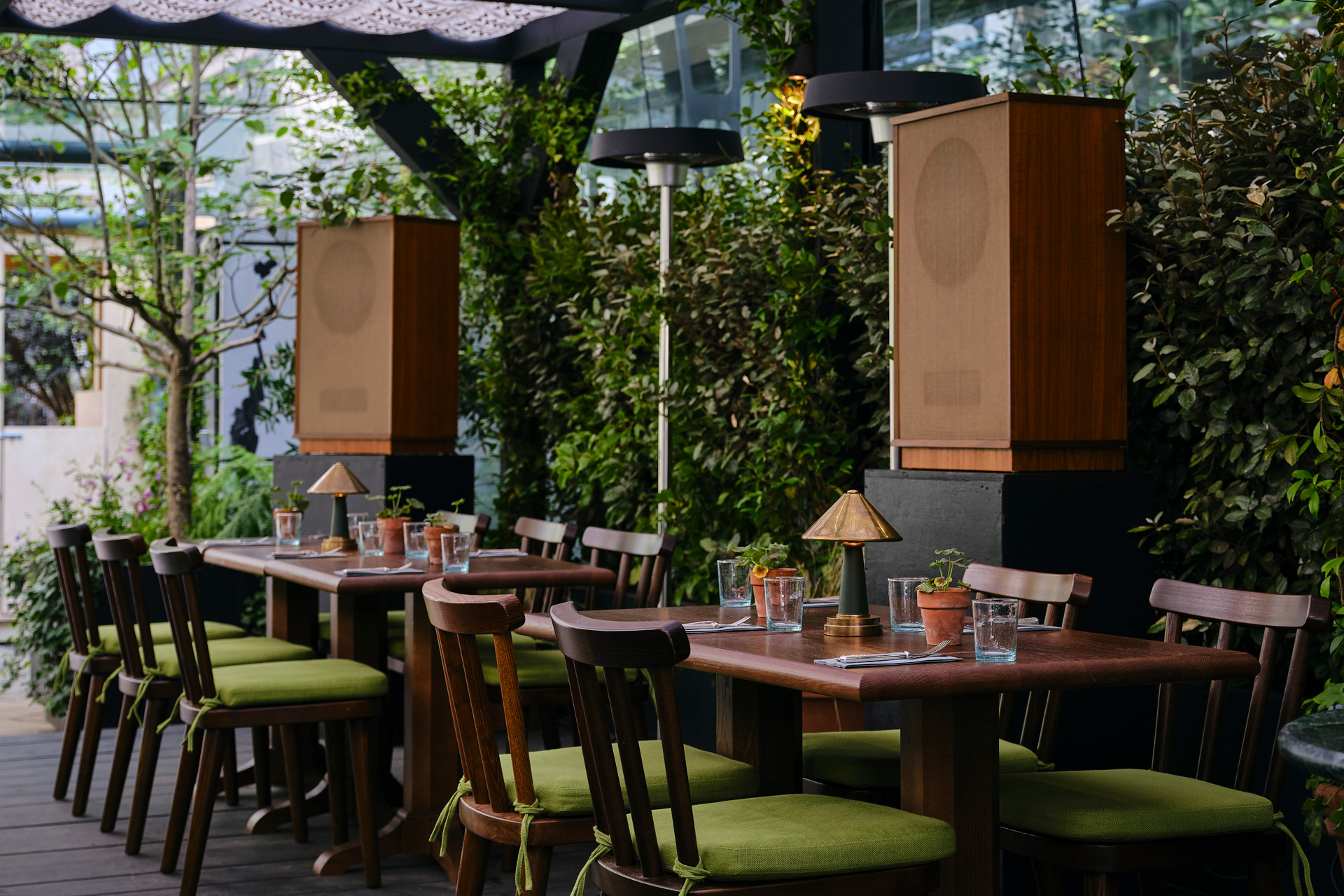 Restaurant Of The Week: Outcrop
The summer pop-up you need to try
When is a restaurant not just a restaurant? When it's also an arts space, a music venue and a community hub, of course – not to mention a go-to spot for some delicious eco-friendly fare. Martha Davies reviews.
Restaurant Of The Week: Outcrop
From live music to a huge, immersive art installation, there's a lot going on at Outcrop, a pop-up occupying 180 The Strand this summer. The concept, however, is beautifully simple: reimagining traditional Thai recipes using fresh, locally-sourced produce, all in celebration of the natural world.
With a founding team from Secret Cinema and Michelin-starred restaurants The Clove Club and Luca – alongside a restaurant run by John Chantarasak, chef and owner of AngloThai – Outcrop is a pop-up that packs some serious punch. We arrived on perhaps the greyest day that British summer time could offer, and yet the outdoor dining space felt immediately inviting: it was somehow both airy and intimate, with a long promenade of tables set out below a canopy adorned with foliage. These verdant surroundings – along with the treasure trove of summer vegetables, native breed animals and line-caught fish on the menu – certainly meet Outcrop's aim of connecting diners with nature and making the most of British ingredients. 
The drinks, in fact, are sourced entirely from the UK, with a focus on British botanicals, hedgerow fruits and spirits from small eco-friendly distilleries. We opted for the Crop Circle Cooler (a delightfully refreshing tipple boasting a pod pea vodka base and elderflower cordial) along with the Fell Runner (a zingy rum cocktail mixed with crab apple juice). Later, we were treated to glasses of Rosé produced in Leicestershire. 
Outcrop is a magnificent reminder, then, of the things we can do with what's right on our doorstep – and its British-Thai recipes are the key. We started off with fried courgette flowers, each one dainty and deliciously crisp, before tucking into a flatbread coated with shrimp butter paste and topped with small heaps of shellfish. To sample Outcrop's vast array of summer vegetables, we chose the salt-baked beetroot – finished with scallop roe chilli jam and wild garlic – as well as the vegetable som tam salad, a particularly innovative (and fiery) dish in which traditional Thai ingredients like papaya are swapped for home-grown British alternatives. The pumpkin curry, meanwhile, is creamy, mild and moreish – best enjoyed with a side of spelt (served as a substitute for rice, which is much more difficult to grow in the UK).
As we drained our drinks down to dregs and listened peacefully to the music filling the courtyard, we enjoyed the final part of our meal: a crème brûlée style dessert with Thai tea burnt cream and summer berries, alongside a refreshing fig leaf sorbet and coconut ash cracker.  For recipes founded upon humble fruits and vegetables, each of Outcrop's offerings are inventive and refined, creating a sense of no-fuss fine dining fit for everyone. 
The Final Word
Outcrop's mission is undeniably multifaceted; envisioned as a 'green social space', its long-term goal is to expand the focus on sustainability and link urban locations with rural regeneration efforts. At the heart of it all, however, is good food that is good for the planet. What could be better than that?
BOOK IT
Outcrop is open until the end of September. 1 Surrey St, Temple, London WC2R 2ND, outcrop.social