Rick and Katie Toogood's cod dish is perfect for spring and alfresco dining… We just wish we could eat it every day.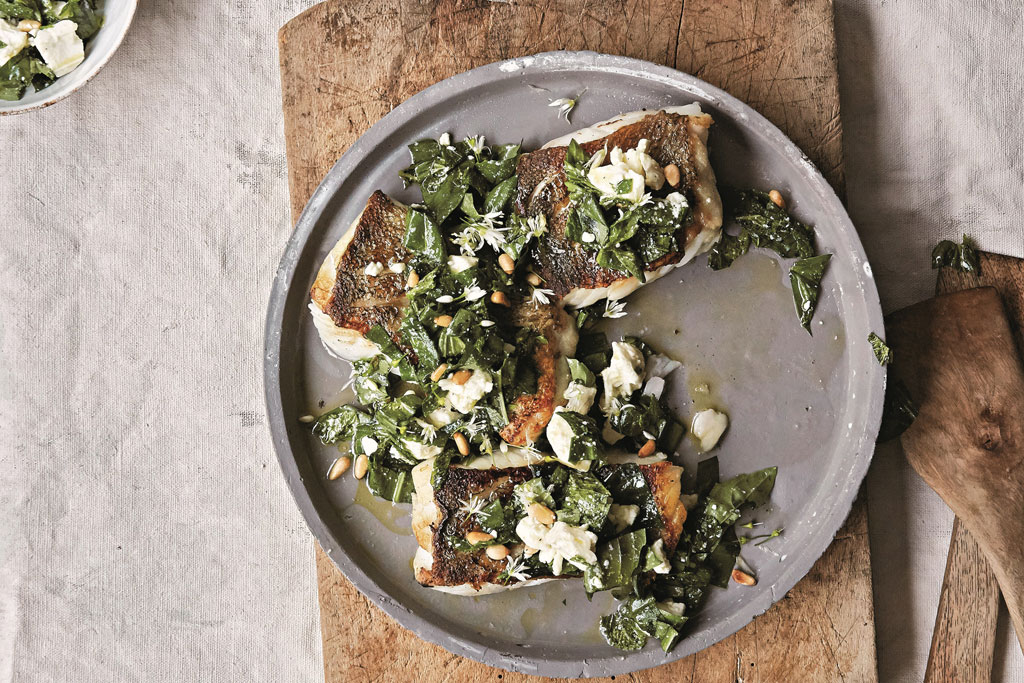 Cheese and fish are ingredients that you wouldn't immediately think to put together. However, feta, with its salty-sour flavour, works fantastically well when combined with fresh herbs and wild garlic.
Kick-Start Your Healthy 2018 with These Recipes
Ingredients
Serves Four 
1 tsp unsalted butter
4 x 200 g cod fillets, skin on
 7 tbsp good-quality extra-virgin olive oil
Sea salt and freshly ground black pepper
100 g feta cheese, crumbled
A small bunch of roughly chopped wild garlic leaves
 A small bunch of roughly chopped basil
 A small bunch of roughly chopped mint
 A small bunch of roughly chopped dill
 Juice of 1⁄2 lemon
 2 tsp pine nuts, toasted
 A splash of white wine vinegar
Method
Preheat the oven to 160°C fan/180°C/350°F/gas mark 4. Bring an oven-proof frying pan (or skillet) to a medium-high heat. Add the butter.
Score the skin of the cod fillets, drizzle with a little of the olive oil and season. Place the fillets in the pan, skin-side down, and fry for 2–3 minutes to crisp up the skin. Turn the fillets over and fry for another minute. Transfer the frying pan to the hot oven and roast the fish for 8 minutes.
Meanwhile, combine the remaining olive oil, feta, wild garlic, basil, mint, dill, lemon juice, pine nuts and white wine vinegar in a bowl. Season well and mix thoroughly.
Remove the frying pan from the oven, transfer the fish to a serving dish, and pour the cheese dressing over the fish to serve.
---