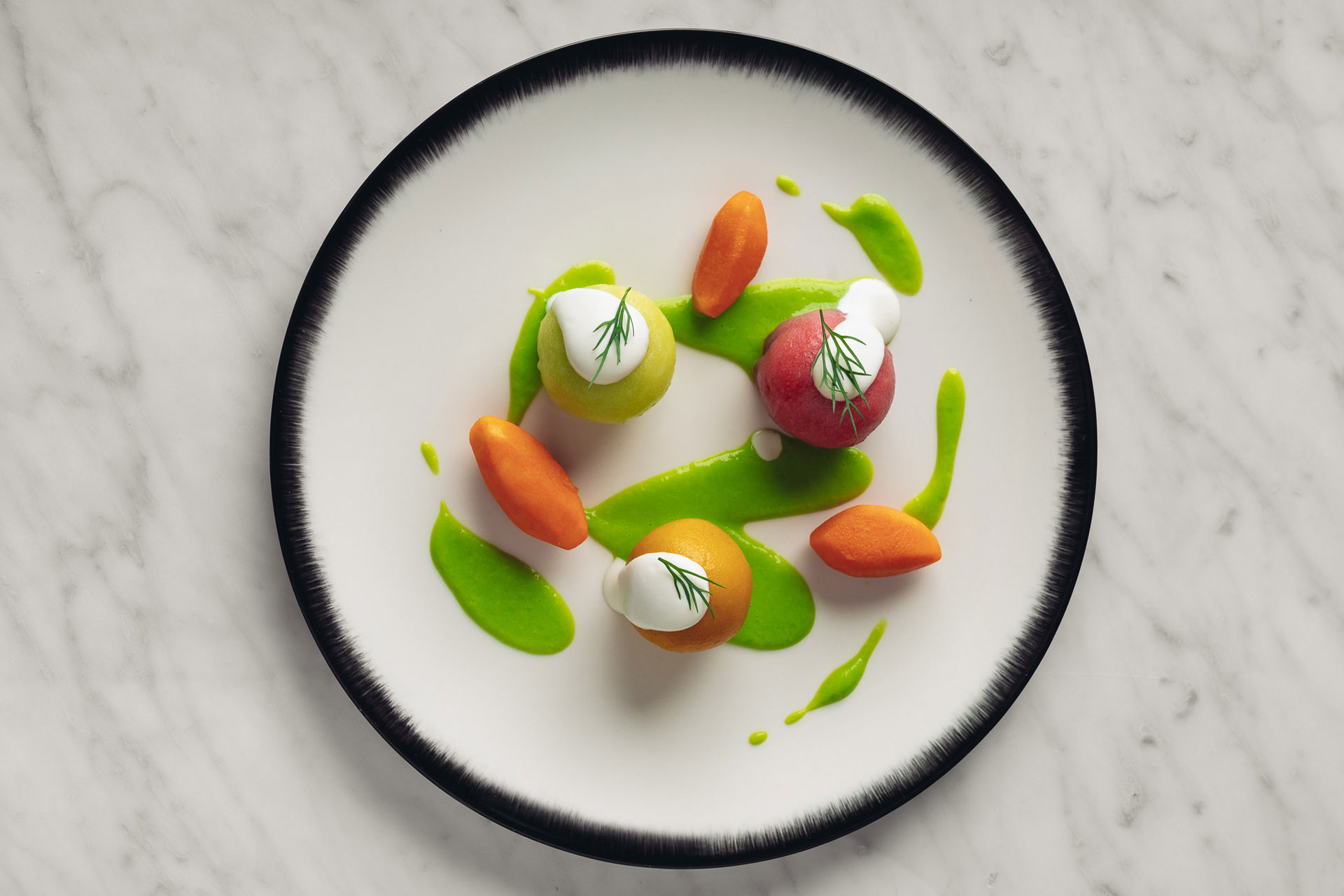 Recipe: Chenot Palace Weggis' Olive and Caper-Stuffed Gnocchi
---
A Swiss wellness retreat's take on gnocchi
Chenot Palace Weggis, a medical spa in Switzerland, shares a nourishing and hearty Italian-style gnocchi dish – perfect for date night at home.
Recipe: Olive and Caper-Stuffed Gnocchi with Basil Pesto, Almond Cream and Seared Pumpkin
We dial up the aesthetic appeal of this classic Italian dish with a colourful trio of handmade gnocchi filled with a Mediterranean inspired burst of delectable flavours. Rich green, vibrant yellow and radiant pink sits on a delicate almond cream accented by bright pops of herby basil pesto and orange pumpkin. A gourmet catwalk of taste guaranteed to awaken the five senses and delight like-minded dinner soirée invitees.
Serves 4
Ingredients
Gnocchi
250g potatoes, unpeeled, whole
53g potato starch
15g cooked puréed spinach
15g cooked puréed beetroot
1 tsp turmeric
3 strands of saffron or ½ tsp powdered saffron
Stuffing
30g capers
30g sun-dried tomatoes
30g pitted taggiasca olives
Pesto
200g fresh basil
100g cold water
50g olive oil
50g cashew nuts
½ tsp salt
Almond Cream
65g peeled almonds
180ml cold water
10ml lemon juice
Pinch of salt
To serve
360g potato gnocchi
120g basil pesto
60g almond cream
120g seared diced Hokkaido or other thick-skinned orange pumpkin
Method
Gnocchi
Boil the potatoes for 30 minutes then remove skin and mash.
Mix the mashed potato, potato starch, salt and saffron to form a potato dough.
Leave to rest at room temperature.
Divide in 3 portions and mix one with spinach, one with turmeric and one with beetroot.
Roll out the dough into small rings then form circles to create the classic gnocchi shape before adding the stuffing.
Gnocchi stuffing
Mix all the stuffing ingredients in a food processor for 1 minute.
Shape into small 8g balls.
Place in the freezer.
Pesto
Blend all the ingredients except the oil.
Add the oil slowly to the blended mixture, pulsing to incorporate.
Blanch the basil leaves for 30 seconds then cool in iced water to retain the colour.
Once cooled and patted dry with kitchen towel, mix with all the other pesto ingredients in a blender for maximum 2 minutes.
Almond cream
Blend all the ingredients together into a paste. If it's too thick, add more water until desired consistency is achieved.
Heat gently before serving. Be careful do not overheat or the cream will have split consistency.
To serve
Steam the diced pumpkin, then pan sear it until golden in colour.
Boil the gnocchi for 3 minutes then toss with the basil pesto with the pan, turn off the heat.
Arrange on a plate and garnish with almond cream and broccoli florets.
MORE RECIPES:
Vegetable of the Week: Wild Garlic / Jason Atherton's Spanish Chicken