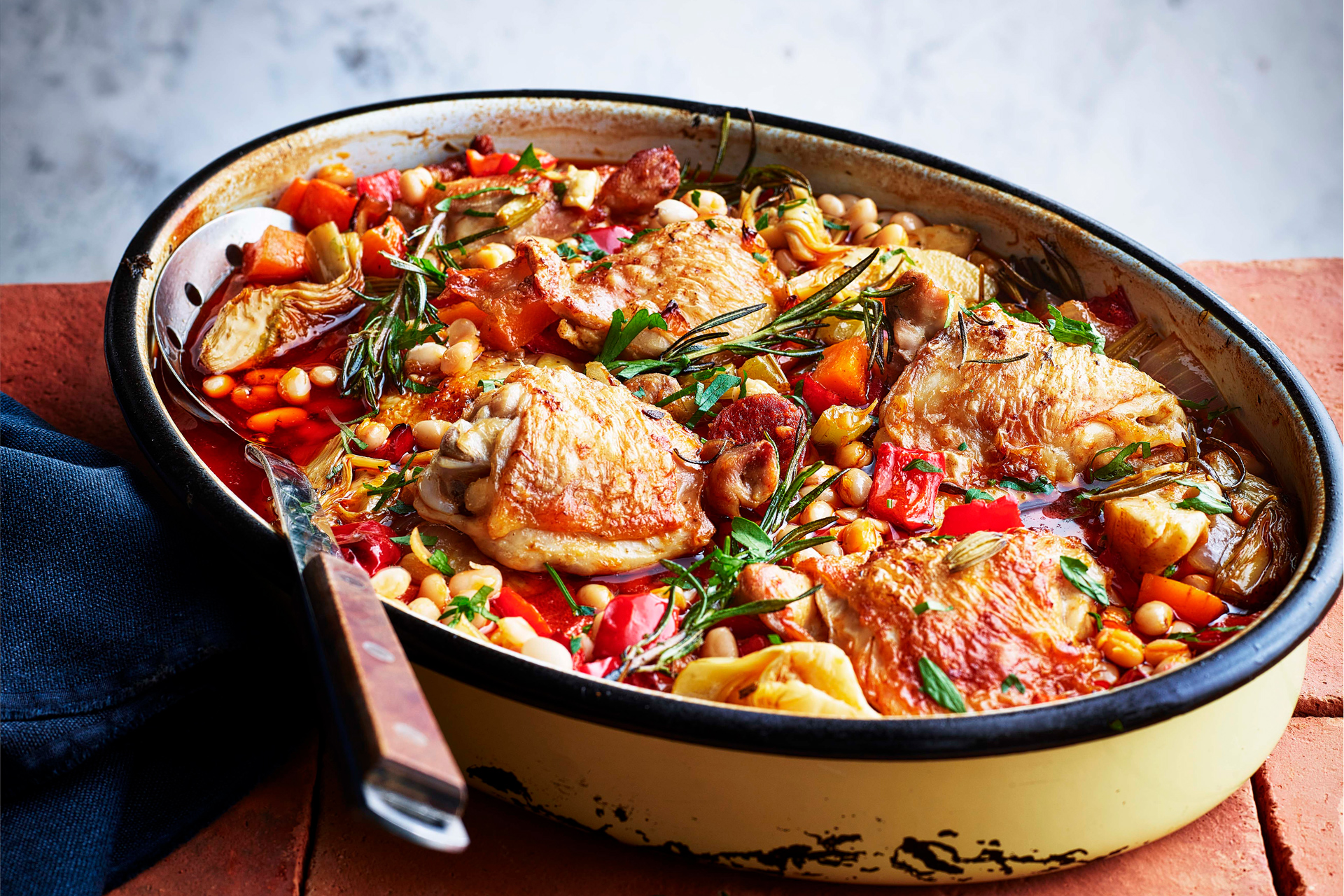 Recipe: Jason Atherton's Spanish Chicken Casserole
A flexible casserole recipe for all seasons
A collection of top UK chefs came together earlier this year to create Chefs at Home, a recipe book launched in aid of charity Hospitality Action. Below we share Jason Atherton's contribution: a Spanish chicken casserole suitable for all seasons.
Recipe: Jason Atherton's Spanish Chicken Casserole
During lockdown a lot of us were faced with days when there wasn't much food left in the kitchen and supermarkets were stripped bare. This recipe is so flexible, and perfect to use up any leftover vegetables that you might have in the fridge, freezer or cupboard. The warm paprika of the chorizo adds a lovely Spanish touch, with the haricot beans absorbing all of the wonderful flavours. This is a filling treat in both the summer and the winter.
Serves 4
Ingredients
250g dried haricot beans, soaked overnight in water
8 chicken thighs
2 red peppers, deseeded and diced
1 onion, sliced
1 leek, sliced
3 carrots, chopped
3 celery sticks, chopped
200g chorizo, sliced
4 garlic cloves, peeled
4 rosemary sprigs
1 small jar of artichokes in olive oil
50ml red wine vinegar
50ml Spanish olive oil
500ml chicken stock
½ bunch of flat-leaf parsley
salt and freshly ground black pepper
Method
Preheat the oven to 180°C/160°C fan/Gas mark 4.
Drain the beans and add them to a pan with fresh water. Cook for 45–50 minutes, until tender, then drain and set aside until needed.
Heat a large frying pan on a medium heat. Add the chicken thighs and allow them to brown for 3–4 minutes, then transfer them into a casserole dish, keeping the fat that renders off in the pan, as it is full of flavour.
Add the peppers, onion, leek, carrots and celery to the frying pan, and cook for 5 minutes to colour. Transfer the vegetables to the casserole dish, along with the chorizo, garlic, rosemary and artichokes. Season well with salt and pepper.
Drizzle over the red wine vinegar and Spanish olive oil. Pour in the chicken stock and allow the liquid to come to the boil. Once boiling, transfer it to the oven and cook for 1 hour, until the chicken is cooked through and the sauce is thick.
Leave the casserole to rest for 10 minutes, then finish with flat-leaf parsley and serve.
Extract taken from Chefs at Home: Delicious Family Recipes from the UK's Leading Locked Down Chefs (£26, Jon Croft Editions). Photography © Kris Kirkham.
MORE RECIPES:
Robin Gill's Pasta Nerano / Veg of the Week: Wild Garlic