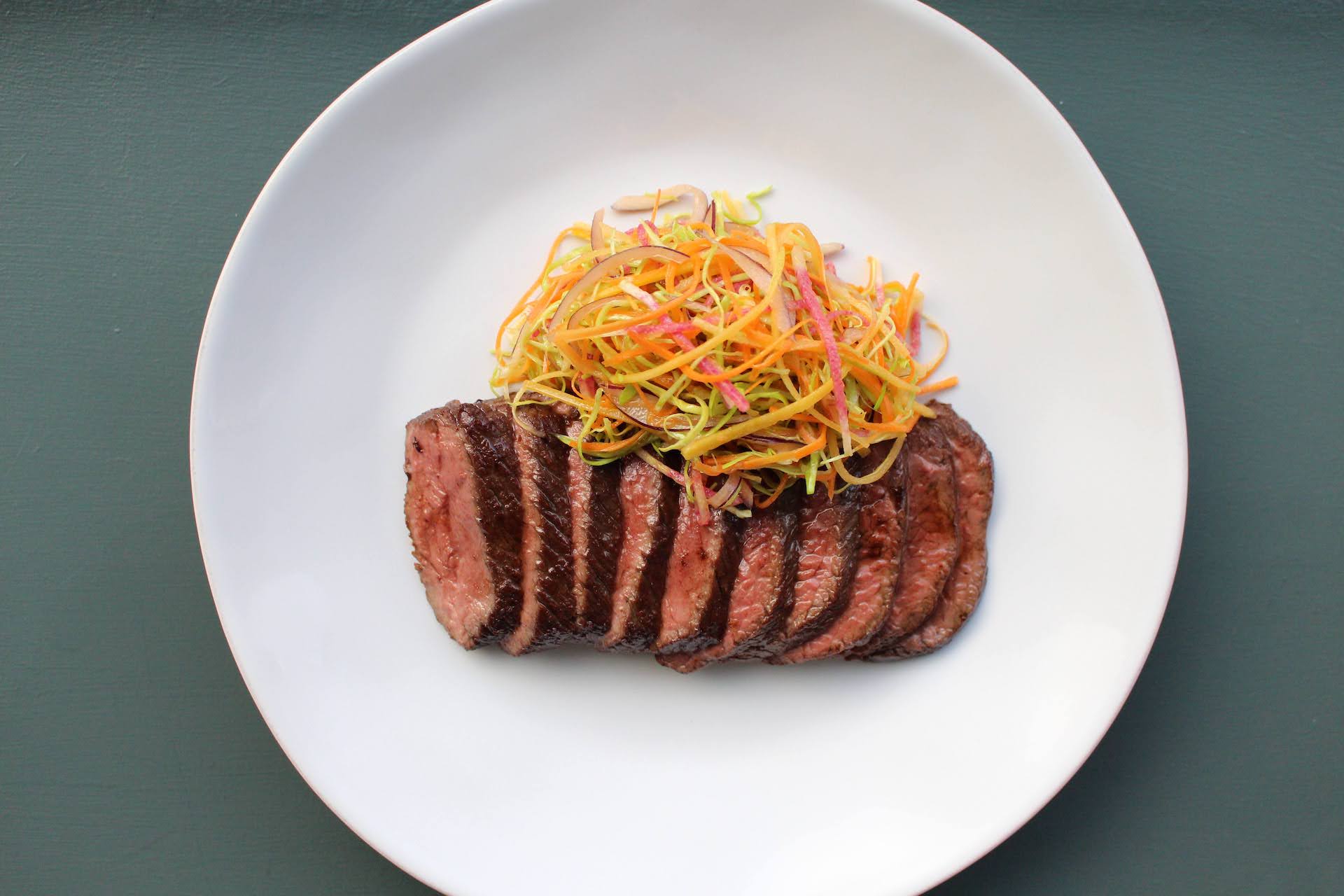 Mark Kempson's Barbecued Venison Recipe with Winter Slaw
Try your hand at this iron-rich venison recipe
By Mark Kempson | 11 months ago
Venison is lean, healthy and bursting with protein (much more than most other meats we eat). It's easy to find in the shops when in season and, even out of season, lots of butchers have frozen venison. Here's a delicious recipe for barbecued venison loin. 
Venison Recipe: Mark Kempson's Barbecued Venison Loin with Winter Slaw
I love the versatility of this meat – and on a barbecue, it's really tasty. It's always important that you bring any meat up to room temperature before cooking and then let it rest for a good while after cooking. For barbecuing, I go hot and quick for leaner cuts (like the loin below) or low and slow for larger fattier cuts. And, of course, barbecues are not only reserved for summertime! They work brilliantly in winter and bring a little variety to the cooking processes. Here, I've served it with a colourful tangy winter slaw, which perfectly complements the succulent meat. Serves four.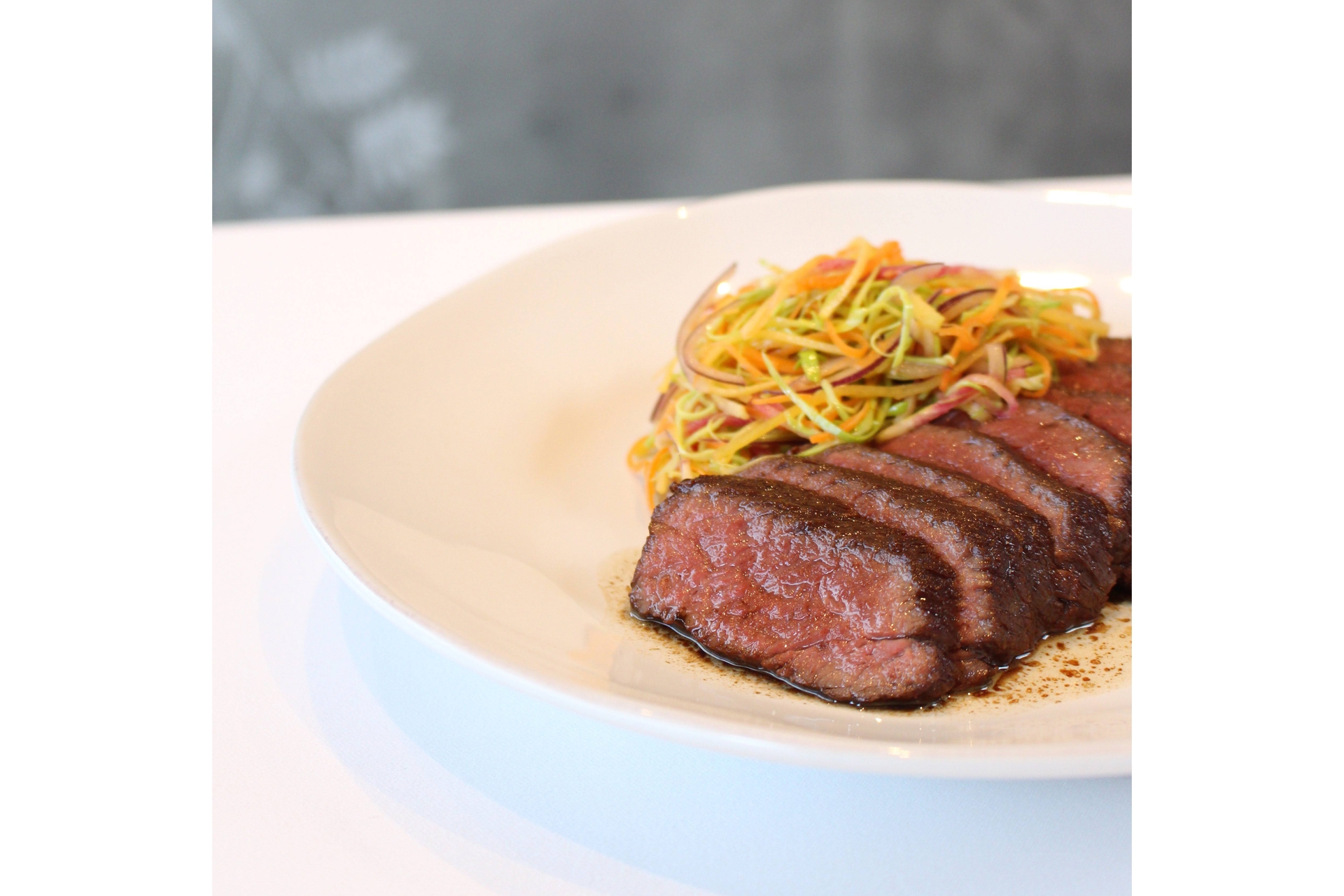 Ingredients
For the venison recipe
500g venison loin (silver skin removed – here is a good method for removing it). I prefer fallow deer
1 tsp cracked black pepper
1 tsp red wine vinegar
1 tsp Dijon mustard
1 ½ tsp finely chopped rosemary
1 tbsp honey
1 tbsp extra virgin olive oil
1 minced clove of garlic
Zest of 1 orange
Juice of 1 orange
Sea salt
For the winter slaw
1 small turnip
1 red apple
1 yellow carrot
1 small red onion
½ small hispi cabbage or white cabbage if you can't find that
10ml cider vinegar
50g mayonnaise
1 tsp Dijon mustard
Salt & pepper
Method
To make the slaw, peel the vegetables and finely shred; season with sea salt and freshly ground black pepper. Allow to sit for 5 minutes and then gently squeeze out any juice. Add the vinegar, mayonnaise and mustard. Mix well, adjust the seasoning and set aside until serving.
For the venison, make the marinade by whisking together all the ingredients, apart from the salt. Pour over the venison loin in a suitable sized dish. Cover and allow to marinate for 12 hours in the fridge. I recommend turning the venison once during the marinating.
To cook medium rare, remove the venison from the fridge 2 hours before cooking. Preheat the barbecue to an optimal cooking temperature. Remove the venison loin from the dish and scrape off all the marinade. Season the venison with sea salt and place on the preheated barbecue. Allow it to slightly char – roughly 3 minutes – before turning and repeating the process on the other side. Remove from the barbecue and allow to rest for 8 minutes before carving.
In case you haven't got a barbecue, preheat the oven to 140°C (normal) | 120°C (fan) | gas mark 1. Put a heavy based frying pan over a high heat and add the oil. Colour the venison in the pan for 2-4 minutes turning regularly until it becomes a deep, even golden colour. Place in the oven for 4 minutes, turn and cook for a further 4 minutes. Remove from the oven and allow to rest for 10 minutes.
Carve the venison into 12 even sized pieces and put it onto a large, warmed platter. Serve immediately with the winter slaw.
Mark Kempson is head chef at Michelin-starred restaurant Kitchen W8 in London. kitchenw8.com